THE BEST OF CAMBODIA IN 21 DAYS
From the wonders of Angkor Wat and the horrors of the Killing Fields to the jungle and beach escapism of Koh Rong, Cambodia is a country like no other…
14 THINGS WE LEARNED ABOUT CAMBODIA
What we discovered after a month of travelling in Cambodia, the "kingdom of wonder"
THE KILLING FIELDS OF CAMBODIA
The "tourist attraction" that everyone who visits Cambodia should go and see
3 ALTERNATIVE THINGS TO DO IN CAMBODIA
A haunting hill station, an underwater light show and pedal-powered touring…an alternative Cambodia
Probably the most visited temple complex on Earth. Which means that viewing it at sunrise is an experience shared with plenty of other camera-wielding pilgrims. But you simply can't visit Cambodia without paying homage to this amazing structure.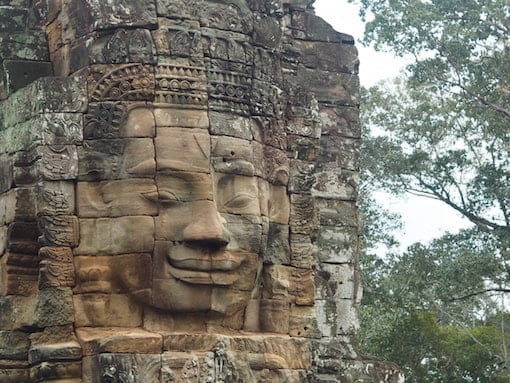 With its dozens of smiling faces carved out of rock, overlooking the 12th-century temple we actually preferred this to Angkor Wat itself.
Situated 40km east of the main Angkor complex, Beng Mealea has been overrun by the surrounding jungle. But its combination of ancient temples, twisted tree roots and mounds of stone rubble is a fascinating sight to see.
Famed for its seafood, particularly its crab, the south coast town of Kep shows just how proud it is with this statue which sits just off the main promenade.
While some parts of the island are becoming more and more developed, there are still areas virtually untouched. Such as the gorgeous stretches of coastline along the north, close to Lonely Beach.
Hiring a scooter to ride up to Bokor Hill Station is a great alternative way to spend a morning from Kampot. The now disused Old French Palace at the top is the main draw, but we also found this lovely old colonial villa on the way back down.
Read more at 3 alternative things to do in Cambodia.
Nothing quite prepares you for the emotional assault to be experienced at Choeung Ek. This fence surrounds a burial site for over 100 women, children and babies savagely murdered by the Khmer Rouge. Upsetting in the extreme but an essential visit for anyone wishing to understand the Cambodian psyche.
Read more at The Killing Fields of Cambodia.
Probably an image that's become synonymous with Cambodia ever since the Killing Fields were discovered. Choeung Ek's memorial pagoda houses hundreds of human skulls displayed inside multi-storey glass cases.
Read more at The Killing Fields of Cambodia.
The official site for tourism in Cambodia
Background reading on the Killing Fields of Cambodia
Excellent resource for Cambodia and the rest of SE Asia
The indispensable guide for budget travellers