Welcome to
ABOVE US ONLY SKIES
A world travel blog for travellers, would-be travellers and anybody else with a curious interest in ditching the routine and exploring our planet.
We're Ian & Nicky and we're here to inform, entertain and hopefully inspire you to explore more often and for longer. And we're here to help you plan your next adventure, whether it's a weekend city break or a 12-month expedition into the unknown.
Put the future on hold and live for today!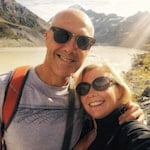 PREPARING FOR A HURRICANE - A HOUSE SITTER'S GUIDE
By Ian – 12 July 2018 – House Sitting
You're house sitting in the tropics and a potential Category 5 hurricane is heading your way? How do you prepare? Based on our life-changing experience surviving Hurricane Irma in 2017, here's our guide to help you make the right decisions…
WHY USING A BEAR BOX IS A MATTER OF LIFE AND DEATH
By Ian – 30 June 2018 – USA
Using a bear box to store food is not only a legal requirement in certain Northern American National Parks, it's also a potential lifesaver for any hungry bear that happens to wander into a campsite – here's why…
THE GIANT TREES OF SEQUOIA NATIONAL PARK
By Ian – 17 June 2018 – USA
Home to the world's largest tree, California's Sequoia National Park is truly a Land Of Giants – here's our guide on how to see the best of what it has to offer…
HOW TO EXPLORE THE BEST OF YOSEMITE VALLEY IN THREE DAYS
By Ian – 10 June 2018 – USA
Our first-timer's three-day guide to the majestic Yosemite Valley, including the best day hikes, when to go and how to avoid the crowds…
SEARCHING FOR ORCAS WITH AN ANACORTES KAYAK TOUR
THE COMPLETE SKAGIT BREWERY GUIDE FOR THE THIRSTY TRAVELLER
ALL YOU NEED TO KNOW ABOUT HIKING NEAR DECEPTION PASS
AUTHENTIC BALI AND HOW TO AVOID THE CROWDS
MEET IAN & NICKY
We're an English couple who've swapped our corporate life for a voyage of discovery and this world travel blog is a permanent record of what we see, think and do. We hope it also provides information, entertainment and inspiration for other "mature" travellers, too. So, if you've got a few minutes to spare, why not pour yourself a glass of something suitably chilled and take a look around!
OUR MOST POPULAR POSTS IN 2017
HOW WE TOURED SRI LANKA ON A BUDGET
THREE NEW ZEALAND WALKS YOU WON'T WANT TO MISS
THE EYE OF THE STORM – HOW WE SURVIVED DEVASTATING HURRICANE IRMA
HOW TO TRAVEL AS A COUPLE WITHOUT KILLING EACH OTHER