NOTE TO TABLET USERS: Best viewed in landscape format
Welcome to
ABOVE US ONLY SKIES
A blog for travellers, would-be travellers and anybody else with a curious interest in ditching the routine and exploring our planet.
We're Ian & Nicky and we're here to inform, entertain and hopefully inspire you to explore more often and for longer. And we're here to help you plan your next adventure, whether it's a weekend city break or a 12-month expedition into the unknown.
Put the future on hold and live for today!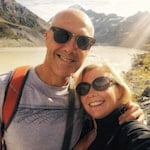 HOUSESITTING FOR BEGINNERS - HOW TO BE THE PERFECT SITTER
By Ian – 12 February 2018 – Housesitting
What to look out for on your first housesitting assignment and how you can start to build a reputation as a skilled and reliable sitter…
NEW ZEALAND CAMPSITES - 12 OF THE BEST FROM THE SOUTH ISLAND
By Ian – 6 February 2018 – New Zealand
Exploring the South Island by road? Looking for somewhere to pitch your tent or park your campervan? Here are 12 hand-picked New Zealand campsites with views to die for…
HOW TO EXPLORE THE BEST OF NORTHERN SUMATRA IN 14 DAYS
By Ian – 31 January 2018 – Indonesia
It can be a challenge to travel around wild and rugged northern Sumatra – but here's a 14-day itinerary designed to explore the best it has to offer…
HOUSESITTING FOR BEGINNERS - HOW TO GET YOUR FIRST ASSIGNMENT
By Ian – 23 January 2018 – Housesitting
In the second of our three-part Housesitting For Beginners series, we explain how to find a suitable housesit and what steps you should take to give yourself the best chance of being accepted for it…
HOW TO PLAN A EUROPEAN ROAD TRIP FOR THE HOPELESS ROMANTIC
HOUSESITTING FOR BEGINNERS – WHAT YOU NEED TO KNOW
8 THINGS THAT WILL SURPRISE BRITS ABOUT THE USA
IS THIS THE WORLD'S BEST ROAD TRIP?
MEET IAN & NICKY
We're an English couple who've swapped our corporate life for a voyage of discovery around the world and this blog is a permanent record of what we see, think and do. We hope it also provides information, entertainment and inspiration for other "mature" travellers, too. So, if you've got a few minutes to spare, why not pour yourself a glass of something suitably chilled and take a look around!
Anacortes, Washington, USA
OUR MOST POPULAR POSTS IN 2017
HOW WE TOURED SRI LANKA ON A BUDGET
THREE NEW ZEALAND WALKS YOU WON'T WANT TO MISS
THE EYE OF THE STORM – HOW WE SURVIVED DEVASTATING HURRICANE IRMA
HOW TO TRAVEL LONG TERM AS A COUPLE…WITHOUT KILLING EACH OTHER