After 18 days of travelling around the island here are 14 things we learned about Bali and its people…
1. Everyone's called either Wayan, Made, Nyoman or Ketut
Ok, that's not strictly true, but the majority of Balinese will introduce themselves by one of these four names, depending on whether they're first, second, third or fourth born in the family.
Firstborns are largely known as "Wayan", whether they're a boy or a girl. Second borns are "Made" (meaning "middle") and thirds are Nyoman (or sometimes "Komang"). "Ketut" (meaning "little banana") completes the family names for the fourth born.
The whole confusing issue became apparent to me when a group of young kids on Amed beach said hello and introduced themselves as (something like) "Wayan, Made, Wayan, Nyoman, Made, Wayan, Wayan and Ketut".
Bizarrely, if Nicky and I had been born Balinese we would both have been called "Wayan". Which wouldn't have necessarily been a bad thing as we could have called this travel blog "Wayans World".
2. Generations of families live together in symbolic family "compounds"
Walking along a Balinese residential street is like no other we've ever encountered. First of all, you can't actually see the homes people live in from the street because they're hidden away in a compound behind a tall, thick perimeter wall – designed to protect the family's personality and characteristics.
The buildings within the compound are then set out in such a way as to represent the human body – so the head of the household's sleeping area is at the top end of the compound (to represent the body's head), the guest room and ceremonial pavilion are on each side (to represent the body's arms) and so on.
A temple is always present, which is dedicated to the family's ancestors and faces the island's holy mountain, Gunung Agung. And there may be a number of shrines near the entrance gate, on to which offerings of flowers and spices are laid. In fact, the street pavements are often adorned with the offerings, along with the smell of burning incense.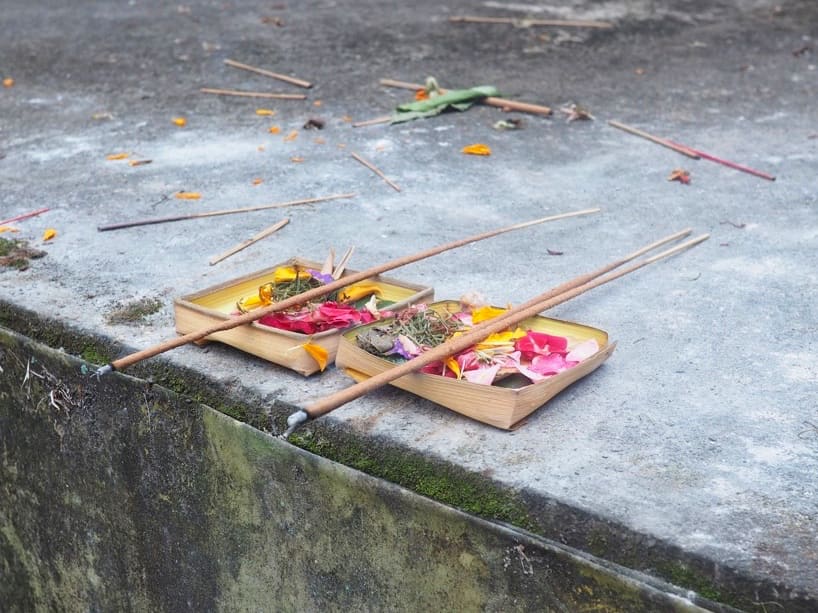 3. Balinese kids love their kites
They're everywhere, particularly in the more rural areas.
4. Banana pancakes for breakfast are irresistible
As long as your name's not Nicky (see why here). And particularly if you're staying at Nirwa Homestay in Ubud.
5. There are far too many people on the island
There are now 4.2million people living in Bali – that's 673 people per square kilometre. Compare that with 265 people per square kilometre in the UK and 138 for the rest of Indonesia and it's not hard to work out that the island is stretching its resources.
Add in the 3.5million tourists who are now visiting Bali annually and you wonder how it can manage to sustain its environment. And yet they're seemingly on a mission to build, build, build at every opportunity – to the point where you wonder where it will all end.
6. Circular saws, taxi horns, and cockerels define the sound of Bali
It seemed that everywhere we went, a circular saw was just around the corner, such was the scale of building work going on. It became something of a joke for us that when we checked in at our latest accommodation we'd look around for evidence of building work. And sure enough, it would surface, like an old friend paying us a visit.
Certainly, it was bad in Ubud, but we didn't expect to hear it in tranquil Sidemen (but we did). In Amed, we were treated to a breakfast chorus of metal on concrete while our homestay's restaurant bathroom was being renovated. Meanwhile, at our idyllic mountain retreat in Munduk, we awoke at 6 am to the sound of hardcore being wheelbarrowed and dumped at the bottom of the garden as part of a project to build more bungalows on the site.
And then there were the taxi horns. Time after time our walks along the streets of Ubud, Sanur and Amed, in particular, would summon every passing taxi driver to beep twice on their horn at us. 
Thankfully there were still natural noises to enjoy, such as the calls of the cockerels. Only Balinese cockerels don't seem to set their alarm clocks properly. Since when did it become normal for them to start calling just after midnight? And continue on through till breakfast? Worse still, I'm not sure what the collective noun for a group of cockerels is, but a barber shop quartet of them gave it their best for most of the early hours just outside our room in Amed – only to fall quiet just as the circular saw revved up for its first job of the day.
If your first tooth has yet to see the light of day, your mum can't go to the temple…
8. Balinese food can be fantastic, but you need to hunt it down
Let's be fair, we both like our food spicy. It doesn't have to be smoking hot spicy – although we do like it that way too – but we absolutely enjoy the explosions of flavour that come when food is prepared and cooked with loving care and a whole variety of fresh spices. And, as Indonesia is the original home of the "spice islands", we expected Balinese food to leave us well satisfied.
What we found was that, when it was good, it was very good indeed. We had some fantastic fried chicken with three fearsome chilli sambals at a warung just out of Ubud. We had some excellent Nasi Campur (a selection of different Indonesian dishes with rice and sambal) at Artha's Warung in Sidemen. The Babi Guling (suckling pig) at Ada Warung in Jutiluwih tasted like a spicy roast pork dinner. We enjoyed some proper home cooking as guests of a Balinese family in Munduk. And we had probably the best Nasi Campur of our entire trip at Lilla's Warung in Sanur…
There was a common theme running through each of these places. Three of them were recommended by locals and they were warungs (roadside cafes) serving food true to Balinese and Indonesian traditions without pandering to "western tastes". Which is pretty much what most of the other places we visited were guilty of.
Some of the food served up was the blandest, most tasteless fayre we've ever come across. Looks pretty on a plate, but if it doesn't taste of anything then what's the point? We lost count of the number of times we asked for our food to be "spicy" only for it to arrive anything but.  As we suspected, we were told by one restaurant manager of westerners' complaints about upset stomachs and so they now don't put anything remotely spicy on their menu. As if to confirm this, we overheard a group of German girls repeatedly ask the waiter to make sure there was no spice whatsoever in the curries they'd just ordered. And yes, the irony was totally lost on them.
9. Wearing a sarong is really quite cool, thank you very much
10. The further you are from tourist areas the friendlier the people are
This probably rings true for many places in the world, but the Balinese people we met in the more rural areas were as genuinely friendly and welcoming as we've met anywhere. And you'd have to have a heart made of steel not to warm to the children who happily smile, wave and wilfully practise their grasp of English on you.
11. Rural Bali is impossibly green and gorgeous
Rice paddy fields mixed with tropical plantations of extraordinary variety. Tropical jungle landscapes hiding towering waterfalls. Mist-enshrouded volcanos. Bali's got it all in spades.
And there can't be many places in the world where you can wander seamlessly through fields and plantations containing such a variety of crops like coffee, cacao, coconuts, chillies, cloves, cinnamon….and any other exotic crop you can think of beginning with a "c".
12. The traffic is a nightmare
We've already commented on the traffic situation on previous posts but the sheer volume of it, and the mayhem that goes with it took us both by surprise. Seriously just viewing it from the front seat of a taxi is like watching formula one racing cars jostling for position on the first lap at Silverstone.
It seems there are no general traffic rules, other than it's every man, woman, and child for themselves. Driving along in our taxi, we would be undertaken and overtaken by streams of motorbikes and scooters, some of which seated four or even five family members. We even saw one bike with two live piglets in a cage strapped to the back.
Meanwhile, our taxi driver would be constantly on the tail of either a row of bikes or a lorry, ready to overtake on the opposite side of the road at the first opportunity, almost ignoring the oncoming lorry before slipping back into the traffic.
The incessant convoy of lorries carrying building materials adds further congestion and more reasons to try to overtake. And the regular bikes/scooters entering the road against the traffic add just a little more spice to the average journey.
Yet, despite all this, we didn't see any signs of road rage or mildly aggressive behaviour. Everyone just gets on with it like it's just another day on the road. Which it is, despite the appalling number of annual road fatalities.
And amidst all this are children riding their scooters to school. Incredibly, due to the lack of reliable public transport, the police have effectively given them special dispensation to ride scooters, even though many of them are too young to even possess a licence. And some school playgrounds have now been converted into scooter parking bays to accommodate them.
13. The best way to avoid the touts and hawkers is to just ignore them
This is a difficult one. Many people selling goods and services on the street, in restaurants, and on the beaches are genuinely trying to make a meagre living from what's at their disposal. Fair enough. But after nearly three weeks in Bali (and four weeks in Indonesia overall) we've become desensitised to the constant calls of  "Do you want a taxi/tour/massage?" and "Please come and look in my shop".
This doesn't happen everywhere of course but wherever tourists can be found you can be sure there isn't a tout too far away. Initially, we actually entered into small talk with them. Then we just resorted to "No thanks" before walking on. In the end, we just ignored them completely, despite how outwardly rude that might appear to be.
In a nice display of self-awareness, the Little Bird Warung in Sanur offers a cocktail enticingly called "Please Come And Look In My Shop". And we ignored that, too.
14. Don't be irritated when a stranger asks you, "Where are you going?"
When we first came across this our immediate reaction was either to assume the person was trying to sell us a taxi ride or that he or she was just being a bit nosy.
Turns out it's just a Balinese way of greeting you, as in "Good morning" or "Good afternoon", which gets lost in translation to English. Why not try that at home and see what sort of response you get?!
What did you think? Have you been to Bali? What did you learn about the island? Or perhaps you're planning to visit there soon? Either way, we'd love to hear from you so please add your comments below.
To help us maintain our site we work with a number of partners who we've personally used and can recommend to our readers. If you decide to purchase any products through the following links, we'll receive a small commission at no extra cost to you. Thank you for your support!
Hi, we're Ian and Nicky, an English couple on a voyage of discovery around the world, and this blog is designed to reflect what we see, think and do. Actually, we'd like to think it also provides information, entertainment and inspiration for other "mature" travellers, too. So please feel free to pour yourself a glass of something suitably chilled and take a look around.