HOW TO SPEND 2 DAYS IN THE INCA CAPITAL OF CUSCO
HOW TO SPEND 2 DAYS IN THE INCA CAPITAL OF CUSCO
Note: This post was written before the COVID-19 outbreak and may be subject to change once Peru's travel restrictions are lifted. At the time of publication, Cusco and its surrounding area have not suffered to the same degree as Lima and other areas in the country. But you should expect social distancing and other safety measures to be observed for the foreseeable future.
As the gateway to the treasures of Machu Picchu and the Sacred Valley, the city of Cusco is an essential stop for any visitor to Peru.
Which means that it comes complete with the sort of tourist trappings associated with any travellers' hub. Crowds, inflated prices, street hawkers, petty crime. You know the drill.
But there's no doubting its historical significance. Along with the beauty of its historic centre and the hillside barrio of San Blas.
If you're short on time, you can experience it all over the course of two days. As long as you're not averse to steep hills. And the sight of baby llamas being exploited for the sake of a quick buck.
Here's how we suggest you do it.
Contents
This page contains affiliate links. To help us maintain our site we work with a number of partners who we've personally used and can recommend to our readers. If you decide to purchase any products through the links on this page, we'll receive a small commission at no extra cost to you.
A UNESCO World Heritage site, Cusco is situated at an altitude of 3400 metres (11,150 feet). Which means that if you've arrived straight from Lima, you'll need some time to acclimatise before you do anything strenuous. Altitude sickness is no picnic for those who choose to ignore its potential effects.
It's also another reason to spend a few nights here first before venturing off to Machu Picchu.
Founded in the 12th Century, the site was named Q'osco, which means "navel of the earth" in the original Quechuan (Inca) language. Famously designed in the shape of a puma, the city became the capital of the whole Inca Empire, which stretched from Ecuador in the north to southern Chile.
Not ones to be shy about their wealth, the Incas spent lavishly on constructing the city, with copious amounts of solid gold and silver used to decorate and furnish their palaces and temples. Underpinning it all were the iconic stone walls constructed without the use of mortar. And with a degree of precision that still has scholars baffled to this day.
Of course, when the Spanish conquistadors arrived, the gold and silver was summarily melted down and returned to swell the coffers back in Spain.
The rebuilding of the city in the Spanish colonial style was done so using many of the original Inca buildings as foundations. So today, the historic city centre features a unique mix of both architectural styles.
Indeed, as you walk around the centre, you can't fail to miss the incredibly preserved stone walls that serve as a reminder of the outstanding artisanship.
To get around, you'll need to consider whether to buy a Boleto Turistico (tourist ticket – 2020 price 130 soles / £30 / $38 USD). It's essentially a passport that gives you access to many of the attractions in Cusco and the Sacred Valley. So, if you're also planning on visiting the main sites of the Sacred Valley (and you really should), then it would be worthwhile buying one. However, if you are limited to just visiting Cusco, you might want to just buy your entrance tickets individually. Especially as most of those featured in Cusco's centre are not really worth visiting anyway (so we've been led to believe).
One of Cusco's iconic Inca walls
One of Cusco's iconic Inca walls
As in most South American cities, your best bet is start your first morning taking in one of the "free" walking tours. And we use the term "free" loosely as there's an expectation that you pay the guide a tip. Which seems perfectly reasonable to us.
There are a number of tour companies in town and you can usually pre-book online. But, if you go during the peak season from May to September, don't expect to be in a small group. Ours heaved with over 20 people.
However, if you only have 48 hours to spend in the city, it's a great way to quickly get orientated. And you'll learn a good deal about Inca culture before you set off by yourself to explore.
You could, of course, hire your own guide for a private tour instead.
Whether you go with a guide or choose to go off by yourself, you'll undoubtedly start at the majestic Plaza de Armas.
It forms part of what was once the Great Inca Square, which essentially served as the heart of the whole Inca Empire. And, in typical Cusco style, the buildings feature a mixture of Spanish colonial architecture, complete with wooden balconies, sitting atop their original Inca stone foundations and arcades.
Indeed, the balconies are often packed as locals and visitors alike take in a late-afternoon coffee, beer or pisco sour while Cusco life passes by beneath them. Paddy's Irish Pub and Norton's Rat Tavern – two bars that quite clearly haven't been named in honour of the square's cultural past – boast a couple of the most popular vantage points.
Dominating the plaza are the Church de la Compañia de Jesus and the sandstone UNSECO-listed Cusco Cathedral. And, within the arcades, restaurants, banks and shops all fight for your attention.
Meanwhile, just off the plaza, the Inca Museum is a worthwhile visit away from the main tourist attractions.
Also, make sure you head along Calle Marques to San Pedro Market for some authentic Cusco mayhem. All the usual South American market staples are present – including the lines of female fruit juice vendors who, once you've made eye contact, will do everything they can to try and entice you to sit down. Elsewhere, the butchery section is for those with strong stomachs only. And the numerous cooked food stalls are great if you fancy some cheap, local fayre. To be on the safe side, you might want to look for a stall where there's already quite a few people eating.
View of the Plaza de Armas from Cusco Cathedral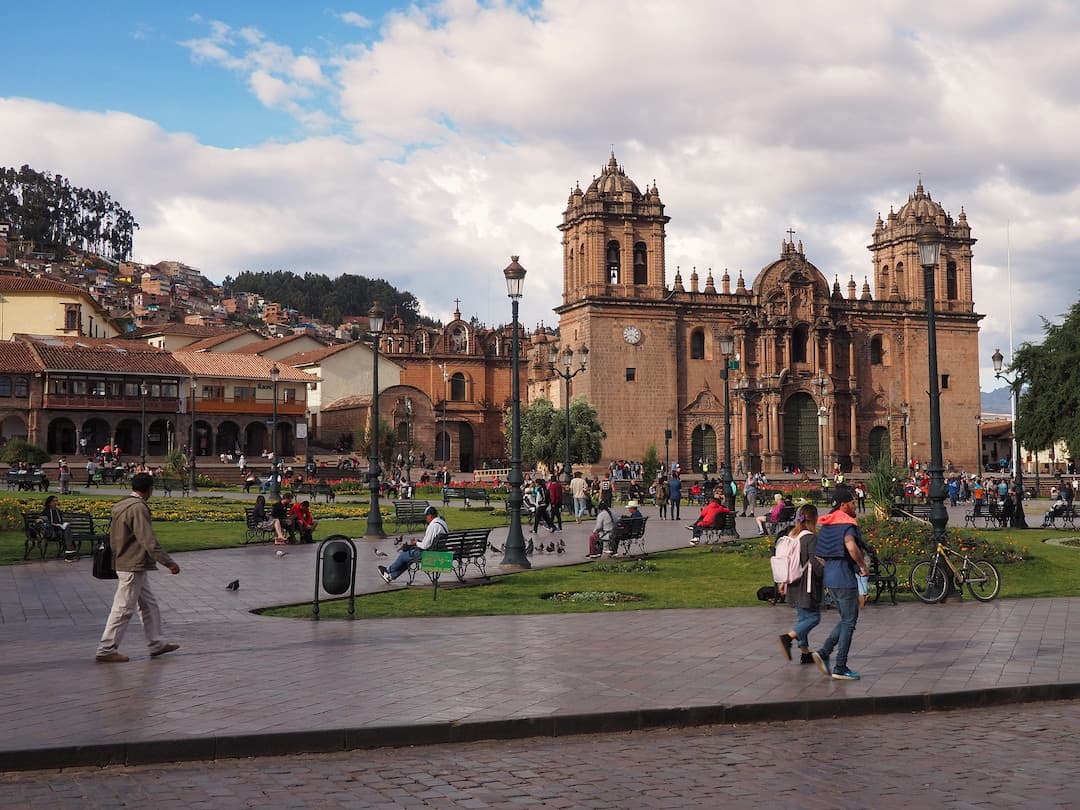 View of the cathedral from the opposite side of the plaza
Row of buildings opposite the cathedral
Row of buildings opposite the cathedral
A word of warning
You'll find plenty of shops advertising garments made from prized (and expensive) baby alpaca's wool. If you want the real thing, don't be tempted by discount prices, as you'll end up with something that's definitely not. Our walking guide told us that.
Expect to run the gauntlet of the massage touts, too. We seemed to be accosted by them every time we passed over the plaza.
And then there are the baby llama/alpaca hawkers. We do appreciate that these ladies, dressed in their fine traditional clothing, are just trying to eke out a living from tourists keen to grab a photograph with them. But we're pretty sure that the animals involved aren't built for wandering around cobblestoned streets all day.
An infant alpaca waiting to be photographed
From the market, it's an easy walk back to the Plaza de Armas before taking a right along Avenida El Sol. From where you'll arrive, after a few hundred metres, at Qorikancha.
Translated from the original Quechuan language as "Golden Courtyard", it represents the remains of what was once the richest and most sacred temple in the whole Inca Empire.
And when we say rich, we mean super-rich. Back in the day, the temple featured dozens of life-sized solid gold statues. And its walls were lined with 700 solid gold sheets to reflect the sun's rays.      
That's all gone now, of course. Melted down and on its way back to Spain onboard the first boat to Cadiz. But the amazing trapezoid stonework remains. And you can easily spend an hour or two just wandering amongst the numerous Inca chambers and temples before taking a stroll outside the exterior walls. There's also a convent to explore, once again built on top of the original stone.
The entrance fee is 10 soles (at the time of writing) and you can hire a guide (40-60 soles) for a personal tour if you wish. But don't worry, they'll find you as you approach the entrance.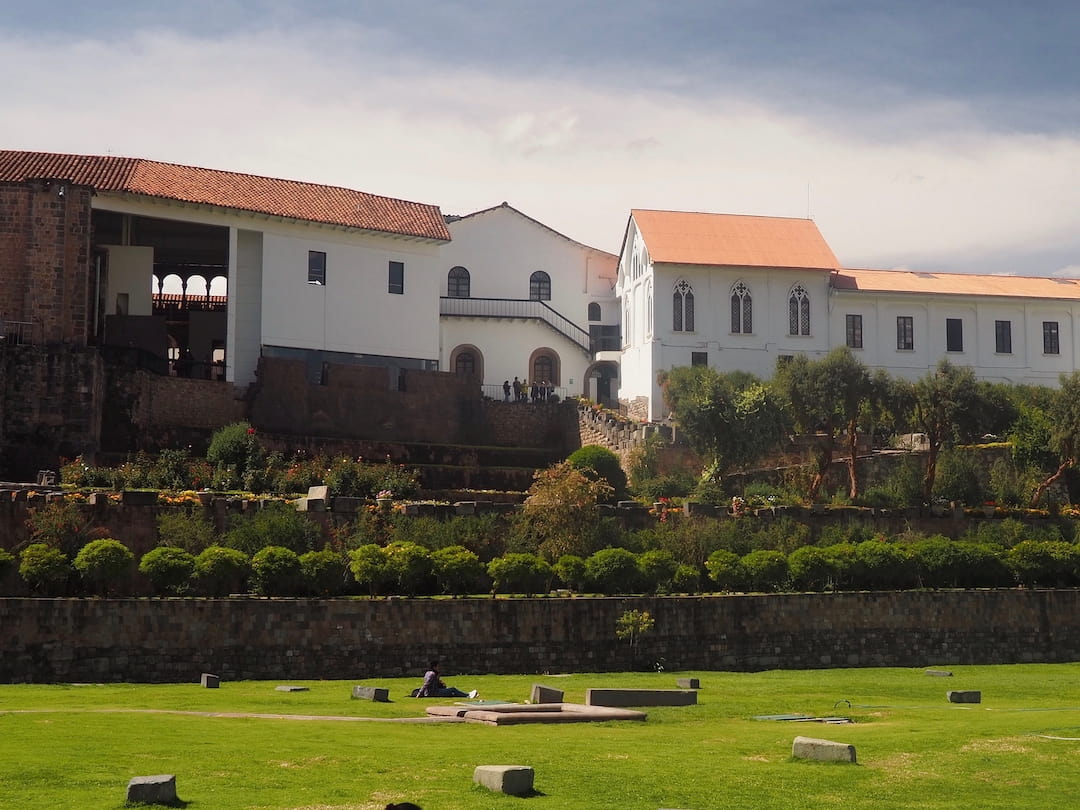 Part of the large Qorickancha complex
By the time you've wandered around the historic centre of Cusco, checked out the market and spent an hour or two at Qorikancha, you might feel it's time to slow down, enjoy a pisco sour and eat at one of the many restaurants on offer. And you'd be right. But before you do that, make your way back to Plaza de Armas and head up the narrow street between the cathedral and Paddy's Irish Pub until you arrive at Hatunrumiyoc.
Quechuan for "Great Stone Street", it's home to an iconic Inca wall and the famous 12-Angle Stone. Famous because…well, it has 12 angles. Obviously. Which might not sound much on the face of it, but when you consider it was hand-chiselled to fit perfectly with each of the surrounding stones, without so much as a micro-space in between, it really is a feat of skilled stone masonry.
OK, it may be a bit underwhelming for some. But there is a guy in full Inca kit who'll happily pose for a photo with you next to it. For the appropriate tip, naturally.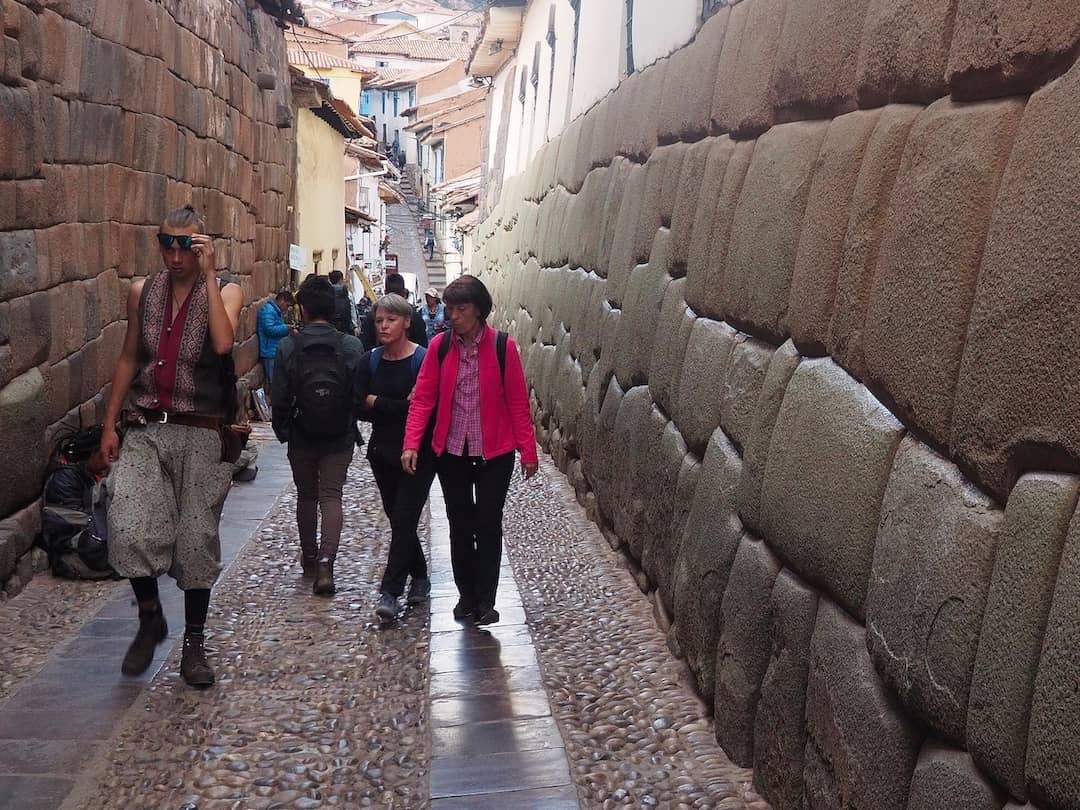 Day Two and it's time to head upwards above the city centre. In fact, if you continue upwards from Hatunrumiyoc, you'll arrive at the barrio of San Blas. Or as it's known locally, the Barrio de las Artesanos (Artist's Neighbourhood).
Although it's not exactly off the beaten path, it's a less-crowded part of town. Indeed, the relative lack of road traffic comes as something of a relief. And there's the opportunity to wander slowly up and down the quiet and narrow cobblestoned streets without being bombarded with all the tourist trappings of downtown Cusco. But you do need to be prepared for some steep hills and plenty of steps!
Of course, one of the advantages of the extra elevation is that there are some great views of Cusco below.
And, in keeping with the bohemian feel of the area, there are plenty of bars and restaurants to break up your walking tour.
For instance, Jack's Cafe is something of a breakfast/ brunch institution in these parts. KM 0 is the go-to place for live music. And Limbus Restobar boasts some fabulous views over the city. Especially at sunset. Meanwhile, for authentic Peruvian food, you should try Pachapapa.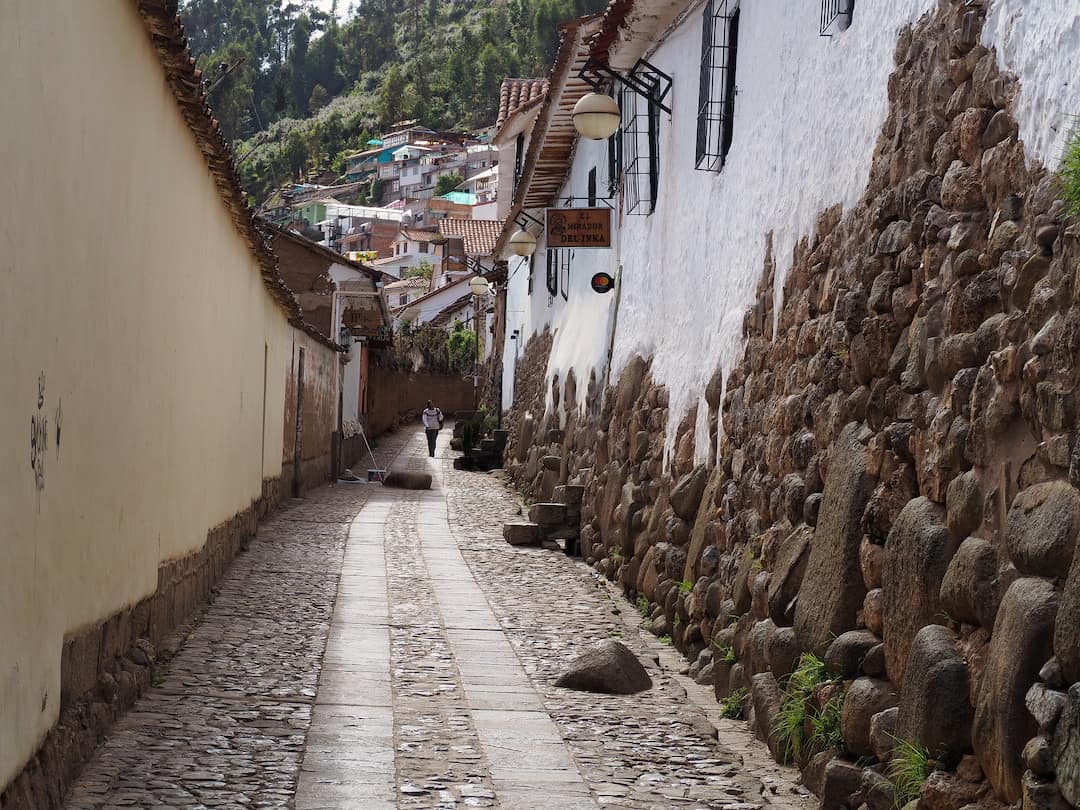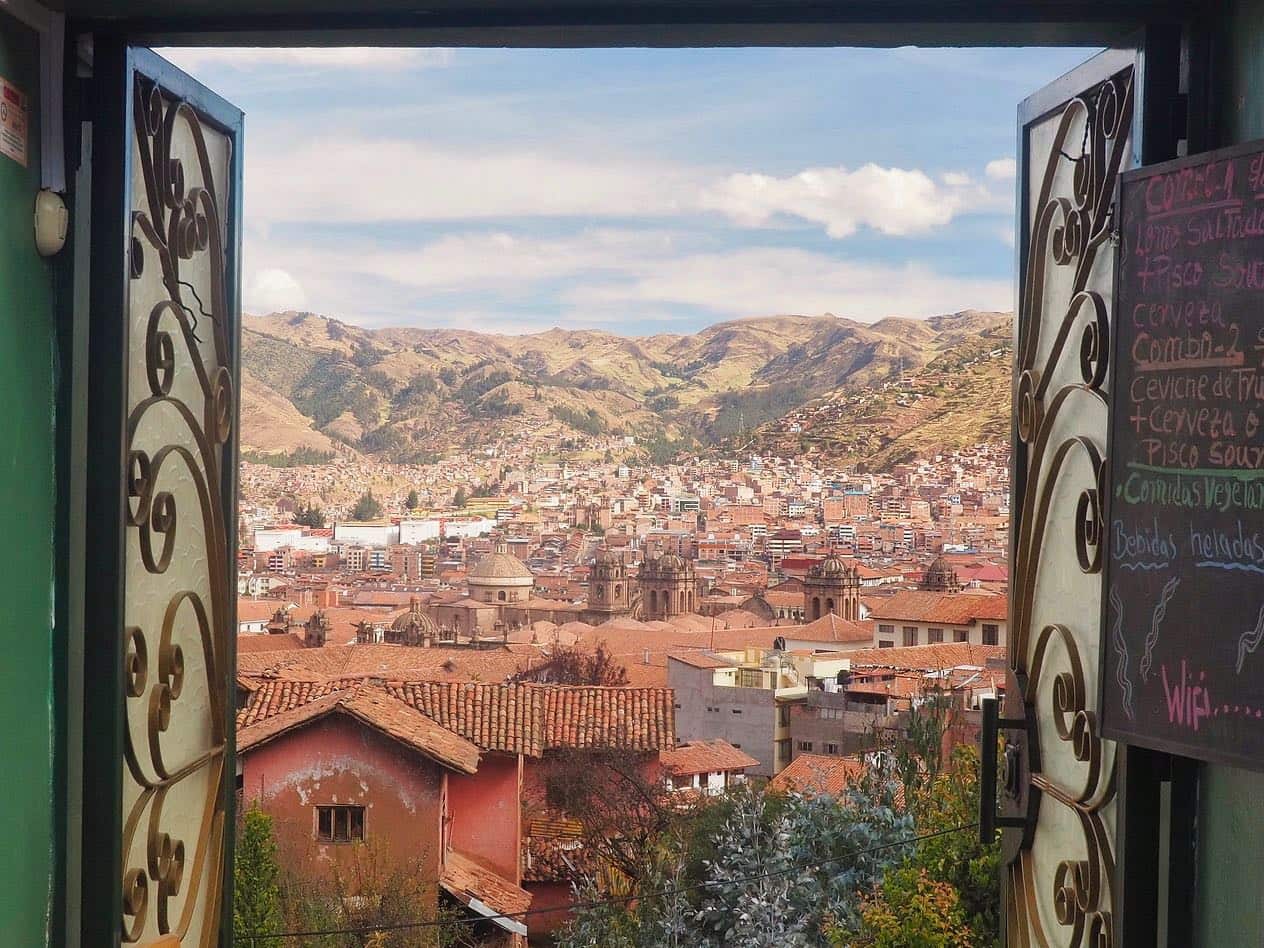 View of Cusco through the open door of a restaurant in San Blas
However, before you think about resting your feet for a sunset cocktail, you need to continue heading upwards, beyond San Blas, to the Inca site of Sacsaywaman.
Or "Sexy Woman" if you want to pronounce it more-or-less correctly.
Accessed via a stone staircase that leads from the road, the site is situated at the head of Cusco's original puma shape. If you're really interested in learning the details about the site, you can hire a private guide to take you around. We chose to rely on the knowledge we'd already picked up and wandered around at our own pace.
Again, the incredible Inca walls are on full display, stretching out in a zigzag (representing the puma's teeth) across the plateau. And some of the precision-tooled individual stones are absolutely huge.
But what makes the place extra special to visit are the stunning views down to the red-roofed buildings of Cusco and across to the mountains beyond.
Entrance is included in the Boleto Turistico.
Part of the large walled complex at Sacsaywaman
A cross looks down from Sacsaywaman on to Cusco
Panoramic view of Sacsaywaman
Panoramic view of Sacsaywaman
Cristo Blanco
On the other side of the pathway that leads up from San Blas, a Christ statue with outstretched arms looks out over the city. Gifted by Christian Palestinians as a "thank you" for giving them refuge after World War 2, it's worth a brief detour to take a closer look before you head back downhill. If only for further magnificent views of the city below.
Cristo Blanco as viewed from Sacsaywaman
2 Days In Cusco – Final thoughts
It's possible to spend a week or two in Cusco and still have something different to do each day. Especially if you're taking day trips into the surrounding areas.
To be honest, we preferred Arequipa as a city as it felt less geared towards mass tourism. That said, no self-respecting traveller could possibly miss out on a visit, given the city's historical significance and its access to Machu Picchu and the Sacred Valley.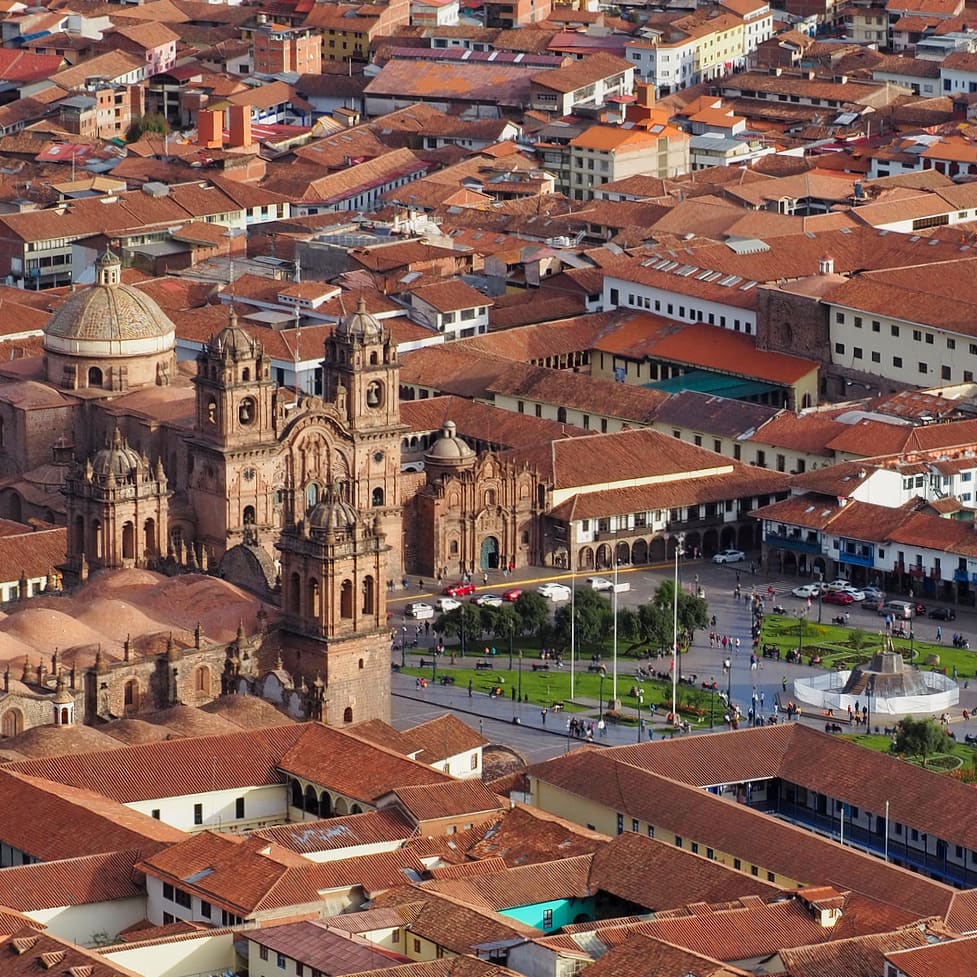 View of Plaza de Armas from Cristo Blanco
What did you think? Have you been to Cusco? Or maybe you're thinking of visiting the city in the near future? Either way, we'd love to hear from you so please add your comments below.
To help us maintain our site we work with a number of partners who we've personally used and can recommend to our readers. If you decide to purchase any products through the following links, we'll receive a small commission at no extra cost to you. Thank you for your support!
Travel insurance
with World Nomads
Hi, we're Ian and Nicky, an English couple on a voyage of discovery around the world, and this blog is designed to reflect what we see, think and do. Actually, we'd like to think it also provides information, entertainment and inspiration for other "mature" travellers, too. So please feel free to pour yourself a glass of something suitably chilled and take a look around.