We really couldn't go to Cambodia without visiting the temples of Angkor or the Killing Fields around Phnom Penh and, to be honest, we're really glad we did. And if you're planning to visit the country any time soon you really shouldn't miss them either.
But, if you're like us and you want to explore some alternative things to do in Cambodia that aren't necessarily on the tourist radar then here are three that we definitely recommend you try…
Contents
This page contains affiliate links. To help us maintain our site we work with a number of partners who we've personally used and can recommend to our readers. If you decide to purchase any products through the links on this page, we'll receive a small commission at no extra cost to you.
1. Scooter up to Bokor Hill Station
Situated within Bokor National Park, this was a colonial hill station built in the 1920s so that the French elite could escape the oppressive heat of the plains and Phnom Penh.
The new road up to it from Kampot was only built in 2012 and it was probably the nicest one we came across throughout our travels in Cambodia – a smooth, twisty climb of about 45 minutes to the 1000m summit with not a pothole in sight. To get there we rented a scooter for the day ($5) from our guest house. Not quite a journey of Easy Rider proportions but it still felt like a free-spirited ride with only a few other scooters and motorbikes passing by.
In its heyday the centrepiece of the station was the Old French Palace, later used as a casino, and which ultimately fell into the hands of the Khmer Rouge. As a result of the artillery bombardment between them and the Vietnamese army and the building's subsequent abandonment, its once former grandeur has been replaced by a hauntingly beautiful shell. It even featured as a location in Matt Dillon's film City of Ghosts.
Just wandering around inside the place forces your mind to imagine what it must have looked like in all its glory, looking out over the jungle to the coastline far below. Closing your eyes for a moment it's not difficult to imagine a bevvy of French socialites chatting in the gardens, sipping Veuve Clicquot and smoking their gitanes, while cicadas beat their nightly rhythm and the sunset glows a vibrant red over the Gulf of Thailand.
Open your eyes again and what you get to see instead are modern-day tourists taking selfies and dropping litter over the wall edge into the foliage below. C'est la vie.
Just down the road from the Palace is a French Catholic church, which the Khmer Rouge used as a platform to bombard the Palace from. Apparently, the Cambodians are planning to re-launch it as a wedding venue but for now, it retains its bygone-age aura. Just don't try sleeping there overnight.
Slightly further down the hill, opposite a recently built seated Buddha statue, is an old colonial villa which is just as intriguing as the Old Palace, and with arguably even better views of the coastline. Now completely overrun with advancing jungle the place is crying out for someone to restore it to its former glory. In the meantime, it's a great place to spend half an hour or so by yourself just letting your mind wander. Maybe even plan where you'd instal the swimming pool. Nice bit of graffiti art on a couple of the walls, too.
There are clearly plans afoot to return the hill station to its former casino-centric glory. Thansur Bokor Highland Resort is a huge casino complex that now sits just beneath the site of the Old Palace and, quite frankly, is an abomination. The main building, coated in a banana-yellow paint, hits you square between the eyes when it first appears on the horizon – in stark contrast to the mountainous terrain surrounding it. If that wasn't bad enough the orange colour scheme of the accommodation blocks suggests that the person responsible was either having a laugh or he/she was completely colour blind.
Ignoring that, it's still well worth the time and effort to rent a scooter in Kampot and enjoy the ride up the mountainside on what is probably Cambodia's best road (not the one in the next photo, I hasten to add).
2. Swim with the fairy lights at Lonely Beach
Picture the scene.
You're sat on a tropical white-sand beach sharing a bottle of wine, watching the sunset as the green lights of the squid boats make their nightly appearance on the horizon. Meanwhile, the sky gradually fills with thousands of stars, untouched by light pollution of any kind. Your only light source is a tea-light candle flickering inside a small clam shell.
And you wait patiently for it to start.
You're here for the light show. Not something you'll see by looking upwards to the sky, but something that becomes very apparent when you step into the sea and submerge yourself into the water. Suddenly you're transported into the world of Avatar. Every movement you make is accompanied by a dancing swirl of blue lights as if you're swimming in your own special effects studio.
The effect is caused by bioluminescence in plankton that's present in waters off Koh Rong's north-east coast. And it's magical. Particularly when it's accompanied by a cloudless, starry night. Seriously, we enjoyed it every night of our five-night stay there – because we're kids at heart really. And you should do, too!
To experience it you need to stay at Koh Rong's Lonely Beach Resort – a three-hour boat journey from Sihanoukville, but a million miles away from the party atmosphere found elsewhere on the island. There really isn't much else to do here other than lying around in a hammock, swim in the sea, go for walks along the coastline and through the jungle, enjoy good home cooking and mix with a handful of like-minded travellers in the evening.
But that's ok. The nightly light show is always just along the beach.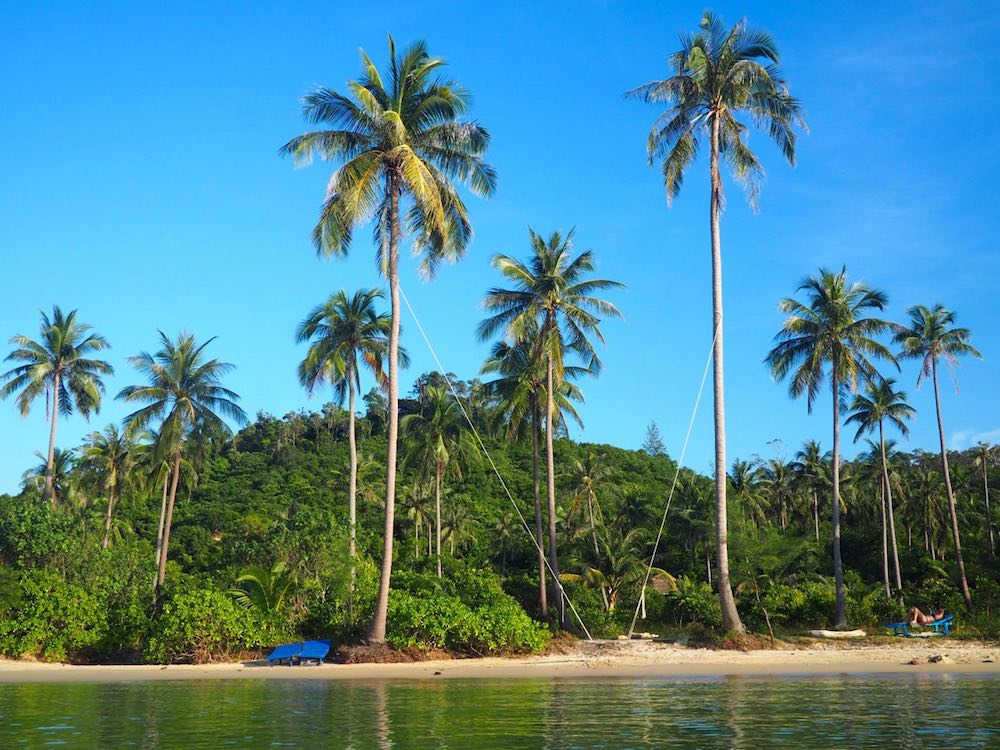 3. Cycle beside the Mekong
While there are plenty of organised tours in Cambodia only too ready to whisk you off to another temple site, elephant trek or pepper plantation, one of the best and cheapest ways of seeing the country is by hiring a bicycle for a couple of dollars per day and exploring the countryside for yourself. And one of the easiest ways of doing this is to follow the cycle tracks and dirt roads that run alongside the mighty Mekong River.
We stayed in the lovely riverside town of Kratie, about five hours east of Phnom Penh by mini-van, and home to the Mekong Discovery Trail. With a total length of 180km, stretching between Kratie and near to the Laos border at Stung Treng, the trail is certainly well suited to experienced cyclists looking to get well off the beaten tourist path. But day trips are also a great option for the most casual cyclist, like ourselves.
We headed north towards Kampi to view the rare Irrawaddy Dolphins. There are less than 100 of these beautiful creatures left in the river and they are the main reason why people visit Kratie.
The 15km cycle route there is both straightforward and lovely – a relatively straight road lined with rows of traditional Khmer wooden houses on stilts to the right and the Mekong River to the left. Along the way, streams of kids rush out to wave and shout hello to you. You can't help but just cycle along with a smile on your face and return the waves in kind.
At Kampi, there's a great viewpoint beside the river where you can watch the dolphins as they occasionally break the surface but, for $18 we hired a local fisherman to take us out on his longboat for a closer look. Happily, it didn't seem to be too obtrusive as, whenever we got close to the dolphins our man would switch off his engine and we'd  just drift alongside them.
The dolphins didn't disappoint either. Although there aren't many of them, the sight of them breaking the surface just metres from the boat, before descending back into the water was pretty special. Unfortunately, they're under threat because of questionable fishing practices, and their natural habitat has been eroded over a number of years, not only on the Mekong but in other parts of South East Asia too.
On our way back to Kratie we picked up some supplies of fabulous Kralan (sweet coconut rice roasted inside a piece of bamboo) from the village of Thma Krae. The village is famous for producing and delivering large amounts of it to the likes of Phnom Penh for the morning markets. I couldn't eat enough of it, to be honest!
Back in Kratie, we decided to catch the ferry across to the island of Koh Trong, where a further 9km cycle track awaited us. This time, though, we cycled through countryside that's about as rural as it gets.
Koh Trong is a small island in the middle of the Mekong which has a circular loop track around it connecting the tiny villages and farms, so it's really easy to get around by bicycle. The locals here were as friendly as any we'd met on our travels, which made the couple of hours or so we spent there such a lovely experience. The track is flat and passes through simple Khmer villages, with their wooden houses on stilts, and plenty of farmland where mechanical farm tools are practically unheard of.
At the north end of the island, a Vietnamese pagoda looks out over a sandy beach which turns into an almost desert landscape at the northern-most point. As I wandered around I suddenly caught a glimpse of a Vietnamese floating village in the middle of the river. It was quite a contrast to the Khmer villages on the island itself and typified just how surprisingly diverse this landscape actually is.
Of course, the Mekong is not the only river system that runs through Cambodia. Up in Battambang in the north-west I cycled for three hours along the banks of the Sangkae River, this time hugging the dirt tracks between the Khmer houses and the river itself. 
Indeed, it was just a joy to cycle through various scenes of daily life, much of which will not have changed for generations.
You don't have to be particularly fit to cycle these tracks, although if you're not used to spending too long on a bike you'll have to be prepared to get a little saddle-sore and sweaty. But in my view, there isn't a better way to see Cambodian life in the flesh.
Bicycle hire is ridiculously cheap, too –  between $1-2 per day –  although in Battambang the guest house provided it for free. So you've really got no excuse!
What did you think? Can you recommend any other alternative things to do in Cambodia? Or maybe you are thinking about visiting Cambodia soon? Either way, we'd love to hear from you so please add your comments below.
To help us maintain our site we work with a number of partners who we've personally used and can recommend to our readers. If you decide to purchase any products through the following links, we'll receive a small commission at no extra cost to you. Thank you for your support!
Hi, we're Ian and Nicky, an English couple on a voyage of discovery around the world, and this blog is designed to reflect what we see, think and do. Actually, we'd like to think it also provides information, entertainment and inspiration for other "mature" travellers, too. So please feel free to pour yourself a glass of something suitably chilled and take a look around.