How to Explore The Best Of Yosemite Valley In 3 Days
Including the best day hikes, when to go and how to avoid the crowds
A 3 Day Yosemite Itinerary To Beat The Crowds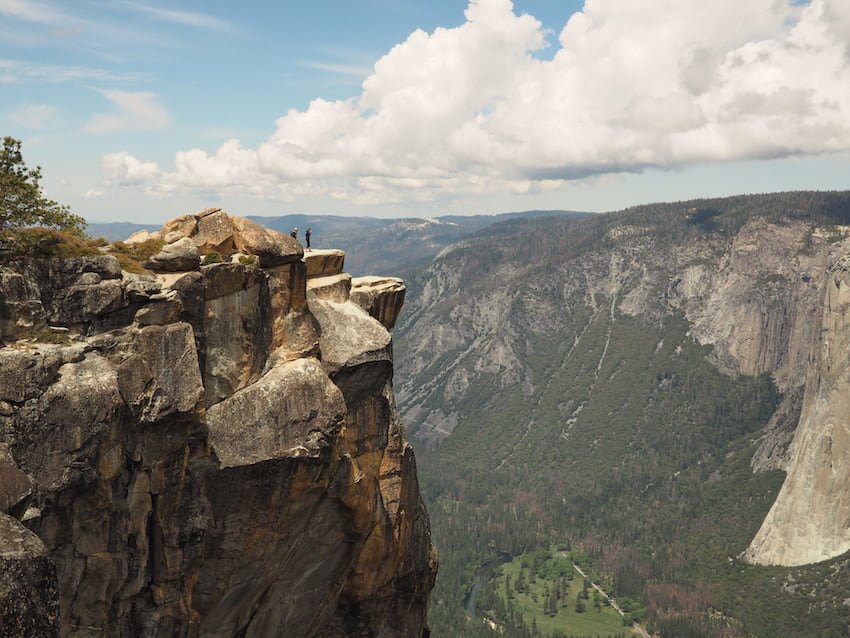 There are so many superlatives to pick from when describing the natural wonders of Yosemite Valley. But I kid you not – to get a real sense of its majestic scale you really do need to see it first hand. And if it's not already on your bucket list, grab a pen right now and mark this 3 day Yosemite itinerary somewhere near the top in bold capital letters.
Of course, you can't possibly see everything that's on offer in Yosemite Valley in just three days. In fact, if you're fit enough you could easily spend 7-10 days here just exploring the many trails. But, if you're a first-timer and only have a few days to spare, then our three-day guide will introduce you to some of the best day-hikes on offer.
You'll still need a reasonable degree of fitness. And there's a chance you might get a soaking. But believe me, you certainly won't regret it.
Table of Contents
Click on the link to go straight there…
This page contains affiliate links. To help us maintain our site we work with a number of partners who we've personally used and can recommend to our readers. If you decide to purchase any products through the links on this page, we'll receive a small commission at no extra cost to you.
As the USA's third most popular national park, Yosemite is blighted by crowds from May through September. The trick is to go to bed early and rise just after dawn. That way you can experience even the most popular sights in relative solitude. Especially before the day-trippers from San Francisco and elsewhere arrive.
And, due to our campsite's location, that meant a 5 am alarm so that we were on the road in our camper van by 5.30 and ready for breakfast at our chosen location by 6.30. Believe me, arriving at Glacier Point in the company of just a handful of other people is so worth the effort.
The summer months of June, July and August undoubtedly bring the best weather (and the biggest crowds) but we'd thoroughly recommend mid-to-late May when the waterfalls are at their best as the melting ice and snow make their descent down to the valley.
True, you run the risk of bad weather. And some of the trails may not even be open following their winter closure. But the chance to experience the likes of Yosemite Falls in all its thunderous white-water glory is something we're glad we didn't miss. Especially after the effort required to hike there.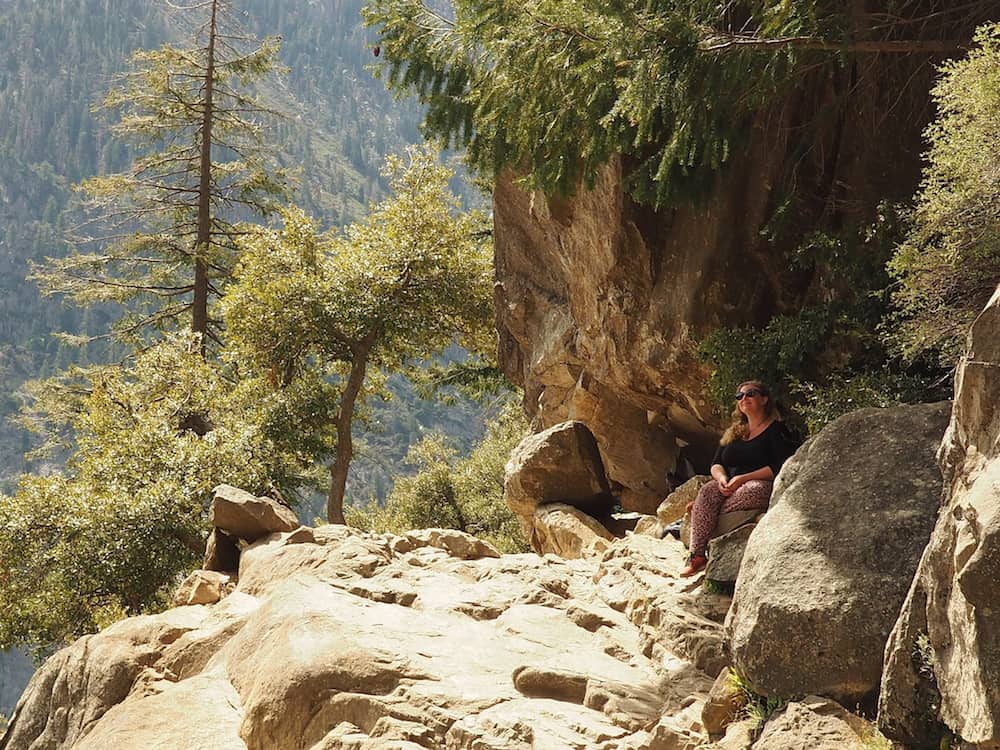 Get up early and enjoy some of the best trails in relative quiet
Our accommodation of choice for our entire northern California road trip was a camper van hired through Escape Campervans – which we a company we can highly recommend.
Most people want to stay inside the National Park itself. If camping isn't your thing, and you're not restricted to a tight budget, there's the Yosemite Valley Lodge and the more upscale Majestic Yosemite Hotel.
Camping/RV options include the North Pines and Lower Pines campgrounds, along with Camp 4, located directly under Yosemite Falls. However, they're almost guaranteed to be full throughout the main season – which means booking well in advance (reservation-only pitches are released for booking at certain dates) or arriving well before 8 am to claim any of the available first-come-first-serve pitches.
An alternative is to book into a campground outside the national park perimeter, such as the Summerdale Campground just the other side of the park gates on Highway 41 (heading north from Fresno). We spent four nights there and found it to be an excellent base, even though it's an hour's drive to the main car parks in Yosemite Valley. However, our stay was made even better by the super-friendly and efficient camp host, Gina.
Be aware that you'll need a pass to get into the park. If you don't have a National Park Annual Pass you can buy a seven-day pass at the gate for $35.
DAY ONE: Lower Yosemite Falls
At 2,423 feet, Lower and Upper Yosemite Falls combine to claim the title of "Tallest Waterfall in the USA". Together, they're a sight to behold. And you can see them perfectly aligned as you walk the short, easy trail to the base of the lower falls.
With a drop of 320 feet, the lower waterfall is tiny in comparison to its higher elevation brother, but it's still worth an early-morning visit before you begin the climb upwards.
There's a viewing area that catches the mist as the water thunders onto the rocks. But for a unique and closer peek into the mist there's a short unmarked trail to the left of the fall. You'll need to climb over one or two boulders – and you'll get VERY wet – but it's not every day you'll get the chance to photograph a double rainbow in the shadow of Yosemite's most iconic waterfall.
Upper and Lower Yosemite Falls in full view
Having stretched your legs you'll then head west along the Valley Loop Trail until you arrive at Camp 4 and the trailhead for Upper Yosemite Falls.
The trail immediately winds steeply up through the forest. And you'll need to negotiate a relentless hour or so of switchbacks before you escape the tree line to uncover the yawning vista of Yosemite Valley in front of you. It's an unforgettable sight and one that's worth lingering over.
View of Yosemite Valley floor from the trail
The trail continues upwards without the merest hint of the mighty falls – to the point where you might be forgiven for thinking that you'd taken the wrong trail. But, after a particularly steep section followed by a slight descent, the mighty roar of the majestic falls serves as a precursor for your first glimpse of it at close quarters.
And if there's one reason for visiting Yosemite during the Spring, this is it.
Most, if not all hikers, stop here to photograph the waterfall in what is undoubtedly the best view of it in the whole valley. The sheer scale of the volume of water tumbling over the precipice and vaporizing into mist is just mind-boggling. It's a sight that you're not likely to forget in a hurry. And we certainly won't.
Although that might also have something to do with the rattlesnake that slithered past us just a few minutes before.
Upper Yosemite Falls in all its glory
It's also at this point that you have a decision to make. Head back down or continue for a further two hours or so up to the lookout point over the top of the falls. Be aware it's an even tougher climb than the one I've just described, with an even bigger number of switchbacks.
As we were both still recovering from muscular leg injuries we decided against it – opting to save our legs for the next two days. But if you're made of sterner stuff, go for it!
Just to reiterate, it pays to set off early morning if you want to avoid the crowds. On our way back down the trail (between 11-12 noon) the line of hikers on their way up was already becoming unbearable.
Glacier Point benefits from its elevated position on the opposite side of the valley to Yosemite's most iconic sights. So, in addition to Yosemite Falls, you're treated to a full panoramic view of Half Dome, Vernal and Nevada Falls.
We were fortunate that the Glacier Point Road (which is normally closed from November through May) had just re-opened and so we made a point of getting to Washburn Point (just before Glacier Point) in our camper van by 6.30 am to enjoy a freshly cooked breakfast overlooking one of the best vantage points we've ever seen. With only one other person for company.
Panoramic view from Glacier Point
As an alternative to driving there, you can also hike to it via the strenuous Four Mile Trail. But for our three-day first-timers guide, we'd strongly suggest that you don't miss out on the easier trails to Sentinel Dome and Taft Point, which can be accessed from the road a mile or so back from Glacier Point.
View of Yosemite Falls from Glacier Point
View of Half Dome from Glacier Point
Sentinel Dome & Taft Point
The trails to each of these landmarks are only a mile long  – one to the north and the other to the west – from the roadside car park. But, they're connected by a loop trail via Roosevelt Point that winds its way along or near the cliff edge.
The trail to Sentinel Dome is the tougher of the two, although it's still a relatively modest one. The dome itself is typical of the geological formations found throughout Yosemite National Park and is worth climbing for an even bigger panoramic view than Glacier Point. This time, to the west, you've also got a spectacular view of the famed El Capitan, a 3000-foot granite monolith beloved by rock climbers from all over the world.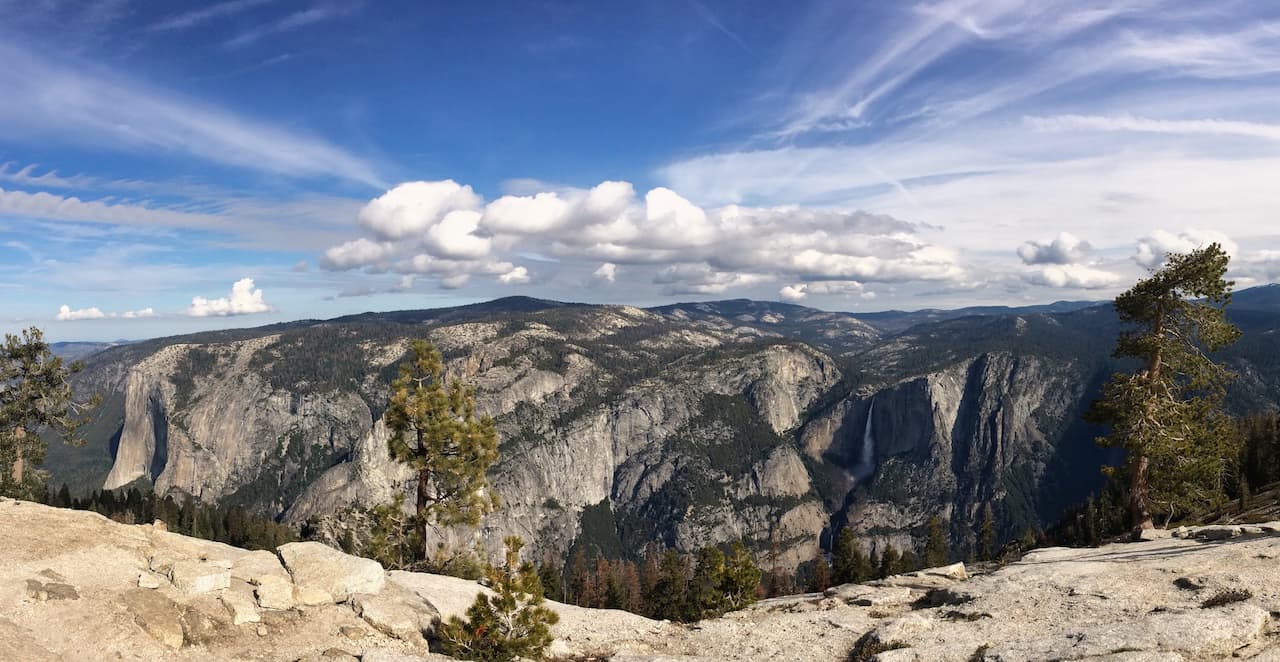 Panoramic view from Sentinel Dome
And then it's on towards Taft Point via the loop trail, which provides many alternative views across the valley along the way.
Ian taking a breather on the Sentinel Dome to Taft Point Loop Trail
Just before you reach Taft Point, look out for a number of narrow gaps in the rock pavement known as The Fissures. They literally drop thousands of feet below and are a good enough reason on their own not to go wandering around here in the dark!
And then, just beyond The Fissures, you'll reach what quite frankly looks like the end of the world. Taft Point culminates in a slab of rock which juts out over a cliff edge with a drop of three thousand feet into the valley below. If you don't already suffer from vertigo, then placing a tentative toe on the inviting platform might just tip you over the edge – figuratively speaking, of course. Better to lie down on your belly and peer over the edge safe in the knowledge that gravity can't work its magic through solid rock.
It's a jaw-dropping spectacle. And it's quite possibly my favourite spot in the whole National Park.
Once again, you need to get there by late-morning. But if you've managed to get to Glacier Point by 06.30 you should easily make it to Taft Point via Sentinel Dome by 10.30.
The awesome 3000-foot drop at Taft Point
You'll want to linger here for a while and explore one or two more vantage points to appreciate the Cathedral Spires and El Capitan to your left and Yosemite Falls to your right.
But, of course, you've still got an afternoon ahead of you. And, if your knees can handle it, you could always take the Four Mile Trail back down to Yosemite Valley – as long as one of your party opts to drive the camper/car back down to meet you. Just bear in mind that you've got another strenuous hike ahead on Day Three!
Panoramic view from Taft Point
DAY 3: Vernal & Nevada Falls
The Mist Trail to Vernal and Nevada Falls is another of the iconic Yosemite sights and absolutely should not be missed during the Spring ice thaw.
You can get to the trailhead by parking opposite the Upper Pines campground or by jumping on the free shuttle bus that stops at all the main landmarks on a continuous loop.
As with Yosemite Falls, you need to be aware that the trail involves a relentlessly steep climb for two or three hours. The first section is on a concrete pathway, sandwiched between some huge granite boulders and the Merced River. But once it crosses the river you're presented with a series of punishing steps – known as the Giants Staircase – as you approach the 317-foot Vernal Falls.
Now, I don't know what it's like in the summer but, in May, the ghostly spray from the falls blows across the steps to such a degree that you'll be drenched long before you reach the top. Hence the trail's moniker.
But don't be put off because the payoff is worth it. At the top of the falls, a viewing platform allows you to look back to where the white water thunders its way down into the valley. At the same time, you can take a perverse pleasure in watching other increasingly soaked hikers puff and pant their way up the steps towards you.
Vernal Falls spills into the valley below
But, of course, this is merely a stopping point en route to the top of Nevada Falls as the trail continues up to 2000 feet above Yosemite Valley.
By now, the mist has been left behind and so there's thankfully a chance to dry out. Finally, at the top of the Giants Staircase, there's a short walk down to a viewpoint that's even better than that over Vernal Falls. In fact, the falls rage over the cliff edge to such an extent that the water appears to vaporise before it smashes into the rocks below.
Nevada Falls thunders over the precipice…
For your descent, you have two options. You could simply retrace your steps and suffer another soaking via the Mist Trail. Or we'd recommend continuing across the Merced River and following the longer, but kinder-to-the-knees, John Muir Trail. And by doing this, you also get great alternative views of Nevada Falls in the shadow of Liberty Cap and Half Dome.
The John Muir Trail eventually meets up with the base of the Mist Trail before returning to the trailhead. And, without labouring the point, given the sheer volume of people that were now making their way up the trail, we were so glad we set out at 7 am.
View of Nevada Falls from the John Muir Trail
By following our advice and starting very early you'll undoubtedly have some spare time on your hands in the afternoons. Which is fine because we found the rest periods in between our physical exertions to be invaluable.
And there are still plenty of other things to do in the valley of a more sedentary nature. Like discovering how the incredible geological formations of the National Park were formed at the Yosemite Valley Visitor Centre. Or perhaps just finding a picnic spot along the valley floor.
But make sure you find time to see the 3000-foot granite El Capitan monolith from below. You can walk to it along the Valley Loop Trail or you can get to it by car on your way out of Yosemite Valley. And the shuttle bus will drop you off right underneath, too.
Close by there's also a fantastic view across the valley towards Bridalveil Falls. And, just before the tunnel on Wawona Road (en route back to Summerdale Campground or Glacier Point Road) there's another iconic viewpoint back along the valley at the imaginatively named Tunnel View. Not surprisingly, crowding can be a problem here too so its worth making the effort – like we did – to stop off there as part of one of your early morning starts.
Of course, we couldn't finish without suggesting a celebratory beer or cocktail (or two) at the famous Ahwahnee Hotel. True, it's a bit pricey, but we reckon if you've made it this far then you've most definitely earned it!
Cheers!
Mist hangs above the Yosemite Valley floor during the early morning – as seen from Tunnel View
3 Day Yosemite Itinerary: FAQs
How much does Yosemite cost?
As of 28 February 2022, the entrance fees are:
Individual – $15 (valid for 7 days)
Motorcycle – $30 (valid for 7 days)
Car, camper van etc – $35 (valid for 7 days)
Yosemite Pass – $70 (valid for 1 year)
What is the best month to visit Yosemite?
The best two months are at the beginning and end of the main season – that is, May and September. Outside of those months much, if not all of the park can be closed, depending on the weather conditions.
During the latter half of May, the melting snow ensures that the park's waterfalls are at their magnificent best. And the worst of the summer crowds have yet to arrive. 
September is also a good choice as the crowds have largely gone and the winter snow is still around the corner.
Are there bears in Yosemite?
Yes, there are!
In fact, there can be up to 500 black bears within the national park at any one time. Which means you should always maintain a healthy respect for them whilst travelling through and camping in the park's grounds.
One of the most important things to remember if you're staying in the park is to use a bear box to store food at all times. A hungry bear will do almost anything to steal food if it gets wind of some nearby.
And if it's successful, it'll almost certainly return for more. With potentially dangerous consequences for the people involved. And, unfortunately, even more so for the bear.
Yosemite Valley Photo Gallery
For your viewing pleasure, please visit our SmugMug gallery for more of our Yosemite Valley photographs.
What did you think? Have you been to Yosemite Valley? Do you have any recommendations to add to our 3 day Yosemite itinerary? Or perhaps you're thinking of visiting there in the near future? Either way, we'd love to hear from you so please add your comments below.
Need something to hang on your wall?
If you like our photography you might want to head over to our Etsy store, where there's a whole host of our wall art available for purchase. 
The following contain affiliate links. If you decide to purchase anything after clicking on any of these links, we may receive a small commission at no extra cost to you. Indeed, as a result, you'll be helping to keep our website ad-free! Thanks for your support.
Book Your Flight
Book Your Accommodation
Research and book your accommodation in the USA through our partner, Trip Advisor.
Buy Travel Insurance
For travellers who are UK residents, we recommend True Traveller. Amongst other things, they offer both multi-trip and backpacker insurance. Indeed, they're our go-to insurance provider.
For travellers who are non-UK residents, we recommend SafetyWing for both remote health insurance and nomad insurance.
Buy Your USA Visa Online
Check your visa requirements for the USA and purchase online with iVisa.
Book A Guide
Book a guide, tour or other activity in Yosemite Valley with Get Your Guide
Become A Housesitter
Stay rent-free in the USA by signing up with the world's largest housesitting platform, Trusted Housesitters. And get 25% off your first year's membership.
Hi, we're Ian and Nicky, an English couple on a voyage of discovery around the world, and this blog is designed to reflect what we see, think and do. Actually, we'd like to think it also provides information, entertainment and inspiration for other "mature" travellers, too. So please feel free to pour yourself a glass of something suitably chilled and take a look around.