There's no doubt that The Philippines has its share of natural attractions to visit, and if you're looking for somewhere to stay to appreciate them at their best you may need to put up with some less-than-attractive accommodation, especially if you're on a limited budget.
Sometimes, though, it's not necessarily just the destination that's the attraction but the accommodation itself.  And that means owners or hosts who go out of their way to make you feel at home and a place to stay where you don't necessarily have to go anywhere else to fully appreciate the time you spend there.
We were lucky enough to stay at three very special places during our one month in the country, which epitomised everything about what we look for when we're travelling – warm and friendly people, a comfortable bed, great food and accommodation which blends in with the natural surroundings.
Sound good? Well, if you're thinking of travelling around The Philippines and are looking for places like this, away from the tourist hordes, then you might want to look at these three little gems…
Contents
This page contains affiliate links. To help us maintain our site we work with a number of partners who we've personally used and can recommend to our readers. If you decide to purchase any products through the links on this page, we'll receive a small commission at no extra cost to you.
1. Kookoo's Nest, Tambobo Bay, Negros Oriental
To say Kookoo's Nest is situated at the end of the road is a bit of an understatement. After travelling by motorbike along some fairly rough track we negotiated the numerous steps down to the beachside setting, safe in the knowledge that we wouldn't have to work our way back up them with our backpacks for another four days. It wasn't as bad as the 1900 steps as quoted by Lonely Planet, though (think they may have added an extra zero for dramatic effect).
The place itself consists of six individually designed bamboo cottages, overlooking the beach, together with a restaurant and dive shop. Owners, Nikki and Jamie hailed from England but have spent more time travelling than we can only dream of, and have lived in The Philippines for the past 20 years or so.
We stayed in the Toko cottage, perched at the top of a large boulder at one end of the beach. As a carpenter-by-trade you can see the attention to detail that Jamie has put into the design of the place – all bamboo and ropes wrapped around the natural environment, with a bathroom downstairs built into the rock. Just gorgeous.
Now, we'd heard that sunsets in The Philippines can be a bit special, but the ones we saw here were hands down the most spectacular we've ever seen, anywhere. For the four nights we were there, none of them was alike. From gold to blues, to pinks and reds, the sky just seemed to go crazy at will.
Sunset on the boardwalk at Kookoo's Nest
Another attraction to staying here for us was that diving was available straight off the beach. Jamie, as a diving instructor, and Nikki, as a dive master, took us out in turn to the house reef, which was excellent. Visibility wasn't that great to be fair, largely due to the winds that can whip up the waves at this time of the year.
But the variety of hard and soft coral, together with the reef fish and kaleidoscope of colours they produce, made the two dives memorable ones. In addition, we got to see a large cuttlefish up close, and some huge gorgonian fans.
Snorkelling the house reef was just as impressive, but what really took my breath away was when I was doing some serious swimming across the bay, still wearing my snorkel and mask – after doing repetitive lengths at my local swimming pool for so long it was a joy to be swimming over a beautiful reef rather than a collection of broken pool tiles.
A feature of Nikki and Jamie's approach to responsible tourism is that they deliberately wanted to employ local people so that they were able to return home to their families after their day's shift, rather than have to stay on site. What we saw, as a result, was a team of happy, smiling staff, who also weren't averse to knocking up an impromptu dance in the kitchen while the music was playing, before wandering along the beach back to their homes in the evening. And, as far as we're concerned, happy, smiling staff tends to lead to an efficient and better all-around experience.
The view from our balcony wasn't too shabby
It's definitely a back-to-nature experience, too. We had a large monitor lizard that liked to prowl around the beach and beside our bungalow for the duration of our stay. The rooms are not sealed either so you need to be prepared for nature to wander in and out. But if you don't mind being around geckos and frogs that shouldn't worry you. And, of course, anything else can be shut out by tucking your mosquito net under your mattress.
The food was universally good, and the breakfasts were amongst the best we've had since we've been away – home-made bread and jam, home-cured and smoked bacon and fresh eggs from a local lady who delivered them each morning from her small boat. Oh, and the best coffee I'd had in ages.
For us, that quality and attention to detail perfectly sum up the place that Nikki and Jamie are running. 
And like us, you won't want to leave.
From Dumaguete port, we got a habal-habal taxi (150 pesos – 30 minutes) to the southern bus terminal, where we picked up the Ceres Liner bus towards Zamboanguita (56 pesos – 1 hour). Just ask at the terminal for the right bus.
After being dropped off at Zambuanguita we picked up two motorbike taxis (150 pesos each – 20 minutes) to shuttle us to Kookoo's Nest, some 14km away.
What we paid
1250 pesos per night – room only, fan, wifi (decent in the restaurant but struggled in the room).
2. Santeria Guest House, San Fernando, Palawan
About an hour north of the holiday "paradise" destination of El Nido, this place is about as far removed from that ugly, tourist-heavy town as you could possibly get.
On a road (and I do use that word loosely) that's only really part-constructed, we travelled via habal-habal motorbike taxi until we finally came across a sign at the side which told us we'd arrived. The sign next to it, however, proclaiming that the place we were staying in was "up here, folks" wasn't kidding. Up we went, via the forest and a series of steps until we arrived at a bamboo oasis on the hillside and the smiling faces of Luke and Dana.
Like Nikki and Jamie, they're originally from England, although Dana's family are Filipino. Having only opened to the public in January 2015, their restaurant/bar/guest house is a deliberately quiet, low-key oasis nestled into the hillside, surrounded by cashew trees, with views to the sea at the front and the forest-cum-jungle at the rear.
Hungry and thirsty after our hurried "escape" from El Nido, we settled in at the bar and munched on homemade tortilla chips and pineapple salsa while our hosts shared beers and chatted with us for what seemed like hours. It honestly felt as if we'd just returned as old friends.
Our bamboo cottage was small and basic but clean and more than comfortable. Once again the view from our balcony was just gorgeous, framed by cashew trees, overlooking rice fields and onwards down to the bay.
You're pretty restricted to spending your evening and eating at the place due to its remoteness, but that's pretty much the point, particularly when the food is so good.
And with a cockerel, plenty of chickens and a couple of cats running around we got the feeling we were staying in someone's home rather than a guest house. Indeed, evening meals are eaten together at one sitting, with Luke and Dana both joining us and the one other guest who was staying in the adjacent cottage.
Luke says he'd like to keep things small and low key, too – maybe expanding to just four or six cottages at some point. In fact, while we were there they were constructing a wooden "star-deck", through and above the trees, for guests to use as a star-gazing platform and to provide an opportunity to sleep overnight in a tent.
Away from the guest house, the footpath down to the road leads, via some lovely rice fields, to the village of San Fernando.
Rice fields at San Fernando
Apart from there being probably more cockerels around than people, it really seemed to define the term "sleepy fishing village". Down at the beach, small fishing boats rested on the sand. And a pig was taking some well-earned time out from wallowing in mud and…..whatever else pigs do all day.
But as we walked to the left along the beach it became quieter, the only noise being the hymn singing coming from the nearby Catholic church. The beach opened out into a white expanse of fine sand, shaded by coconut trees and looking out over a blue bay towards Daracota Island.
The empty beach at San Fernando
We've found time and time again that one of the joys of getting away from the main tourist areas is being able to meet and mingle with locals, who never fail to blow us away with their warmth and friendliness. And so it was here, too.
We met a group of about 20 family and friends who were picnicking on the beach and who invited us to join them. Despite their limited English (and our non-existent Filipino) we managed to have a laugh together as we shared fresh coconuts, took photographs of each other and staged a mini coconut tree climbing competition between me and a sixteen-year-old boy.
Up first, I managed to scale the first couple of feet without any problem before something akin to vertigo set in. Having set the derisory target I then watched as my adversary scaled the whole coconut tree in under ten seconds. One of his friends shouted, "Look, he's like a monkey". No kidding! The guy's got talent no doubt but did he really have to rub it in by posing for a photograph on the way down?
Further along the beach, we came across a series of fences adorned with drying seaweed, while women and children's voices could again be heard singing in the small church behind. Meanwhile, men lay around in their beached fishing boats while young children cheekily posed for photographs.  Such a simple, happy lifestyle but one that's a joy to witness, if only for a little while.
We also took a boat trip to a nearby island – although with hindsight we probably shouldn't have gone given the awful sea conditions en route (memories of scenes from the film "The Perfect Storm" came to mind at one point). Still, the beach was nice, powdery white sand and there might have been the chance to snorkel with baby reef sharks had the water been calmer, too.
All things considered, there's certainly enough to do in the area for a two or three-night stay at Santeria. Just don't expect wild nights and partying. Generator-powered electricity is only on from around 17:30 each day for just a few hours – or until everyone decides it's time to go to bed. But for a genuine taste of local Filipino life and a chilled-out break in a truly hidden gem of a guest house, this is as good as it gets.
And we're wishing Luke and Dana the success they deserve with their fledgeling venture.
From El Nido, we took a habal-habal direct to the guest house (1200 pesos – 1 hour). To be honest we were probably fleeced as the guy wanted 2500 pesos initially and told us it would take 3 hours. We probably could have picked one up for 900 pesos. There's also a mini-van service which passes through San Fernando from El Nido which should cost approximately 250 pesos per person.
What we paid
1000 pesos per night – room only.
There's no wifi but, with Luke's help, I managed to pick up a decent 3G signal using a local Smart Sim card, by hanging my phone from a branch in one of the cashew trees!
3. Palawan Camping, near Port Barton, Palawan
Also known as Toby and Thelma's Island Camping Adventure, this is the kind of place that's hard to find but even more difficult to leave.
Set on its own superb private beach, and only accessible via a 30-40 minute boat ride from Port Barton, it's an island paradise in the truest sense.
This is what awaits as you arrive by private boat
Toby is a 70+ Canadian who landed on the beach while kayaking from El Nido over 30 years ago. He loved the location so much that he decided to buy the land. Together with his Filipino wife Thelma, he's used his extensive experience of the outdoor life to produce a shoes-off camping experience that's second to none.
To be fair, this is "glamping" rather than camping – no sleeping on the floor here as there's a proper double bed with mattress. And with just seven large tents available it manages to retain a small resort feel. Each pitch is on sand and looks directly out over the beach, which means that you go to sleep at night and wake up in the morning to the sound of lapping waves.
While Toby's role is very much "front-of-house", Thelma works with her team behind the scenes to produce the food. And, my god can that woman cook! Evening meals are served buffet-style in a communal sand-floored restaurant and the quality is just outstanding – probably as good as anything we've had anywhere, with fresh crab, squid and fish usually on offer, along with Filipino vegetable dishes. In fact, the nightly rate to stay includes breakfast, lunch and dinner so we had five days of gorging ourselves relentlessly!
The beach was the whitest stretch of powdery white sand we saw in The Philippines and was kept meticulously clean by Toby and his staff – which is a lesson many other resorts in SE Asia could do with learning.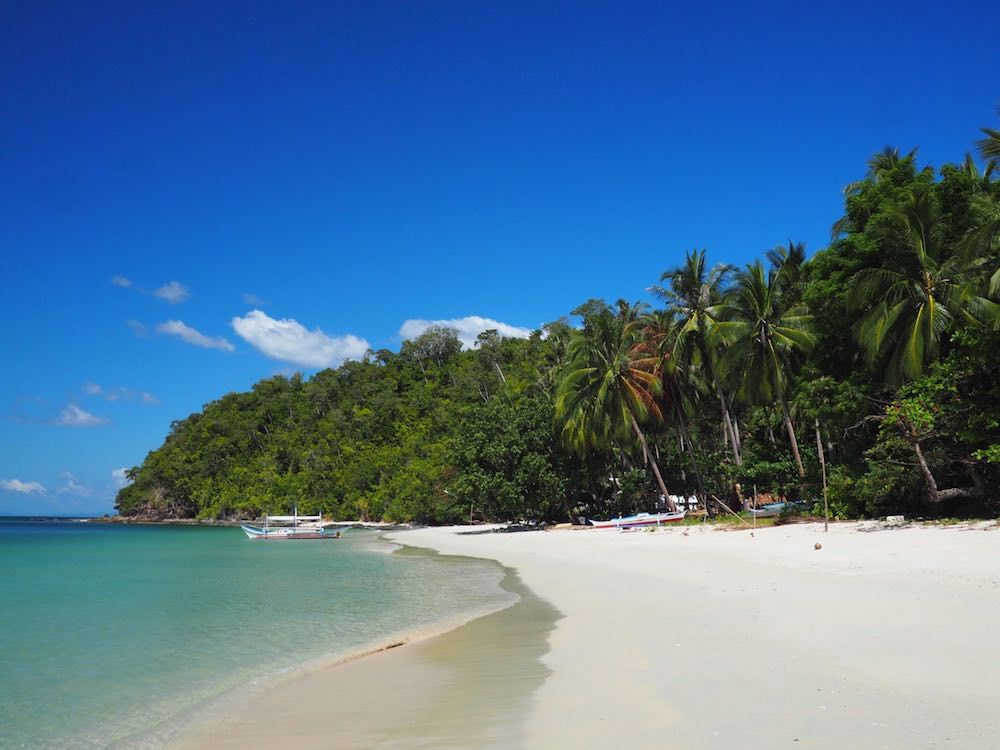 Palawan Camping's private beach
Snorkelling from the beach wasn't great as the sand was kicking up into the water due to the number of waves, but much better snorkelling was available on the inexpensive half-day boat trips (300 pesos each) to nearby islands and reefs.
As usual, we took our pre-sunset drinks on the beach before joining everybody else around the campfire before dinner. Then, on the clearer nights we were able to return to the beach for a spot of star-gazing – with hardly any light pollution around it was nearly on a par with what we experienced in Western Australia. But what lifted it even further was the incredible phosphorescence display in the sea once all the lights had been switched off. We thought it had been good in Koh Rong, Cambodia but this was on another level altogether.
As we swam, every movement we made in the water created a halo of electric blue light, and when we raised our arms out of the sea droplets of blue-white water would cascade from them like liquid metal. Crazy.
Not surprisingly, the place attracts a pretty eclectic bunch, too, with people staying for anything between one and ten days. While we were there we were joined by fellow English, Americans, Estonians, Poles, French, Germans, Belgians, a Norwegian, a Kenyan – and a Scot who was only too willing to share his bottle of Southern Comfort with anyone who was interested.
And so, after probably five of the most chilled out days we've ever spent, it was time to leave this little slice of paradise. As we sat drinking from a freshly harvested coconut we wondered how on earth we'd find a way of making it back some day. Somehow, I think we'll manage it.
First, you need to get to Port Barton, which can be reached directly by mini-van from Puerto Princesa or El Nido. As we were staying in San Fernando at the time we got a mini-van to take us to a crossroads near Roxas (350 pesos each, 4 hours), where we picked up a habal-habal taxi (200 pesos each, 40 minutes) for the final 24km down to Port Barton. The road on the final 18km was atrocious (potholes and road construction) so avoid the habal-habal if you can!
From Port Barton, we were picked up by Toby and Thelma's own boat (300 pesos each – 30 minutes).
What we paid
3200 pesos per night – bed, breakfast, lunch and dinner, plus free use of kayaks.
What did you think? Have you been to any of the places we covered? Or do you have some hidden gems of your own to share? Maybe you're thinking of visiting The Philippines and would like to know more? Either way, we'd love to hear from you so please add your comments below.
To help us maintain our site we work with a number of partners who we've personally used and can recommend to our readers. If you decide to purchase any products through the following links, we'll receive a small commission at no extra cost to you. Thank you for your support!
Hi, we're Ian and Nicky, an English couple on a voyage of discovery around the world, and this blog is designed to reflect what we see, think and do. Actually, we'd like to think it also provides information, entertainment and inspiration for other "mature" travellers, too. So please feel free to pour yourself a glass of something suitably chilled and take a look around.