4 THINGS YOU MUST DO IN AMRITSAR
I'd been aware of the turbulent history of Amritsar and read about the incredibly welcoming nature of its majority Sikh population. But it wasn't until we spent three unbelievably hot days there that we really got a sense of how special the place really is.
Merely wandering around the old town's bazaar-filled streets and sampling its notoriously sumptuous food would have been enough to have left me more than satisfied. However, if you want to get the most out of a short break to this border-town here are four things to do in Amritsar you really should make time for:
Contents
This page contains affiliate links. To help us maintain our site we work with a number of partners who we've personally used and can recommend to our readers. If you decide to purchase any products through the links on this page, we'll receive a small commission at no extra cost to you.
1. Experience Sikh hospitality at The Golden Temple
Visiting the Golden Temple, or Sri Harmandar Sahib to give it its Sikh name, is the main reason why the vast majority of visitors come to Amritsar. And for good reason.
Not only is the temple spectacular, resplendent in its unbelievable 750kg of gold, it's also one of the most revered sacred sites in the whole of India – and THE most important site for the Sikh community.
For us, it was arguably just as impressive a sight as the Taj Mahal. But whereas the monument to love is more of a tourist's wet dream, the Golden Temple is a full-blown spiritual experience, with 100,000 worshipping visitors each day. And it's free to all.
Ultimately, though, it wasn't the visual splendour of the site that actually blew us away. As a gurdwara or place of worship, the site also plays host to the Sikh values of equality and sharing, and nowhere else in India were we made to feel so welcome.
The complex itself is more than just the Golden Temple, too. Surrounding it is a sacred lake (the Amrit Sarovar – from where the city gets its name) and beyond that a further complex of shrines and monuments, together with a Sikh museum.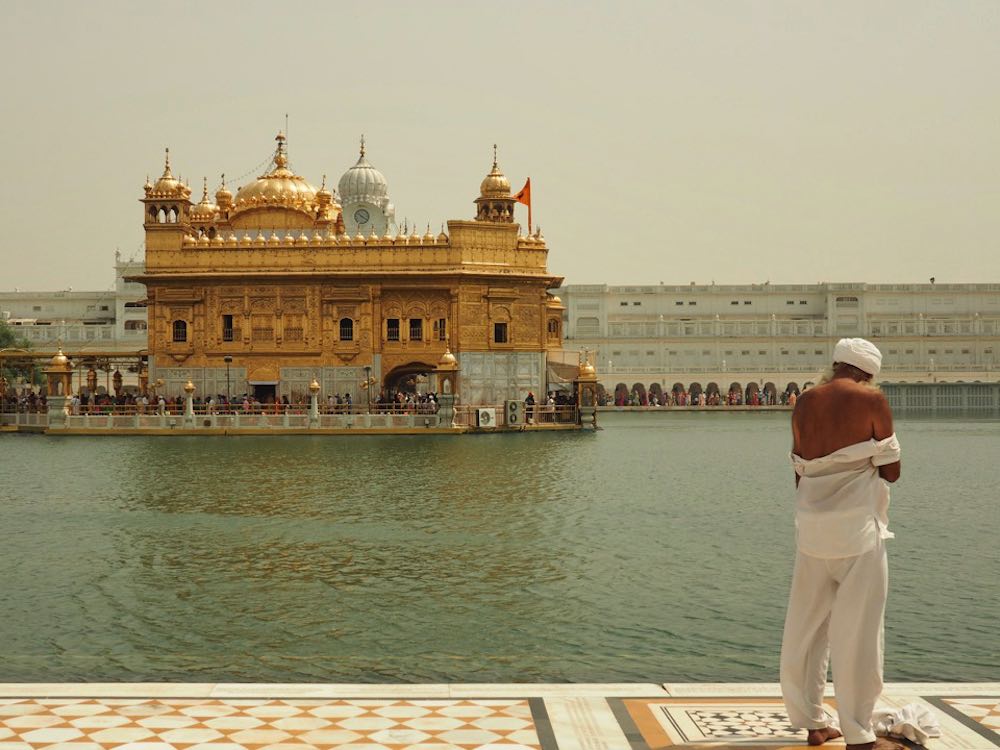 A pilgrim disrobes before bathing in the sacred lake
Just a five-minute walk from our accommodation – the excellent Hotel Akaal Residency – we entered via one of the four main entrances and were immediately struck by the sheer number of visitors. Although, surprisingly there was almost a complete absence of westerners. Maybe that was the reason we were regularly approached by Indian families who wanted to talk and have their photographs taken with us. I know that some can find this a little off-putting but we just couldn't ignore the genuine warmth of seemingly everyone around us.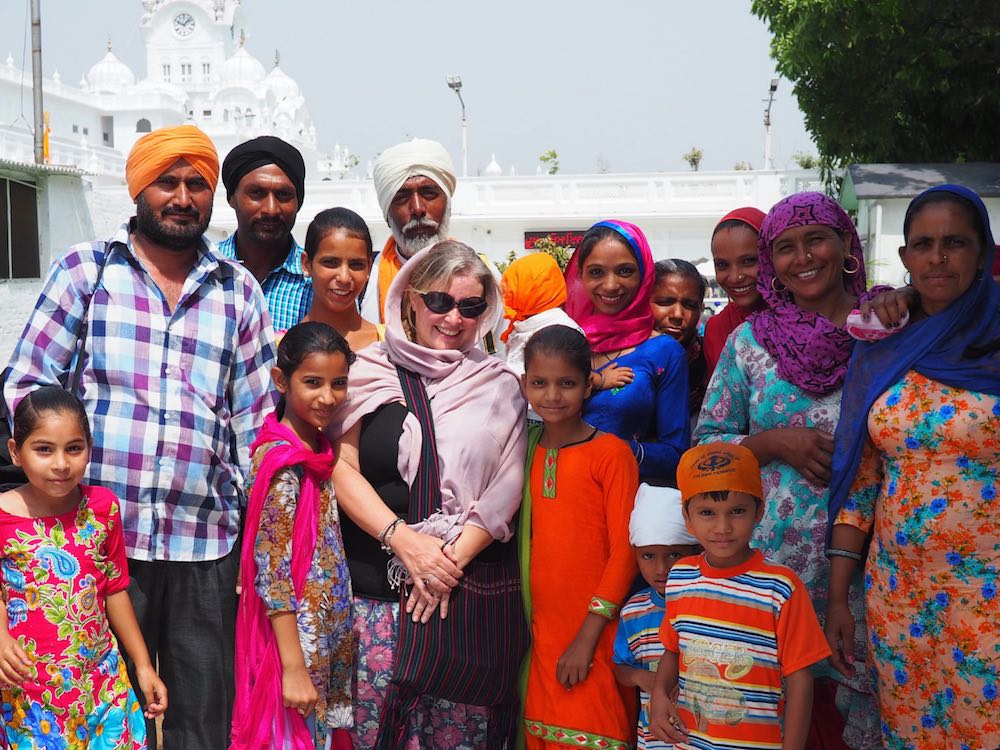 Another family, another photo
Having removed our shoes and covered our heads in line with temple protocol, we made our way inside the complex, where we were treated to our first sight of the temple itself. And just as our first sight of the Taj Mahal had been a "wow" moment, never-to-be-forgotten, so it was here too.
But, somehow this place felt so much more real. We didn't feel as if we were here as just tourists. Instead, we had a genuine sense of feeling part of something warm and comforting. As we slowly walked around the marble-floored perimeter we listened to the sound of the Adi Granth (the Sikh holy scripture) being chanted over the loudspeakers from inside the temple, while elderly Sikhs handed out bowls of milky, sweet drinks to the thirsty crowds.
To get into the Golden Temple itself we took our place in the lengthy queue at the head of the causeway.
As a first-time visitor to Punjab, it was also a moment that brought to life for me the abiding and striking imagery from my childhood of Sikh men with their white clothes and colourful turbans. For me back then, that was India and now here I was fully immersed in it.
Once inside the temple, we passed by all-too-briefly the priests and musicians who were chanting the Adi Granth before we found ourselves back outside and returning along the causeway.
The sight of hundreds more queuing to get inside the temple brought it home to us just how revered this site actually is.
Once again the Sikh principle of sharing food and drink was apparent as bowls of lentils and rice were dished out to those who wanted it – irrespective of religion, caste or any other background distinction. However, nowhere was this principle more evident than in the Guru Ka Langar – or Langar Hall.
This is effectively a huge communal dining hall which serves free food to up to 100,000 people every day – which it has done every day for the past 450 years!
To be honest we initially thought – in our naivety – that it would perhaps be churlish for well-fed westerners like us to accept the free hospitality. But, thanks to Raj – a Sikh we'd met and chatted to in the queue for the Golden Temple – we realised that Sikh hospitality really meant exactly that, irrespective of background. And we're so glad we listened.
Not surprisingly, after hundreds of years of experience, the whole thing runs like clockwork. We picked up our metal thalis outside the hall and waited with Raj and his wife as the previous "diners" finished their meals and were ushered out. We then made our orderly way into the hall and picked our spots on the floor while we awaited the food. Well, actually, this being India it was far from orderly but it seemed straightforward enough!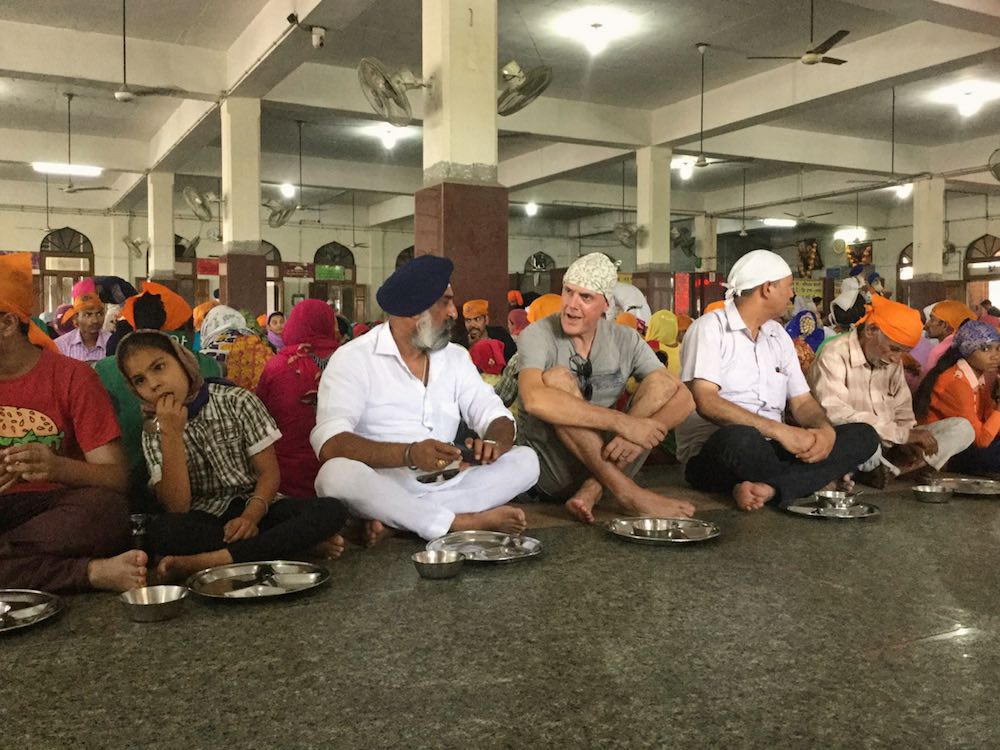 Ian and Raj await their food
And then the food arrived. Volunteers with large buckets of lentils and rice cooked in sweet milk plopped portions onto our dishes in quick-fire fashion, while another guy handed chapattis into our cupped hands. We ate with our right-hand of course – and the food was both simple and tasty. I can safely say I've never eaten a meal with such a smile on my face.
After a short time to chat to Raj it was time for us all to get up and make our way out of the hall so that the next thousand or so diners could have their fill of food, too. So off we marched with our dirty thali dishes, down the stairs to the kitchen area where a further army of volunteers was busily working its way through the mother-of-all wash-ups.
Just an incredible, humbling and completely rewarding experience.
Of course, the Golden Temple complex was also the site for one of the darkest days in India's recent history when, in 1984, Indira Gandhi's government battled with Sikh fundamentalists who had occupied the Akal Takht shrine. In the aftermath, the prime minister herself was assassinated by two of her Sikh bodyguards and more than 3000 Sikhs were massacred in reprisals. Such a staggering contrast to the serenity and peacefulness we witnessed on the 32nd anniversary of that fateful day.
Even worse, our visit to another nearby site, where hundreds of unarmed Indians were shot dead by British troops in 1919, gave us a sense of perspective on how – as Britons – we might be viewed in this part of India.
2. Pay your respects at Jallianwalla Bagh
The entrance to Jallianwalla Bagh was barely noticeable amidst the hustle bustle of Amritsar's Golden Temple Road. In fact, the only reason we found it at all was because of the hordes of Indians filing into what has become a symbol of the beginning of the end for the British Raj in India.
Indeed, the stone-engraved notice that's displayed just inside the square begins with the statement, "This place is saturated with the blood of thousands of Indian patriots who were martyred in a non-violent struggle to free India from British domination…"
In 1919 Colonel Dyer, an officer in the British Army ordered his troops to open fire on a gathering of protesters and pilgrims to quell what he thought was an uprising. After ten minutes of continual firing somewhere between 400 and 1000 people had been killed, depending on which government you listen to. The Jallianwalla Bagh Massacre – or rather Britain's reaction to it – triggered Mahatma Gandhi to lead India down the path of self-rule, and was dramatised in Richard Attenborough's 1982 film, Gandhi.
Given that background, and even though the incident took place nearly 100 years ago, it made for an uncomfortable yet essential visit. In addition to the stone memorial, a bullet-ridden wall was visible behind a display. Though the sculptured privet bushes depicting crouched soldiers firing their guns seemed an unusual choice to us.
Once again we were asked to pose for photographs with Indian families, but this time, it just didn't feel right. I'm sure they meant well enough but I remember how shocked I was seeing tourists having their smiling photographs taken at Auschwitz Concentration camp in Poland. Although obviously not an atrocity on that scale this still seemed an inappropriate place for a souvenir selfie.
Nevertheless, for us, it was a must-visit while in Amritsar as what happened there is irrevocably as much a part of the city and its people as the Golden Temple itself.
3. Witness the Wagah border retreat
Of course, since independence in 1947 India has been in dispute with its westerly neighbour, Pakistan, including three full-scale wars. In fact, after those two countries were partitioned the Punjab was effectively split between the two cities of Amritsar and Lahore (now in Pakistan). And the resultant border crossing at Wagah has served as the location for the most bizarre ceremony we've ever seen. And it takes place every early-evening to officially close down the border until the following morning.
Walk around Amritsar you'll be accosted eventually by a taxi driver offering to take you to "the border". And, sure enough, we headed out of town along with the other overloaded buses, auto-rickshaws and taxis.
Having been dropped off at the official car park by our driver, we made our way along the cordoned-off road towards the security checkpoints. A notice at the side of the road warned us about our behaviour at the ceremony – while at the same time giving us an early indication of what we might expect to witness. Clearly "filthy body language" was something I'd have to save for another time. But did they really have to warn people about number 14?
When we arrived at the "crossing" we felt we'd entered something more like an athletics stadium than a military establishment. There were two grandstands either side of the road, one of which was already full of cheering, flag-waving Indians. And that was a full two hours before the actual ceremony was due to start. Meanwhile, a guy with a microphone and dressed in white was whipping up the crowd into a further frenzy like a Live Aid-era Freddie Mercury.
The mid-afternoon temperature of 45 degrees didn't make for comfortable viewing but it certainly didn't dissuade the party mood either as loudspeakers blared out popular Hindi music and a large section of spectators jumped into the road for an impromptu carnival. A glance across the border to our left, though, and everything was much more muted and sparsely attended.
Freddie Mercury stirs up the crowd
But this was all just a pre-cursor to the main event. Suddenly a group of golden-uniformed soldiers, with red head- dresses resembling ice-cream wafers, began striding into view to our right. Meanwhile, a guy with a large drum kit immediately behind us began to thrash out a quick-fire marching beat.
The troupe then marched up to the border gate and back again before taking up their position below us.
At which point the fun really began.
Individual soldiers took it in turn to march to and from the gate, periodically kicking up their legs as high as they could and stamping their feet, as if in defiance of the soldiers on the opposing side. Their Pakistani counterparts would do the same in an almost balletic display of synchronised goading.
We and the few others in the "foreigner" section of the grandstand looked on in open-mouthed disbelief. This was an event that marked the daily closing of a border between two hostile countries who've been at war with each for much of past 65 years or so. And here we were watching what amounted to a cabaret performance in front of an ice-cream-eating, frenzied crowd, still being whooped up by Freddie Mercury with chants of "Hindustan! Hindustan!" (a geographic term for the north-western area of the Indian sub-continent).
The ceremony's in full swing
Forty-five minutes later and it was all over. The Indian flag was taken down, folded up and carried out by one of the soldiers, while some of the crowd began to head for the exits, like early leavers from a music concert looking for a quick escape to catch the bus home.
We wondered how this whole event might have been played out anywhere else in the world, or even at home. Mischievously we contemplated crowds of English and Scots congregating around Hadrian's Wall, watching a display of costumed bagpipe players and morris dancers trying to out-manoeuvre each other. Now that would make for some great photos…
4. Enjoy the perfect Amritsar breakfast
Like the rest of India, Punjab is famous for its food, and none more so than in Amritsar. But for me, there were two simple dishes that really made it worth getting out of bed for.
Lassi – made from blending yoghurt, water, sugar (or salt) and spices until frothy – is drunk throughout the country. But in Amritsar, there's literally a stall making it on every street. In fact, if you're out and about near breakfast time you'll probably see it being prepared in wide metal bowls and then served with thick, fresh malai (cream) in a tall steel tumbler.
Believe me, it's not something you want to drink WITH your breakfast as it's thick and rich. But it's SO good on its own that it's worth picking one up as a wake-me-up drink. Which I definitely need to simply function each day.
And at 20-30 rupees per tumbler, it's an absolute steal.
Amritsari Kulcha – roughly translated as "breakfast nirvana". It's basically a flatbread stuffed with mashed potato, onions and plenty of spices, which is baked in a tandoor oven and served piping hot with chole (chickpea curry) and a tamarind and onion chutney. Oh, and it's also smeared with lashes of butter.
A thing of beauty and another absolute bargain at 30-40 rupees.
Amritsar really was an unexpected joy for us. The friendliness of the mainly Sikh population, the glory of its Golden Temple and the calorie-laden richness of its food will live long in the memory.
In fact, it's a part of India we'd like to return to one day. And, as a six or seven-hour train ride from Delhi, we heartily recommend you check it out if you've got a couple of days to spare from visiting the capital.
What did you think? Do you have any recommendations of your own for things to do in Amritsar? Or maybe you're planning a visit there soon? Either way, we'd love to hear from you so please add your comments below.
To help us maintain our site we work with a number of partners who we've personally used and can recommend to our readers. If you decide to purchase any products through the following links, we'll receive a small commission at no extra cost to you. Thank you for your support!
Hi, we're Ian and Nicky, an English couple on a voyage of discovery around the world, and this blog is designed to reflect what we see, think and do. Actually, we'd like to think it also provides information, entertainment and inspiration for other "mature" travellers, too. So please feel free to pour yourself a glass of something suitably chilled and take a look around.