ALFORNÓN: A RURAL GEM OF LAS ALPUJARRAS, ANDALUCIA
ALFORNÓN: A RURAL GEM OF LAS ALPUJARRAS, ANDALUCIA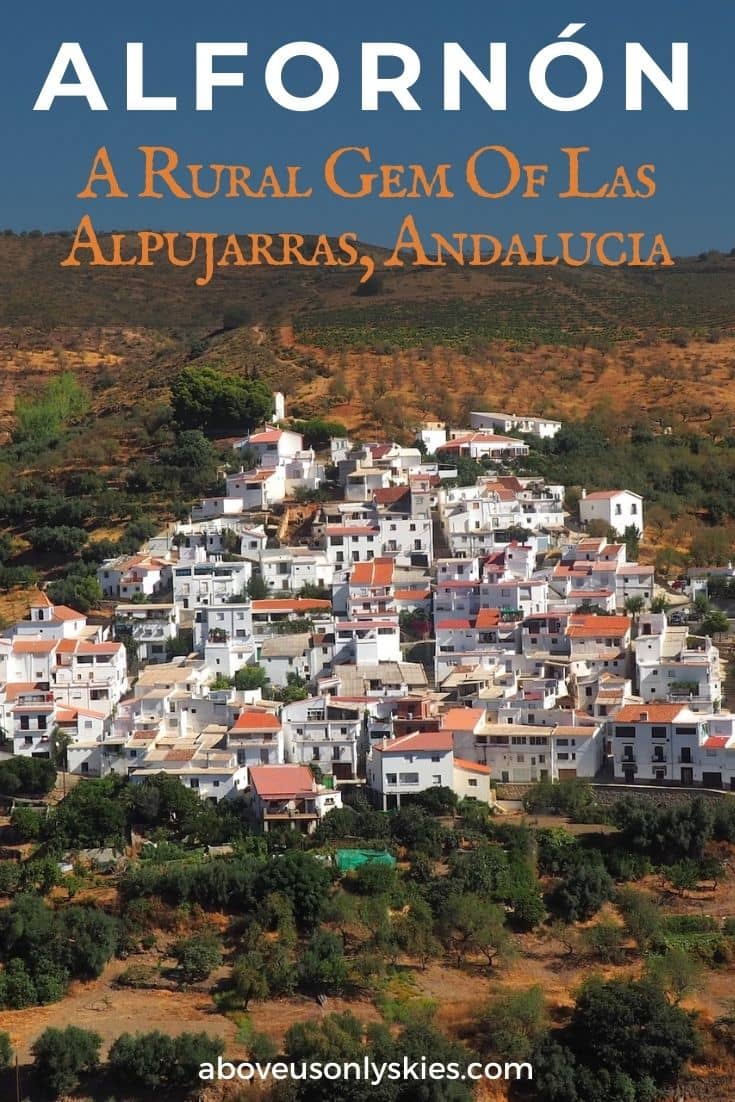 Continuing our series of articles on Spain, Portugal and France as we explore Western Europe under the cloak of the ongoing COVID-19 pandemic. Along the way, we're travelling in our own car and mostly using housesitting for our accommodation. Our focus is on exploring places where we can safely socially distance, and where wearing a face mask is an accepted norm.
Rising steeply from the Mediterranean Sea to the south, Las Alpujarras is a land of valleys, gorges and whitewashed villages that cling to the southern slopes of Spain's Sierra Nevada.
And, with mile-upon-mile of olive and almond groves carpeting the landscape, the region is quintessential Andalucia.
High altitude villages such as Trevélez and Capileira are well established on the tourist trail. But head further south to the Sierra de la Contraviesa and you'll find gorgeous villages almost devoid of tourist infrastructure.
Such as the tiny village of Alfornón, which we used as our base for a week in mid-September. Located on the side of an isolated valley and surrounded by fields of olives, almonds, figs and vines, it features just one small grocery shop and a tapas bar. Meanwhile, the only sounds to disturb the absolute silence are ponies as they clip-clop their way up and down the steep cobblestoned streets. And the impatient meows of feral cats as locals carefully place saucers of milk and assorted tidbits outside their homes.
As part of our 2020 travel philosophy of avoiding crowds and enjoying wide open spaces, it was perfect. Indeed, without succumbing to cliché, it felt like we'd stumbled upon an authentic slice of rural Spain.
Contents
This page contains affiliate links. To help us maintain our site we work with a number of partners who we've personally used and can recommend to our readers. If you decide to purchase any products through the links on this page, we'll receive a small commission at no extra cost to you.
The road into Alfornón is a five-kilometre stretch of winding tarmac that descends through a patchwork of almond and fig trees. The village itself is almost hidden from view and we wonder if, in fact, we've somehow taken a wrong turn. After all, until now it's been a relentlessly uphill journey from La Rábita on the coast.
But then, all of a sudden, the small cluster of white buildings with their red rooftops appear down to our right. Nevertheless, the road ahead seems to want to bypass it altogether as it continues to snake its way slowly down through the groves.
We arrive at the top of the village and are met by Neo, son of the owner of our Airbnb, who's lived in the village since he was a small child. It turns out that getting to our accommodation with our luggage and food boxes involves negotiating our way down through several steep and narrow streets. So Neo delivers a wheelbarrow, which makes the task somewhat easier. Though no less sweat-inducing given the 32-degree heat and the need to make repeated trips.
Our accommodation – owned by the ever-helpful Delia – is a lovingly restored 600-year-old Moorish casa. It's small and rustic. But it feels like home. Which, indeed, it will be for the next seven days. Better still, it features a rooftop terrace that looks out across the valley and yet more almond, olive and fig groves.
View from the rooftop terrace
View from the rooftop terrace
The pace of life in the village can be best described as one notch above stationary. Perhaps not surprising given the steepness of the streets. And so we find it easy to succumb to its sedentary charms as we pitch up on our rooftop to make use of the hammock and loungers, and work our way through a chilled bottle of Andalucian white wine.
Before long, however, we've traced the footpaths etched into the hillsides opposite and managed to convince ourselves to ditch the inactivity and put on our walking boots the following morning.
​
One of Alfornon's steep streets
The lowest street in the village, overlooking the valley
We begin by wandering down to the lowest point of the village until we reach the outlets for the natural spring water used by locals for both drinking and washing. Water bottles filled, we continue down a rocky track to the base of the valley before ascending steeply up the other side.
Once we arrive at a level track, we take the opportunity for a breather and look back across the valley at Alfornón. And it's actually prettier than what we'd imagined.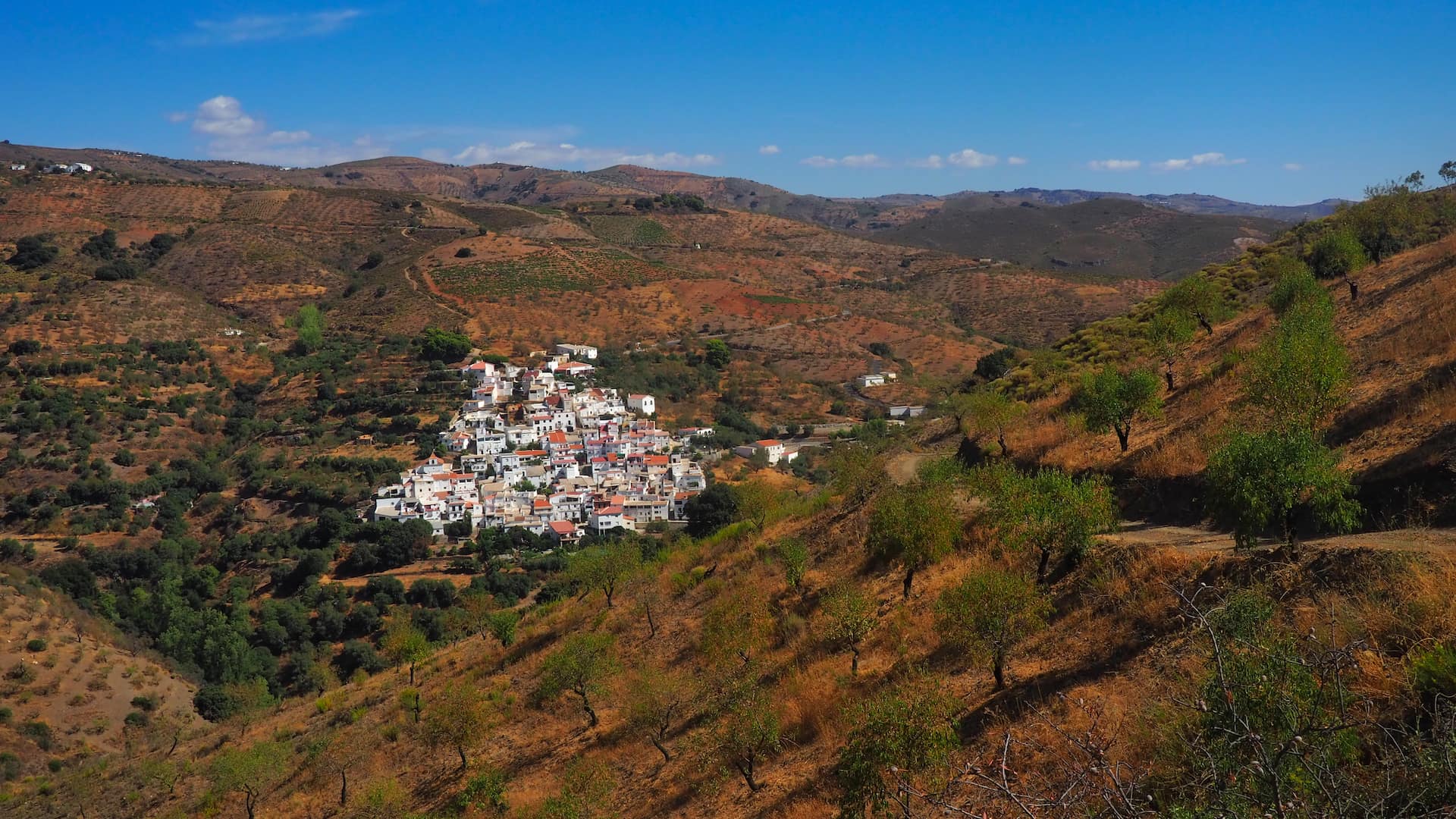 View of Alfornón from the track
View of Alfornón from the track directly opposite
From here, the white and red triangular shape of the village gradually fades as the track takes us higher up the hillside and further up the valley. Along the way, we pass through almond groves and vineyards. And we keep our sugar levels up by eating green and purple figs freshly picked from trees overhanging the valley.
A tree boasting both green and purple figs
Just one of the thousands of almond trees in Las Alpujarras
We eventually reach the top of the hillside which reveals a panoramic view of Alfornón and the Sierra Nevada on one side and the Mediterranean Sea on the other.
Continuing along the ridge we head towards the valley's highest point, topped with a couple of radio masts. Cunningly, we've established that they also serve as direction markers for the only bodega open in the area. And, as there's a limit to the number of figs anyone can reasonably eat on a long walk, we make it our mission to get there before nature takes its course.
But, before that, the scenery changes once again as we approach a section of fire-ravaged trees and black ash that paint a blemish on the surrounding lushness.
It's a scene all too familiar to areas of dryness and extreme heat, such as this. But the contrast between the eerie blackness, the otherwise rust-coloured soil, the green foliage and the blue Mediterranean is captivating, nevertheless.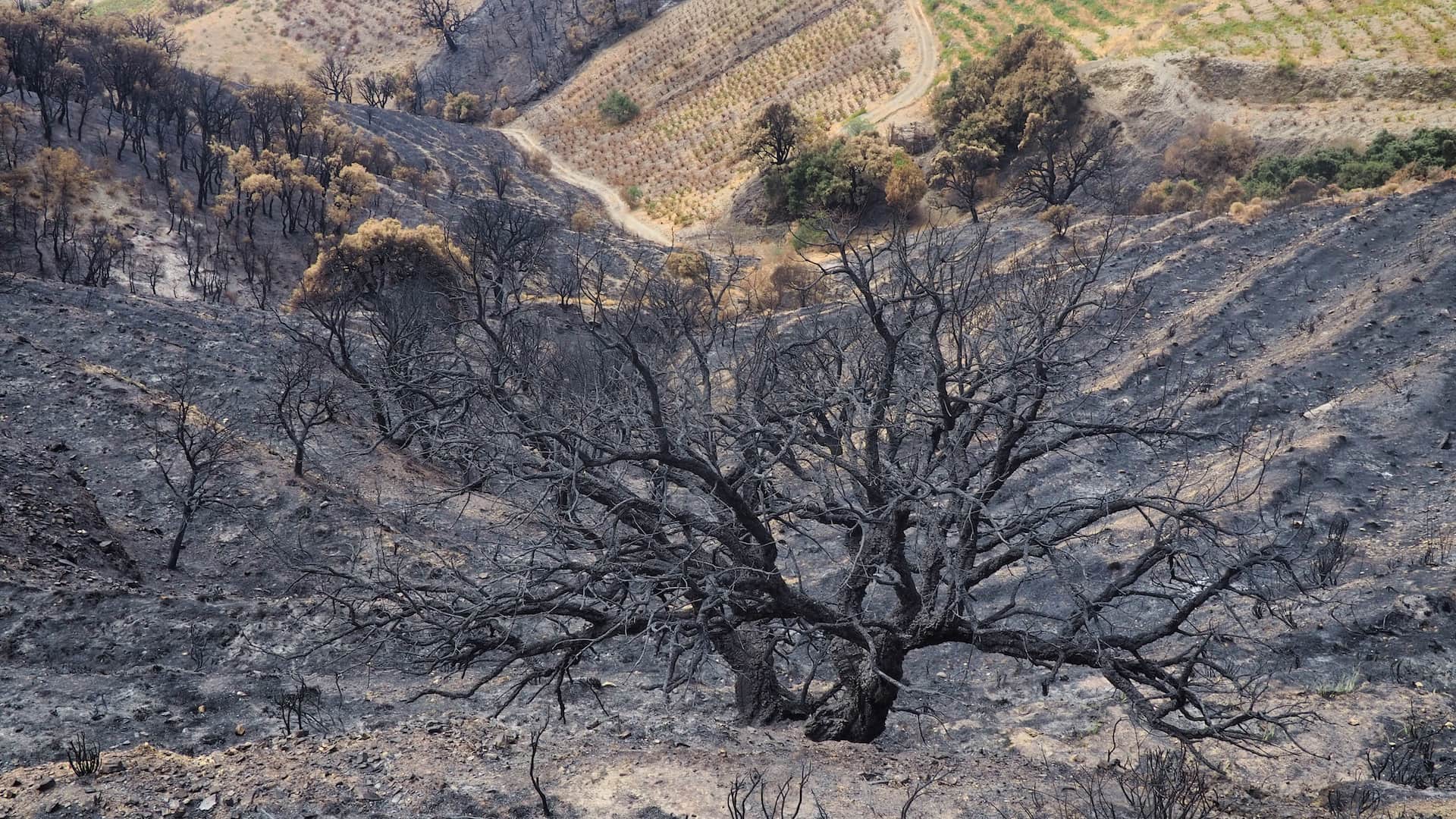 A burnt tree stands alone in an ash-laden landscape
A burnt tree stands alone in an ash-laden landscape
And then, just under three hours after we left our casa, the welcoming sight of the Bodega Haza del Lino beckons us with the promise of ice-cold beer and free tapas.
If you're unfamiliar with Andalucian tradition, it might come as a surprise to you to learn that free tapas are customarily served with each drink. And so, to accompany our bottles of Alhambra beer, we gorge on delights such as grilled morcilla (a kind of black pudding sausage), casseroled pork and an odd-looking bowl of jamón, roasted green pepper and breadcrumbs. And not a fig in sight.
Thirsts quenched and stomachs full, the walk back to Alfornón follows the road we took by car the day before. So it's downhill all the way. But the preceding seven kilometres of almost continuous uphill hiking has taken its toll. Needless to say, one of us heads straight to the rooftop hammock.
Almond groves en route back to Alfornón
Almond groves en route back to Alfornón
It's not just the valley that's worth exploring on foot, though.
To the east of Alfornón, a dry river bed runs through a stunning gorge all the way to the neighbouring town of Albondon.
As an alternative, we decide to walk part of the gorge before once again climbing up to the rim and back towards Alfornón in a loop. It's exhausting in the heat. But it's worthwhile just to be able to explore a small corner of Andalucia that's rarely troubled by tourism.
Indeed, during the five-hour hike, we never once set eyes on another human being.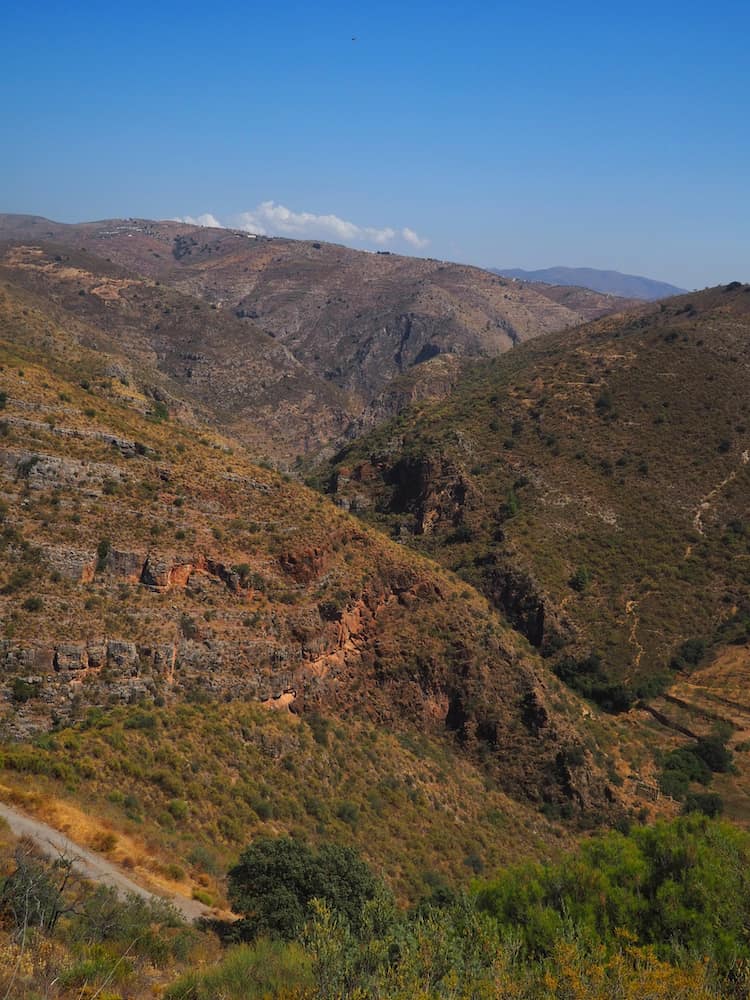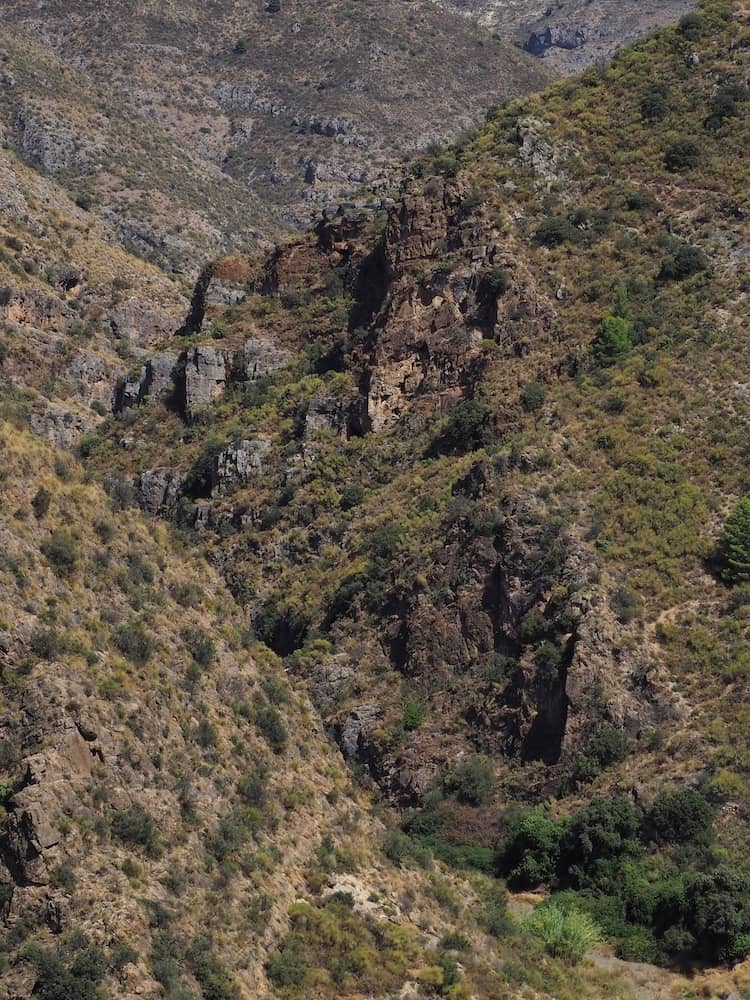 It would be easy to spend the best part of the week just escaping from it all in our tiny hideaway valley. But, with the use of a car, the rest of Las Alpujarras is just begging to be explored.
Especially the high altitude mountain roads that connect the whitewashed villages of the Upper Alpujarras.
From Alfornón, we head east by traversing the Sierra de la Contraviesa and down to the town of Cadiar. As we descend we notice specks of white amidst a wall of green on the mountain slopes opposite. They're the hillside towns and villages we'll be visiting on our circular route of the region.
At an altitude of almost 1500 metres, Trevélez is Spain's second-highest village. And it serves as the gateway to hiking up and around Muhacén, the Spanish mainland's highest peak.
Indeed, it sits at the head of a glorious mountain road that cuts into the Sierra Nevada before returning to the route overlooking the valley.
View of Trevelez from the approach road
View of Trevelez from the approach road
But the village's main claim to fame is its production of jamón serrano, the celebrated dry-cured ham of Spain. Which becomes fairly obvious as soon as we park the car and step outside. The cool mountain air is filled with the distinctive earthy odour of hundreds of hams hanging in rows within the village's delicatessens.
Naturally, we can't pass through without stocking up so we make a beeline for the Nevadensis store, which we find to be the best value in town. And the smell inside the store is just intense.
Our shopping bag of ham products (plus cheese)
From Trevélez, the road eventually continues its way westward until a further turnoff takes us along the Barranco de Poqueira (Poqueira Gorge). There are actually three villages in close proximity (including Bubión and Pampaneira) but we head for the highest of three, Capileira.
View of Capileira, with Bubion in the foreground
View of Capileira, with Bubion in the foreground
It's a lovely place to just wander around, with plenty of restaurants, cafés and shops. But whereas Trevélez seems to have a jamón vendor on every corner, Capileira is overloaded with shops selling traditional woven rugs. Although they do look great and, if we actually still owned a house, we'd be proud to have one sitting in front of our fireplace.
To complete the circuit back to Alfornón we continue the route westward which once again descends to the bottom of the valley, this time to the region's main town, Órgiva. From where the road once again climbs the opposite side of the valley, back through endless fields of almond and olive groves.
A trip to the coast for fish tapas
Of course, any time spent in southern Spain typically features a trip to at least one of its renowned beaches. However, having pretty much exhausted our appetite for them over the course of the summer, we instead opt for a trip to a bar that specialises in fish tapas.
It's another twisting and winding road down from Alfornón, at 1000 metres altitude, to the seaside town of La Rábita. To be honest, it's a pretty underwhelming resort for our taste. But we've come here specifically to eat at Bodega Navarro, as we've heard the fish tapas are outstanding.
We find the last-remaining street-side table and peruse the blackboard menu. Tempted initially to simply start at the top and then work our way down, we eventually exercise some restraint and decide to order two at a time. A not insignificant task given that our waiter appears to have sat out any basic customer service training courses his employers provide.
Happily, the food – when it does arrive – is universally excellent. And we can't rave enough about the pulpo en salsa (octopus in sauce), which is quite simply a fabulous bread-mopping plate of melt-in-your-mouth octopus in a luscious sauce of olive oil, chilli, peppers and garlic. As far as we're concerned it sets the bar for any future tapas dish we order in Spain.
And it's ridiculously cheap!
The menu at Bodega Navarro
Pescado Frito ("Fried Fish")
Final thoughts on Alfornón
In addition to what we've featured, there are plenty of other things to do around Alfornón.
For instance, there are wineries to explore and so many more walking opportunities. Even Granada and the Alhambra are just 90 minutes away.
But it remains a special place for us because it represents what we enjoy most about travelling in Spain, and especially Andalucia. A tiny whitewashed village cut off from mass tourism with beautiful mountain vistas packed with almond, olive and fig trees. A place to remove oneself from the rigours of the outside world. And where the only morning alarm you'll need is the sound of pony hooves on cobblestone.
Indeed, we tend not to return to places we've already visited, even if we loved them.
But in the case of Alfornón, we'll make an exception.
What did you think? Have you been to Alfornón, or indeed elsewhere in Las Alpujarras? Or perhaps you're thinking of visiting there soon. Either way, we'd love to hear from you so please add your comments below.
To help us maintain our site we work with a number of partners who we've personally used and can recommend to our readers. If you decide to purchase any products through the following links, we'll receive a small commission at no extra cost to you. Thank you for your support!
Travel insurance
with World Nomads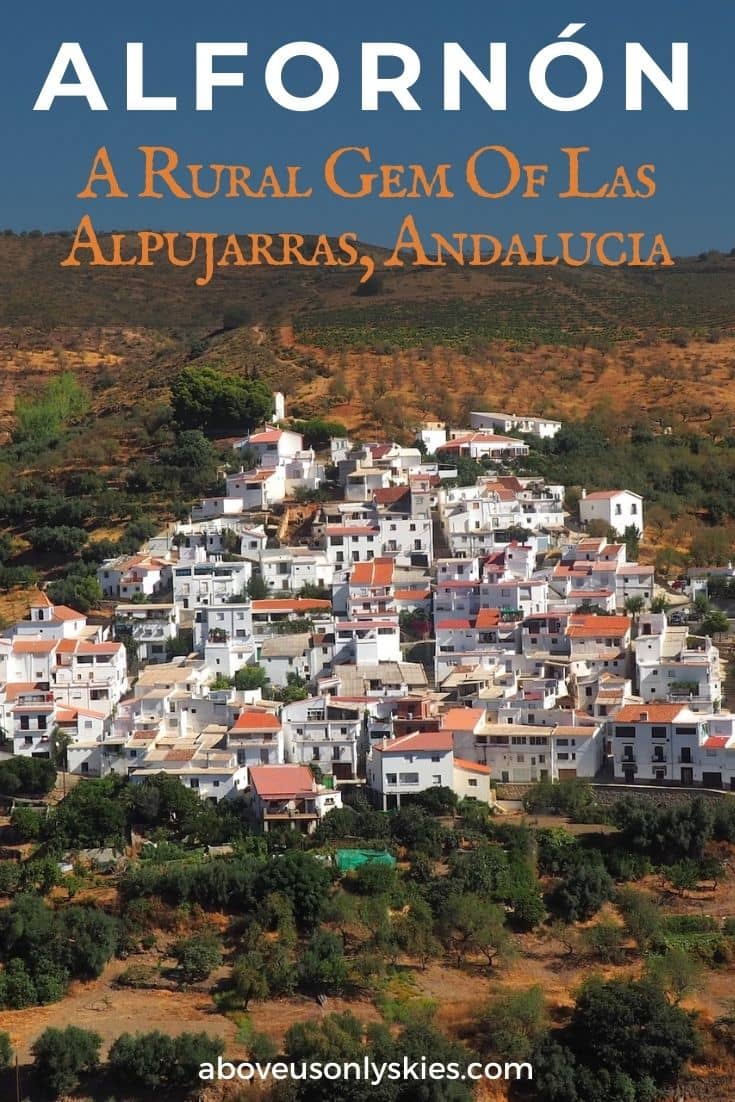 Hi, we're Ian and Nicky, an English couple on a voyage of discovery around the world, and this blog is designed to reflect what we see, think and do. Actually, we'd like to think it also provides information, entertainment and inspiration for other "mature" travellers, too. So please feel free to pour yourself a glass of something suitably chilled and take a look around.