8 EXQUISITE ALGARVE BEACHES…AND HOW THEY COMPARE FOR SOCIAL DISTANCING
8 EXQUISITE ALGARVE BEACHES
Continuing our series of articles on Spain, Portugal and France as we explore Western Europe under the cloak of the ongoing COVID-19 pandemic. Along the way, we're travelling in our own car and mostly using housesitting for our accommodation. Our focus is on exploring places where we can safely socially distance, and where wearing a face mask is an accepted norm.
Heading to the beach in the middle of a pandemic is not exactly everyone's idea of a great day out. For many, it would represent too much of a health risk. Especially where space is at a premium. And, for some, it would seem wholly inappropriate, or even irresponsible to do so.
And we totally understand those sentiments. Nicky is asthmatic after all and so we are very aware of the precautions we need to take.
But, having found ourselves spending a week on Portugal's Algarve coast while we waited for our Andalucian housesit to become available, we decided to see how the country was dealing with the re-opening of its beaches. And how beachgoers were responding to the guidelines requiring safe social distancing and the wearing of face masks.
We'd decided from the outset that we wouldn't be spending any significant amount of time on any one beach. Rather we'd park up and take a stroll, either along or above the beach so that we'd have more control over who we came into contact with.
Which, because of flight restrictions from the USA and quarantine rules in the UK, meant that coming into contact with people from those two countries was highly unlikely!
However, we did find that the famous beaches of the south coast, with their thin strips of golden sand sandwiched between dramatic sandstone cliffs and the sea, were still attracting crowds.
Which was more likely to cause us concern.
Whereas the wild, huge expanses of sand on the west coast were much less crowded and naturally lent themselves to being social-distancing-friendly. Indeed, we'd go as far to say that those west coast beaches would be our preferred choices, pandemic or not.
Nevertheless, if and when you are ready (or able) to travel to the Algarve and want to know which beaches are both spectacular and safe, we've got some of the very best ones covered in this post.
And we've rated them (on a 1-5 point system) based on how pandemic-friendly we think they are. Not exactly scientifically robust, but a fair assessment based on our experience there.
Praia da Marinha, Carvoerio
Praia da Marinha, Carvoerio
Praia do Cordoama, Vila do Bispo
Praia do Cordoama, Vila do Bispo
Praia do Castelejo, Vila do Bispo
Praia do Castelejo, Vila do Bispo
Praia da Armado, Carrapateira
Praia da Armado, Carrapateira
Praia da Bordeira, Carrapateira
Praia da Bordeira, Carrapateira
Contents
This page contains affiliate links. To help us maintain our site we work with a number of partners who we've personally used and can recommend to our readers. If you decide to purchase any products through the links on this page, we'll receive a small commission at no extra cost to you.
Praia da Marinha, Carvoeiro
One of the Algarve's most famous (and most photographed) beaches, it's a stunning strip of golden sand a few kilometres east of Carvoeiro. Just offshore there are gorgeous rocky outcrops, arches and caves. And, along the cliff edge, there's a fabulous walk heading west.
The downside is that the beach's reputation draws in the crowds. And it simply isn't big enough to sustain safe social distancing when it's full. Which, judging by the number of people arriving as we left mid-morning, and the ensuing chaos in the cliff-top car park, it was well on its way to being.
Our recommendation would be to get there early, enjoy the beach while it's still quiet, and then leave to complete the cliff walk to the limestone arches and beyond.
Pandemic-friendly rating
Further west, the beaches around Lagos once again feature clean, golden sand surrounded by wind-and-sea-worn cliffs.
Named after a nun who, whilst fleeing murderous soldiers during World War One escaped through a tunnel from her nearby convent to the beach, Praia Dona Ana is the largest on the Ponta da Piedade headland and attracts nearly as many beachgoers as Praia da Marinha. And, like much of the coastline, you don't have to restrict yourself to just one spot on the sand. Walks along the cliffs in either direction are worth doing, especially for the views.
We were disappointed that many people chose not to wear masks as they descended the relatively narrow staircase from the main car park to the beach. It's such an obvious weak point for social distancing. Happily, there's an alternative access point via the staircase at the east side of the beach, above the cafe.
Pandemic-friendly rating
Just further along the same headland, Praia do Camilo is a gorgeous little cove that is probably our favourite on the whole south coastline. Accessed via a steep wooden staircase, it's the sort of place that deserves to have a visitor restriction number imposed upon it to preserve its "exclusive" feel.
Suffice to say, we'd suggest you get there early and be prepared to leave any time after 11 am during the summer months.
But before you do so, make time to wander amongst the myriad cliff-top footpaths that lead to the Ponta da Piedade.
Pandemic-friendly rating
Head further west and you'll finally arrive at Sagres, mainland Europe's most westerly settlement. It immediately feels a million miles away from the plush villas, touristy restaurants and busy roads of the Algarve's tourist hub between Vilamoura and Lagos.
From here to the southwest corner of Europe at Cabo de Sao Vicente, and up the west coast to Aljezur, the beaches are bigger and wilder, while the waves are full of vigour.
And, at Praia do Tonel, the surfers come out in force. Indeed, we counted nearly 200 of them from our vantage point near to the Sagres Fort.
Of course, with the larger beaches and less tourism infrastructure comes fewer crowds. All of a sudden, social distancing doesn't feel like a chore. And, for that reason, it's a no-brainer for us that this is the area of the coastal Algarve where most time should be concentrated.
Pandemic-friendly rating
Praia do Castelejo, Vila do Bispo
Indeed, if your idea of the perfect beach is beautifully clean sand that stretches for miles, serviced by waves that crash rather than lap ashore, then look no further than the series of beaches which begin at Vila do Bispo with Praia do Castelejo.
Indeed, this coastline reminded us of the wild west coast beaches of California and New Zealand's South Island. Even down to the sea spray and colonies of mussels clinging to the exposed rocks at low-tide.
If you don't have a car you could always take a multi-day hike along this whole stretch, staying at small guest houses and gorging on fresh seafood. Something we'd definitely consider next time we're in the area.
Pandemic-friendly rating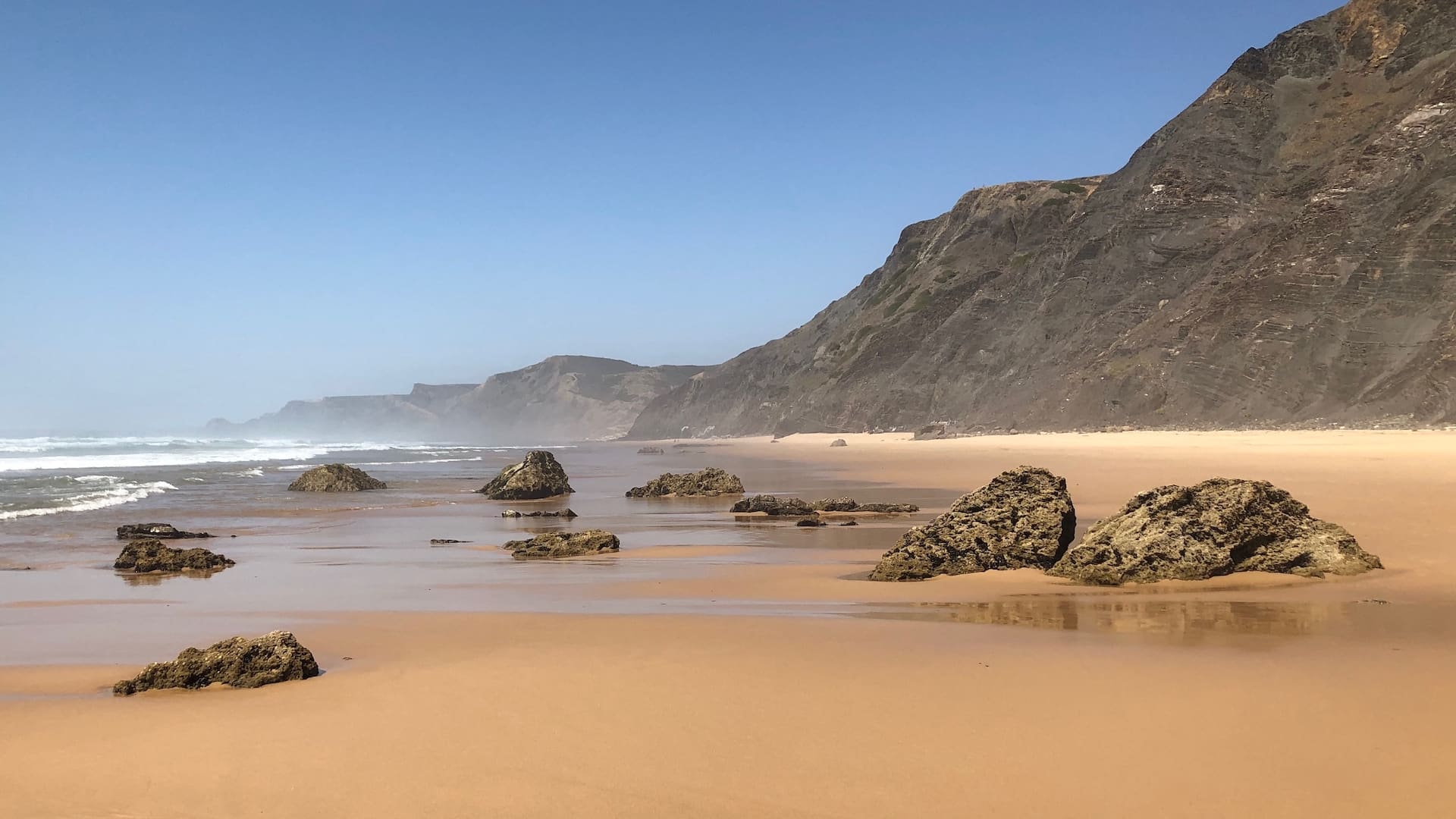 Praia da Cordoama, Vila do Bispo
If you're up to it, you can walk the full length of Praia do Catelejo until you arrive at the neighbouring Praia da Cordoama. Or, if you have a car, you can simply drive over the headland from one car park to the next.
The beach here isn't dotted with rock pools like the one at Praia de Castelejo. Nor does it sport an off-shore island. But it features acres of space. Especially as you head further north from its access point.
Pandemic-friendly rating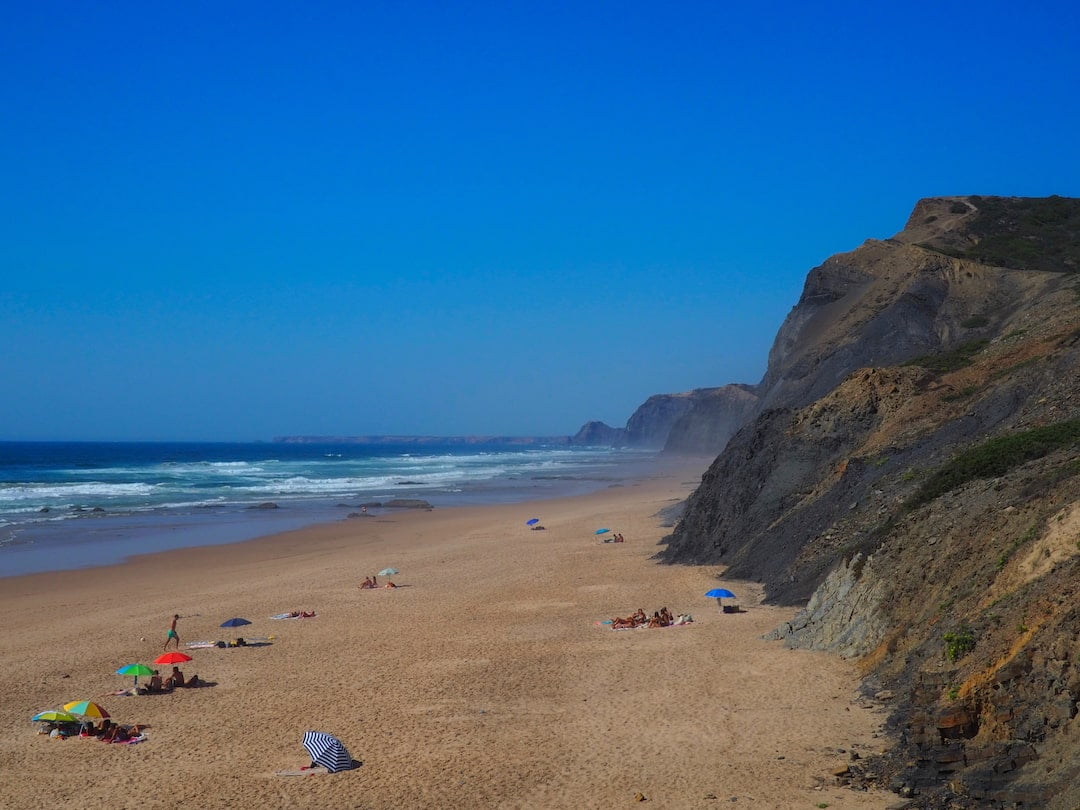 Praia da Armado, Carrapateira
Arguably wilder and even more remote, the beaches around the village of Carrapateira are simply spectacular.
First up, Praia da Armado is another favourite among surfers. But you don't have to be a surfing expert to appreciate the untamed charm of the place.
And with a plethora of hill-top walks available, it makes Carrapateira a great base to explore this beautifully rugged coastline.
Pandemic-friendly rating
Praia da Bordeira, Carrapateira
Meanwhile, just north of the village, Praia da Bordeira is a wild, wind-swept stretch of sand fringed by dunes and pine trees.
It has a truly spectacular setting, which can be best appreciated by following the numerous boardwalks and extended footpaths along the cliffs.
Very much the domain of surfing enthusiasts, the strength of the waves make the sea unsuitable for swimming. But for a mask-free, socially distanced day out at the beach, we'd say it's hard to beat.
Pandemic-friendly rating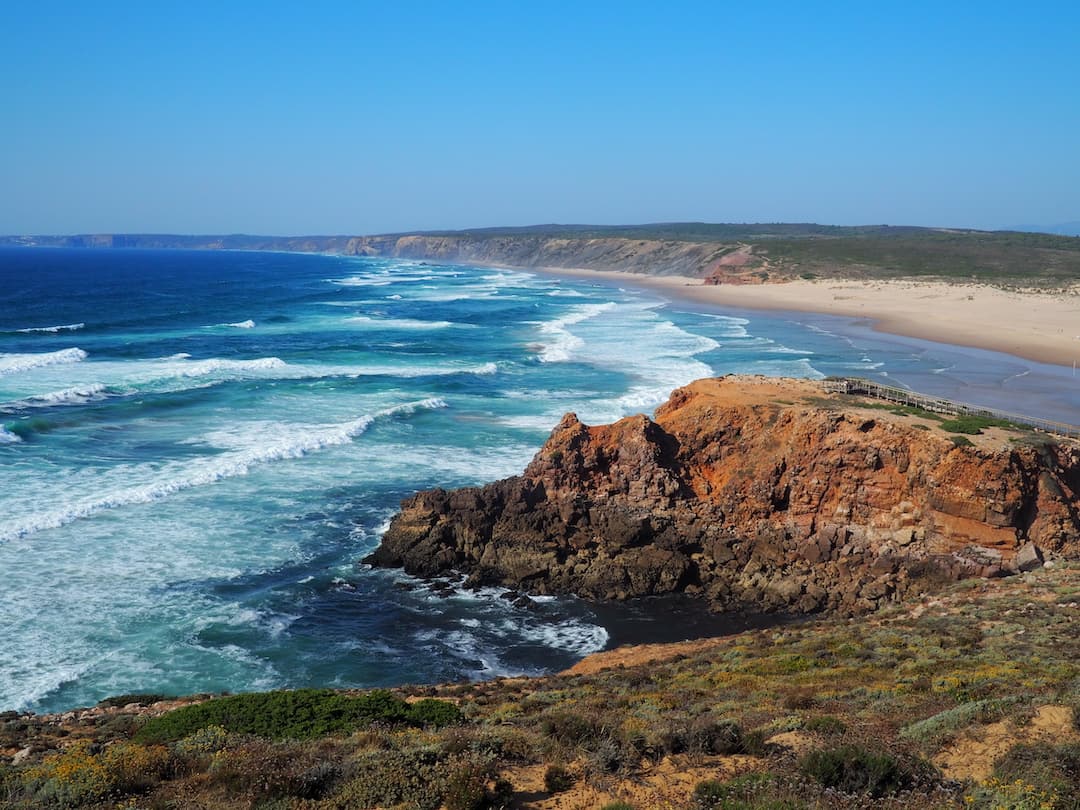 Like many countries who are heavily reliant on tourism, the coronavirus pandemic has been an economic disaster for Portugal. And now that the tough lockdown restrictions are finally being eased, the pull towards reopening the country as a holiday destination is an obvious one.
But the government knows only too well that tourism won't prosper unless people feel safe enough to visit. Which explains why the country's tourist board is trying to balance its desire to re-engage with international tourists with maintaining strict safety guidelines.
The problem, of course, is that the traditional beach hotspots in southern Europe are the places where many holidaymakers will wish to spend their two weeks in the sun. And that comes with all the health risks associated with large groups of people gathering in relatively small places.
From what we've seen in the streets, supermarkets and restaurants of Spain and Portugal this summer, the majority of people appear to be observing the need to socially distance and to wear face masks as appropriate. Less so at the beaches, however. And, with the return of international tourists, we'd fully expect that situation to worsen.
So, choosing your beach will be just as important as taking the necessary precautions once you're there. Which is why, if you're heading to the Algarve, we'd suggest the expansive beaches of the west coast would be your best bet.
What did you think? Have you been to any of the Algarve beaches we've featured?  Or do you have any recommendations of your own? Either way, we'd love to hear from you so please add your comments below.
To help us maintain our site we work with a number of partners who we've personally used and can recommend to our readers. If you decide to purchase any products through the following links, we'll receive a small commission at no extra cost to you. Thank you for your support!
Travel insurance
with World Nomads
Hi, we're Ian and Nicky, an English couple on a voyage of discovery around the world, and this blog is designed to reflect what we see, think and do. Actually, we'd like to think it also provides information, entertainment and inspiration for other "mature" travellers, too. So please feel free to pour yourself a glass of something suitably chilled and take a look around.