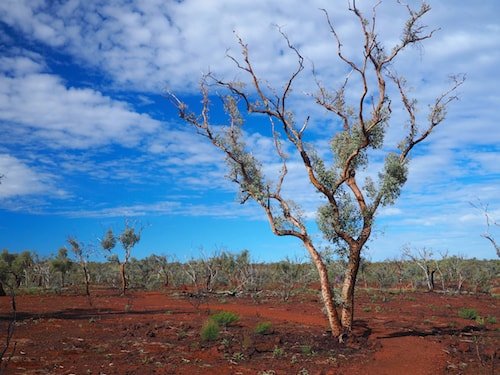 Australia. It's big, it's remote and we reckon it should be on anyone's travel destination bucket list.
We've been twice and yet we've only scratched the surface of what there is to see and do. Most international visitors head for the famed beaches and water-borne activities along the east coast. That and the big city attractions of Sydney. And there's no doubt that if you had one chance to visit the country, the east coast would be the perfect place to go.
But there's so much more to be discovered elsewhere. Especially wild, rugged and much less-visited Western Australia, with its miles-upon-miles of empty roads, dramatic coastline and a pure Outback experience. In fact, our recommended 21-day road trip might just convince you to hire yourself a tent, pack your boardies and hit the road.
HOW TO EXPLORE THE BEST OF WESTERN AUSTRALIA BY ROAD
Spider-walk through gorges, swim with whale sharks and fall asleep to the sound of howling dingoes as you explore Western Australia on our 21-day road trip
A SWAG, A DINGO & THE AUSTRALIAN OUTBACK
Four nights under canvas in the extraordinary Karijini National Park – land of gorges, huge anthills and bloodwood trees
SWIMMING IN A WHALE SHARK WONDERLAND
Time to check off the number one item on our bucket list….swimming with a whale shark at Western Australia's Ningaloo Reef
MEEKATHARA
Commercial Hotel
Nights 1 Cost $140 per night What that included Room only Rating *** What we thought Clean and comfortable enough as an overnight stop on the Great Northern Highway. Over-priced for what it is but adequate enough for a decent night's sleep. Website Trip Advisor reviews
KARIJINI NATIONAL PARK
Dales Camp
Nights 2 Cost $20 per night  What that included Unpowered camp site Rating ***1/2 What we thought Basic facilities (no hot showers) but a fantastic location close to Dales Gorge. Enjoy the howls of the dingoes during the night and the gazing at the stunning Milky Way. Website
KARIJINI NATIONAL PARK
Karijini Eco Retreat (Savannah Campground)
Nights 2 Cost $40 per night What that included Unpowered camp site Rating **** What we thought A step up from Dales Camp in terms of facilities (hot showers!) and price! We were lucky enough to have a pitch which looked out on to open bush, too. With a bar, restaurant and star gazing available in the on-site Eco Retreat, we could happily have spent a while longer here, particularly as there is good access to many of Karijini's gorges from here. Website Trip Advisor reviews
YANNARIE
Emu Creek Station
Nights 2 Cost $25 per night What that included Unpowered camp site Rating ****1/2 What we thought We spent two glorious days here and could quite easily have spent another two. A working cattle station, it's accessed via a 22km dirt track off the North West Coastal Highway. Our tent was pitched beside a river, surrounded by hundreds of birds, including a barking owl. That's right, an owl which barks like a dog.
Our time there was spent just chilling beside our campfire, kayaking along the beautiful river and having dinner with the owners, Darryl and Joyce. For 25 Aussie Dollars per night, it was a steal.
EXMOUTH
Yardie Creek Homestead & Caravan Park
Nights 8 Cost $38 per night What that included Powered camp site Rating *** What we thought Located between Exmouth and the Cape Range National Park the site is fairly remote but still retains the feel of a traditional caravan/camping park. We would have preferred to have camped next to the beach in one of the national park sites but they were fully booked each day due to the school holidays. Website Trip Advisor reviews
HAMELIN POOL
Hamelin Station Stay
Nights 3 Cost $24  per night What that included Unpowered camp site Rating ***** What we thought Originally a sheep shearing station from the nineteenth century this wonderful place is now owned by Bush Heritage, an Australian conservation organisation, and managed by the uber-friendly husband and wife team of Jason and Shane (not two blokes as we originally thought – Shane's the wife by the way). Immaculately maintained, with great camp kitchen facilities, this is a truly five-star campsite.
We stayed here for three nights while we visited Shark Bay National Park, but it's also a great place to meet and talk to other travellers.
KALBARRI
Anchorage Caravan Park
Nights 2 Cost $34 per night What that included Powered camp site Rating ** What we thought Our poorest experience of camping in WA was here – probably because we'd been spoilt elsewhere. And because the site was chock full because of the school holidays. Noisy. Website Trip Advisor reviews
The official site of Tourism Australia
The official tourism site for WA
Australian bloggers on their home country
The indispensable guide for budget travellers