WHY HISTORIC BARICHARA IS COLOMBIA'S PERFECT PUEBLO
WHY HISTORIC BARICHARA IS COLOMBIA'S PERFECT PUEBLO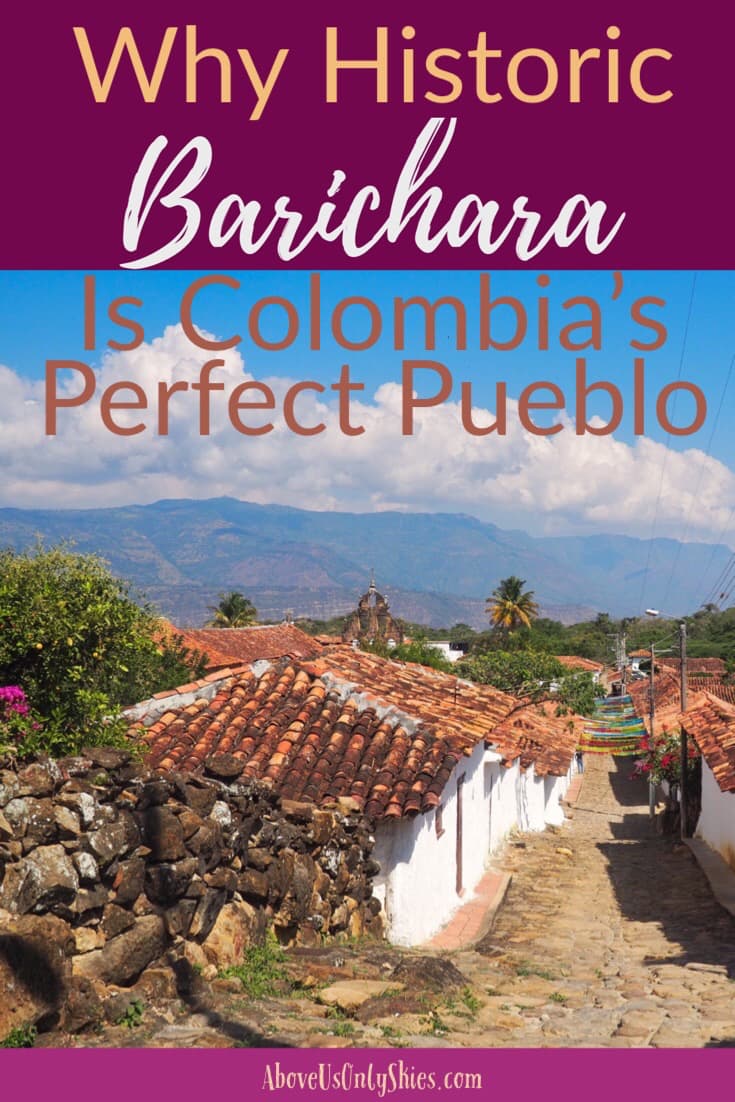 Tucked away in a corner of Santander's spectacular canyon country, Barichara holds a special kind of allure to both domestic and international tourists. 
Not quite off-the-beaten-path but, at the same time, not overrun with mass tourism either, it's a place to linger for a number of days. And, if you're looking for somewhere to visit that combines a gorgeous heritage town with gourmet food, spectacular scenery, adventure sports and fabulous accommodation, then Barichara is THE perfect place. 
In fact, it's regularly cited as Colombia's most beautiful village. And it's probably our favourite pueblo in Colombia.
Here's why.
Contents
This page contains affiliate links. To help us maintain our site we work with a number of partners who we've personally used and can recommend to our readers. If you decide to purchase any products through the links on this page, we'll receive a small commission at no extra cost to you.
Approaching Barichara by bus, the town's whitewashed walls and red rooftops suddenly appear like a mirage against the backdrop of a steep-sided canyon. It's quite a sight. And, in a country where we've been blown away by the sheer number and variety of spectacular landscapes, this was one that will undoubtedly be imprinted at the forefront of our memories.
Indeed, once you've peered out over the canyon from the town's viewpoint on Calle del Mirador, you'll understand why.
A gorgeous, cobblestoned village
The town itself has been a big draw over the years for well-heeled Colombians and art lovers. And with good reason.
Both its buildings and cobblestoned streets are built with a distinctive gold-coloured local rock that cast a warm glow in the late afternoon sun. Especially when combined with the whitewashed walls and red rooftops. 
Indeed, the local stone and other natural materials have made the area a magnet for stonemasons, artisans and artists who open their workshops for visitors to inspect their work. Including the Fundación San Lorenzo, where you can see how local women produce hand-made paper from the Andean fique plant.
But merely wandering around its gorgeous streets is a good place to start. With the occasional stop at a ubiquitous café, boutique craft shop or independent art gallery, obviously.
The food choices are just as eclectic. Especially if you try some of the dishes unique to this area.
Pride of place probably goes to humigas culonas – large brown ants whose over-sized rear ends are toasted and then eaten as a snack. Yes, I know. But, they've been a tradition in these parts for the past 500 years so I guess they know what they're doing. You can even get a fillet steak smothered in ant sauce at the Color de Hormiga restaurant on Calle 8. Suffice to say, we didn't.
Elsewhere, for meat-lovers, there are dishes such as cabrito (grilled baby goat) and carne oreada (dried jerky-like beef) to try. And for vegetarians or vegans, Shanti is your best bet with its Asian-influenced veggie theme.
Meanwhile, hands down the best place for coffee, bakery products and ice cream is Panaderia Central on the main plaza.
In keeping with the upmarket feel of the place, there are a number of outstanding options to stay, both in the village and in the surrounding countryside.
We opted for the out-of-town experience, and boy did we strike lucky.
Casa Mahanaim is a 45-minute uphill walk, or an extremely bumpy 15-minute moto taxi ride away up in the hills above Barichara. If you can get over that, we can guarantee you that a stay at this sublime guest house will be an unforgettable experience.
A labour of love for owners Henry and Lina, they built the place from scratch using local materials over a five-year period, before opening to the public in 2016.
A work of art in its own right, the entrance to the casa is fronted by a huge set of double doors decorated with twisted pieces of wood. And beyond them, the place becomes an imposing warren of stone floors, open spaces with gentle breezes, and a plethora of artistic flourishes. Including our room's outdoor bathroom with its sunken bath and rainforest shower.
The food was unquestionably the best we had during our two-month trip to Colombia – both at breakfast and dinner. And Lina's home-made lemonade was an unexpected treat. Especially as I thought I'd been given a glass of beer when I was offered it as a welcome drink!
But what made Casa Mahanaim so special for us was the unbelievable warmth from Henry and Lina. Nothing forced. And totally genuine.
We were literally able to treat the whole place as if it was our own home.
And we can't recommend it highly enough.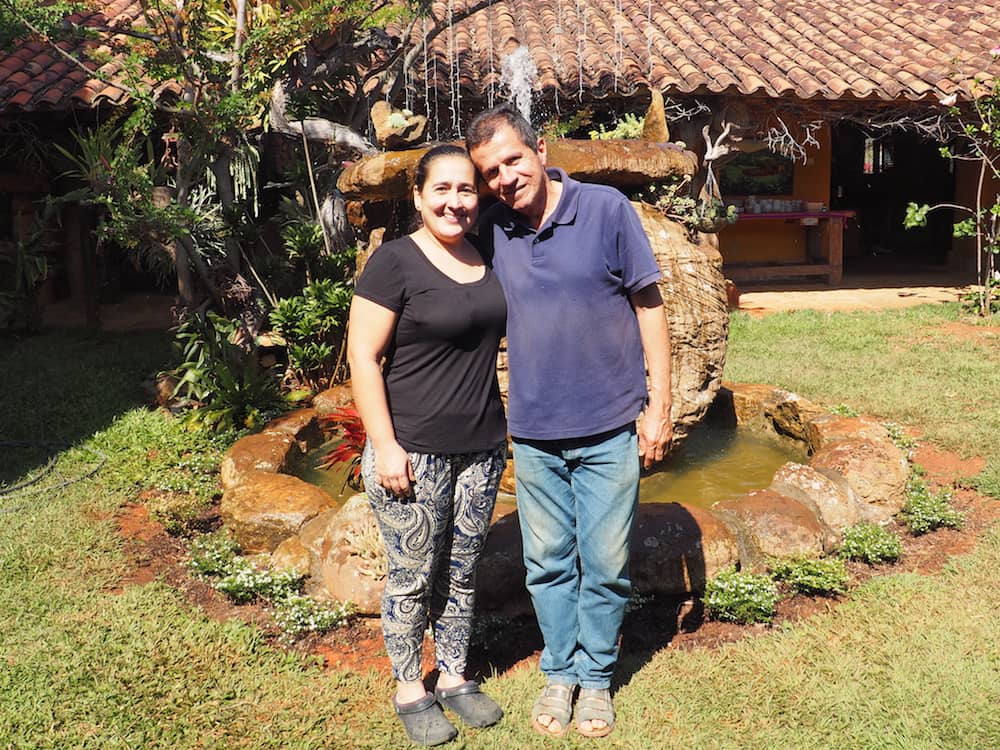 As an added bonus, Lina pointed out a short cut from the casa down into Barichara, which itself is a scenic walk worth taking.
And from a viewpoint shortly into the walk, it's easy to look back and see why Henry chose this once-empty piece of land for his dream home. 
As I've mentioned already, one of the big draws of the area is the magnificent countryside surrounding the town. And a relatively easy way of seeing it up close is by taking a morning walk on the ancient Camino Real from Barichara to the nearby village of Guane.
Starting from the entrance on Calle 1, the walk descends into the canyon along a cobbled path that is potentially ankle-breaking for those who don't concentrate. Although it's around 7 kilometres long, it's mostly downhill. And it's a stroll rather than a hike. Plus, with views across to the opposite side of the canyon for much of the route, it's a picturesque stroll.
Just before the final stretch into Guane, there's a house offering refreshments and ice cream which is well worth making a short diversion for. Especially when the elderly lady who owns it ushers you through to a viewpoint at the rear of her garden. It requires you to clamber up a large boulder with a white cross perched on the top. But the panoramic view of the canyon is one to remember.
The tiny village of Guane is yet another picturesque hamlet that this part of Santander is blessed with. Time then for a welcome ice cream and meander around the quiet streets before catching the bus back to Barichara (20 minutes). 
Alternatively, you do have the option to continue along the Camino Real to the towns of Villanueva (8 km), Jordan (14 km) and Los Santos (5 km), taking in some overnight stops along the way.
Once you've explored Barichara and its immediate surrounding area, Santander provides plenty of other things to do.
Nearby is the department's extreme sports capital, San Gil. But anything on offer from there can easily be done from Barichara, too. 
Top of my recommendations would be to book a whitewater rafting trip along the Suarez River with Colombia Rafting. With Class 4 and 5 rapids to negotiate (the most arduous), it's an adrenaline-rush-filled day out. And worth every Colombian peso (130,000 COP / £33 / $41). You can do it without any prior rafting experience. Alternatively, there's a gentler version available on Class 1, 2 and 3 rapids.
And secondly, a bus trip to Chicamocha Canyon, the world's second-deepest. You can hike in the canyon as well as take a 6.5 kilometre cable car ride across it. It's actually a larger extension of the canyon viewable from Barichara and, as such, receives an awful lot more visitors. So get there early if you can before the day-trippers from Bucaramanga arrive.
The nearest large city to Barichara is Bucaramanga.
From there it's a three-hour bus ride to San Gil, passing through Chicamocha Canyon along the way. Take a tip from us, though – don't even think about taking a bus that passes through the canyon in the dark. Daylight and a strong stomach for heights are your two best friends on that particular journey.
From San Gil, it's a 45-minute bus journey to Barichara.
Most foreign travellers with a limited amount of time in Colombia head to the main tourist hubs of Santa Marta, Cartagena, Medellín and Salento. But we reckon that Barichara deserves to join that list.
It's not especially difficult to get to. And it offers something totally different to what you'll find in those other places.
But also, as a taster for the Santander region in general, it'll leave you itching to return.
What did you think? Have you been to Barichara or the Santander region? Do you have any recommendations to add? Or perhaps you're thinking of visiting there in the near future? Either way, we'd love to hear from you so please add your comments below.
To help us maintain our site we work with a number of partners who we've personally used and can recommend to our readers. If you decide to purchase any products through the following links, we'll receive a small commission at no extra cost to you. Thank you for your support!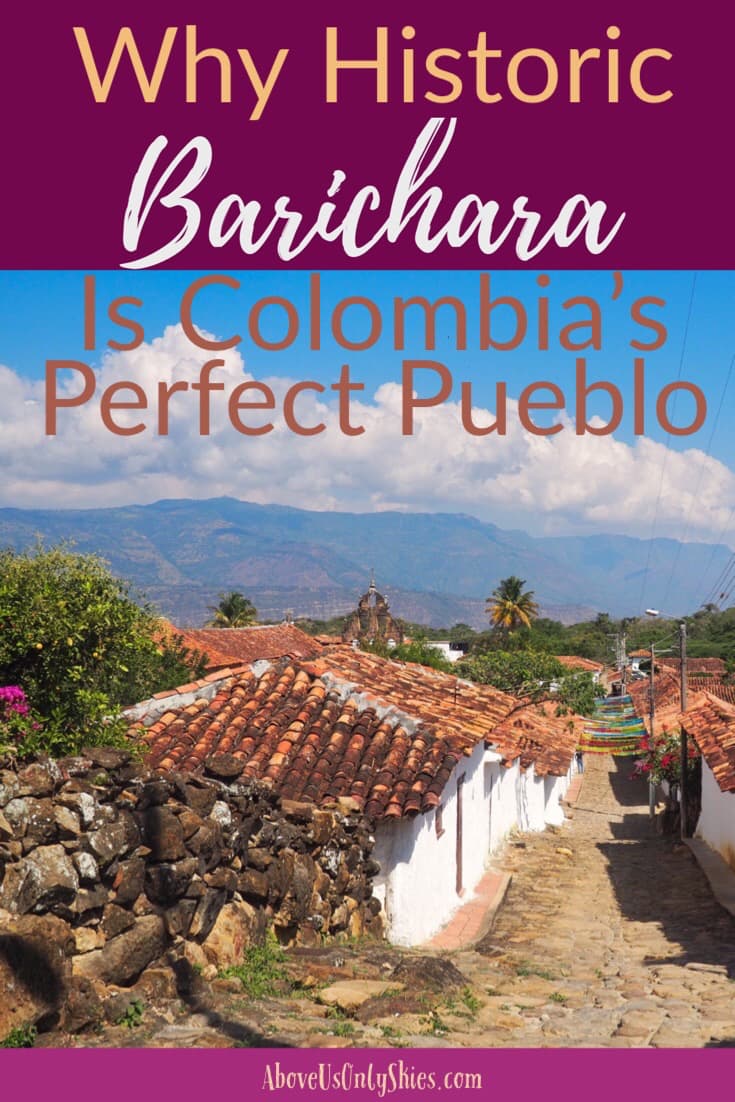 Hi, we're Ian and Nicky, an English couple on a voyage of discovery around the world, and this blog is designed to reflect what we see, think and do. Actually, we'd like to think it also provides information, entertainment and inspiration for other "mature" travellers, too. So please feel free to pour yourself a glass of something suitably chilled and take a look around.