THE ULTIMATE CAMBODIA ITINERARY AND HOW TO DO IT IN 3 WEEKS
Mention Cambodia and the first thing most people associate with it is the sprawling complex of Angkor Archaeological Park and its centrepiece Angkor Wat. Don't get me wrong, it's a truly spectacular sight – as the 2 million people who flocked there in 2016 will no doubt attest. And if you plan to visit Cambodia, it's an absolute must.
But, if you've got the time to explore what else Cambodia has to offer you'll be amply rewarded. We spent a total of 29 days in the country on the following itinerary. But you could just as easily complete it in three weeks.
Contents
This page contains affiliate links. To help us maintain our site we work with a number of partners who we've personally used and can recommend to our readers. If you decide to purchase any products through the links on this page, we'll receive a small commission at no extra cost to you.
There's no getting away from it – visit Siem Reap and you'll have plenty of company. It's a magnet for backpackers, luxury tourists and everybody in between. As a result, the city is an eclectic mix of five-star hotels, simple guest houses and a flourishing bar and restaurant scene. Way too touristy for our liking and not exactly the greatest introduction to Cambodia.
Of course, the reason why everyone's there is to visit the nearby Angkor Archaeological Park, with its famous sites such as Angkor Wat, Bayon and Ta Phrom. It's a truly enormous site and good planning is key to getting the most out of your visit.
We hired a local driver to take us around and bought a three-day pass (current price $62) to the park, valid for 10 days. Believe me, spending any two consecutive days wandering around the sites in stifling heat is best avoided if possible. So, the three-day pass allowed us to have a couple of rest days in between. There's a one and seven-day pass available, too.
We'd suggest an early start and mid-afternoon finish to take advantage of the relative mildness in the morning. In fact, the park opens at 05:30, just as the sun is beginning to rise. And for any self-respecting Angkor Wat pilgrim, that means skipping breakfast to get a prime spot to watch the ancient temple slowly appear in silhouette against a rusty sky. There's no doubt it's a captivating spectacle, albeit in the presence of hundreds, if not thousands of camera-wielding companions from around the globe.
But the good news is that a large proportion of those around you will then return to their hotels for breakfast before continuing with their tour of the park later on. Which means that the likes of you and I can explore some of the other famous sites in a relative state of calm. Winner!
And, because of its close proximity to Angkor Wat, you should head straight for Bayon, with its incredible display of smiling stone faces. It was our favourite site in the park. In fact, we loved it so much we went twice!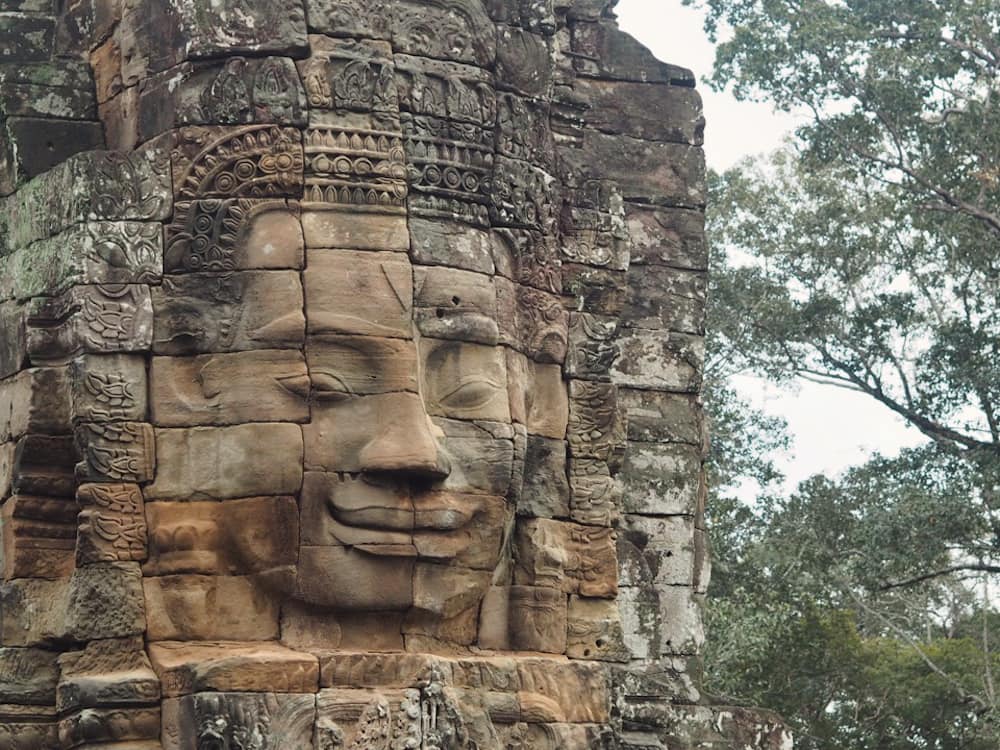 One of the majestic smiling faces at Bayon
Other important sites to see include Ta Prohm (which featured in the Tomb Raider film) and Ta Som, a temple that's literally being overrun by the creeping roots of surrounding trees.
But away from the main sites near Siem Reap, there are sites further away that are still classed as being part of the park, and are well worth visiting by car. Such as Bantaey Srei with its intricate carvings and the ruined temple-cum-jungle experience that's Beng Mealea.
And, once again we managed to beat the tour parties by arriving at Bantaey Srei at 08:30 when we literally had the places to ourselves.
Three days of exploring historical sites might seem a lot but I can honestly say there's enough variety and wow factor to keep any temple numbness at bay.
There are two ways of getting to Battambang from Siem Reap. Firstly, there's the seemingly romantic way – taking a slow boat (with the emphasis on "slow") along the Sangker River. The reality is that it's a no-frills experience with wooden seats on a trip that can take anywhere up to ten hours. And it costs around $25. The second option is the three-hour bus journey costing just $7. No contest.
Just make sure you don't miss the opportunity to visit this laid back rural town that's revered for its art scene, riverside setting and access to gorgeously rustic villages in the surrounding countryside.
Indeed, I spent a couple of days cycling on dirt tracks as they meandered beside the river through villages, farms and open countryside. I was greeted by local people as I cycled along and literally mobbed by excitable kids when I stopped to take on some water. It was as far away from the tourist trappings of Siem Reap as I could possibly wish for. And it was undoubtedly the real Cambodia that I'd come to see.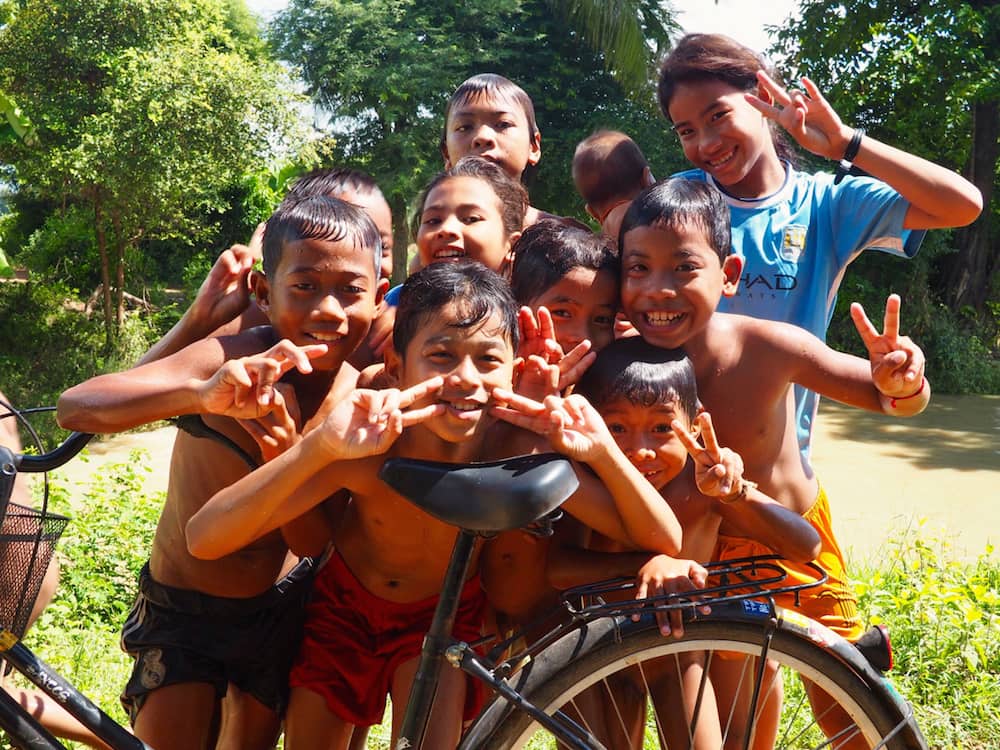 I was literally stopped in my tracks by this group of local kids
Battambang is probably most famous, though, for its "bamboo train", which has evolved over the years from a practical and unique way of local travel to a quirky tourist attraction. For $10 you get to sit cross-legged on a small wooden platform covered in bamboo slats and career along a single track for 20 minutes. And then come back again. The fun really begins, though when you meet another bamboo train approaching in the opposite direction. Etiquette dictates that whichever train has the least number of passengers is the one that has to be dismantled and removed from the track while the other train passes. After which it's then put back together again and the journey continues. Ridiculously touristy but good fun nonetheless!
Further out of town, it's worth taking the 15-minute motorbike taxi ride to Phnom Sampeau and its Bat Cave. There's an interesting hilltop temple with resident monkeys and commanding views, and a somewhat harrowing "Killing Cave", which was used by the Khmer Rouge to murder its perceived enemies during the 1970s.
And, just before dusk, literally millions of bats take flight from a cave just above the road and head off across the plain in search of food. A truly mesmeric sight.
View from the temple at Phnom Sampeau
From Battambang, it's a seven-hour bus journey to Cambodia's capital city, Phnom Penh. Our first impressions were that it was a chaotic, noisy, litter-strewn mess. But, after four nights its charms had grown on us so much that we can confidently state it's now our favourite capital city in Southeast Asia.
True, it has its seedy undercurrent and the traffic's a nightmare, but if you can look past that, its French-inspired streets are a great place to just wander. And along its river promenade, the extravagant Royal Palace and Silver Pagoda are waiting to be explored, together with the many parks, restaurants and bars.
Most striking of all, however, are two sites that loom over the capital, if not the whole country, and serve as a permanent reminder of Cambodia's tragic recent past. The prison at Tuol Sleng and the Killing Fields of Choeung Ek show how the deranged Khmer Rouge murdered their way through the late 1970s in an attempt to create their warped utopia of an agrarian society. They're heart-wrenchingly difficult to visit but it's impossible to have a true appreciation of how Cambodians see the world without witnessing the true horrors on display. Quite simply unmissable.
The memorial pagoda at Choeung Ek
Heading east from Phnom Penh, an eight-hour journey in a cramped mini-bus will get you to remote Sen Monorom in Mondulkiri Province. It's one of the poorest areas of the country and most travellers visit to go trekking or take part in elephant welfare programmes.
We went on a tour with a local guide that included a visit to a local Bunong village, followed by some time spent with three elephants. We were led to believe that no riding would be involved – something we feel strongly about. Sadly, we were misled and had to listen to a half-hearted justification from our guide as to how it was in a 92-year-old elephant's interest to have three tourists climb on its back and then jump into the river it was bathing in. "Just a bit of fun" didn't really cut the mustard for us and it left us with a sour feeling about Sen Monorom.
Which is a shame as we'd read some good things about elephant welfare programmes in the area. If you decide to go, make sure you do your research first.
A visit to a Bulong village was the highlight of our Sen Monorom tour
Kratié (pronounced Krachee), a three-and-a-half-hour minibus journey from Sen Monorom, was an altogether different experience.
Like Battambang, it has a rural setting and is best explored by bicycle. In fact, for hardcore cyclists, it features the Mekong Discovery Trail – a 180km journey through remote countryside and villages leading right up to the Laos border. Belonging to the "softcore" family of cyclists, we managed to do just part of the trail, but it was nevertheless a hugely enjoyable way of spending a couple of days.
We cycled to the village of Kampi, where we took a small boat on the Mekong River to watch rare Irrawaddy dolphins. And we took a ferry across the Mekong and cycled around the roadless island of Koh Trong.
A special mention, too for the owners of our accommodation – the Le Tonle Tourism Training Centre. It doubles as a guest house/restaurant for tourists and a training centre for disadvantaged youngsters. Judging by the service and quality of food we received, they're doing a pretty good job of it.
From the rural isolation of Kep, we took the bus back to Phnom Penh and then onwards to the south coast the following morning.
Our first stop was Kep, a former French colonial seaside town which is now enjoying something of a renaissance. Renowned for its seafood restaurants and signature dish, Fried Crab with Kampot Pepper, the town combines a ghost town ambiance with an obvious desire to return to its former glories. As a result, they've built a long promenade and a man-made white sand beach with a huge statue of a crab just offshore – subtle it isn't!
We again explored the area on two wheels (this time on a scooter), including salt flats, a butterfly farm and Sothy's Pepper Plantation – producers of world-class Kampot Pepper.
Drying peppercorns at Sothy's Farm
Once again we stayed at a guest house that doubled as a training centre – this time the excellent Khmer Hands Resort & Arts Training Centre, owned by American, Chris and his Cambodian wife, Naome. Not only do they provide hospitality training but it's also a centre for developing skills such as handicraft and woodwork. We can guarantee you won't get a warmer or friendlier welcome anywhere in Cambodia.
Nicky with Chris, Khmer Hands Resort & Arts Training Centre
Just a 45-minute tuk-tuk ride along the coast from Kep is the backpacker haven of Kampot. Once again it has a heavy French colonial influence and, for tourists, is a place for doing very little except swing on a hammock beside a river retreat and watch the world go by.
However, the surrounding countryside once again makes hiring a scooter worthwhile. And, in particular, Bokor National Park, with its hilltop French Palace. You can read about our experience of it here.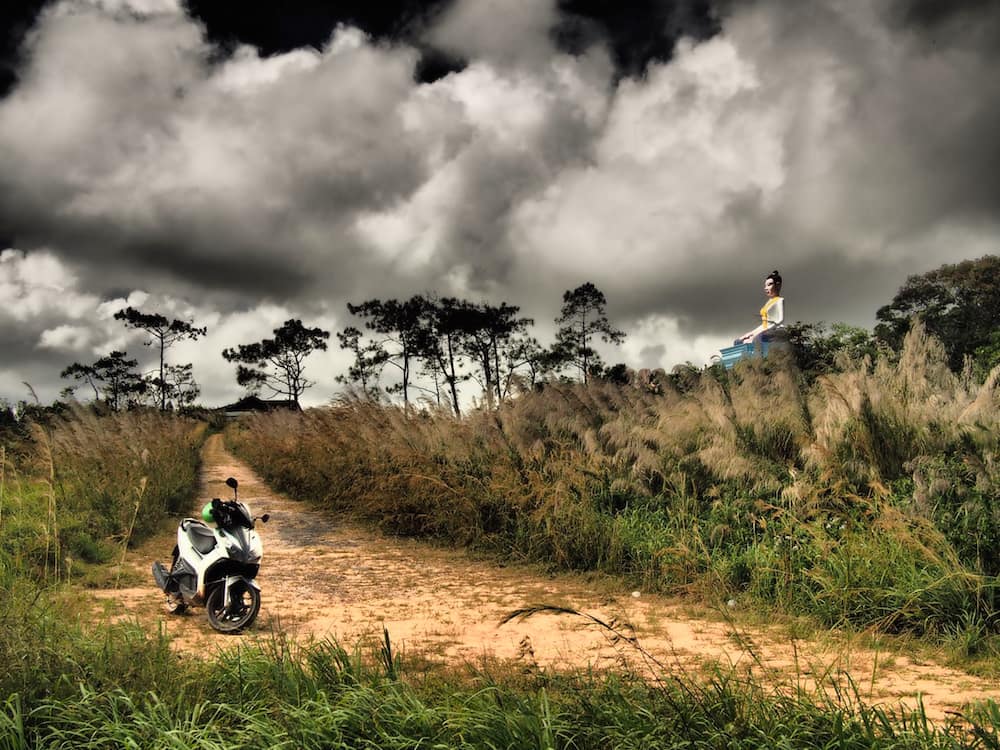 Scootering around Bokor Hill Station, Bokor National Park
Our final destination – on Koh Rong's Lonely Beach – was quite simply gorgeous.
To get there we picked up a bus to the port of Sihanoukville and then transferred to a private boat for the three-hour journey ($20 roundtrip) to the Lonely Beach Eco Resort. Koh Rong has a reputation as something of a party island, but this resort, tucked away in the far north of the island, is as laid back and back-to-nature rustic as you could possibly wish for.
Wooden bungalows in a jungle setting with a short stroll to the stunning, white sand beach. Miles of equally stunning, yet empty beaches to explore along the coast via a jungle path. And, best of all, the opportunity to take an evening swim amongst an amazing blue display of bioluminescence, caused by millions of plankton in the shallow water.
We stayed for six nights. We didn't want to leave.
One of the beaches to explore on Koh Rong
As I mentioned, we spent 29 days in Cambodia but I've reduced this itinerary to 21 days to make it more practical for a single trip. In doing so, I've omitted our stay in Sen Monorom, partly because of our experience, and partly because of the time it takes to actually get there.
That said, you still need to be prepared for plenty of bus or minivan travel and some of the roads (particularly east of Phnom Penh) can be less than comfortable.
DAY 1-4
Fly into SIEM REAP  Do Buy a 3-day pass and explore Angkor Archaeological Park  Accommodation Malika Resort
DAY 5-6
Bus from Siem Reap to BATTAMBANG  Do Hire a bicycle and follow the river track east of town; visit Phnom Sampeau and the bat cave; take a ride on the bamboo train Accommodation Ramchang Guest House
DAY 7-9
Bus from Battambang to PHNOM PENH  Do Stroll around the streets, especially adjacent to the river; visit Tuol Sleng and Choeung Ek Accommodation Vacation Boutique Hotel (recommended)
DAY 10-11
Bus from Phnom Penh to KRATIE  Do Cycle part of the Mekong Discovery Trail (including Koh Trong); see the Irrawaddy Dolphins at Kampi  Accommodation Le Tonle Tourism Training Centre (recommended)
DAY 12
Bus from Kratie to PHNOM PENH  Accommodation Vacation Boutique Hotel
DAY 13-14
Bus from Phnom Penh to KEP  Do Hire a scooter and explore the countryside, including a pepper farm; try the seafood in one of the restaurants beside the crab market  Accommodation Khmer Hands Bungalows (recommended)
DAY 15-16
Tuk-tuk from Kep to KAMPOT  Do Hire a scooter and explore Bokor National Park  Accommodation The Greenhouse
DAY 17-20
Bus or taxi from Kampot to SIHANOUKVILLE, then boat to LONELY BEACH, KOH RONG  Do Enjoy the jungle, ocean and beaches Accommodation Lonely Beach Eco Resort (recommended)
DAY 21
Boat from Koh Ring to SIHANOUKVILLE and onward transport to AIRPORT if required.
Visit our Cambodia page for further posts on the country and information on where we stayed.
The route we took through Cambodia
What did you think? Do you have an alternative Cambodia itinerary? Or perhaps you're thinking of visiting there in the near future? Either way, we'd love to hear from you so please add your comments below.
To help us maintain our site we work with a number of partners who we've personally used and can recommend to our readers. If you decide to purchase any products through the following links, we'll receive a small commission at no extra cost to you. Thank you for your support!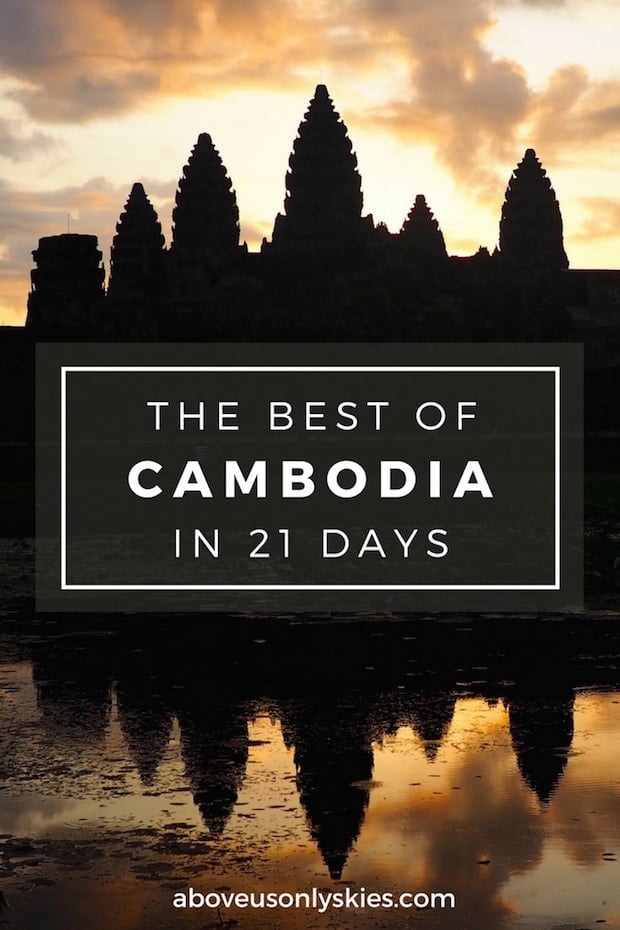 Hi, we're Ian and Nicky, an English couple on a voyage of discovery around the world, and this blog is designed to reflect what we see, think and do. Actually, we'd like to think it also provides information, entertainment and inspiration for other "mature" travellers, too. So please feel free to pour yourself a glass of something suitably chilled and take a look around.