THE BOAT FROM BAGAN TO MANDALAY
After our three days in Bagan, we decided to take the "comfortable" route to Mandalay by boat along the Irrawaddy River. Our experience of the arduous twelve-hour overnight bus journey from Yangon to Bagan had certainly readied us for a change of transportation mode – and believe me, hours of endless pot-holed roads, accompanied by a traditional Burmese soundtrack with the volume knob turned up to "eleven", is extremely arduous! What a great choice the boat turned out to be.
We left the makeshift pier at Nyuang Oo at 05:30 on a boat that could easily fit 100 people – yet there were only eight of us. So it meant that we had our choice of the comfortable loungers on the upper deck for the entire eleven-hour journey. There were a number of boat operators we could have chosen from but the owner of our guest house recommended this particular one (Pioneer – at $32 each) as it was reliable (that is, its engine hadn't broken down recently) and that it provided free coffee and tea all day!
We set off as the light of the rising sun began to signal its arrival in the distance. And there was something ethereal about the whole experience as we cruised along, hardly making a ripple in the still waters.
As the sun ascended and the temperature rose in tandem we were grateful for the cover of the roof, although we found ourselves moving around the deck with our loungers to avoid the full-on rays while the sun burned its way to a blistering 35 degrees C. We can't complain though – it was a lovely way to spend the hours just reading, dozing and watching the daily life take shape along the shoreline.
Then finally, we reached Mandalay in the late afternoon, passing white stupa-clad hillsides as we approached – a sight that was by now becoming very familiar to us. The name "Mandalay" conjured up images for us of colonial mansions and buzzing riverside markets, reflecting centuries of trade between east and west. The reality was somewhat different, though.
We were surprised to find out that Mandalay is, in fact, a relatively new city – the original was created during the period of British colonial rule and its wooden buildings were pretty much all destroyed by allied bombs during World War II. What you see now is the re-built version with its wide streets, heavy traffic and replica "historical" buildings, such as the Royal Palace.
We also found out that it's home to half of all Myanmar's Buddhist monks, which became very apparent as we watched them each morning weave their way around the street and markets, their alms bowls carried in expectation of being filled with their food for the day (or at least until 12 noon after which they are forbidden to eat).
After Bagan, we decided not to visit yet more temples, pagodas, and stupas for a while, so we instead opted for more of a walking tour around Mandalay's gritty streets, which to us would potentially be more rewarding.
But first, we visited the nearby U Bein Bridge for sunrise, which is one of the most photographed locations in Myanmar. In fact, it's not only 200 years old but, at 1200 metres, remains the world's longest teak bridge. It does attract its fair share of tourists, particularly at sunset when there's something of a bun fight between camera-wielding photographers eager to get their money shot of monks or local villagers silhouetted on the bridge against the backdrop of the setting sun. Happily, there were just a few of us when we arrived at 05:45 – and we did indeed get our money shot!
After breakfast, we wandered out onto the streets and into a market which backed on to small housing complex. To be honest, the standard of sanitation that surrounded it shocked us but, as we were to learn elsewhere in Myanmar, it's just par for the course everywhere. What didn't shock us though was, once again, the warmth and friendliness of pretty everyone we met – essentially local people just going about their normal daily routine.
It was fascinating – and eye-popping – to just watch as the fresh produce was chosen, weighed and sold while armies of flies danced around from one resting point to another. It really was a scene of commerce at its most basic form.
But, of course, being an Asian market it wasn't just restricted to raw produce. Bubbling pots of Burmese curries, fried sweet snacks and, inevitably, piles of deep-fried crickets were being sold and dropped into small plastic bags. It's fair to say that I'd wondered about whether I'd go for the bug-eating experience. But these particular bug-eyed morsels of protein were a mouthful too far for me.
We continued our walking tour of Mandalay by heading straight along 78th street, past where the night market would later be setting set up. It's certainly not easy to fall instantly for Mandalay's charms – there aren't rows of old colonial buildings to admire or narrow streets laden with characterful wooden houses. In fact, some of the roads we passed were downright grimy.
But for us, what made up for that was the sheer friendliness of the people we met along the way. And not friendly by just waving, smiling or saying hello – but by stopping to talk and being genuinely interested in us. Like this wonderful character who seemed to be happy to just jump off his bicycle and chew the fat over anything that took our fancy.
And earlier, while we were at the market, we met a young local guy who explained to us – in very good English – about some of the things we'd been watching on the street – such as a procession for the celebration of a couple of young boys who were to become monks. Although his English was already very good he told us he doesn't have many opportunities to practice it on people who are actually from England, so we gladly agreed to meet up with him later that day – after he'd finished work – to explore the night market and learn more from him about Burmese culture and indeed food.
Aung Thu turned out to be a genuine, fun, intelligent and passionate "host" for the evening. After wandering through the night market we settled into one of Myanmar's celebrated "beer stations" – surely a relic from British colonial rule – where we talked about his life, his family, Myanmar's recent past and the upcoming general election. At one point he struggled to contain his emotions as he explained what Aung San Suu Kyi would do for his country if she was elected and what it would mean for families like his.
He even invited us back to his rented apartment, where we met his wife and young son, and we drank tea before he escorted us back to our hotel. He expected nothing from us but gave up his time and offered us his hospitality anyway. Not surprisingly, we're staying in touch and if we return to Mandalay (and we're already considering that as a possibility) we'll return the hospitality in any way we can.
In all we stayed for three days in Mandalay and, U Bein Bridge aside, we avoided the normal tourist attractions in favour of getting acquainted a little more closely with the city's street life. Hell, we even went to the cinema to watch Matt Damon strut his stuff in "The Martian" (a rare treat after nearly eight months away from home) and we were joined by plenty of locals who must have had no idea how the plot was developing as there were no subtitles in Burmese!
Ultimately, the city sure isn't pretty – it's hot, dusty and full of traffic – but its charm comes from its people. And that's good enough for us.
What did you think? Have you been to Mandalay? Have you experienced the boat journey to, or from Bagan? Or maybe you're planning to visit Mandalay soon? Either way, we'd love to hear from you so please add your comments below.
To help us maintain our site we work with a number of partners who we've personally used and can recommend to our readers. If you decide to purchase any products through the following links, we'll receive a small commission at no extra cost to you. Thank you for your support!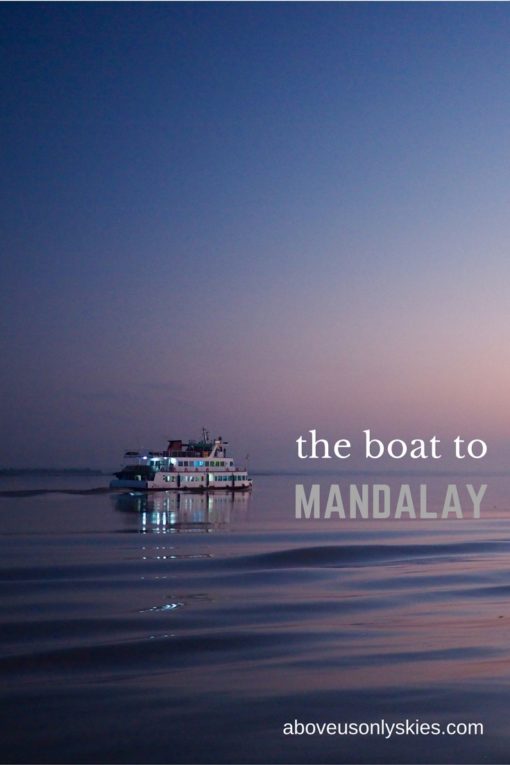 Hi, we're Ian and Nicky, an English couple on a voyage of discovery around the world, and this blog is designed to reflect what we see, think and do. Actually, we'd like to think it also provides information, entertainment and inspiration for other "mature" travellers, too. So please feel free to pour yourself a glass of something suitably chilled and take a look around.