A STROLL THROUGH THE GEORGIAN HARBOUR IN CHARLESTOWN, CORNWALL
A STROLL THROUGH THE GEORGIAN HARBOUR IN CHARLESTOWN, CORNWALL
It's easy to see why Charlestown's harbour has, for many years, been the private reserve of filmmakers and TV series producers eager to cast their 18th-Century tales of romantic shenanigans and rum-soaked exploits against a backdrop of tall ships, cobbled streets and fishermen's cottages.
To use a well-worn phrase, visiting the harbour is like taking a step back in time. So much so that, as part of the Cornwall and West Devon Mining Landscape, it's a designated UNESCO World Heritage Site. And, as the walls and buildings are Grade II listed, their preservation is guaranteed by UK law.
But, unlike many of the idyllic fishing villages on the Cornish Coast, Charlestown actually developed on the back of the local mining industry. And its claim to fame today is that it's the world's best-preserved copper ore and china clay port from the Georgian period.
Emerging from the relative obscurity of a tiny fishing village of nine families (then called West Polmear), who were surviving on a daily catch of pilchards, Charlestown hit the big time as the 18th Century drew to a close. 
Local entrepreneur Charles Rashleigh saw an opportunity to capitalise on some of the local mining industries and began construction of a harbour and dock. As a result, the village rapidly expanded. And, as with any self-respecting English trading post on the south coast, a gun battery was built to fend off any unwelcome advances from the French.
By 1799, the first dock gates were completed and the port was ready to trade with the rest of the world. The locals were obviously grateful. In fact, so grateful that they renamed the village after the pioneer who built it. And so, Charles' Town (later shortened to Charlestown) was coined.
Copper ore and china clay became, in turn, the village's primary exports. Times were good. The port and its inhabitants prospered.
But there was one particular design flaw that prevented the harbour's continued success beyond the First World War. Having been designed to carry relatively small sailing boats, the increased size of 20th Century shipping caused Charlestown's popularity to decline. At one point, the entrance was widened and new gates were installed so that larger ships could dock. But they could still only do so at high tide. And even then they needed to be pulled through the gates with ropes. 
Inevitably, the last shipment of china clay (Cornwall's "white gold") left Charlestown in 2000. Rashleigh's vision didn't foresee the needs of 20th Century shipping, which had simply outgrown his 18th Century harbour. 
However, as one chapter closed, another was about to open. Charlestown's small, but perfectly formed harbour remained a fabulous example of a traditional Cornish port from yesteryear. And, in a modern-day twist on Rashleigh's opportunism, the shipbuilder Square Sail bought the harbour in 1994. 
Not just as a base for their sailing boat business, but also as a set location for film and TV productions, such as Mansfield Park, Tim Burton's Alice In Wonderland and, most recently, the BBC series Poldark.
All of which meant that the harbour's atmospheric charms were often kept under wraps from the general public. But that changed in 2017 when the whole area opened up as a tourist attraction to complement its ongoing life as a working port and filming location. And, in a further wave of entrepreneurship, the inner harbour now morphs into an outdoor food hall during the summer with popup stalls offering Cornish seafood and 21st Century staples such as coffee, ice cream, gin-tastings and BBQd meat.
A tall ship is moored in Charlestown Harbour
A tall ship is moored in Charlestown Harbour
A stroll through the harbour
Our stroll begins as we arrive at the harbour head. Turning left along Quay Road we approach a large wooden building that looms in the harbour's far corner.
The Shipwreck Treasure Museum (Adults £10 / Children £8 / Under-5s free) houses a dazzling display of over 8000 artefacts salvaged from over 150 shipwrecks along the Cornish coast. Including lots of gold bullion, copper coins and other seafaring treasures.  And underground tunnels that were used to transport clay to the waiting ships in the harbour, too. They say it's the best shipwreck museum in the world. And who are we to argue with that?
Continuing along Quay Road, rows of gorgeous ex-fishermen's cottages line the east side of the harbour, their whitewashed walls and pastel-coloured porches suggesting they've been converted into upmarket holiday homes. Which is exactly what many of them are. Although the now-ubiquitous homemade "No parking!" signs (a feature of many Cornish villages) have a slightly detrimental effect on their "timeless" appeal.
View across Charlestown harbour from Quay Road
The road gradually descends to the quayside where we spot the white, octagonal Old Harbourmaster's Office building. Perched between the inner dock and the outer harbour, it was the point where sailors paid their landing fees. Nowadays it can be hired by the hour as a kind of historic beach hut. 
Heading back below Quay Road, along the inner dock, we pass a couple of tall ships. The second of which is the twin-masted Kajsamoor. Now permanently docked at Charlestown, it's open as a tourist attraction for closer inspection.
A short staircase to the right leads to a converted clay store, home to The Rum Sailor, a rustic but impressively stocked bar with over 300 rums to choose from. And in front, rows of wooden barrels line the dock like a series of stepping stones readymade for a wannabe Jack Sparrow to escape the clutches of a musket-wielding official.
At the head of the harbour, a pair of replica cannons point towards the sea, presumably still on the lookout for the ghosts of any Napoleon-era French marauders "chancing their arms". They soon double up as landing perches for a couple of white doves – descendants of an original batch of 200 left behind after they were used during the filming of Mansfield Park (1999).
Indeed, as we reach the west side of the inner dock, we wonder whether we're actually strolling around an authentic Cornish port or a carefully prepared film set. Aesthetically pleasing replica cannons aside, there are also pieces of rope hanging from the stone wall like a work of art. And the pathways are meticulously clean. We decide the answer is probably a bit of both.
Two cannons watch over the harbour
Rope hangs on the stone wall of the harbour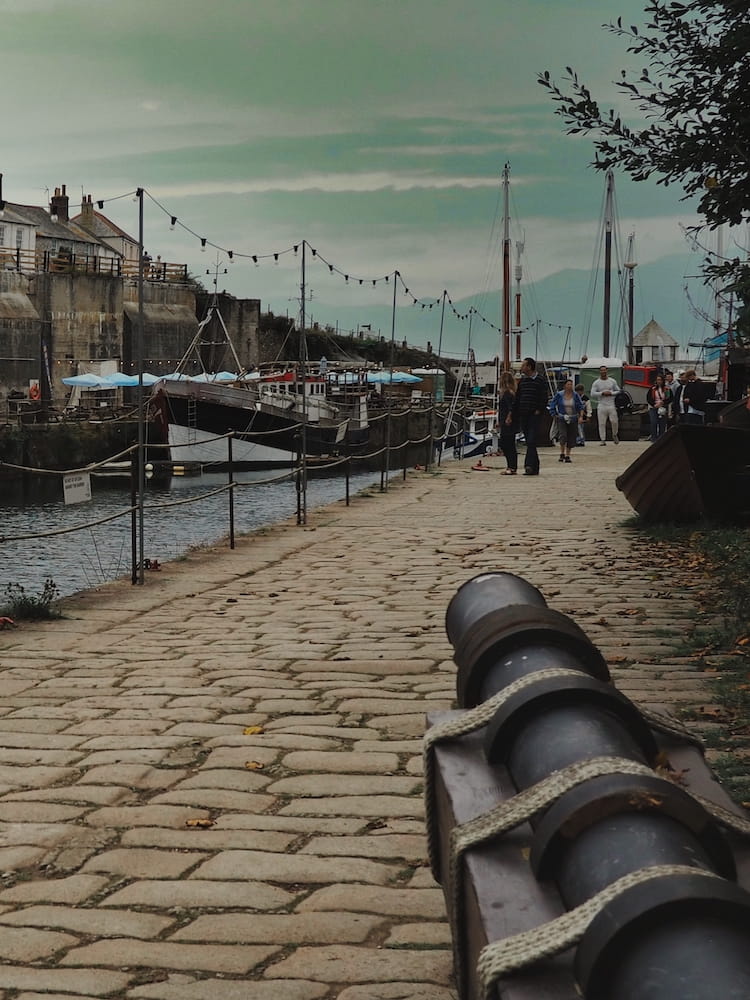 A third cannon sits on the east side of the inner dock
Next, we head back up the ramp to the street level and continue towards the sea past a number of harbourside eateries until we reach The Pier House, a historic Inn with perhaps THE prime spot in Charlestown.
We continue on to the quayside from where we get the best views of the Old Harbourmasters Office and the colourful fishermen's cottages on Quay Road.
View of Quay Road and its fishermen's cottages
View of Quay Road and its fishermen's cottages
Finally, we reach the quay's furthest point and peruse the beach below. In truth, it isn't much to speak of. But then we've already been spoiled by some of Cornwall's sandy masterpieces to be found elsewhere. If the weather was going to be kinder to us, however, we'd be tempted to head as far as we could along the amazing South West Coast Path – either west towards Fowey or south towards Mevagissey. Sadly, the forecast is only a notch above "downright miserable" so we decide to leave that for another time.
Instead, we finish our stroll by taking in the views across to the opposite side of the quay, where some further strategically placed artefacts (including a rowing boat and more rum barrels) are pleasing to the eye. And backwards towards the jumble of masts in the harbour.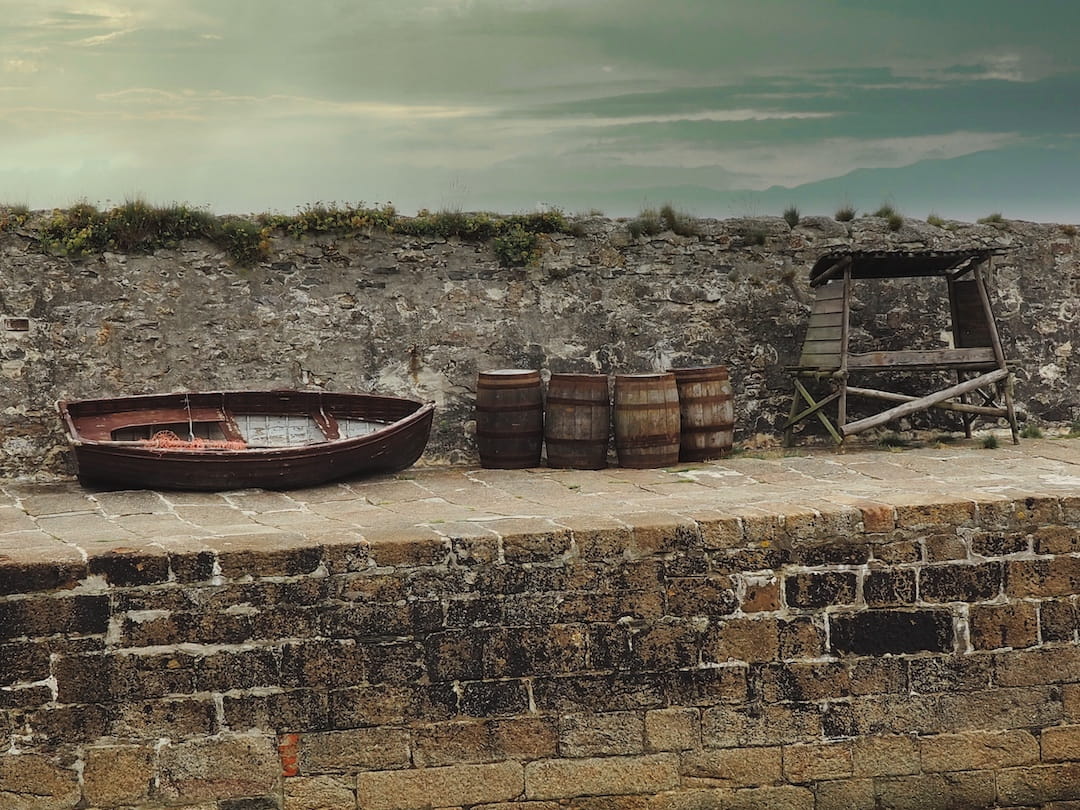 Random artefacts on the quayside
View of the inner harbour from the quayside
Just one word of warning if you're thinking of visiting Charlestown during the peak season. The car park near the harbour is a relatively small one and you may find yourself queuing for a space. And, if you don't make it back before your ticket expires, you face a hefty £60 fine – which is rigorously enforced! As it happens we managed to find a free parking space higher up on Charlestown Road.
Alternatively, from St Austell, a bus ride (#s 24 and 25) will get you there in 15 minutes.
Side visit: St Austell Brewery
In addition to The Pier House, The Rashleigh Arms (named after guess-who?) on Charlestown Road is also worth visiting. Both pubs are owned by St Austell Brewery.
However, our honest opinion would be to finish your day at the St Austell Brewery's Visitor Centre in nearby St Austell. The brewery has become as synonymous with Cornwall as Rick Stein and the Cornish pasty. Especially over the past 20 years-or-so during which it has been transformed from a small provincial brewery into one of the country's largest and most respected independents.
So, as well as learning about the brewery's 150-year history and brewing process, you can sample the full complement of their range of beers at the onsite Hicks Bar. Including the outstanding Tribute and Proper Job IPA.
Final Thoughts on Charlestown Harbour
Charlestown can be visited as an add-on to the likes of the nearby Eden Project or Lost Gardens Of Heligan. And, if so, you could easily stroll along the harbour and take in the atmosphere over a leisurely hour or so.
But, if your budget allows, you could also make a full day of it by taking in the museum and stopping off at one of the many eateries for some lunch. And then in the afternoon head along a section of the South West Coast Path before ending the day at St Austell Brewery.
Of course, if you really want to make the most of it you could book yourself into one of the harbourside lodgings and experience this wonderfully evocative port at night. 
Maybe just avoid the rum bar if you're planning on an early start the next day!
What did you think? Have you visited Charlestown Harbour? Or maybe you're thinking of going there in the near future? Either way, we'd love to hear from you so please add your comments below.
Hi, we're Ian and Nicky, an English couple on a voyage of discovery around the world, and this blog is designed to reflect what we see, think and do. Actually, we'd like to think it also provides information, entertainment and inspiration for other "mature" travellers, too. So please feel free to pour yourself a glass of something suitably chilled and take a look around.