A CHILE ROAD TRIP ITINERARY FROM SANTIAGO TO THE ATACAMA DESERT
A CHILE ROAD TRIP ITINERARY FROM SANTIAGO TO THE ATACAMA DESERT
The round trip from Chile's capital, Santiago – north to the Atacama Desert, across and down through northwest Argentina and then back across the border via Mendoza – is one of the classic South American road trips.
Especially when tackled in a camper van or jeep with rooftop tent (as we did).
And, for a post-COVID 19 world, where wide-open spaces are the new places to be, this part of the planet has them in bucketloads.
Our three-week journey had its challenges. Not least the worst flooding for 70 years in the Atacama Desert. Which, considering it's one of the driest places on Earth, was pretty bad luck.
Nevertheless, the trip remains one of our South American highlights. Even though, as with any Chile road trip itinerary, there's a lot of mileage involved.
In this first of two articles, we journey north from Santiago, through the Atacama Desert and onwards to the Argentinian border.
Pan de Azucar
Paso de Jama (border control for Argentina)
Paso de Jama (border control for Argentina)
This page contains affiliate links. To help us maintain our site we work with a number of partners who we've personally used and can recommend to our readers. If you decide to purchase any products through the links on this page, we'll receive a small commission at no extra cost to you.
Hiring a camper van or jeep
You're probably already aware that Chile is a thin strip of land that hugs the western coast of South America for more than 6,000 kilometres (3,700 miles). Which means that taking a road trip often involves picking up a vehicle rental from one location and dropping it off at another. Unfortunately, that can result if hefty one-way drop off fees.
One of the advantages of this road trip is that you'll pick up and return your vehicle in Santiago. So no one-way or remote location fees to worry about.
Your choice of vehicles will typically be for a camper van with a sleeping space built-in, or a four-wheel drive jeep with a roof-top tent. Because of the nature of some of the roads you'll encounter – sandy, pot-holed, cross-river – we'd recommend the jeep. That's not to say you couldn't do it in a van. It's just that we were grateful for the better mobility of the jeep when we drove on sand. And when we ran into bad weather.
You'll find plenty of rental companies to choose from in Santiago. But we can recommend Condor Campers, owned by a couple of British ex-pats who live in the city. And, if like us, your grasp of Spanish is basic at best, you'll be grateful that you can sort out any on-the-road problems over the phone in English.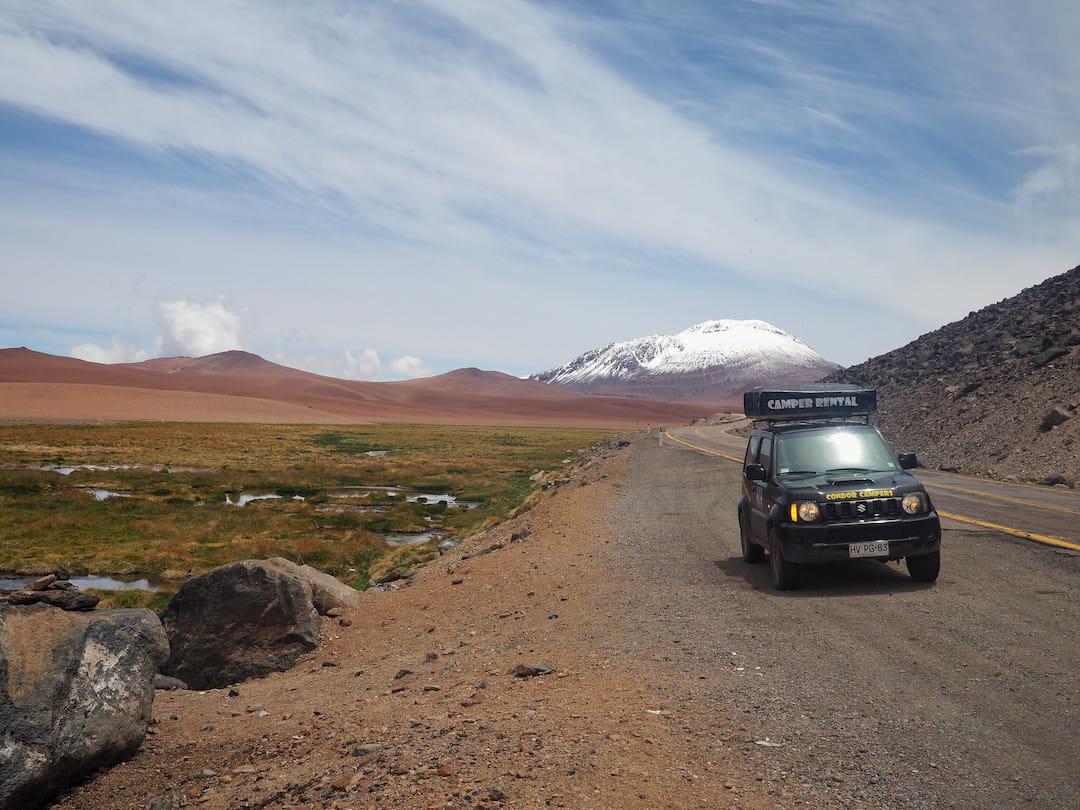 Our Suzuki Jimny jeep with rooftop tent
It's possible to find guest house or cabaña accommodation along sections of the route if that's what you'd prefer. But, in all honesty, this road trip is all about the wild outdoors. Which means sleeping in your camper or rooftop tent in a campsite. Or, for a more authentic (and free) outdoor experience, wild camping in some of the remotest locations imaginable.
If you choose the latter, you just need to make sure you're not on private property or designated sacred ground. And, if you treasure your sanity, you'll definitely want to avoid Chilean campsites on a weekend or during school holidays.
Your best bet would be to download the iOverlander app, which provides details of many wild camping spots (as well as paid sites) identified by previous travellers.
The road north from Santiago
You could opt to head first to the port of Valparaiso, a 90-minute drive from Santiago. It's a wonderfully bedraggled, yet evocative port with amazing street art. But, if you've got the time, it's probably better to take a separate trip there by bus from Santiago and spend at least a couple of nights.
Instead, get on to Ruta 5 (aka the Pan American Highway) and head north until the road hits the coast.
Along the way, you'll be summoned to stop by white flag-waving roadside vendors eager to sell you their sickly sweet dulces. But, if you can contain your hunger, hold on until you reach Hacienda Huentelauquén (260km / 160 miles north of Santiago). Empañadas to die for are their thing. Especially those filled with sheep cheese. And, once we'd gobbled down our small selection from paper plates in the hacienda's garden, we felt as if our Chilean road trip was properly underway!
If you're in no particular rush, there are a number of places to stop along the coast. Including the beach and snorkelling at Pichidangui. And the unique UNESCO-listed Parque Nacional Fray Jorge, featuring a cloud forest that appears to have been marooned in the middle of a coastal desert.
Cheese empañadas from Huentelauquen
Beyond Fray Jorge, most road trippers will continue north along the coast towards the seaside resort of La Serena. However, we'd strongly suggest you save that for later and, instead, turn off Ruta 5 towards Ovalle and then onwards to the tiny village of Vado Morillos, where you'll find the gorgeous Hacienda de los Andes.
It features a sublime camping spot with plenty of shade beside a river, surrounded by pink peppercorn trees. Allow yourself a couple of nights there if you can. Believe us, you won't want to miss exploring the fantastic Sierra Trail through the multi-coloured hills of the Rio Hurtado Valley, which leads directly from the camp. It's like wandering onto a Spaghetti Western film set with the colour saturation turned up to maximum.
You also won't want to miss the stargazing from the hacienda's in-house observatory, either. Indeed, this part of Chile has some of the clearest night skies in the world. Which means that, even to the naked eye, the Milky Way is so bright and detailed that it dominates everything else.
The Sierra Trail, Rio Hurtado Valley
The SierraTrail, Rio Hurtado Valley
The drive from Vado Morillos over to the neighbouring (and much more touristy) Elqui Valley is a stunning one. The road eventually arrives at Vicuña, where you'll be able to stock up with food and drink if you need them.
The valley is famous for both its scenery and its production of pisco, a South American brandy that is usually served with lime juice and whisked with egg white as a pisco sour. There's some international rivalry with Peru over who actually deserves the credit for inventing the cocktail. But the Chileans have gone as far as naming a village "Pisco Elqui" to stake their claim.
Indeed, the village is quaint and worth a visit. And, from there you can take in pisco distillery tours, guided hikes and horse riding. There are a number of renowned observatories for more stargazing, too.
However, as a break from wandering around in all that dry, desert air, we'd suggest you pay a visit to Cerveceria Guayacan in the village of Diaguitas. Not only do they produce Chile's best craft beer on site but they have a lovely covered outdoor seating area to sample them in. Best of all, there's a campsite just down the road from it!
Guayacan Brewery, Vicuña, Elqui Valley
From Pisco Elqui, Ruta 41 heads west back to the coast and meets up with Ruta 5 at La Serena.
We'll be honest, we didn't hang around as our visit coincided with Chilean school holidays (February). And the place was rammed with people. But, if you fancy some beach time in a traditional Chilean seaside resort then any time outside the peak January and February months might be worthwhile.
Alternatively, continue north before again turning off Ruta 5, this time on to the D-110 towards the coast. The road winds through a barren desert wilderness of stark beauty before it eventually arrives at the coastal village of Caleta Chañaral.
The main attractions here are the offshore boat tours to see Humboldt penguins, whales, dolphins and sea lions. If you want to book ahead, try Orca Tourism.
The road then continues through the village and winds its way back through more wilderness and past herds of vicuñas until it returns to Ruta 5 at Domeyko.
The road leading to Caleta Chañaral
Beware of vicuñas crossing!
Parque Nacional Pan de Azucar
From Domeyko, there's a 360-kilometre drive, through fairly monotonous scenery, until you arrive at another town called Chañaral. From there, the C-120 heads towards Parque Nacional Pan de Azucar.
One of our favourite places in Chile, it's a world of volcanic rock, desert landscapes and white sandy beaches. Or, as we describe it, "where the desert meets the ocean".
However, before you actually enter the park at the CONAF checkpoint, there's a dirt track on the left which will take you down to one of the most sublime wild camping spots we've ever found. Perched above a fabulously clean and white sand beach and surrounded by pink-hued mountains, it's a great place to base yourself while visiting the park.
And, once inside the park there are more colonies of Humboldt penguins to see, along with hikes up to panoramic viewpoints.
Don't miss it.
Parque Nacional Pan de Azucar
Parque Nacional Pan de Azucar
North to San Pedro de Atacama
Continuing through the park, the road winds its way back up to Ruta 5. About 60 kilometres further north you have a choice. If you're short of time, you can just continue along Ruta 5. But, if you turn off on to Ruta 1 towards Tatal, you'll be rewarded with a particularly spectacular coastal road with hardly another vehicle in sight. Especially when the tarmac disappears after Tatal and the rutted gravel surface takes its place.
Be warned, it will take up a large chunk of your day. But this IS a road trip after all. And the scenery makes it worth it.
As always, the road winds its way back up from the coast until it re-connects with Ruta 5. But before you continue further north, take a slight detour back south to see the bizarre Mano de Desierto (Hand of the Desert), an 11-metre stone hand sculpture that rises out of the sand.
And then it's onwards through faceless desert until you reach Calama and, finally, San Pedro de Atacama.
Mano de Desierto
Attribution: Marcos Escalier from Antofagasta, Chile. / CC BY-SA (https://creativecommons.org/licenses/by-sa/2.0)
We wish we could tell you all about San Pedro. After all, it's THE major tourist hub in the north of Chile. And it sits within a magnificent setting of high altitude desert, snow-capped volcanoes and surreal moon-like landscapes.
But, as luck would have it, we arrived just after a rare deluge had flooded its streets and closed most of the natural attractions in the vicinity. We patiently waited for things to improve over a couple of nights but, as a state of emergency had been declared, nothing was likely to reopen for quite some time. And more bad weather was forecast. So we decided to cut our losses and head towards the Argentinian border.
Which was a real shame as San Pedro was one of our top bucket list destinations for the whole of South America.
No doubt if you're planning this road trip then you'll have already earmarked it. So, do us a favour, would you? When you get back, let us know what it was like!
Anyway, the good news is that the route to the border at Paso de Jama is a spectacular one. All 160 kilometres of it. And thankfully, the weather had cleared sufficiently for us to get a decent view of the iconic Volcán Sairecabur as we left town.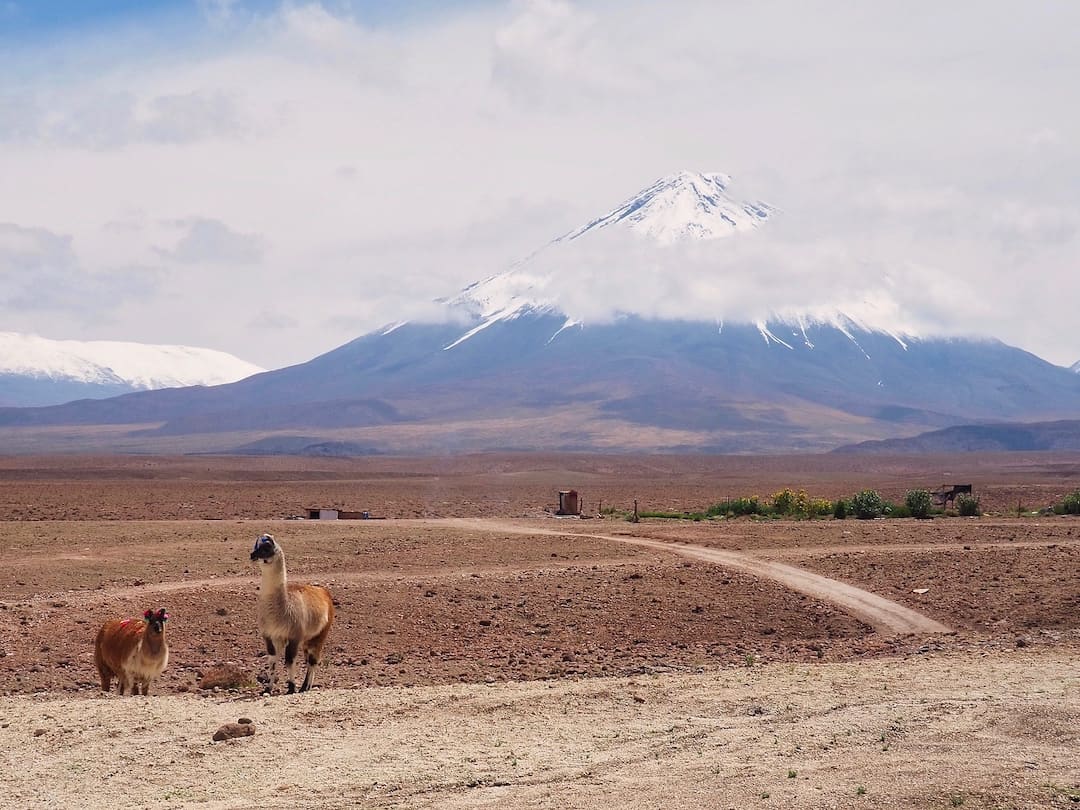 Volcan Sairecabur, as seen from San Pedro de Atacama
Towards the Argentina border
The route climbs relentlessly from San Pedro at 2400 metres altitude, through the Reserva Nacional Los Flamencos to nearly 5000 metres. Along the way it passes further volcanoes, flamingo-filled lakes, wetlands and salt flats until it reaches a plateau.
To be honest, our small 90 bhp jeep struggled to keep up a pace sufficient enough to get us to the border crossing before it closed at 3 pm. Which meant that we had to find somewhere at this altitude to camp for the night. And somewhere we wouldn't be exposed to any further storms.
As luck would have it, we managed to find another wild camping spot that would feature as one of the highlights of the trip, beside the bizarre Monjes de la Pacana ("Pacana Monks").
The approach road to Monjes de la Pacana
The approach road to Monjes de la Pacana
Sculpted by the erosion of wind and water, these rock formations are dotted around the plain like scattered pieces from a celestial chessboard. Some appear to resemble human forms, hence the name.
They're striking enough on their own. But they also overlook a beautiful blue lake and a salt flat, with a snow-capped volcano behind.
Our power-lite jeep might have delayed our crossing into Argentina for one night, but it certainly had no problem negotiating the sandy tracks to our selected camp spot for the night under the watchful gaze of a stony monk.
It's a truly beautiful spot. And one worth exploring further on foot down towards the lake. Although, at 4500 metres, it's best to keep it to a leisurely walk.
As a footnote, we did have to endure an electrical storm during the night. Which, at that altitude and on an exposed plateau, was more than a little alarming. Suffice to say, we spent a couple of hours in the relative safety of our jeep rather than our rooftop tent.
From there to the border, it's a further 54 kilometres of breathtaking scenery. If you've stayed overnight as we did there'll be no need to rush it. And, we'll admit, we didn't.
After all, it's not every day you can take breakfast at 4500 metres while you watch pink flamingoes taking flight from a mirror lake directly below you.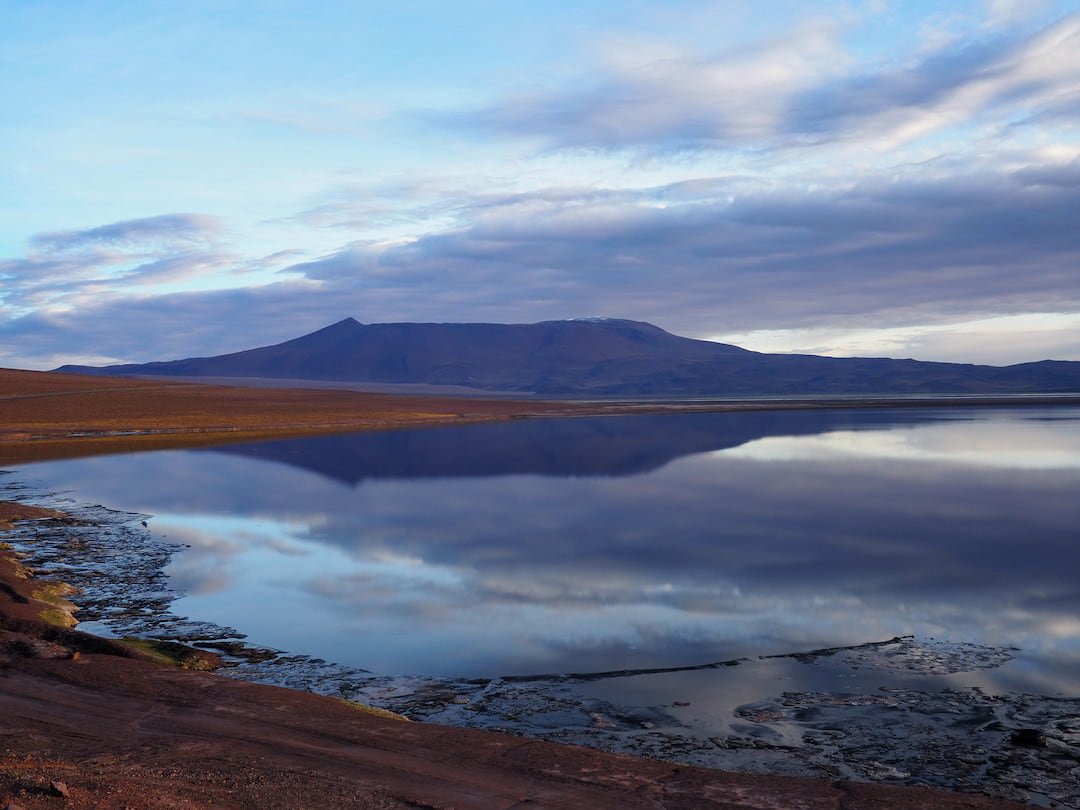 Early morning light on a partly frozen lake
All told, the route we've described from Santiago to Paso de Jama is just short of 2000 kilometres (1240 miles). Much of it is desert. And it involves a climb from sea level to an altitude of nearly 5000 metres.
True, there are substantial sections of road where there isn't much to see. Such is the nature of driving through a desert landscape. But the many highlights more than make up for it.
However, we're only just getting started. By crossing into Argentina, the degree of spectacular is about to go up another notch or two.
Which we'll prove to you in our next post.
What did you think of this Chile road trip itinerary? Do you have any recommendations of your own? Or perhaps you're thinking of taking such a trip in the near future? Either way, we'd love to hear from you so please add your comments below.
To help us maintain our site we work with a number of partners who we've personally used and can recommend to our readers. If you decide to purchase any products through the following links, we'll receive a small commission at no extra cost to you. Thank you for your support!
Travel insurance
with World Nomads
Hi, we're Ian and Nicky, an English couple on a voyage of discovery around the world, and this blog is designed to reflect what we see, think and do. Actually, we'd like to think it also provides information, entertainment and inspiration for other "mature" travellers, too. So please feel free to pour yourself a glass of something suitably chilled and take a look around.