A THREE DAY GUIDE TO THE ASTONISHING COLCA CANYON IN PERU
A THREE DAY GUIDE TO THE ASTONISHING COLCA CANYON IN PERU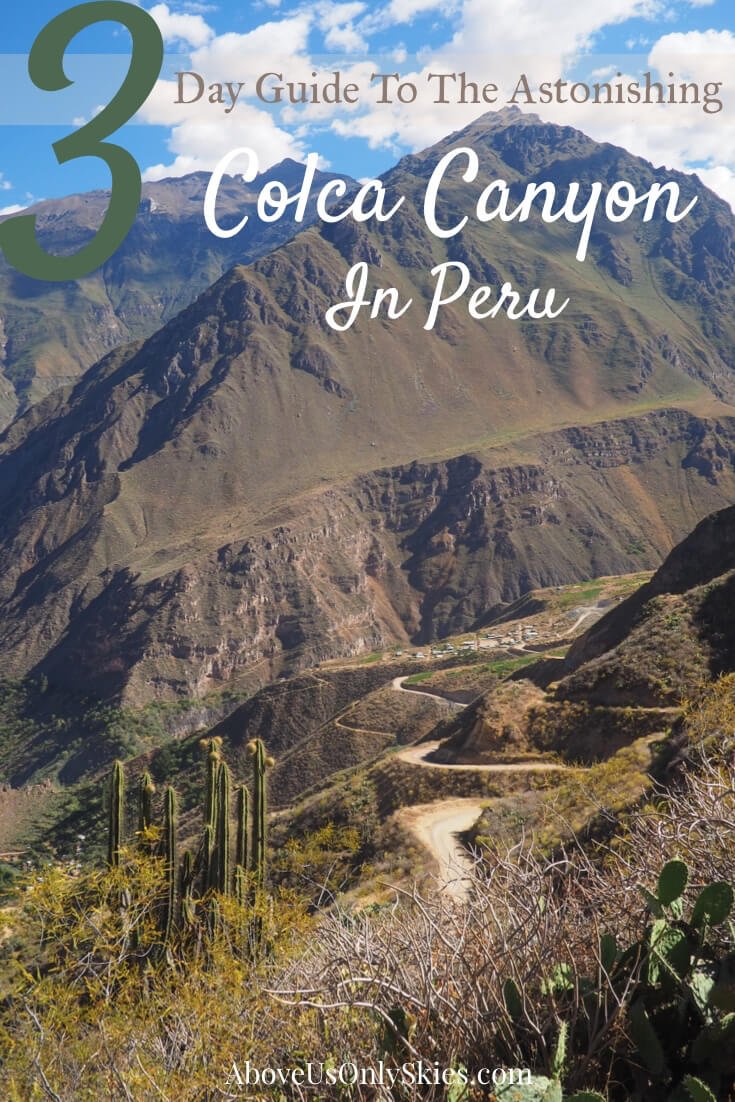 The Colca Canyon in Peru isn't exactly a secret to international travellers.
Indeed, it's now the country's third-biggest tourist attraction. Which is not surprising given its fabulously dramatic landscape, its relative proximity to Arequipa and the chance to see the iconic Andean Condor in its natural habitat.
The vast majority of visitors opt to take a one, two or three-day guided tour from Arequipa. And, if you're pushed for time, they're good value and may well be your best option.
However, whenever possible, we try to do things independently. Not that we think guided tours should be avoided. It's just that we like the freedom to do things our way and not be restricted by pre-determined schedules.
So, we decided to bookend our three-day hike with two nights in Cabanaconde, which sits at the rim of the canyon and serves as the starting and end point for each of the hikes on offer.
If you have the time, we can honestly recommend doing it this way. Especially as it gives you plenty of time to rest before and after the hike.
And, if you do, you'll be rewarded with one of the best, albeit demanding hikes in South America.
Need convincing? Then read on…
Pachamama Hostel, Cabanaconde
Pachamama Hostel, Cabanaconde
Contents
This page contains affiliate links. To help us maintain our site we work with a number of partners who we've personally used and can recommend to our readers. If you decide to purchase any products through the links on this page, we'll receive a small commission at no extra cost to you.
The Colca Canyon is 160 kilometres (100 miles) from Arequipa. And, with a depth of nearly 3,300 metres (10,800 feet), it's one of the deepest canyons in the world. Compare that to the 1,800 metre (6,000 feet) depth of Arizona's Grand Canyon and you get a sense of the sheer scale of the place.
Although at first glance, it might look an arid and inhospitable place, the surrounding Colca Valley valley is home to centuries-old stepped terraces that are used for agriculture by the Collagua and Cabana cultures, who date back to pre-Incan times.
And, within the canyon itself, the lush, green oases of Sangalle and Malata / San Juan de Chuccho are a testament to the traditional way of life that local people continue to enjoy.
Getting to Colca Canyon from Arequipa
If you're taking one of the guided tours from Arequipa, you'll typically be picked up from your lodgings at around 3 am in order to arrive at the canyon for 9 am to watch Andean Condors take flight from their cliffside nests.  After which you'll then set off on the long, steep descent to the canyon floor.
However, if you cherish your sleep as much as we do, you'll no doubt be heartened to hear that you can simply pick up a local bus from Arequipa's main Terrestre Terminal at the more comfortable time of 09:30.
There are a number of bus companies to choose from. Express Señor de los Milagros has two early-morning services at 3:30 and 05:30, while Reyna provides one at 11:00. We chose to go with Andalucia as their 09:30 departure (18 soles / £4.40 / $5.30) allowed us to arrive in Cabanaconde mid-afternoon. Just don't expect the journey to run exactly to schedule – our "five-hour trip" actually took seven.
If you do insist on bussing it to Cabanaconde and then hiking down into the canyon all on the same day, you can still pick up an earlier bus. Or cross the road to one of the private minivan terminals on Avenida Andrés Avelino Cáceres and pick up an early-morning collectivo to Cabanaconde, changing at Chivay.
You'll also find that the collectivos are faster and more regular than the public buses. And they're only slightly more expensive.
Don't expect anyone at the ticket booths or minivan terminals to speak a word of English so go prepared if your Spanish isn't up to much.
Once your bus/collectivo escapes the ugly dust-ravaged outer limits of Arequipa (which took nearly an hour for us) the landscape is one to savour. Especially for the final two hours-or-so between Chivay and Cabanaconde. Think smoking volcanoes, twisting mountain roads and herds of vicuñas.
And once you arrive in Cabanaconde, check in at Pachamama Hostel. Featuring experienced (and helpful) Colca Canyon guides amongst its staff and a cosy bar/restaurant offering wood-fired pizzas, it's an ideal place to complete any final preparations for the following day's hike. Their free hiking guide is indespensable. And in Manu, you won't find a more gregarious hostel manager in the whole of Peru!
You might also want to buy your seven-day Boleto Turistico (Tourist Ticket) from the tourist office in the town square (70 soles / £17 / $21). You can also buy it from a ticket booth en route into the canyon but bear in mind you can't gain access without it.
Day 1: Cabanaconde to Llahuar
Distance: 10.5 kilometres (6.5 miles)
Duration: 4 hours 30 minutes
Altitude drop: 1,267 metres (4,156 feet)
Highest point: 3,287 metres (10,780 feet) – Cabanaconde
There are a number of recognised routes to take down into the canyon. By far the most popular (and the one taken by the vast majority of the organised tours) is the one that leads down to San Juan de Chuccho from the San Miguel trailhead, before climbing back out via Sangalle or Llahuar.
And that's plenty good reason to avoid it altogether by doing the whole thing in reverse.
Leaving the hostel after an early breakfast (06:30), the stroll through the village and farmland to the canyon rim is a gentle introduction to what will follow. And then, after twenty minutes-or-so, you'll be glad you hired those walking poles as you begin your descent proper on an increasingly steep and knee-hammering trail.
The landscape is truly astonishing. And by starting out early it felt like we had the whole place to ourselves. Save for the two twenty-something female German backpackers who sped past us.
After a further three hours you'll finally cross the Colca River via Paccla Bridge and head along the opposite side of the canyon before descending once more to the tiny hamlet of Llahuar (pronounced yag-war).
Cheat Sheet
If you'd prefer to skip the gruelling descent you could always catch the Cabanaconde to Tapay bus that leaves the main plaza at 07:00 and drops down into the canyon via what looks like the mother of all cliff edge roads. You just need to ask the driver to let you off at the turning for Turuña / Llahuar and then walk downhill for the remaining 30 minutes.
And if you want to return to Cabanaconde the following morning, just retrace your steps back up the hill and catch the 11:00 return bus. Although don't expect it to turn up on time!
At Llahuar, there are two accommodation options. Most people stay at Llahuar Lodge, with its riverside log cabins and thermal pools. We chose to stay at the smaller Casa de Virginia next door, which also provided access to the thermal pools.
Speaking of which, I can't think of a better place to soothe those leg muscles after 4-5 hours of relentless calf and knee trauma. Only be careful not to slip on the wet concrete perimeter and subsequently crash headfirst into a pool.
Like I did.
The thermal pools as Llahuar
Day 2: Llahuar to San Juan de Chuccho
Distance: 12.7 kilometres (7.9 miles)
Duration: 6 hours
Altitude gain: 680 metres (2,230 feet) – to Mirador de Apacheta
Highest point: 2,700 metres (8,860 feet) – Mirador de Apacheta
Altitude drop: 500 metres (1,640 feet) – Apacheta to San Juan de Chuccho
Suitably refreshed after a good night's sleep you'll need an early start again the following morning for the hike up to Mirador de Apacheta, 680 metres above Llahuar. It's relentlessly uphill rather than especially steep and should take about two hours.
The views of the canyon as you ascend through the villages of Paclla and Belén are even more jaw-dropping than those from the day before. Topped off when you reach the mirador and you gaze upon an extended view of the whole canyon stretching beyond Sangalle and onwards towards San Juan de Chuccho.
Indeed, you'll have a bird's-eye view of Sangalle's green oasis 600 metres (1,970 feet) below as you stroll along the level road that cuts into the canyon wall.
Most people at this point actually take the trail down to Sangalle and stay overnight there before taking the direct route back to Cabanaconde the next morning. But it's the most touristy place in Colca Canyon and you'll certainly be joined by plenty of tour groups. Which is why we gave it a wide berth and continued along the road high above.
You'll eventually arrive at the traditional villages of Malata (where lunch is a good option) and Coshñirwa. Just as you leave the other side of Coshñirwa, where the road bears left towards Tapay, there's a trail to the right that crosses a bridge and takes you down to San Juan de Chuccho.
There you'll find a number of family-run hostels to choose from. We can highly recommend Colibri Lodge, especially if you choose one of the deluxe cliff-facing rooms.
Cheat sheet
Once again you can opt to catch the Tapay-bound bus from the road above Llahuar (anywhere between 08:00 and 09:30) and get off at the Mirador de Apacheta before continuing on foot along the easiest stretch of the whole hike. I was actually surprised to see that quite a few backpackers had taken this option rather than walking from Llahuar. Or maybe they had the right idea after all!
Malata (foreground) and Coshñirwa
Day 3: San Juan de Chuccho to Cabanaconde
Distance: 8 kilometres (5 miles)
Duration: 5 – 6 hours 
Altitude gain: 1,200 metres (3,940 feet) – to Mirador de San Miguel
Highest point: 3,400 metres (11,150 feet) – Mirador de San Miguel
Altitude drop: 100 metres (330 feet) – San Miguel to Cabanaconde
The ascent back to Cabanaconde is definitely not for the faint of heart. You'll need to start off early (like 05:30 in-the-dark-early) to get across the hanging bridge and as high up the canyon as you can before the sun gets too strong.
One advantage of Calibre Lodge is that the trail down to the hanging bridge leads straight from its grounds. And once you've crossed the river, the trail winds its way steeply uphill for a full lung-busting 1200 metres until you reach Mirador de San Miguel.
So be prepared for plenty of resting spots and stellar views across the canyon to the route you'd taken the previous day.
And, if you're lucky, you'll be joined by the occasional Andean Condor soaring above as you approach the mirador.
Believe me, our research told us that this was the easiest of the three routes out of the canyon. So you can allow yourself a certain amount of smugness as you pass other hikers on their way down safe in the knowledge that their hike back out via Sangalle or Llahuar will be marginally tougher than yours!
Once past the mirador, you'll reach the trailhead from where there's an easy 20-30 minute stroll along the road into Cabanaconde.
If you're planning on returning straight back to Arequipa you'll probably want to catch the 11:00 Express Señor de los Milagros or 14:00 Reyna buses. But, to be honest, that'll mean missing out on one of the highlights of your whole Peru trip at Cruz del Condor.
So instead, we'd suggest enjoying an ice cold beer or two and a pizza at Pachamama Hostel before staying there for one additional night.
This viewpoint, a 30-minute bus journey on the road from Cabanaconde to Chivay, is one of the premier sites in South America to observe the Andean Condor at close quarters. Naturally, it gets extremely busy. But don't let that put you off as it's a genuinely uplifting experience.
And now that you've stayed the extra night in Cabanaconde you simply need to catch the 06:30 Reyna bus (for Arequipa) and get off at the viewpoint. Along with lots of traditionally dressed locals eager to get there early to sell their wares.
At that time of the morning there'll only be a few other people around. And, in truth, you might only see the odd condor below making the occasional foray away from its nest. But as 9 o'clock approaches, the action starts to warm up. As does the arrival of dozens of tourist buses and minivans from Cabanaconde, Chivay and, of course, Arequipa.
We initially stationed ourselves at the lower of the two viewpoints. And, after waiting patiently for around an hour and half, we wondered if the fabled birds were actually going to turn up. And then, without warning, a silent squadron of gliding Andean Condors effortlessly flew over our heads from behind.
For us, it was a moment of pure open-mouthed wonder. To see up to fifteen of the largest flying birds in the world cruise above us amidst this spectacular landscape was simply spellbinding. As the gasps and cheers from the gathered crowd would testify.
A group of five then perched on a rock close to the upper level viewpoint. Cue a mad rush from our lower level up the pathway for a closer look.
The whole spectacle lasted for a good hour or so. Which gave us time to then catch the Andalucia bus from Cabanaconde to Arequipa at around 09:30. And then, at Chivay, we changed to a collectivo at 12:30 which got us back to Arequipa at 15:30.
Perfect!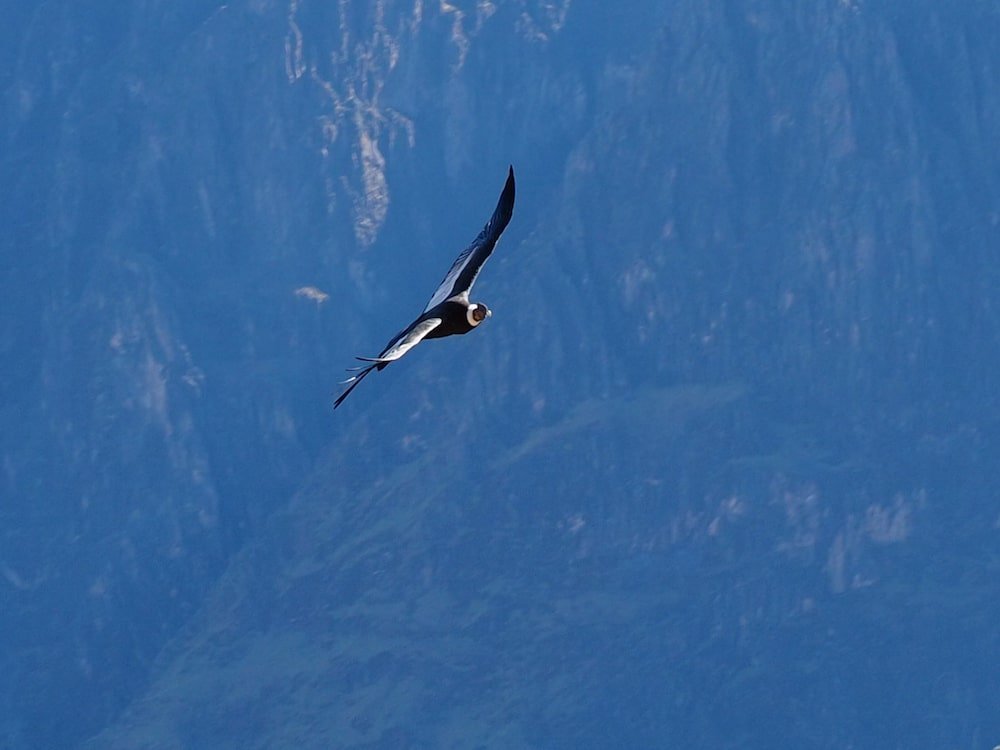 Final thoughts on the Colca Canyon Trek
Whether you decide to spend one, three or five days at Colca Canyon, it's an essential trip from Arequipa that really shouldn't be missed.
Even if hiking isn't your thing you can get in and out of the canyon by bus. And the Cruz del Condor experience will undoubtedly Iive long in the memory.
Just a few things to bear in mind while hiking, though.
Unless you already have shatter-proof knees and calves of steel, you'll greatly benefit from using proper walking poles. They can be rented at Pachamama Hostel for a nominal fee.
You'll also need to take plenty of water as the sun can be fierce and there's little-to-no shade once it rises above the cliffs. Especially during the dry season between May and November when daytime temperatures can get up to 35 degrees celsius (95 fahrenheit). And dehydration is no friend of yours at this altitude.
Don't underestimate the physical challenge of the hike, both up and down, either. Set out early and allow plenty of rest before continuing the next day.
But above all, take your time, enjoy the mesmerising scenery and wallow in the justified sense of achievement that comes with conquering the planet's second-deepest canyon!
What did you think? Have you been to Colca Canyon? Or perhaps you're thinking of visiting there in the near future? Either way, we'd love to hear from you so please add your comments below.
To help us maintain our site we work with a number of partners who we've personally used and can recommend to our readers. If you decide to purchase any products through the following links, we'll receive a small commission at no extra cost to you. Thank you for your support!
Hi, we're Ian and Nicky, an English couple on a voyage of discovery around the world, and this blog is designed to reflect what we see, think and do. Actually, we'd like to think it also provides information, entertainment and inspiration for other "mature" travellers, too. So please feel free to pour yourself a glass of something suitably chilled and take a look around.