THE CORNISH COASTLINE: A PHOTOGRAPHIC JOURNEY
THE CORNISH COASTLINE: A PHOTOGRAPHIC JOURNEY
The Cornish coastline stretches for over 400 miles, from Morwenstow on the north coast to Cawsand in the south. In between, it features soaring cliffs, golden sandy beaches and surf-friendly waves, interspersed with historic fishing villages and disused tin mines. Not surprisingly, the area became the capital of England's 2021 "staycation" boom after months of pandemic lockdown.
We spent September housesitting in Stratton, near Bude on the north coast. From where we were able to explore much of the wild coastline and seek out answers to burning questions such as: Should we put jam on our scones before the clotted cream or the other way round? Could we find a free parking space – that was actually free? And would the good people of Cornwall actually be happy that their narrow lanes were once again being clogged up with thousands of impatient drivers?
Well, we're glad to report that we did find the answers to all three. But we'll save those for our upcoming posts on all-things-Cornwall.
For now, here's a flavour of what the Cornish coastline has to offer in the form of a selection of photographs from our recent visit.
Contents
This page contains affiliate links. To help us maintain our site we work with a number of partners who we've personally used and can recommend to our readers. If you decide to purchase any products through the links on this page, we'll receive a small commission at no extra cost to you.
About the Cornish coastline
The Cornish coastline surrounds the extreme southwest peninsular of England, which points like an index finger out into the Celtic Sea, with the Atlantic Ocean beyond. 
The prevailing southwesterly winds that blow in from the Atlantic ultimately shape the dramatic cliffs and islets along the northern coastline, carved out with the aid of accompanying waves. Which, in turn, attract legions of surfing fanatics – both professional and amateur.
The southern coastline, however, is sheltered by the English Channel and is more notable for its rias – deepwater harbours, such as those found at Falmouth and Fowey – and the cute fishing villages that have remained largely unchanged for decades.
Common to both coastlines, however, is a wealth of fabulous beaches – over 150 of them. Ranging from wide expanses of clean, golden sand in holiday hotspots such as Newquay and Bude to barely accessible rocky coves, they're Cornwall's main attraction for summer tourists.
And, connecting them all, the South West Coast Path is a hiker's paradise running all the way from Minehead in Somerset to Poole Harbour in Dorset, some 630 miles away.
Located in one of the most spectacular sections of the whole Cornish coastline, the Bedruthan Steps are a series of sea stacks that become fully exposed at low tide. And, like elsewhere along the coast, can be seen lurking in the background behind the lacy frocks, breeches and three-cornered hats of the BBC period drama, Poldark.
The Bedruthan Steps, near Newquay
Set in a natural harbour, the tiny fishing village of Boscastle has thankfully recovered from the extensive damage caused by severe flooding in 2004. Warren Point is a headland that sits at the head of the harbour. This photograph was taken from the opposite lookout point on the South West Coast Path.
There are plenty of beaches that can lay claim to being the best in Cornwall. We'll share our own favourites in another post. But Pedn Vounder, on the south coast, is right up there with the very best. Accessed via a steep trail from the cliffs above, it's popular with both naturists and marauding Poldark fans. Which makes for an intriguing combination.
Pedn Vounder Beach, near Porrthcurno
We promise, this will be our last mention of Poldark. But if there's a better example of an archetypal "seafaring costume drama filming location" than the Georgian port of Charlestown we've yet to see it. In fact, not only has it featured in many a film and TV series, but it's also a UNESCO World Heritage Site to boot.
At the mouth of the Camel Estuary and just around the corner from Cornwall's foodie capital, Padstow, lies the relatively unknown Harbour Cove. It's a wide and often windswept expanse of golden sand surrounded by grassy dunes and farmland. You can access it by walking north on the South West Coast Path from Padstow.
Harbour Cove, near Padstow
Another contender for Cornwall's Best Beach, Kynance Cove is situated on the south coast, just a couple of miles from Lizard Point. At low tide, the sea stacks become fully exposed and there are caves to explore. Best of all, the views as you approach it from the cliffs of the Coast Path are suitably spectacular.
Kynance Cove, near Lizard Point
Probably Cornwall's most famous attraction and the starting/ending point for the classic charity walk/cycle between Great Britain's southwest and northeast extremities (the other being 874 miles away at John O'Groats in Scotland). We took this photograph at the end of our hike from nearby Sennen Cove along the South West Coast Path.
King Arthur's Statue, Tintagel
Whether you believe that King Arthur actually existed or not, it's easy to get wrapped up in the whole legend thing while visiting Tintagel's island and King Arthur's statue. Although, according to English Heritage who commissioned the 8-foot bronze image in 2016, the statue is actually called Gallos (from the Cornish word for "power") and represents the general royal heritage of the site rather than any one King. But, if you ask us, that pointy thing he's holding looks suspiciously like Excalibur.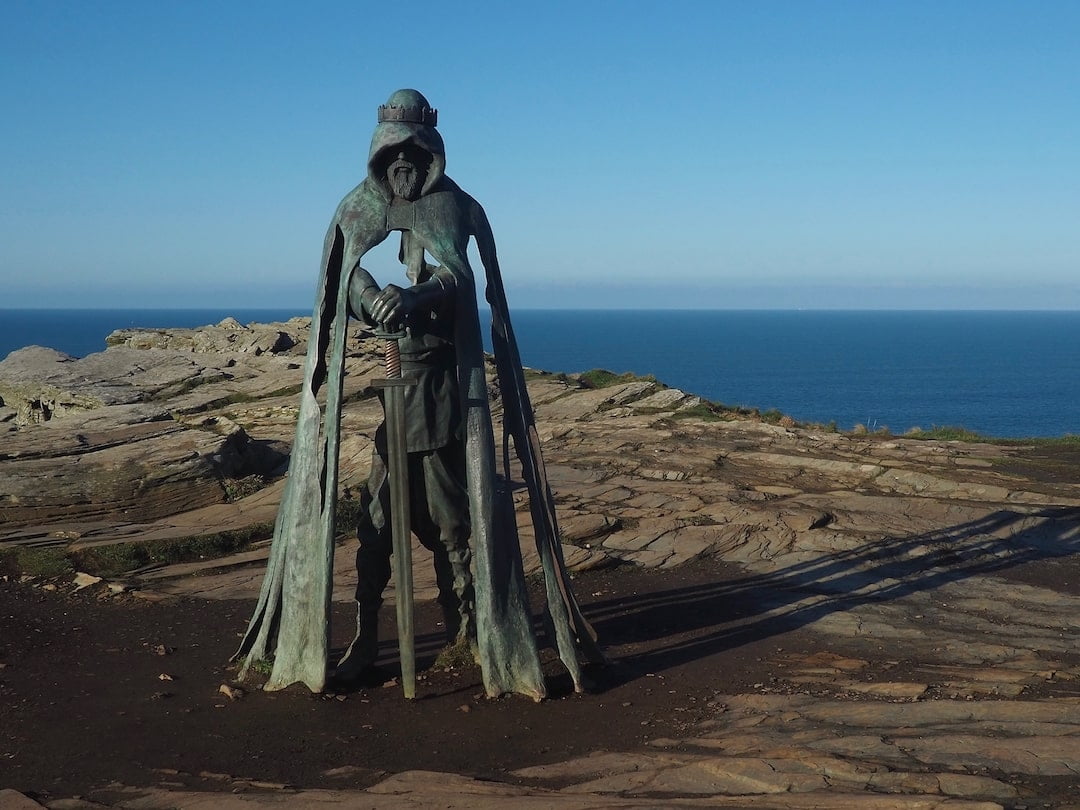 It's the most southerly point on mainland Britain and feels like a sister location to Land's End with its cliffs, off-shore sea stacks and lighthouse. Although this time without the huge car park and purpose-built Visitor Centre. Walks to the west and east lead to Kynance Cove and the gorgeous thatch-roofed fishing village of Cadgwith.
The brainchild of one Rowena Cade, who turned her pre-war cliff-top garden into an impromptu setting for an amateur theatre production of The Tempest. Which was such a success that she – and her trusted gardener – developed it into a full-scale theatre over the ensuing years. Nowadays it serves as both a functioning theatre and a tourist attraction for those who'd rather just wander around its unique setting.
Another fishing village. And another filming location for The Series That Shall No Longer Be Named. Port Isaac is everything you'd imagine a Cornish fishing village to be. Narrow streets lined with colourful cottages that wind down the hillside. The smell of freshly caught crab wafting through the air. And the homemade signs betraying a world-weariness from locals towards tourists and their inconsiderate parking habits.
Another glorious expanse of golden sand, Godrevy Beach spills over into nearby Gwithian Beach at low tide. Easily accessible from the tourist hub of St Ives just a few miles away, it offers a more peaceful setting. Although, during the height of the summer, there's no guarantee of that on any Cornwall beach. 
In the far north of the Cornish coastline, Sandymouth Bay sits between the seaside resort of Bude and the border with Devon. Not only is it one of the most rugged sections of the coast, it's also one of the most beautiful sections of the South West Coast Path.
Sandymouth Bay, north of Bude
We used the harbour car park here to begin our short hike to Land's End – which we'd thoroughly recommend. The beach itself is one of Cornwall's premier surfing spots and the village is the furthest west in England.
Sennen Cove, near Land's End
St Ives' transformation from a medieval fishing village into one of England's premier seaside destinations caught the whiff of international acclaim when it hosted the G7 Summit in 2021. During the summer months, the place is overrun with visitors, even though it's considered to be the most expensive resort in England. And the backlash from Cornish locals against "outsiders' buying up property as second homes (thereby driving up prices even further) doesn't get any fiercer than it does here.
A rocky promontory near Padstow from where, on a clear day, it's possible to see along the full length of the north Cornish coastline. It's also notable for a curious 80-foot hole that suddenly crashes through the headland like a giant golf course hole to the sea below (similar to another one a few miles north at Trevone Bay). Indeed, the footpath passes beside it without any warning – which would make walking here at dusk potentially treacherous, to say the least.
Trevose Headland, near Padstow
Cornwall's tin mining industry employed 30,000 men at its peak during the 19th Century. The remnants of those heady days are dotted along Cornwall's northern coastline in the form of disused mining shafts and abandoned engine pumping houses. Wheal Coates, south of St Agnes, is one of the most photographed. And it's not hard to see why with its dramatic moorland setting overlooking the cliffs.
What did you think? Have you visited the Cornish coastline? Or maybe you're thinking of going there in the near future? Either way, we'd love to hear from you so please add your comments below.
Hi, we're Ian and Nicky, an English couple on a voyage of discovery around the world, and this blog is designed to reflect what we see, think and do. Actually, we'd like to think it also provides information, entertainment and inspiration for other "mature" travellers, too. So please feel free to pour yourself a glass of something suitably chilled and take a look around.