HOW TO EXPLORE COSTA RICA'S CARIBBEAN COAST
HOW TO EXPLORE COSTA RICA'S CARIBBEAN COAST
The wild Caribbean coast of Costa Rica is often ignored by tourists who flock instead to the Pacific coast's luxury resorts and national parks. Which is good news for those of us who like to seek out destinations where you can still find yourself alone on a pristine beach.
Indeed, the Pacific coast can boast ELEVEN national parks and a plethora of resorts offering stunning beaches, five-star accommodation and international restaurants. Contrast that with the Caribbean's TWO national parks, undeveloped beaches, modest accommodation options and simple spice-infused cuisine. Oh, and lots of reggae music!
Guess which of those two options we prefer. 
So here's our guide on how to explore the best of Costa Rica's Caribbean coast from north to south. And, as a bonus, how you can extend your visit by continuing south across the Panamanian border to explore the island archipelago of Bocas del Toro.
Contents
This page contains affiliate links. To help us maintain our site we work with a number of partners who we've personally used and can recommend to our readers. If you decide to purchase any products through the links on this page, we'll receive a small commission at no extra cost to you.
Situated in the far north, close to the border with Nicaragua, Tortuguero is a nature lover's paradise and arguably home to the best national park in the whole country.
It's a challenge to get there and the weather can be awful for most of the year. But if the prospect of kayaking along the narrow canals of a pristine rainforest on the lookout for caimans, howler monkeys, sloths, iguanas and a multitude of birds gets you excited then this is the place for you.
Not to mention the opportunity to witness sea turtles laying eggs and their hatchlings racing towards the sea on the vast Caribbean-facing beach.
And the exhilarating three-hour-plus speedboat trip south through the national park at the end of your stay is worth the effort alone.
In fact, if you only have time for one place to visit on the Caribbean coast, Tortuguero should be it.
Full details in our article, Tortuguero National Park – Costa Rica's Caribbean Wilderness.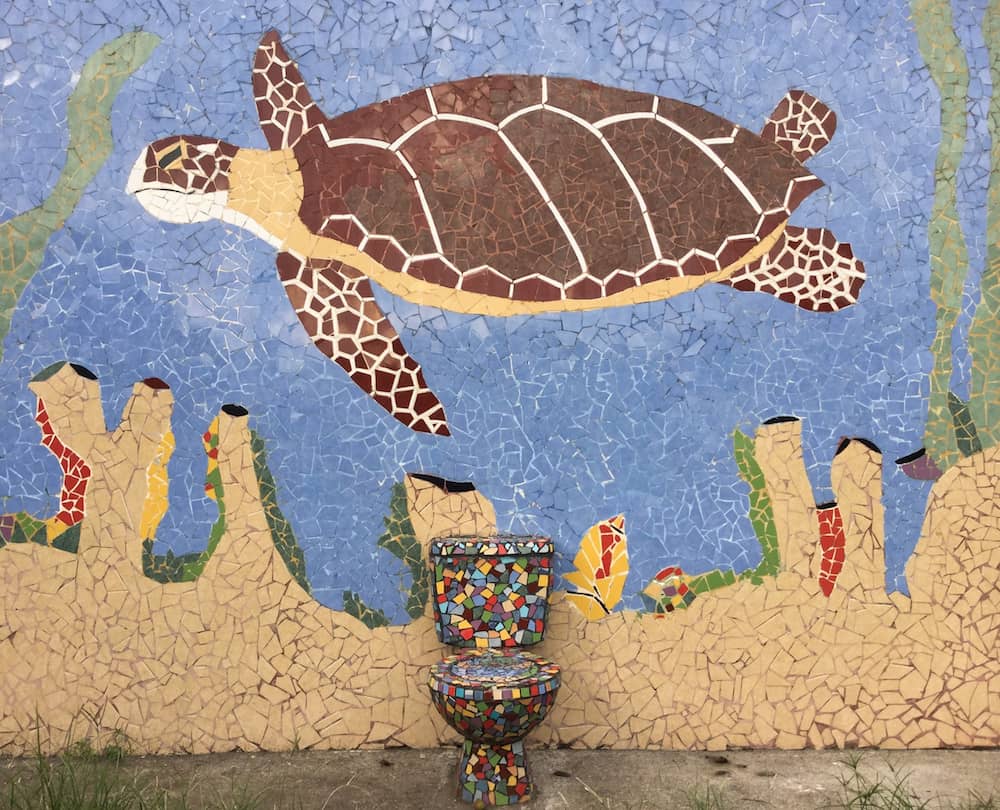 Tortuguero's association with the sea turtle is depicted in this mosaic…complete with matching toilet!
From Tortuguero, the speed boat journey south ends in Moin, just north of Limón. From there, you can catch a taxi to Limón bus station and then a public bus to Cahuita. Or you can opt for the mini-bus shuttle service, which will be waiting for you at the dock and then drop you off at your accommodation for around $10. 
Cahuita is a laid-back coastal town with a distinctly Caribbean feel that's worth sticking around for a night or two. Especially if you check in at the wonderful Piscina Natural at the northern end of Playa Negra. Built around a natural tide pool that winds its way from the sea through a coral grotto to a tiny pebble beach, it's a great place to relax after the exertions of Tortuguero. 
The town's main attraction is the gorgeous Cahuita National Park. In a country notorious for its wallet-emptying attractions it's reassuring to know that this is the only national park which doesn't charge an entry fee – instead relying on donations. 
Encompassing over 55,000 acres both on land and at sea, the park combines rainforest with white sand beaches and 600 acres of coral reefs. Indeed, the main trail from the town hugs the beach for its entire 8 kilometre (5 mile) length to Puerto Vargas. 
Unfortunately, the snorkeling around the reef can only be done with a guide – which means shelling out between $25-30.
If you intend on doing the full hike, you'll need to take into account it's a further 8 kilometres back along the same trail. Which, in the heat of the day – or in the midst of a tropical downpour – is no mean feat.
Inside the park you'll have the opportunity to see plenty of wildlife, ranging from caimans and snakes to anteaters and sloths.
Our highlights included the green-and-black poison dart frog (which is extremely posionous) and the family of white-faced capuchin monkeys that tried to steal our food.
Although pride of place went to a huge purple, red and orange bug catching some downtime on a tree trunk. In fact, if we were giving out an award for "Most Beautiful Bug We've Ever Seen" then this fella would surely be the proud owner of an Above Us Only Skies framed certificate by now. Sadly, we're not and he isn't.
Green-and-black posion dart frog
White-faced capuchin monkeys
Elsewhere in and around Cahuita, there are a couple of animal sanctuaries to consider visiting – the Tree Of Life Rescue Centre and the Sloth Sanctuary – although we haven't been to either so can't comment on them.
We've also heard good things about a couple of night walking tours if you'd like to get up close and cosy with some of Costa Rica's nocturnal wildlife. Especially the spider-fest that is Tarantulas Way with guide Christian Eberle.
Otherwise, we'd suggest you return to Piscina Natural, grab a beer from the fridge and enjoy some natural pool time. 
Just 16 kilometres south of Cahuita by bus is its bigger brother, Puerto Viejo. Brasher, louder and busier, it has more of an international feel to it compared to Cahuita's laid-back Caribbean vibe.
Your immediate choice is whether to stay in town or at one of the beach-side resorts along the road further south. Ultimately your decision may be driven by how much you value your sleep as the town is a backpacker hub for this part of Costa Rica. 
Without doubt the best free attractions in the area are the beaches south of town along to Manzanillo. They can be reached by bus or taxi but a popular way of hopping between each one is to hire a bicycle. In fact, at times the road to Manzanillo is populated by more bicyles than motor-driven vehicles!
The first beach out of town – and the most developed – is Playa Cocles. Much of it is accessed from the main road and so has its fair share of road noise as well as people.
However, beyond that is lovely Playa Chiquita which can only be accessed via a few trails. As a result, it's much less crowded and features a number of small bays which you might just be able to call your own for a few hours. 
But, in our view, the best beaches awaits you at Punta Uva and Playa Arrecife. Two gorgeous stretches of clean, golden sand sandwiched between coconut trees and the turquoise waters of the Caribbean. They're separated by a small headland, and connected via a short trail.
Indeed, take a tip from us, remove your shoes at the top end of Playa Chiquita and take your time walking to the southern extremity of Punta Arrecife. A pure feet-in-the-sand Caribbean delight.
Nicky emerges from a coconut tree at Punta Uva
From Punta Uva you can actually continue your walk along wild Playa Grande to Playa Manzanillo. From there you can walk through the Gandoca-Manzanillo Wildlife Refuge to another secuded beach at Punta Mona. However, the trail is notorious for having security concerns so a guide is generally recommended.
Apart from the beaches, the area is also popular for adventure activities such as ziplining and white water rafting.
More sedentary pastimes include a cacao farm tour and the famous Jaguar Rescue Centre. Although, don't go there expecting to see any jaguars. It's name reflects the original mission of the foundation but nowadays it takes in a full range of sick, injured and orphaned birds, reptiles and mammals before releasing them back into the wild after a period of medical care and rehabilitation.
Crossing the border to Panama
Having reached this far south you'll find yourself just 42 kilometres (26 miles) from the Panamanian border. And, from there it's just another 64 kilometres (40 miles) to the Bocas del Toro archipelago, with its tantalising allure of further tropical beaches and Caribbean island life.
To get there via public transport will require catching a bus to Sixaolo, crossing the border on foot and then picking up another bus to Almirante. From the bus station, a two-kilometre taxi ride will drop you off at the docks where you'll then take a water taxi across the bay to Bocas Town.
To be honest, most travellers opt instead for the direct shuttle service, which will pick you up from your accommodation in Puerto Viejo and drop you off at the docks at Bocas Town (the water taxi is included in the price.) Yes it's more expensive (we paid $33 each) but it removes a lot of the hassle and, if your time is precious, gets you to Bocas much quicker than if you were to travel independently.
Note that you'll need $7 in cash (or the Costa Rican colones equivalent) to exit the country by land, payable at a small kiosk at the border crossing.
Bocas Town, on Colon Island, is a central hub for the island experience that is Bocas del Toro.
Like Puerto Viejo, it's used by many backpackers as a base for its nightlife and a starting point for day trips out to the islands that make up the archipelago. For us, it had two main plus points.
One – the supermarkets from which we could stock up on food.
And, two – the fantastic Azul Restaurant, where for just under $20 each we enjoyed a sublime six-course taster menu. I kid you not, the Colombian chef knows a thing or two about flavours, textures and presentation. And food like this would normally cost you considerably more. Don't miss it!
Other than that, we wouldn't suggest lingering too long in the town. The archipelago's real treasures lie elsewhere.
For instance, on Colon Island sits the 5 km long golden sands of Bluff Beach. And, at nearby Tesoro Escondida Eco Lodge, you can book a cabina overlooking the beach and listen to the sound of crashing waves below as you stretch out in your hammock.
Or, 15 minutes by water taxi from Bocas Town ($4), Bastimentos is a road-free island with some of the best beaches in Panama. From the Caribbean shanty village of Old Bank, there's a 30-minute trail through and over the jungle to Wizard Beach. It's a wild, open expanse of gorgeous white sand that's still untroubled by any sort of development.
And, if you walk its length and continue on through another coastal jungle trail you'll arrive at Red Frog Beach, the island's most sought-after spot. Indeed, you may well be joined here by day-trippers from Bocas Town and elsewhere on the island.
Perhaps the best beaches of all can be found at Cayos Zapatilla, a group of two tiny uninhabited islands east of Bastimentos. Day trips there will cost in excess of $40 per person.
In addition to the beaches, there are similar attractions to those you may have already experienced – or indeed missed – at Tortuguero, Cahuita or Puerto Viejo. So, night walks through the jungle, waking up to the sounds of howler monkeys, cacao farm tours, spotting sloths in the trees, kayaking etc.
A visitor to our balcony on Isla Cristobal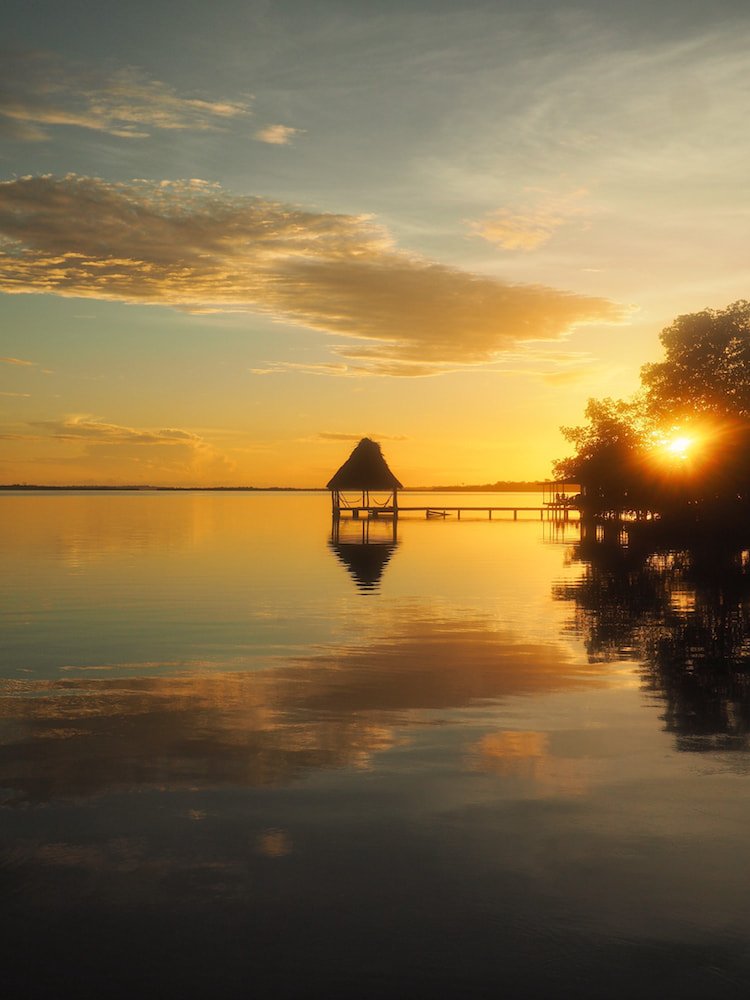 Sunset over Isla Cristobal
A feature of the Caribbean coast stretching from Tortuguero to Bocas del Toro is that it rains. A lot. In fact, there's a good chance of rain throughout the whole year.
The general advice seems to be that February/March and September/October are the driest months, even though the latter is considered low season. We were there during October and the weather was, let's just say, "changeable". In other words, we experienced the full gamut of sunshine, drizzly rain, thunderous downpours and electrical storms.
As a result, it's still an area that has a feel of being slightly off-the-beaten-path. And, to a degree, that's part of its charm.
Although make no mistake, it's by no means a commercialism-free-zone. If you want to do more than just relax on a beach or wander through jungle trails on your own, then there are plenty of tour companies willing to help you part with your money.  
What did you think? Have you been to Costa Rica's Caribbean coast?  Or perhaps you're thinking of visiting there in the near future? Either way, we'd love to hear from you so please add your comments below.
To help us maintain our site we work with a number of partners who we've personally used and can recommend to our readers. If you decide to purchase any products through the following links, we'll receive a small commission at no extra cost to you. Thank you for your support!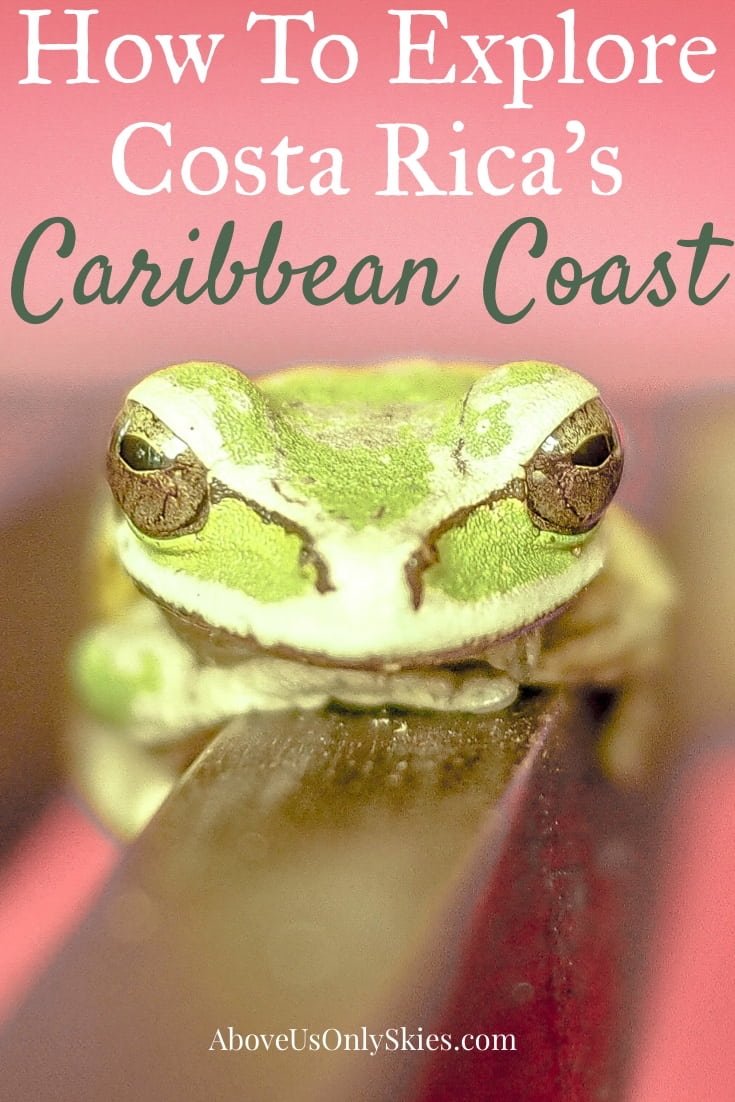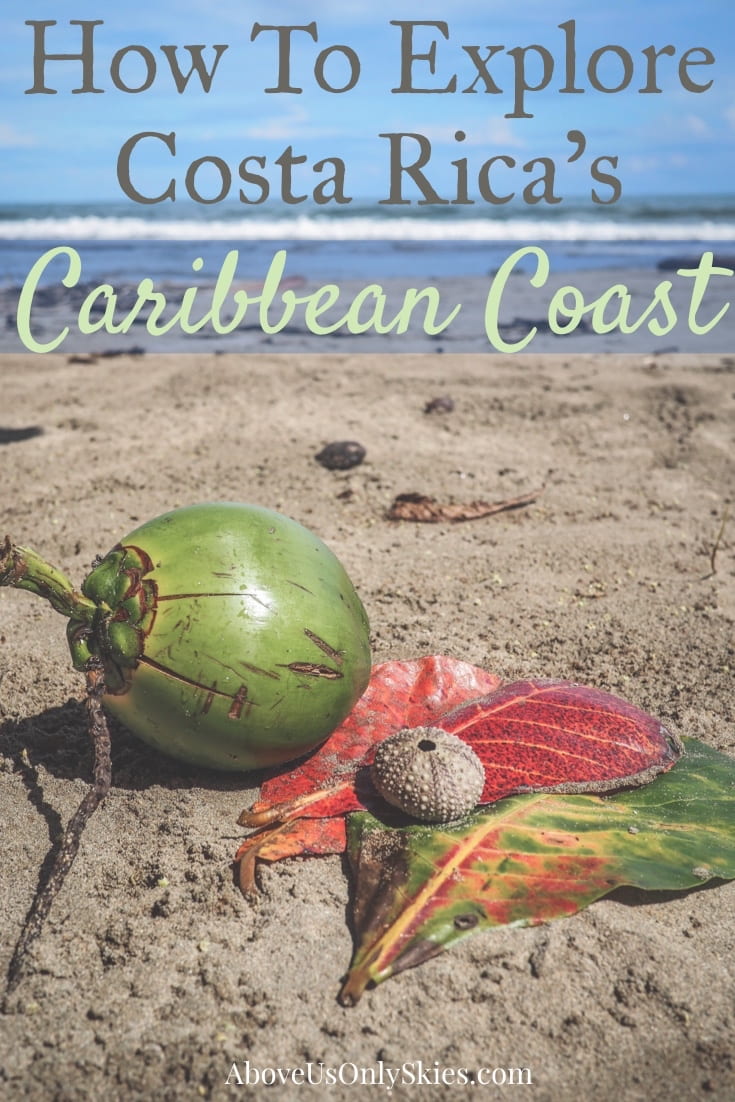 Hi, we're Ian and Nicky, an English couple on a voyage of discovery around the world, and this blog is designed to reflect what we see, think and do. Actually, we'd like to think it also provides information, entertainment and inspiration for other "mature" travellers, too. So please feel free to pour yourself a glass of something suitably chilled and take a look around.