THE PREHISTORIC ROCK ART OF CUEVA DE LAS MANOS
THE PREHISTORIC ROCK ART OF CUEVA DE LAS MANOS
A UNESCO World Heritage site, Cueva de las Manos (or "Cave of the Hands") is a series of rocky overhangs in a remote part of Argentinian Patagonia, containing some of the best ancient cave art to be found anywhere in the world.
It also happens to sit in a canyon landscape of incredible beauty.
But what really makes it a place of such special interest are the hundreds of human hands, painted on to the rock like some sort of prehistoric stencil mural.
It's quite a sight. And, although it takes some effort to get there, you'd be mad to miss it if you're travelling in this part of the world.
So here's what you can expect to find if you decide to do so.
Contents
This page contains affiliate links. To help us maintain our site we work with a number of partners who we've personally used and can recommend to our readers. If you decide to purchase any products through the links on this page, we'll receive a small commission at no extra cost to you.
The Cañon de Río Pinturas
The cave is situated in the glorious Cañon de Río Pinturas ("River Pinturas Canyon"), a gaping fracture that snakes its way through the area's volcanic rock.
It's a landscape through which the original hunter-gatherers would search for food and take shelter in the myriad of caves that are scattered around. And just driving through it is an experience in itself.
Indeed, the road journey from Argentina's legendary Ruta 40 involves negotiating what we'd describe as one of the worst potholed and washboard-ravaged gravel roads we experienced anywhere in the country. And that's saying something.
Indeed, after a long journey from El Chalten (500 kilometres further south) we were happy to reach our wild camping spot for the night to allow our shaking bones some respite. But what a place to spend the night! After the road descends to the base of the canyon, a dirt road leads off to the left along a narrow gorge of salt flats sandwiched between orange-red cliffs. The silence is absolute. The light pollution non-existent.
And at just 25 kilometres from the Cueva de las Manos Visitor Centre, it's perfectly positioned for a punctual start the next morning to catch the first (and quietest) guided cave tour of the day at 09:00.
I'll be honest, we still missed it. Probably too much Malbec the night before.
Nevertheless, from there onwards to the cave, the canyon scenery is quite staggering. Sheer walls of volcanic rock rise from the semi-desert of the valley floor pockmarked with shrubs. And amidst it all, grazing guanacos and flightless rheas (similar to an ostrich) look on with bemused indifference.
View of the canyon from the gravel road
View from the road overlooking the visitor centre
Perched on a hillside overlooking a tree-filled canyon floor, the visitor centre sits at what is effectively the end of the road. Beyond it, a hiking-cum-horseback trail leads to another gravel track which rejoins Ruta 40 further north.
The "cave" itself is a short walk beyond the visitor centre.
Cueva de las Manos Visitor Centre
You can't explore the cave by yourself. Your only option is via a guided tour which is included in the entrance ticket price. The good news for non-Spanish speakers (like us) is that the tour is conducted in both Spanish and English. The bad news for us was that we were joined by a large group of Italian tourists who insisted on talking to each other while the guide desperately tried to rise above the noise.
In all there are a total of 829 handprints. Most of them are left hands. One of them has six fingers. But all of them are male and are stencils created by blowing paint (made from mineral pigments) through a piece of tubular bone over a hand placed on the rock face.
Their meaning is still up for debate but there are two theories that stand out.
One is that they were painted by adolescent boys in some sort of rites of passage ceremony. The reasoning being that the hands seem to be smaller than those of full adults.
The other theory is that they were painted as part of a ritual to bring good luck to a hunt.
No matter what the actual meaning is, to be able to observe these 9000-year-old stencils as if they were only painted a matter of a few years ago is something to be cherished. Apparently, their excellent condition is due to the dryness of the surroundings and the fact that the overhangs prevent the sun from shining directly on them.
Although some have been "vandalised" in recent years by tourists inevitably touching them with their own hands. And, as a result, metal guards are now in place to keep sweaty fingers at a safe distance.
In addition to the hands, there are also paintings of hunting scenes depicting both the hunter-gatherers and the guanacos upon which they relied for food, clothing and bone tools. Indeed the scenes show some of the tactics the hunters employed. Including one where a crack in the rock mirrors a ravine opposite the cave into which the hunters would chase their prey.
There are also paintings of rheas, pumas and other animals, together with a variety of geometric shapes.
Truly mesmorising.
How to get to Cueva de las Manos
Located 75 miles south of Perito Moreno (not to be confused with the glacier of the same name), you can get to the cave in a number of ways.
Firstly by car or camper van, there are two routes from the Ruta 40. The one to the south (RP 41) will take you all the way (43 kilometres) to the visitor centre car park. It's the one we took as we headed north from Bajo Caracoles.
Another route 23 kilometres further north takes you via Estencia Cueva de las Manos to a trailhead some two kilometres short of the visitor centre. From there you'll need to navigate a fairly tough rocky trail to complete the journey.
We've also since heard that there's a new and shorter access road in between the two we've mentioned.
Alternatively you can arrange personal or shared tours from Perito Moreno or Los Antiguos (on the Chilean border). However, these involve journeys of three hours or more. A much closer option is to book a tour through Estancia Cueva de las Manos.
Of course, the area is also ideal for hiking which can be done independently by combining it with a stay at any of a number of simple estancias dotted around the park.
Opening hours at the visitor centre are :
Nov to Mar 09:00 till 19:00
Apr to Oct 10:00 to 18:00
The entrance ticket price for 2019 was 400 ARG (£5.50 / $7) or 200 ARG for international visitors, which includes a guided 60-minute tour (hourly from 09:00).
Unless you're already travelling in the area, getting there is certainly not easy.
And, if you consider a bunch of primitive rock paintings to fall somewhat short of your idea of a travel bucket list item, then you might feel they're not for you.
But, for us, to gaze upon the paintings and then let our imaginations run wild as we looked out over the canyon was the sort of authentic memory-making experience we believe only comes with travel.
So if you're lucky enough to be able visit Argentinian Patagonia then we'd thoroughly recommend creating some time in your itinerary to visit the cave and drink in the surrounding scenery.
You won't see anything like it anywhere else in the world. And it remains one of the highlights of our South American travels.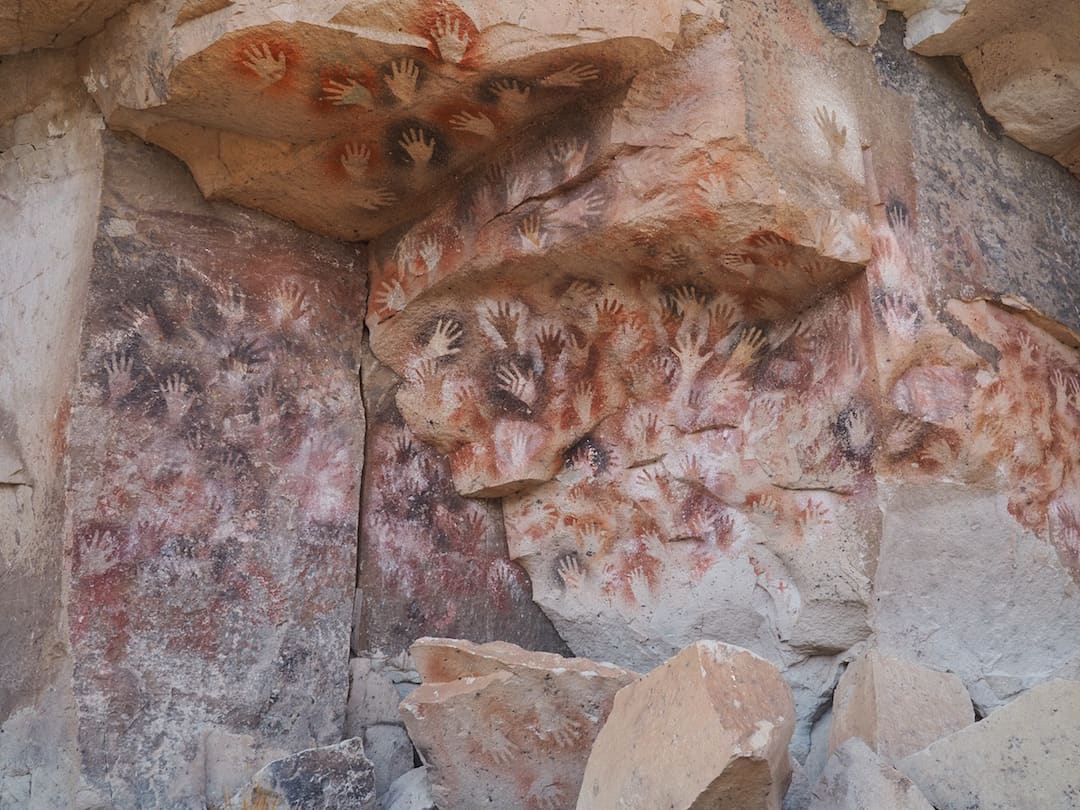 What did you think? Have you been to Cueva de las Manos? Do you have any recommendations to add? Or perhaps you're thinking of visiting there in the near future? Either way, we'd love to hear from you so please add your comments below.
To help us maintain our site we work with a number of partners who we've personally used and can recommend to our readers. If you decide to purchase any products through the following links, we'll receive a small commission at no extra cost to you. Thank you for your support!
Hi, we're Ian and Nicky, an English couple on a voyage of discovery around the world, and this blog is designed to reflect what we see, think and do. Actually, we'd like to think it also provides information, entertainment and inspiration for other "mature" travellers, too. So please feel free to pour yourself a glass of something suitably chilled and take a look around.