FROM CUSCO TO OLLANTAYTAMBO VIA THE SACRED VALLEY
FROM CUSCO TO OLLANTAYTAMBO VIA THE SACRED VALLEY
The Sacred Valley of the Incas is an area of such outstanding beauty and cultural significance that it deserves to be high on anyone's list of things to do in Peru.
However, sandwiched in between the major tourist hubs of Cusco and Machu Picchu, it sometimes gets nothing more than a passing glance from a bus or train window.
Of course, it can also be reached on a day trip from Cusco. Either on an organised tour or by hiring your own taxi driver/guide. But, if you want to truly immerse yourself in what the valley has to offer then we'd suggest spending a few days in the villages of Pisac, Urubamba and Ollantaytambo.
And by doing that, you can visit the fabulous Inca sites that surround them before the tour parties arrive.
The route we suggest runs from Cusco to Ollantaytambo, from where most visitors to Machu Picchu (who are not on a multi-day hike) will catch an onward train.
Contents
This page contains affiliate links. To help us maintain our site we work with a number of partners who we've personally used and can recommend to our readers. If you decide to purchase any products through the links on this page, we'll receive a small commission at no extra cost to you.
Before you set out you'll need to buy a bolero turistico, which is essentially a multi-site pass to the major Inca sites in Cusco and the Sacred Valley.
There are actually three types to choose from, of which two are relevant to the Sacred Valley.
Firstly, a two-day pass (called the boleto parciale or "partial ticket") will provide you with access to all-but-one of the sites in this post. But not at the relaxed pace we'd recommend. Although at 70 soles (£17 / $21 at current conversions rates), it represents good value for money.
Secondly, the full ten-day pass might cost 130 soles (£31/ $40), but it gives you enough time to enjoy the sites in Cusco in addition to those in the Sacred Valley.
You can buy them at at the COSITUC office in Cusco or at the entrance to most of the main sites. For a more detailed description of each, here's an excellent guide.
Inca wall in the Sacred Valley
First stop is Pisac, 28 kilometres and an inexpensive (4 soles) collectivo ride away from Cusco.
It's a village that's famed for its central market, which overspills into the narrow side streets every Sunday. Very much geared towards day-trippers from Cusco, it's nevertheless a colourful introduction to life in the Sacred Valley.
Inca Pisac
Pisac's other big attraction is its spectacular Inca ruins (Inca Pisac), situated high up in the surrounding mountainside.
You can get there in two ways. Either by walking up the steep trail that leads from the central market and then loop back via a trail lower down the hillside. Or by taking a local taxi (approximately 25 soles – £6 / $8) to the top and then walking back down to Pisac through the archaeological site.
Take a tip from us – unless you'd baulk at the admittedly over-priced taxi fare, there's no real need to walk up AND down. Especially as there's a lung-busting 330-metre elevation gain up to 3,300 metres to take into account. So just grab a taxi (near to the bridge that crosses the River Urubamba into the village) and save your hiking legs for Machu Picchu Mountain!
If you go early in the morning you stand a better chance of having the ruins to yourself as day-trip tour parties start arriving after 09:00. But the good news is that the tour groups are restricted to Qalla Q'asa – a citadel at the very top of the hill – and so once you've had the chance to wander around those you'll have escaped the worst of the crowds.
And just below Qalla Q'asa, rows of wonderfully curved agricultural terraces cascade down the hillside.
The two trails downhill start to the left of Qalla Q'asa as you look up to it. The upper trail was closed when we were there so we took the lower one by default.
And it's a lovely downhill walk that traverses the valley, past further terraces and Inca walls, until you arrive at Inti Watana, a group of well-preserved buildings that include the Temple of the Sun, along with still-functioning water fountains and baths.
From Inti Watana's vantage point you also have a panoramic view of the ruins of Kinchiraqay below. And, from there, it's a steep descent down to the central market in Pisac.
If you're pushed for time, you probably only need one night in Pisac. We chose to stay two and can recommend La Casa de Adela Hospedaje for genuine and friendly hospitality and a great location right beside the collectivo stop for Urubamba.
It's 39 kilometres from Pisac to Urubamba and the 45-minute collectivo journey costs 4 soles (£1 / $1.20).
If it's adventure activities you want then this is the place in the Sacred Valley to be. With white-water rafting and canoeing on the River Urubamba, together with horse riding and mountain biking in the surrounding hillsides, it would be easy to spend several days here.
But it's the village's easy access to the sites at Moray and Maras that were the draw for us.
You can get to the Inca site at Moray by first catching a collectivo (from the main bus station heading towards Chinchero) to a junction in the road for Maras. At which point you need to jump off and catch a shared taxi direct to the Moray site, passing Maras along the way. Of course, you'll also need to get a shared taxi back to Maras after your visit.
We found the most convenient way was to take a taxi from Urubamba, which we picked up at the bus station for 70 soles (£17 / $21). The driver took us directly to the site, waited for an hour while we looked around and then dropped us off at the beginning of the trail to the Salineras de Maras (the salt flats of Maras).
Moray
As with Pisac, it pays to get to Moray before the tour parties arrive so we picked up our taxi at 07:30.
Once again, the site features rows of agricultural terraces. But this time they're arranged in a circular fashion like a Roman ampitheatre. In fact, there are several ampitheatres, which you can access via a trail that leads from the car park. But the most impressive – and perfectly formed – of them all is the one you'll see from the car park viewpoint.
It's thought that the whole site was actually an agricultural laboratory that the Incas used to experiment with various crops – especially potatoes. The theory goes that the terraces had their own individual micro climates which allowed the Incas to test how crops would fare under differing conditions.
You can walk down and around the terraces by using the clearly marked trail.
You'll probably spend around an hour at Moray before moving on to the Salineras de Maras. Which, for us, meant our taxi driver taking us back to the village of Maras and dropping us off just by the trailhead (next to the San Francisco de Asis catholic church).
From there it's a gentle four-kilometre walk through gorgeous Andean scenery, passing distinctive plants of red quinoa and a variety of yucca known as Adam's Needle.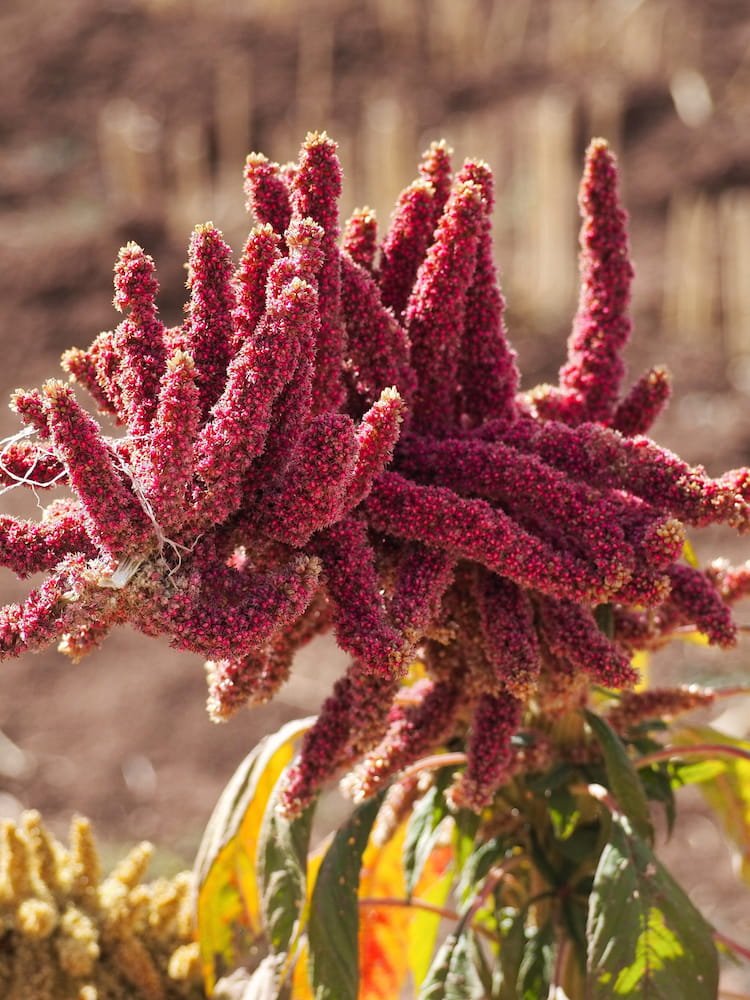 On the trail to Las Salineras de Maras
One of the advantages of walking to the salineras, rather than just arriving by tour bus, is the joy of first glimpsing the white-scarred landscape from afar. And then enjoying the variety of viewpoints as you edge closer along the trail.
It'll cost you 10 soles (£2.50 / $3) to get in as entrance is not included in the boleto turistico.
But they truly are a sight to behold. More than 3,000 individual salt pools cascade down the hillside in a huge patchwork of colours ranging from brilliant white to murky brown.
It's believed that the Incas created them some 600 years ago and that the salt has been farmed here in the same way over the centuries. That is by allowing each salt-rich pool to evaporate over time and then gather the salt deposits by manually scraping them off the pool floor.
On our visit, we spent some time walking amongst the pools via a narrow walkway, until we emerged at the opposite end of the salineras to continue our walk back to Urubamba.
However, we've heard that since 15 June 2019, it's no longer possible to get any further than the viewpoint just inside the main entrance. Apparently, concerns over pollution caused by hair, paper, plastic and cigarette stubs have forced the salineras owners to take such steps. Which, if confirmed, would be a shame but not altogether unexpected. And, to be honest, it did strike us as slightly odd how something so fragile could be exposed to the walking boots and sometimes reckless nature of mass tourism.
Nevertheless, you can still enjoy magnificent views from the viewpoint. And, you can still walk to the opposite end of the salineras by taking the trail to the rear and above it.
Once you reach the opposite end you can view the salineras looking back towards the main entrance. And, from there it's a further two-kilometre walk back to the main road between Ollantaytambo and Urubamba, from where you can either walk or catch a moto-taxi.
Again, you can easily just spend one night in Urubamba but we chose to spend two at Pakakuna Posada Gourmet, where we enjoyed one of the best ceviches we had in Peru.
Our third and final stop is Ollantaytambo, just 19 kilometres further along the River Urubamba and a mere 2 soles in a collectivo.
It's the most obviously touristy village of the three we've featured but also the prettiest to spend some time wandering around. And it's the most authentically Incan in that its Old Town comprises of a square grid of cobblestone streets and adobe buildings (made from earth and other organic materials).
The main square is full of restaurants serving very much the same menus, which are neatly scribbled on exterior chalkboards. But the traffic can be a nightmare as large and small buses carrying Machu Picchu or Cusco-bound tourists try to manoeuvre their way through the narrow streets.
However, if you're travelling independently to Machu Picchu (or indeed, hiking the Inca Trail), it's a great place to base yourself before and afterwards.
And, this time, the stunning Inca ruins are right on your doorstep so there's no excuse for not making an early start and beating the day-trip crowds.
The stepped terraces that lead up to the main fortress were the site of one of the few major battles the Incas actually won over the Spanish Conquistadors. And, having climbed to the top, you can get a better sense of how difficult it must have been for the latter to have laid siege to it.
At the top, you can wander around the Temple of the Sun before making your way around a narrow pathway that clings to the side of the granite rock face towards Balcon Pata. From there you'll have great views across Ollantaytambo to the opposite side of the valley where ruined Incan store houses gaze back at you.
Continuing on the pathway you'll arrive at the top of another set of immense terraces and a set of steps which lead down to another area that resembles an ornamental garden, complete with running water fountains and baths framed with symmetrical Inca carvings.
It's a quite incredible place and arguably better than what you'll see at Machu Picchu.
Steps beside the terraces at Ollantaytambo
Incan store houses overlooking Ollantaytambo 
Final thoughts on the Cusco to Ollantaytambo route
Of course, there are other places to see in the Sacred Valley, if you have the inclination and time for a detour. Chief amongst those are the high-altitude Chinchero, and the ruins at off-the-beaten track Tipon.
But the area between Pisac and Ollantaytambo has enough variety of traditional village life, wonderful Andean scenery and stunning Incan cultural sites to keep any traveller squealing with delight for at least a few days or more.
So, if you've already started planning how much time you'll spend in Cusco and Machu Picchu on your forthcoming trip to Peru, do yourself a favour and add at least another three days to take in the Sacred Valley of the Incas.
What did you think? Have you been to the Sacred Valley between Cusco and Ollantaytambo? Do you have any recommendations to add? Or perhaps you're thinking of visiting there in the near future? Either way, we'd love to hear from you so please add your comments below.
To help us maintain our site we work with a number of partners who we've personally used and can recommend to our readers. If you decide to purchase any products through the following links, we'll receive a small commission at no extra cost to you. Thank you for your support!
Hi, we're Ian and Nicky, an English couple on a voyage of discovery around the world, and this blog is designed to reflect what we see, think and do. Actually, we'd like to think it also provides information, entertainment and inspiration for other "mature" travellers, too. So please feel free to pour yourself a glass of something suitably chilled and take a look around.