7 ESSENTIAL DAY TRIPS FROM MADRID
7 ESSENTIAL DAY TRIPS FROM MADRID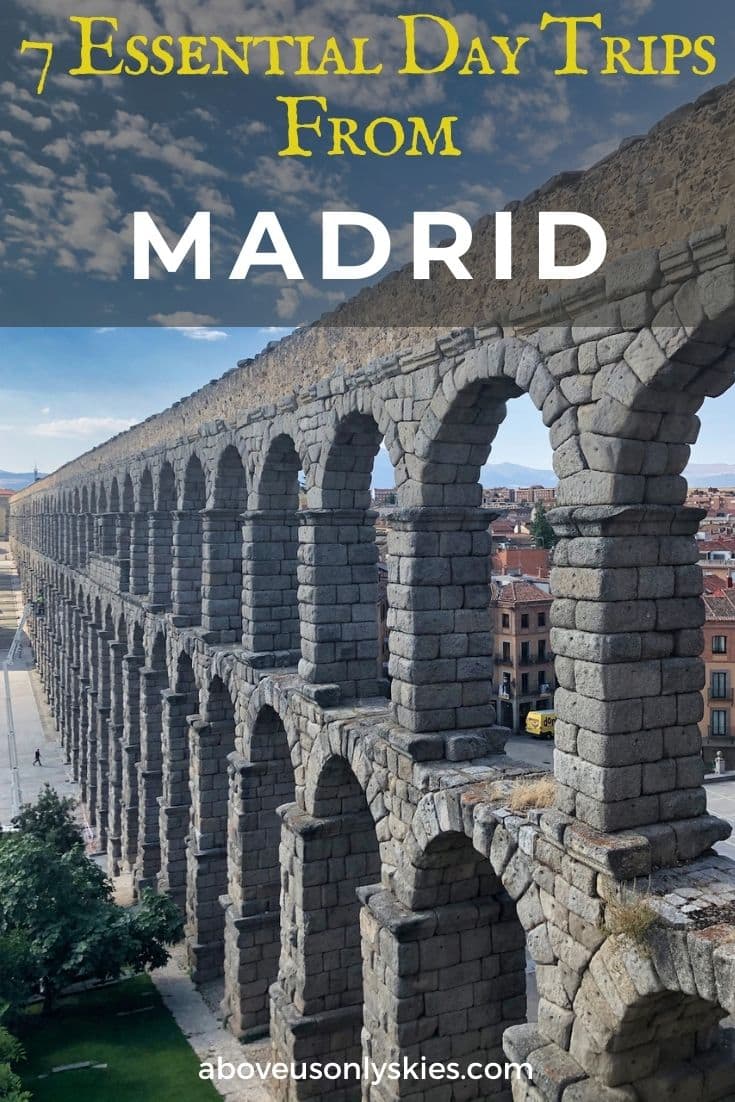 Continuing our series of articles on Spain, Portugal and France as we explore Western Europe under the cloak of the ongoing COVID-19 pandemic. Along the way, we're travelling in our own car and mostly using housesitting for our accommodation. Our focus is on exploring places where we can safely socially distance, and where wearing a face mask is an accepted norm.
For this article, we based ourselves in the Madrid suburb of Galapagar for three weeks during August 2020. It was a period when the more severe coronavirus restrictions imposed on the city had been lifted – although wearing a face mask in public was still mandatory.
We had the benefit of our own car so, for us, taking day trips to the places we've featured was straightforward. It's normally possible to reach them using public transport. But, of course, if travel restrictions are in place, services may be limited.
Most visitors to Madrid, Spain's majestic capital city, are happy to content themselves with exploring the world-class art galleries, stunning architecture and wall-to-wall tapas bars. Which alone could easily take up the best part of three or four days.
But find some time to explore the surrounding areas and there are enough day trips to keep anybody happy for at least another week.
And here are seven of the best.
El Escorial
Avila
Segovia
La Granja de San Ildefonso
Toledo
Consuegra
Contents
This page contains affiliate links. To help us maintain our site we work with a number of partners who we've personally used and can recommend to our readers. If you decide to purchase any products through the links on this page, we'll receive a small commission at no extra cost to you.
Situated in the foothills of the Sierra de Guaderrama, the 16th-Century Royal Monastery of San Lorenzo de El Escorial was built as both a royal palace and a mausoleum for the parents of King Felipe II. In fact, the burial chambers have since become something of a Royal resting place as the majority of subsequent Spanish kings have been buried there, too.
Awarded UNESCO World Heritage status in 1984, its aura is perhaps best appreciated from the viewpoints on the road (M-505) that leads from the town of San Lorenzo de Escorial to Ávila. Revealing itself from the surrounding mountains and green foliage, its grey granite walls and domes are an impressive sight. And, arguably, even more so than the Royal Palace of Madrid, itself.
View of El Escorial from the Ávila road
View of El Escorial from the Ávila road
However, once you step inside, it soon becomes apparent that the real treasures are the incredible works of art that furnish many of the walls and ceilings.
Like the frescoed and vaulted ceiling of the Royal Library, for instance. Fifty-four metres in length, the room is filled with over 40,000 books and manuscripts, mounted on gorgeously carved wooden shelves. But it's the ceiling artwork (portraying the seven liberal arts – Astronomy, Geometry, Arithmetic, Grammar, Music, Dialectic and Rhetoric) that will take your breath away.
Likewise, visiting the Royal Burial Vaults might not seem like everyone's idea of fun. But for an over-the-top extravaganza of marble sepulchres and homages to past rulers and their offsprings, it's a must-see.
The vaulted ceiling of the Royal Library
As one the world's best-preserved walled cities, Ávila has been a UNESCO World Heritage Site since 1985.
And, like most medieval cities in Spain, it can easily be walked in half-a-day. But what sets this city apart is its still-intact walls, built between the 11th and 14th Centuries, which enclose the Old Town within its two-and-a-half kilometre perimeter. The most striking features of which are undoubtedly the 88 semicircular watchtowers and the 2500+ turrets interspersed with eight massive gates.
Observed from the lookout at Los Cuatro Postes you can appreciate the sheer scale of the structure. Especially at night when the walls are converted into the world's largest illuminated monument.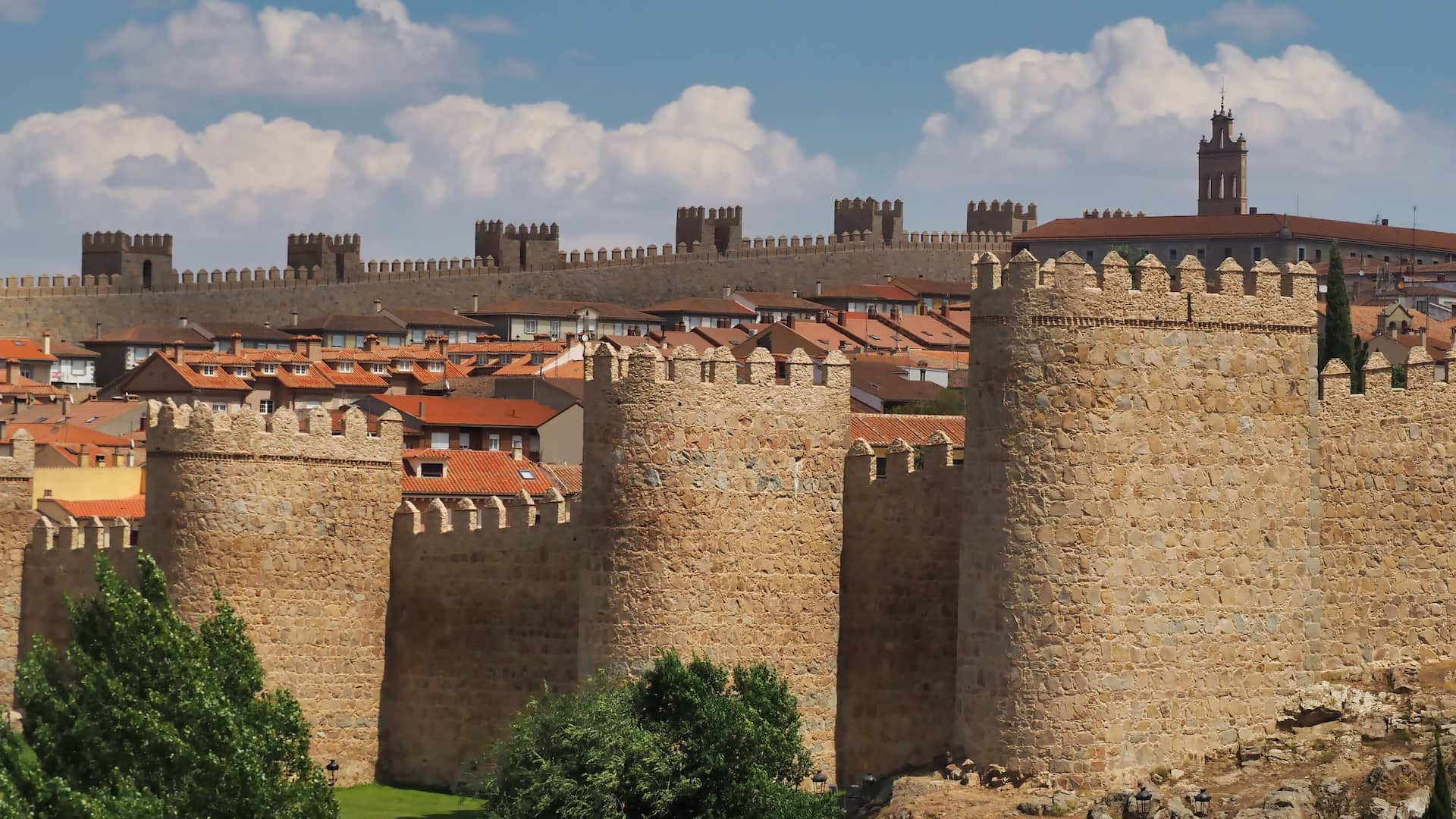 Yet another UNESCO World Heritage Site can be found at Segovia, 70 kilometres northwest of Ávila. It too has an Old Town, together with an imposing cathedral and a medieval wall.
But it's the incredibly preserved Roman aqueduct, dating back to the 1st Century, that sets any visitor's pulse racing. With a staggering 25,000-or-so granite boulders held together with nothing more than ingenuity and gravity, its two stories of 163 arches stretch for nearly a full kilometre before it sinks into the town proper.
And, astonishingly, it still delivers drinking water to this day.
Segovia's fabulous Roman aqueduct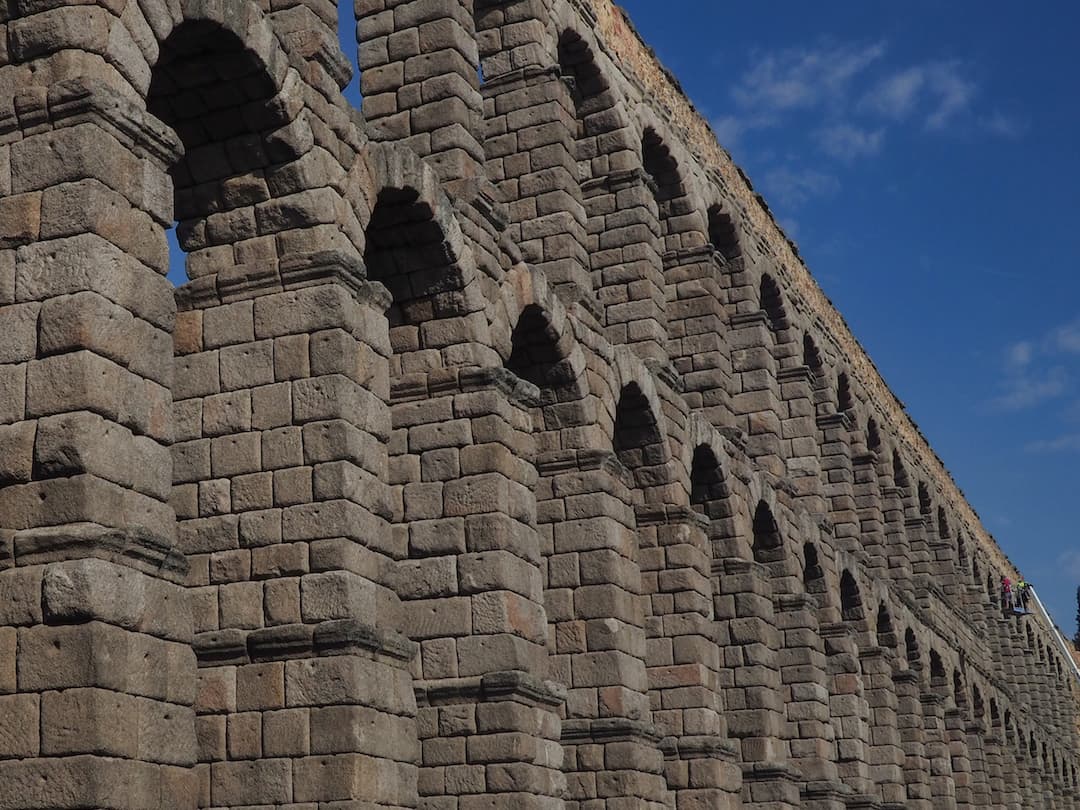 Segovia's fabulous Roman aqueduct
The town is best explored on a self-guided walking tour. And so, once you've ogled at the Aqueduct you can wander around the medieval streets and take a look inside the enormous cathedral, which took 200 years to build.
Meanwhile, Segovia's other notable feature is its Alcázar, which is said to have been one of the inspirations for Walt Disney and his Sleeping Beauty's Castle. However, purists should note that the original castle burned down in the 19th Century and today's incarnation is merely an extravagant reproduction.
Nevertheless, when seen from the viewpoint on the road (SG-20) leading north out of town, the sandstone buildings of the Old Town, bookended by the Aqueduct and Alcázar on either side, makes for a truly memorable vista.
Segovia's Cathedral and Alcázar
La Granja de San Ildefonso
Just 10 kilometres from Segovia, Le Granje is a Versailles-inspired palace of extraordinary beauty that became the Royal Court's summer retreat between the 18th and 20th Centuries.
Famous for its gardens, it also boasts 26 ornamental fountains which explode in a watery display twice per year during the Festivals of San Fernando and San Luis.
Although we'd suggest spending a full day at Segovia, it's possible to combine the two sites together on a day trip from Madrid.
One of the many fountains at La Granje de San Ildefonso
Photo courtesy of BarbeeAnne @ Pixabay
Perhaps a better option to combine with Segovia would be to visit this small town just 40 kilometres to the northwest. With less than 500 inhabitants, Pedraza is most definitely small scale. Which makes it all the more alluring, given its wonderfully evocative streets and stunning medieval square.
It's the sort of place to just lose yourself in for an hour-or-so, wandering around and imagining daily life as it might have been centuries ago. Or, if you happen to visit during the annual fiesta, witness the spectacle of bull running, which concludes in a makeshift bullring in the Plaza Mayor. It's not quite Pamplona level of crazy, and it might not be everyone's cup of tea, but it's been a feature on this town's calendar since 1550.
One of Pedraza's medieval streets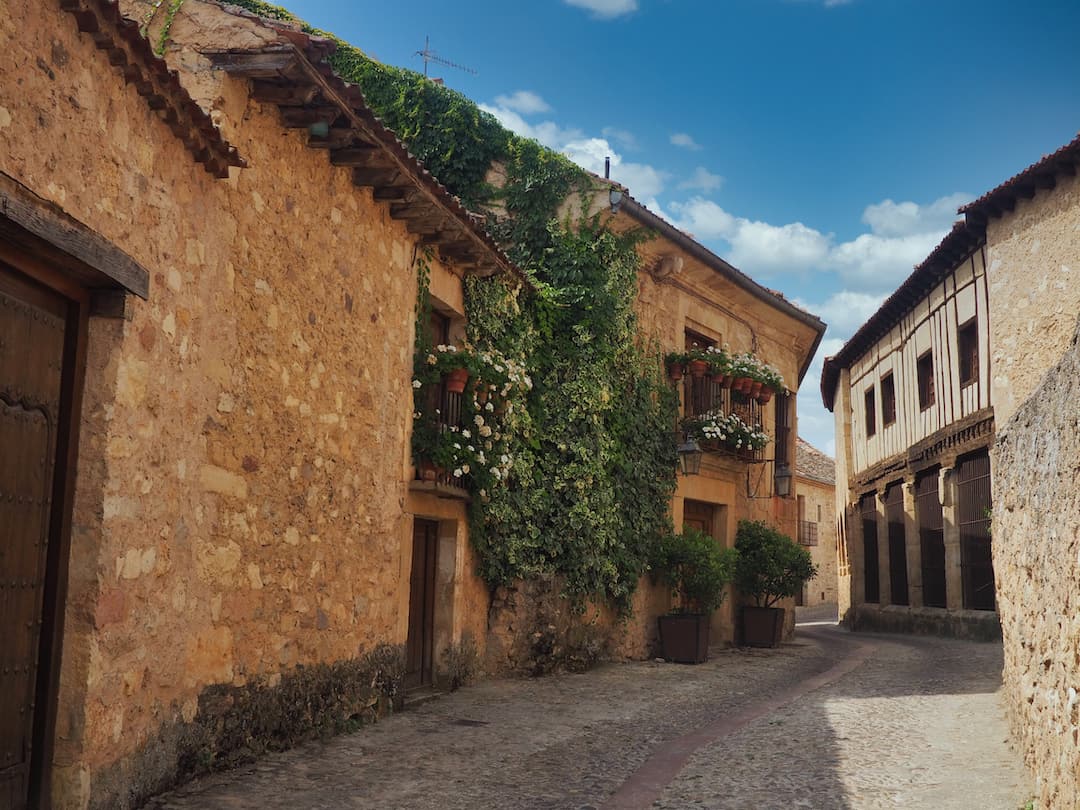 One of Pedraza's medieval streets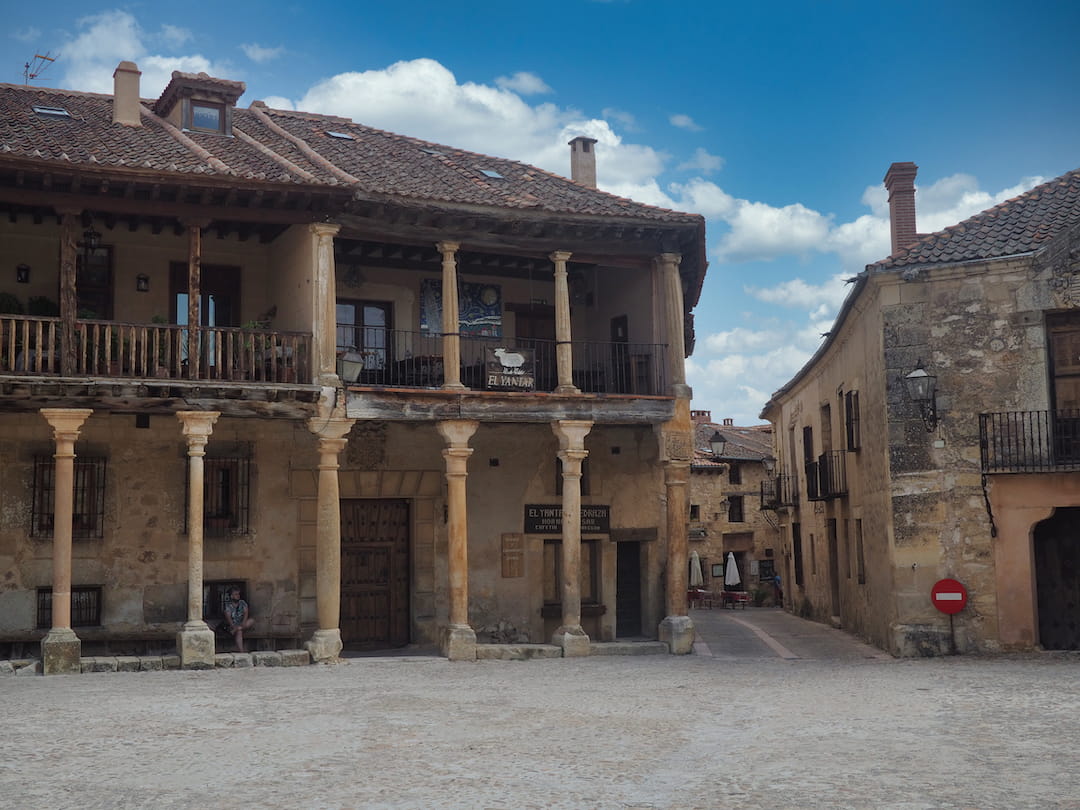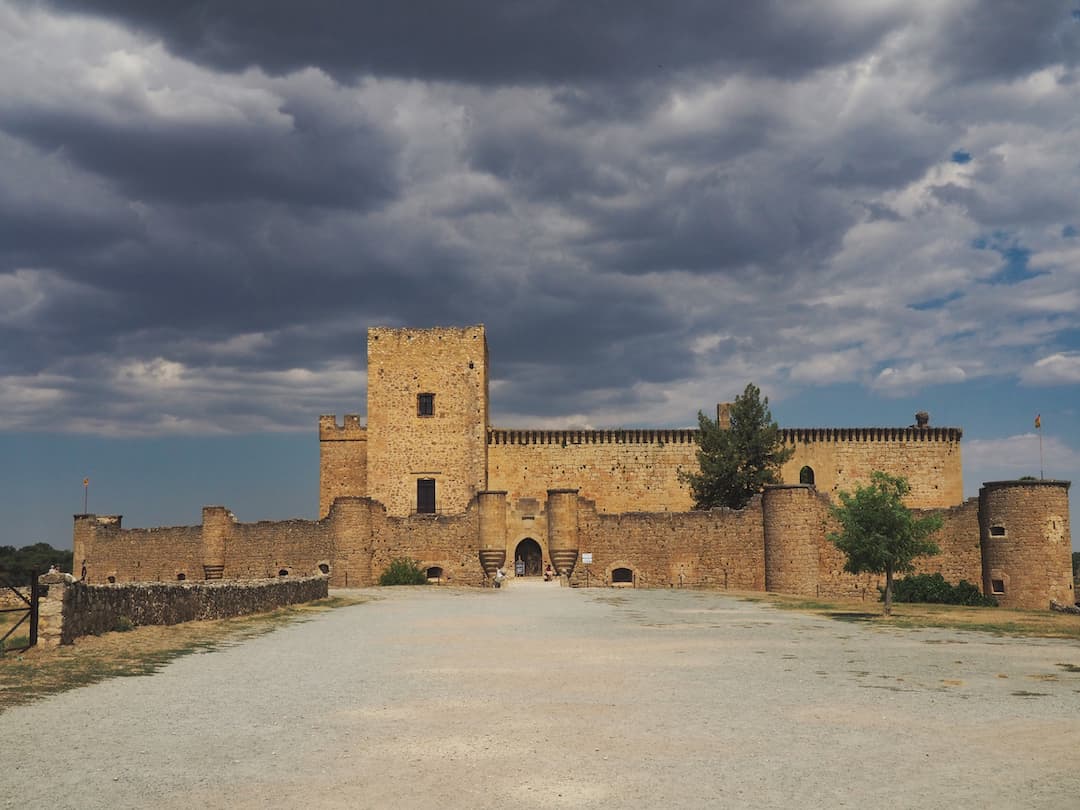 70 kilometres south of Madrid lies the beautiful, UNESCO-listed city of Toledo. Set in a spectacular location overlooking a gorge, and dripping with history, it's something of a culture vulture's wet dream.
Not just the spiritual home of the Spanish master, El Greco, it's also unique in that its medieval centre is crammed with relics from the Catholic, Muslim and Jewish communities that lived side-by-side during the Middle Ages.
A guided walking tour is the best way to discover the city's historic highlights, which date back to Roman times.
But, undoubtedly, everyone that visits the city makes a beeline for the Cathedral of Toledo, one of the most important in Spain. Externally, it's difficult to appreciate as it's tightly surrounded by the adjacent streets and buildings. But inside, even if wandering around churches isn't your thing, we guarantee it'll wow you.
Especially when you venture across the El Transparente, a magnificently sculptured altarpiece that's illuminated with a shaft of light from a frescoed skylight above.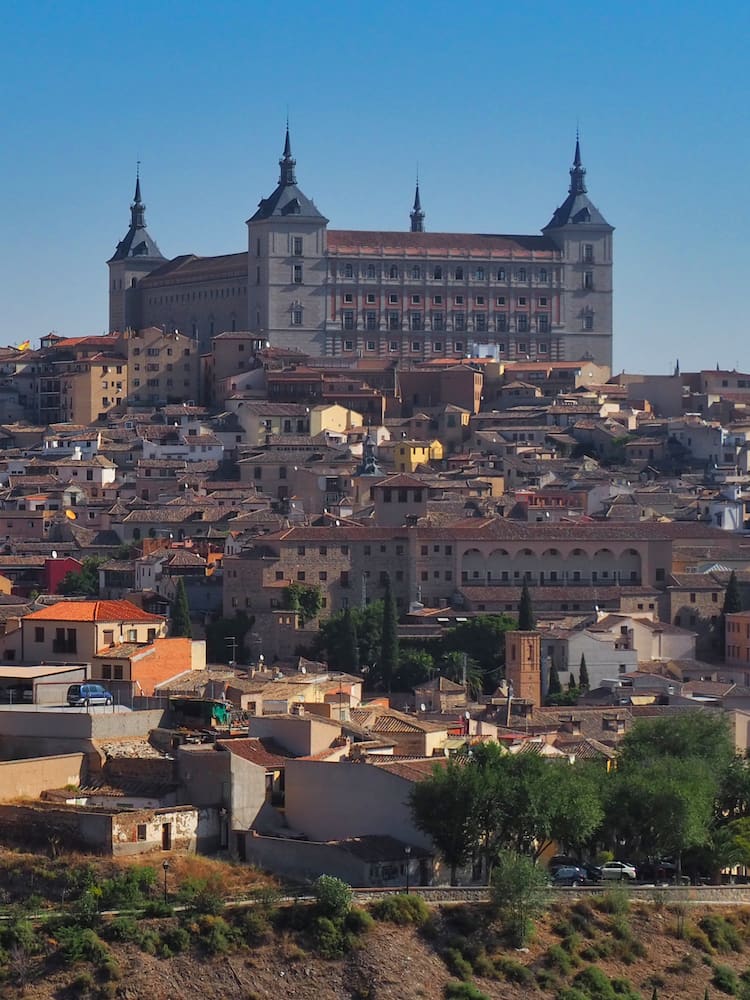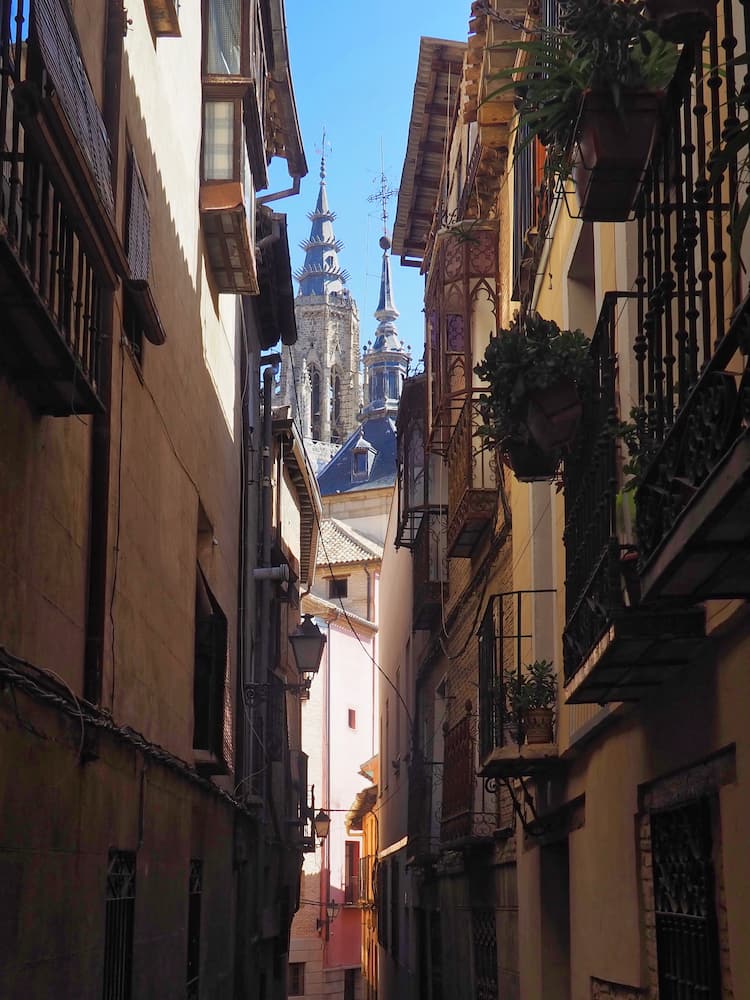 One of Toledo's many narrow streets
Amazing detail inside the Cathedral
As someone famously said, "And now for something completely different".
60 kilometres further south from Toledo, the landscape changes to that of sprawling plains, interrupted by the occasional hillside. And, on one of these hillsides 12 white cylindrical windmills, with blue conical roofs and black blades, stretch along a ridge like a socially distanced bus queue.
They're the Windmills of Consuegra and are said to be those that Don Quixote mistook for giants in the classic 17th Century novel by Miguel de Cervantes. In fact, they continued to be used as working mills to grind grain until the 1980's, passing down through the generations.
Whether you're a fan of classical literature or not, there's plenty of enjoyment to be had just walking up the hill from the car park to the furthest windmill and gazing back at each one in line towards the 12th Century Castle of La Muela. And then taking a closer look at each one on the way back.
If you have the use of a car, you could also call in to see the Royal Palace at Aranjuez and the medieval town of Chinchón on your way back to Madrid.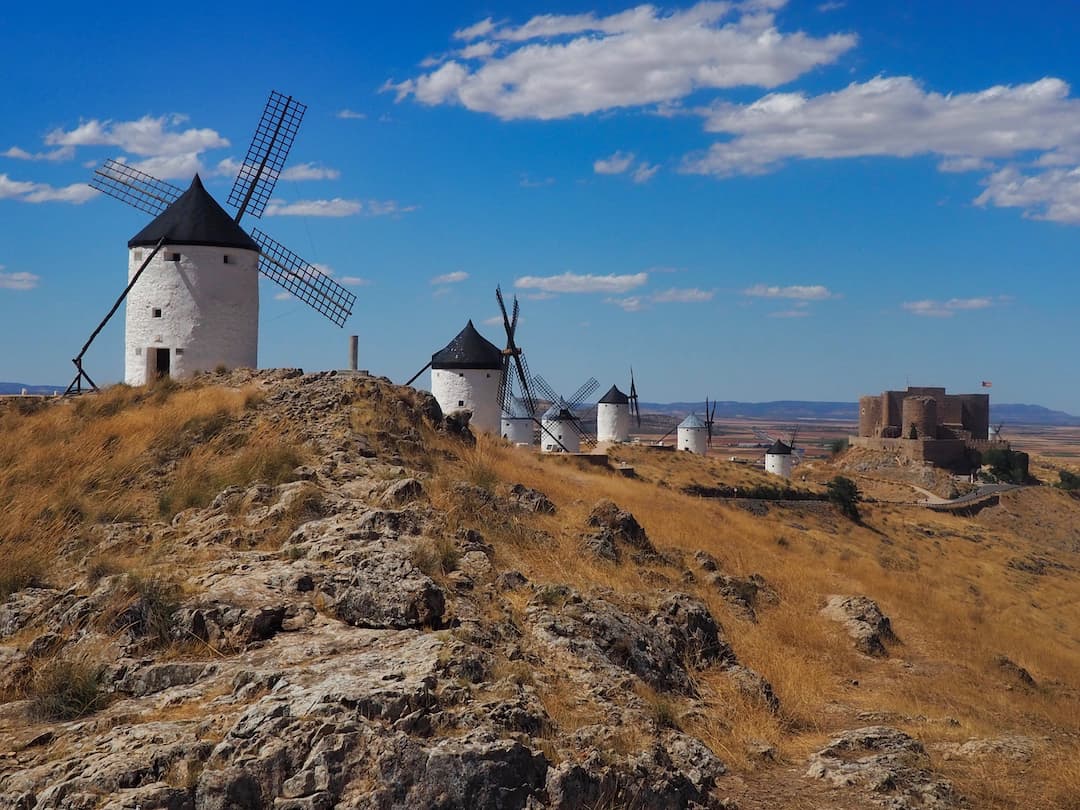 The Windmills of Consuegra
What did you think? Have you been to any of the places we've featured here? Or perhaps you've enjoyed other day trips from Madrid. Either way, we'd love to hear from you so please add your comments below.
To help us maintain our site we work with a number of partners who we've personally used and can recommend to our readers. If you decide to purchase any products through the following links, we'll receive a small commission at no extra cost to you. Thank you for your support!
Travel insurance
with World Nomads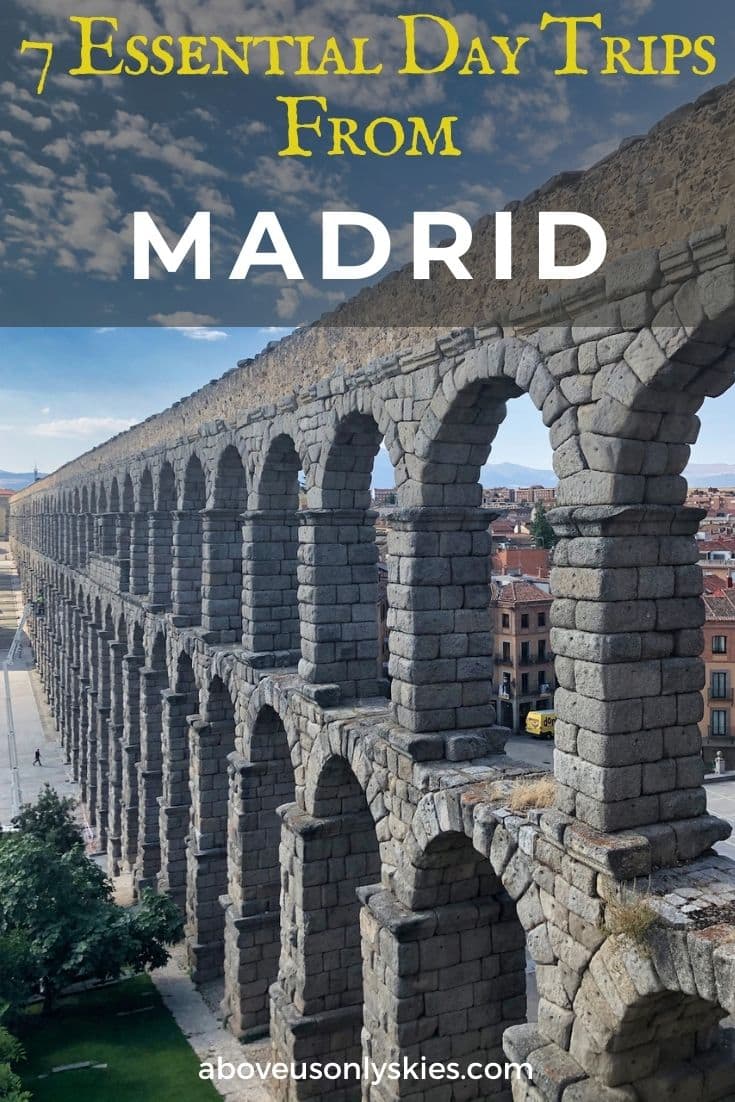 Hi, we're Ian and Nicky, an English couple on a voyage of discovery around the world, and this blog is designed to reflect what we see, think and do. Actually, we'd like to think it also provides information, entertainment and inspiration for other "mature" travellers, too. So please feel free to pour yourself a glass of something suitably chilled and take a look around.