EL CHALTEN – THE JEWEL IN PATAGONIA'S CROWN
EL CHALTEN – THE JEWEL IN PATAGONIA'S CROWN
Founded as recently as the mid-1980's, El Chalten is a Patagonian town with perhaps the most dramatic setting in the whole of South America.
The name actually translates as "smoking mountain" from the indigenous Tehuelche language and refers to the plume of cloud that regularly forms around the peak of mighty Mount Fitz Roy.
There are still just 400-or-so people who call this windswept place "home". But when the summer season gets into full swing the town converts into a backpacker and climbers hub. Which is not surprising given the sheer volume of things to see and do in the surrounding area.
Not least two of the greatest day hikes on the continent. And some of the most stunning scenery on the entire planet.
Indeed, although Chile's Torres del Paine National Park is regular cited as Patagonia's top attraction, we'd wager that this northern section of Los Glaciares National Park is the real jewel in its sizeable crown.
This page contains affiliate links. To help us maintain our site we work with a number of partners who we've personally used and can recommend to our readers. If you decide to purchase any products through the links on this page, we'll receive a small commission at no extra cost to you.
There's just one way in and one way out of El Chalten. And that's the road (Ruta 23) that branches off from the famous Ruta 40 in Argentina's Santa Cruz province.
Oh, but what a road!
Whether you're arriving by bus from El Calafate (the nearest airport and three hours away), or by car or camper van, the road that hugs Lago Viedma's northern shore will treat you to perhaps the most iconic view in Patagonia.
The landscape is simply astounding. For most of the journey from El Calafate the road traverses the relentlessly flat Argentinian steppe. But, ahead in the distance, the jagged peaks of Mount Fitz Roy and Cerro Torre announce the sudden transition from flatland to the glaciers, lakes and forests of the southern Andes.
We've thought long and hard for an adjective that best captures the ever-changing view as the road snakes its way across the steppe and seemingly cuts straight through the imposing mountains ahead. But, to be honest, nothing we've thought of comes close.
However, if there's such a thing as "road trip nirvana" then surely this is as close as you can get.
You'll need a clear and sunny day to appreciate it at its best. In fact, if you have the time, we reckon it's worth hanging around in El Calafate or elsewhere until the weather forecast for El Chalten is a good one.
Mount Fitz Roy, as seen from Ruta 23
And when you finally reach the outskirts of El Chalten, you'll gaze down on a town of low-rise buildings dwarfed by the triple peaks of Mount Fitz Roy looming in the background.
The Visitor Centre is immediately on your left and is a great place to start. Not least to obtain the most up to date weather forecast.
And, if you've arrived in a camper van and don't need facilities beyond one portaloo, then the free parking area opposite is a good option for a couple of nights.
The town of El Chalten sits in the shadow of Mount Fitz Roy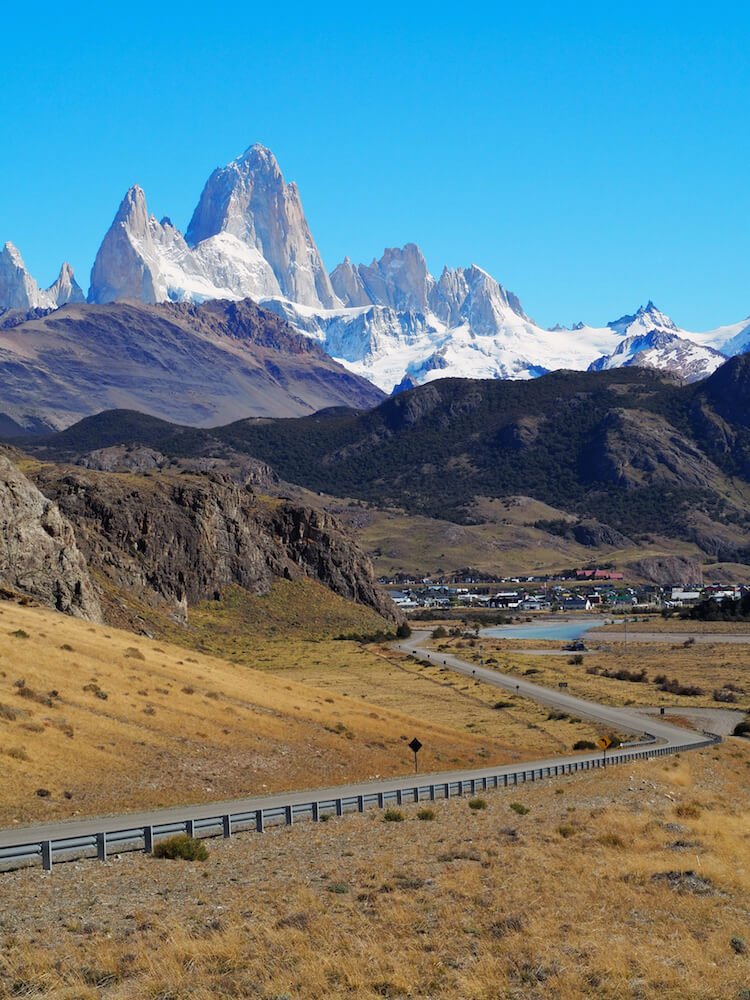 Unless you're into hardcore mountaineering you're most likely to take advantage of the incredible day hikes that El Chalten has to offer. Once again, it pays to time your visit for good weather as cloud, rain and wind are not your friends here.
The best hikes are centred around the triple peaks and lakes of both Mount Fitz Roy (named after the British Naval Officer and scientist, Robert FitzRoy) and Cerro Torre.
It's possible to do multi-day hikes by camping along the trails and reaching the lakes by sunrise the following morning. Which is tempting for those who prefer a crowd-free experience and the chance to see the peaks basking in the early morning light.
The signature hike is undoubtedly to Laguna de los Tres at the base of Mount Fitz Roy. But there are actually two possible routes to get there.
Laguna de los Tres – route 1
Also known as "Sendero al Fitz Roy", the main route begins at the northern end of town and initially climbs above the Rio Las Vueltas Valley before passing through forest to Laguna Capri. It's here that you'll have your first glimpse of Mount Fitz Roy's impressive needles.
And then it's onwards and upwards through forests of native lenga and nirra trees until you reach Campamento Poincenot. If you're planning on getting to the lake for sunrise, it's here you'll be spending the night.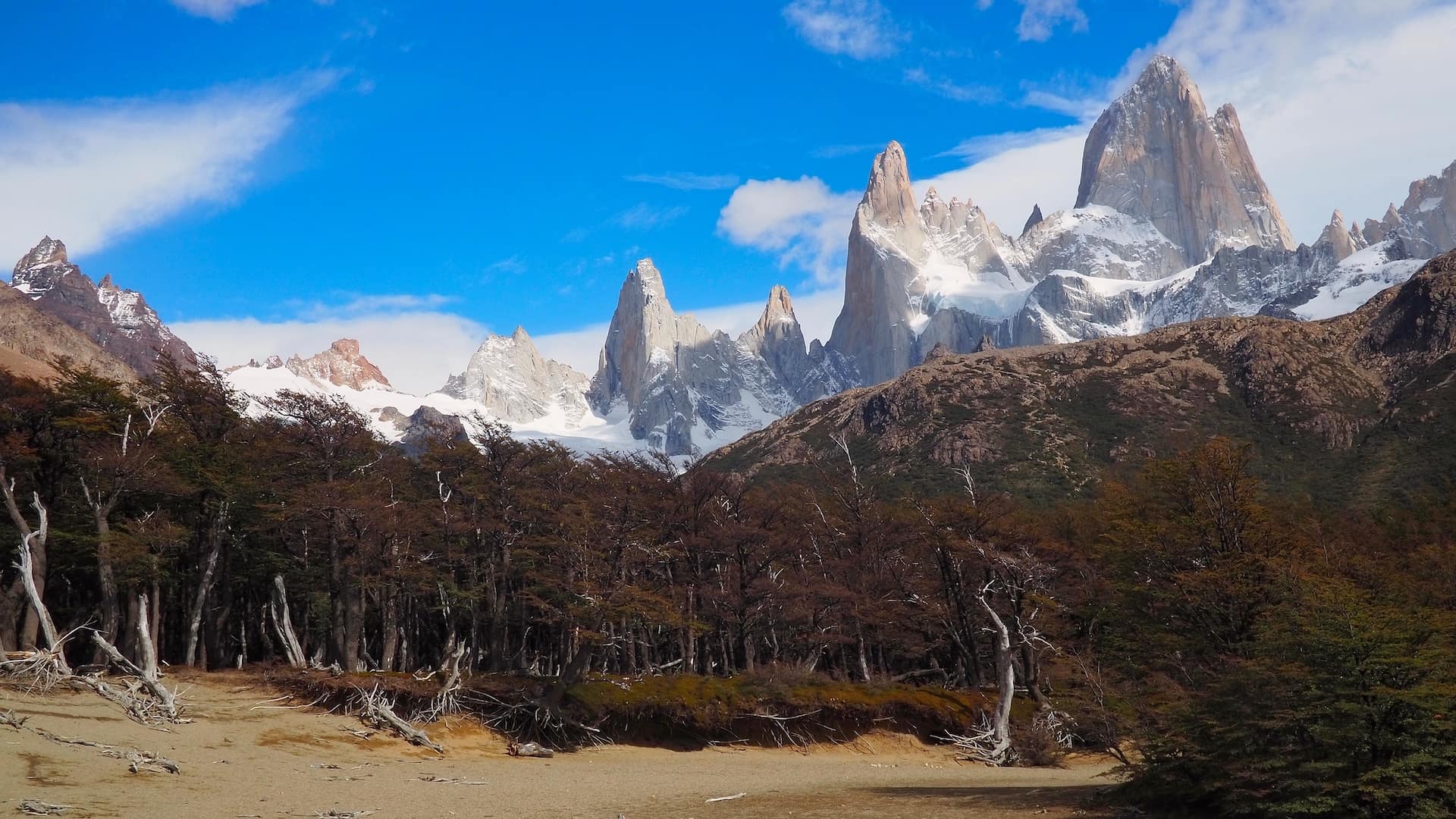 The approach to Campamento Poincenot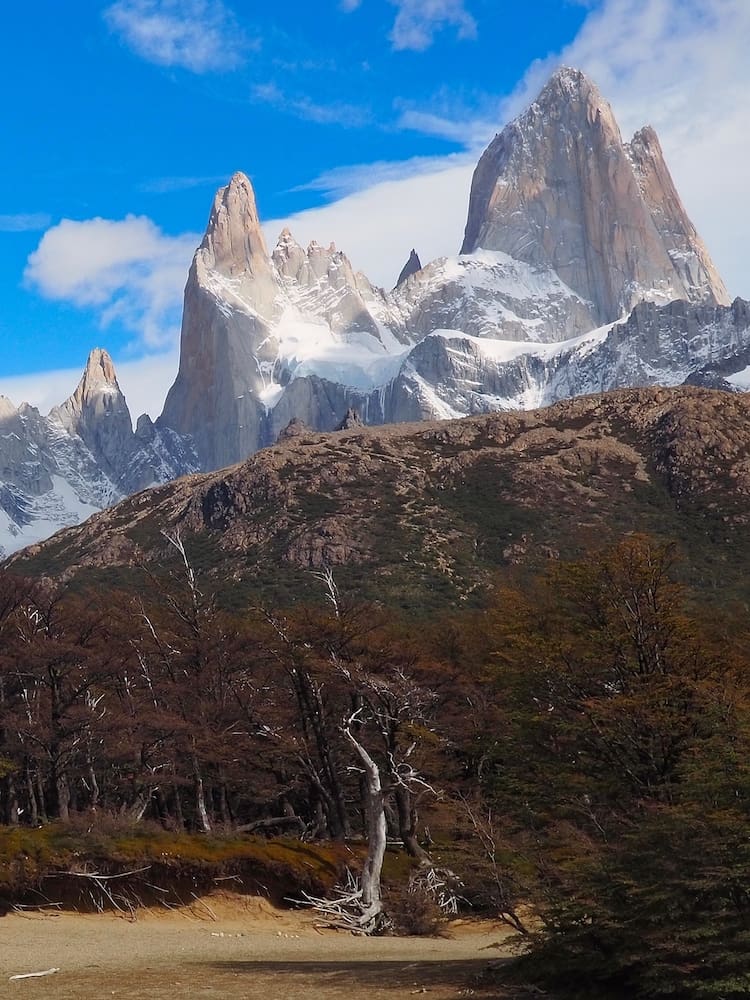 The approach to Campamento Poincenot
In truth, apart from at the very beginning of the trail, it's not a difficult hike to this point. But all that's about to change as you leave the camp and head up the increasingly barren, but starkly beautiful approach to Laguna de los Tres.
It's a tough section and will take at least an hour to negotiate. But as the magnificent triple peaks of  Mount Fitz Roy become tantalisingly closer, the adrenaline rush is enough to keep you going.
And, if you're lucky enough to reach the lake when the sun is out, you'll be rewarded with one of the great Patagonian sights. A turquoise lake of dazzling beauty that contrasts with the surrounding slabs of granite and hanging glaciers.
Indeed, it's the ultimate picnic spot if you've had the foresight to bring your packed lunch and a bottle of Argentinian Malbec or Torrontes.
Laguna de los Tres
Photograph courtesy of David Mark
Laguna de los Tres
Photograph courtesy of David Mark
Most people tend to stay around the arrival point of the lake but it's easy enough to explore each of its sides. Especially to the right where you can get get closer to the hanging glacier.
Meanwhile, a short trail to the left leads to a further vantage point overlooking Laguna Sucia, into which Laguna de los Tres drains.
A truly memorable place to spend a couple of hours or so. And not one you'll want to leave if the weather conditions are right.
A closer look at Laguna de los Tres and the lakeshore
Scrambling around to the right of the lake
Laguna de los Tres – route 2
There's an alternative route to the lake that begins about 12 kilometres north of El Chalten, at Hosteria El Pilar.
Much of it involves a gentle climb through lenga forest. But the real advantage of this route is the close proximity to the fabulous Piedras Blancas Glacier, which you can observe across the valley as it clings to the mountainside before plunging into the glacial lake below.
It's another postcard-perfect scene. As are the views of Mount Fitz Roy when the trail continues until it meets the route we've already discussed just below Campamento Poincenot.
Of course, you could always grab a taxi from El Chalten to El Pilar first thing in the morning, climb to Laguna de los Tres and then return via the other trail to El Chalten. Given the choice, though, we'd do it the other way round as the views up to the Fitz Roy Massif from Laguna Capri onwards are just too good to miss.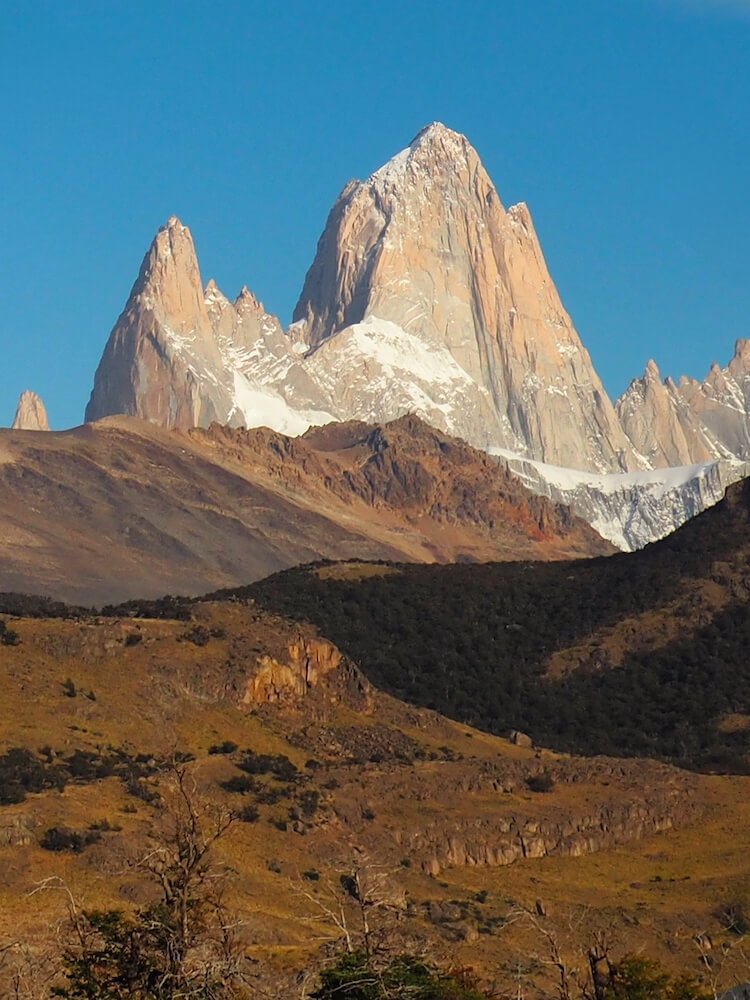 Mount Fitz Roy lit up in the early morning
The imposing Piedras Blancas Glacier
Nicky looks on to Mount Fitz Roy
A closer view of the Piedras Blancas Glacier
Another El Chalten day hike that's similar in scale to Laguna de los Tres. That is eight-to-nine hours there and back with a glacial lake at the climax surrounded by a triple-peaked mountain.
But it's sufficiently different in landscape to make this the perfect companion hike to Laguna de los Tres.
The starting point is again just on the edge of town. And once again, the first leg is reasonably strenuous. But after the first twenty minutes or so, the trail becomes a much easier affair.
And once you get to the Mirador Torre viewpoint it's nothing more than a gentle stroll through gorgeous scenery until you reach the final ten-minute climb up to the lake.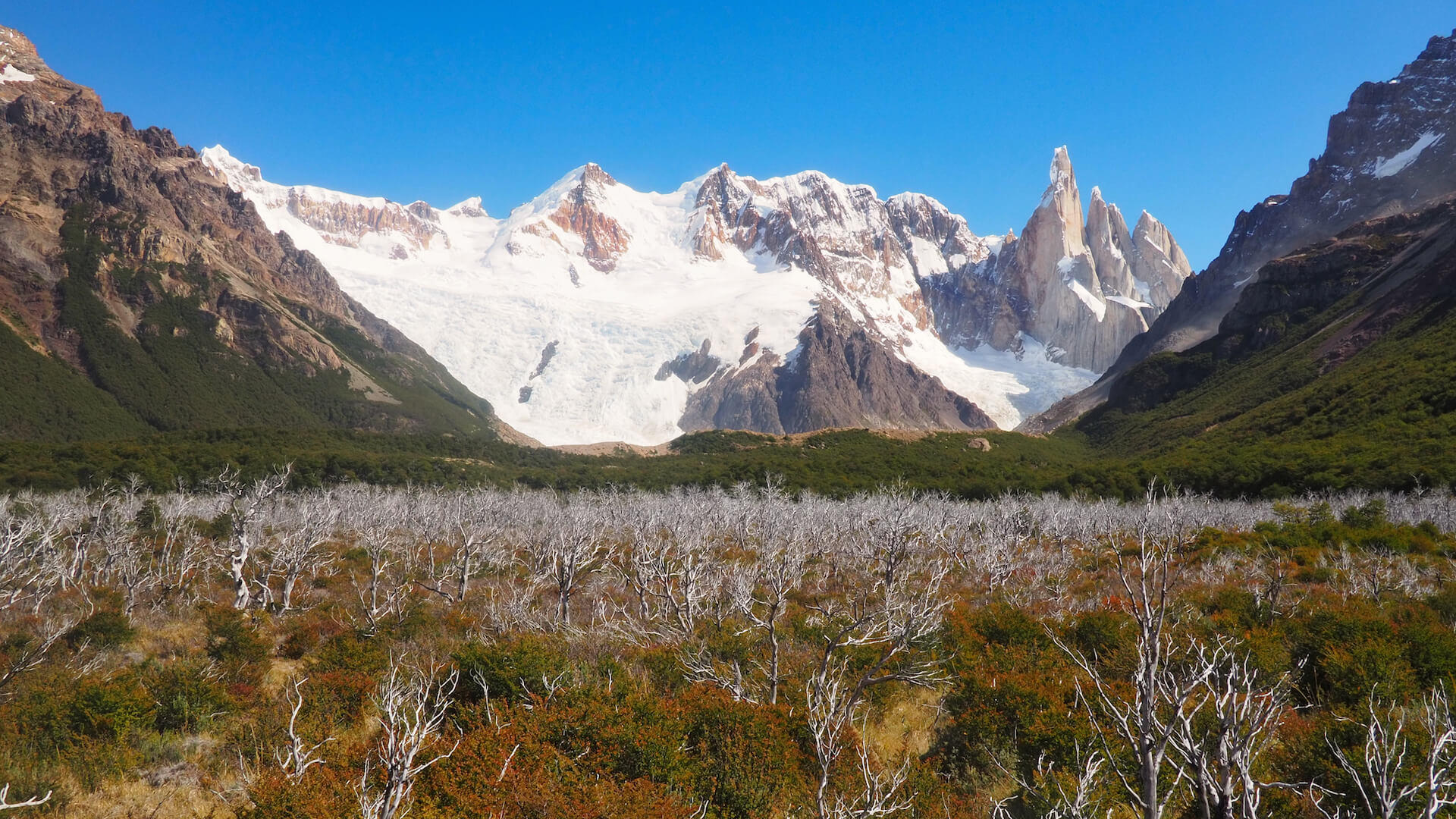 The trail passes through thick low-level forest en route to Cerro Torre
The trail passes through thick low-level forest en route to Cerro Torre
Unlike Laguna de los Tres, however, this one is silvery-grey in appearance and so doesn't have quite the same explosion of colours. Nevertheless, if the weather is calm, you can continue on the trail to the right of the lake to Mirador Maestri, where you'll get closer views of the glacier.
But it's a big IF. Despite the fact that we had calm weather and blue skies on our hike to the lake, a few minutes after we arrived we began to hear the rumblings of ice crashing into the water from the glacier above. Then a howl of wind as it roared from behind Cerro Torre and descended across the lake, drumming up waves that began to race towards us.
When the wind hit us face on, we found ourselves barely unable to stand and so made a quick exit.
Such is the unpredictable nature of the weather in these parts where warm and cold air billowing around the Southern Andes combine to create enormous gusts of wind.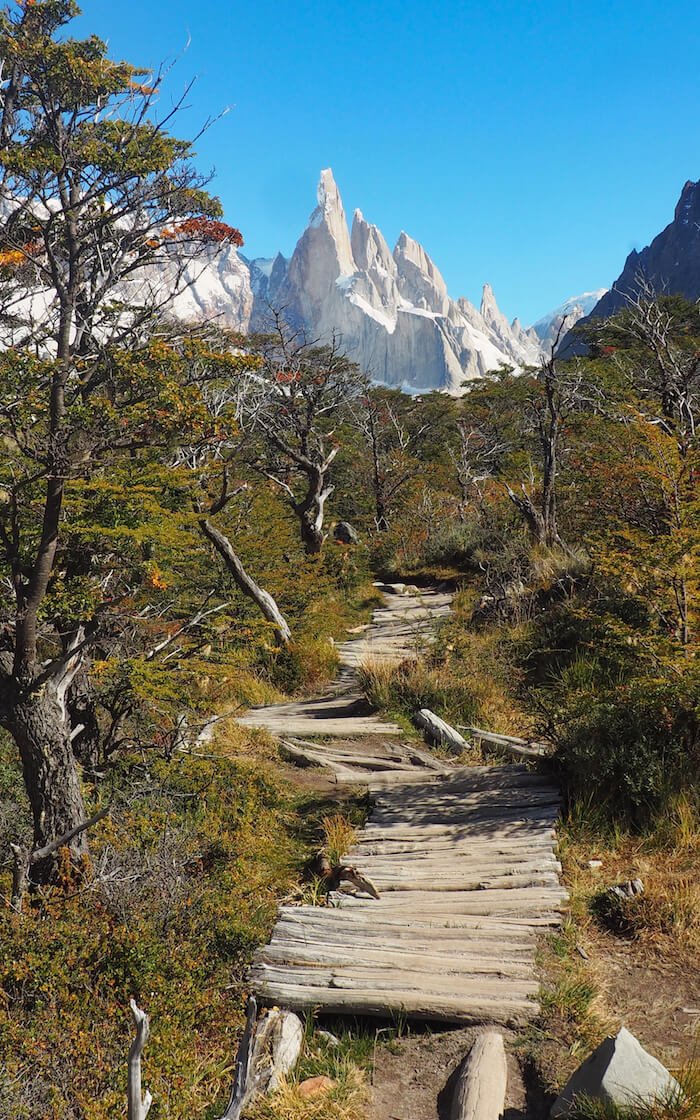 A boardwalk along the Cerro Torre hike
Ian beside Torre Lake – just before the mini tsunami arrived!
The three spires of Cerro Torre
There's a third day-hike from El Chalten to consider too. This time to Pliegue Tumbado. We've not done it ourselves but our German friend, Kai, did and reckons it offers the best panoramic views of both Cerro Torre and Mount Fitz Roy.
Meanwhile, Chorillo de Salto is an easy half-day forest walk to a 20-metre waterfall. It can be accessed along the gravel road from El Chalten to Hosteria El Pilar.
And from the Visitor Centre there are a couple of easy fifteen-minute walks to the Condores and Aguilas viewpoints.
However, when you've had your fill of walking, there's always the craft beer scene in breezy El Chalten to consider. With a number of microbreweries in town there's plenty of choice.
But for atmosphere and plenty of opportunities to swap stories after a hard day's hiking, La Vinera is difficult to beat. Especially as it offers beers from the excellent La Zorra brewery in El Calafate and a "happy hour" between 3 and 9pm where many of its beers are half price. And the food's excellent, too.
Panoramic view of both Cerro Torre (left) and Mount Fitz Roy from Pliegue Tumbado
Photograph courtesy of Kai Sulzmann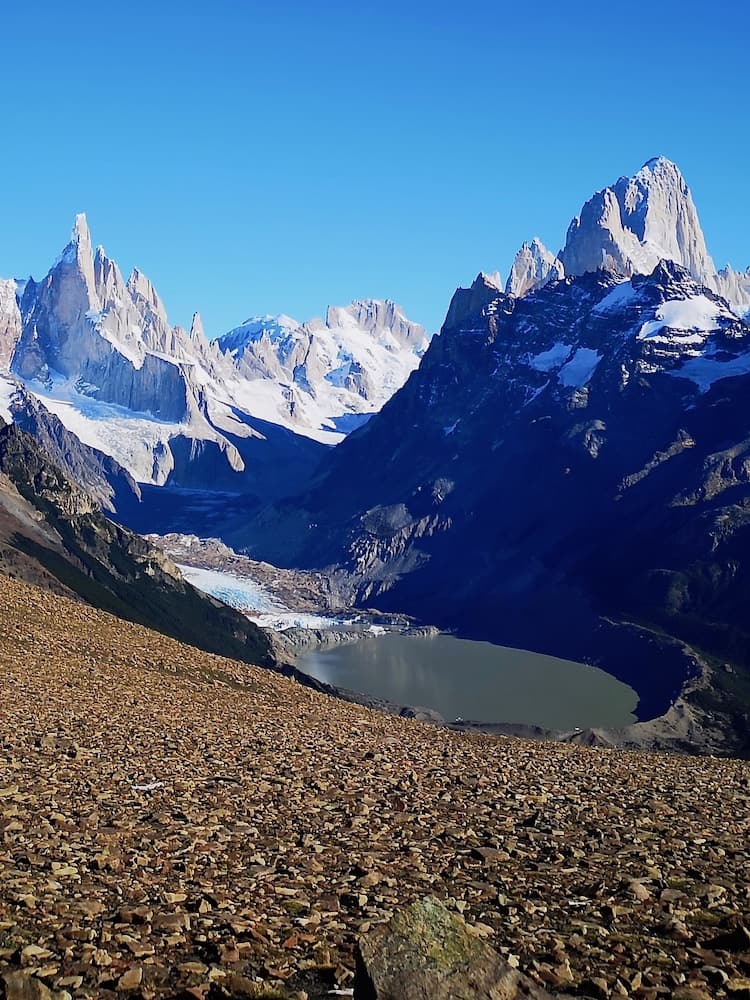 View of both Cerro Torre (left) and Mount Fitz Roy
Photograph courtesy of Kai Sulzmann
Final thoughts on El Chalten
El Chalten is one of the Big Three attractions in Southern Patagonia, along with Torres del Paine National Park and Perito Moreno Glacier. And justifiably so.
Although it's definitely one of those places where the weather plays a major part in how much you're likely to enjoy it. During our Patagonia road trip we experienced a mixed bag of weather conditions. But we were tipped off to time our visit to El Chalten for when the weather forecast was good. And we're so glad we followed that advice.
Three days of glorious sunshine in early-March made for an experience that simply couldn't compare if the mountains and walking trails had been covered in cloud and soaked with rain. But we were lucky enough to be able to stick around and wait for the opportunity.
Your best bet would be to visit during the summer months between December and March. Although the winds can be severe during January and February.
Frankly, the weather can be something of a lottery anyway so if you don't have the time to pick and choose, just make sure you've packed for all eventualities.
But, above all else, just go!
What did you think? Have you tried one of our suggested El Chalten day hikes? Do you have any recommendations to add? Or perhaps you're thinking of visiting there in the near future? Either way, we'd love to hear from you so please add your comments below.
To help us maintain our site we work with a number of partners who we've personally used and can recommend to our readers. If you decide to purchase any products through the following links, we'll receive a small commission at no extra cost to you. Thank you for your support!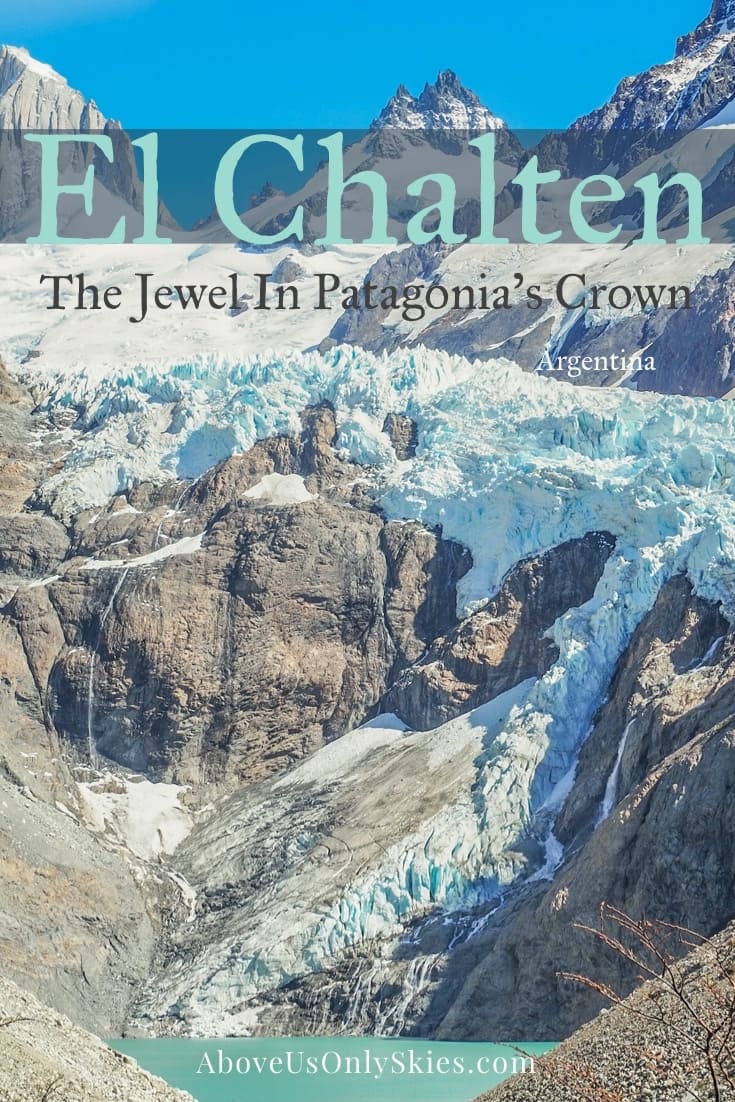 Hi, we're Ian and Nicky, an English couple on a voyage of discovery around the world, and this blog is designed to reflect what we see, think and do. Actually, we'd like to think it also provides information, entertainment and inspiration for other "mature" travellers, too. So please feel free to pour yourself a glass of something suitably chilled and take a look around.