HOW TO EXPLORE THE BEST OF NORTHERN SUMATRA IN 14 DAYS
It can be a challenge to travel around northern Sumatra.
It's wild and rugged. And large distances between places of interest, combined with long bus journeys on poor roads, make it one of the more difficult destinations in Indonesia for independent travel. Especially on a budget.
But, for those with a sense of adventure, it offers a range of experiences from jungle treks and wildlife encounters to active volcanoes and world-class diving.
In this itinerary, we focus on North Sumatra and Aceh, two contrasting provinces in the north of the island. And, unlike most of our other itineraries, we've used a travel company to help us get around – specifically within the province of North Sumatra. Of course, you can also do it independently if you wish.
During our visit we booked with Sumatra Eco Travel for a seven-day, six-night "Sumatra Highlights" tour, taking in jungle treks, orangutan-spotting, elephant-washing and chilling beside a volcanic lake.
Contents
This page contains affiliate links. To help us maintain our site we work with a number of partners who we've personally used and can recommend to our readers. If you decide to purchase any products through the links on this page, we'll receive a small commission at no extra cost to you.
From Medan airport, it's a four-hour taxi journey on pot-holed roads to Bukit Lawang on the edge of the Gunung Leuser National Park.
Very much a tourist village, it's essentially a long strip of dirt track and pavement that stretches out alongside the jungle and is lined with guest houses, restaurants and clothing/souvenir shops.
Meanwhile, the sound of gently strummed acoustic guitars and quietly crooning voices can be heard from practically every bar/restaurant during the day, before turning into full-blown singalongs during the evenings. In that respect, it's a good base to rest up before heading out on one or more of the adventure activities on offer.
And, if you've made the effort to get this close to the Sumatran jungle it's pretty certain that you've come to do a jungle trek and hopefully come face to face with some of Sumatra's semi-wild, and rapidly-dwindling, orangutans.
Sumatra Eco Travel offers guided jungle treks in small groups from one to five days. And, as you might expect, the longer the hike, the deeper the jungle and the fitter you need to be. You'll also need to factor in sleeping in jungle campsites, which was a challenge to this writer's arachnophobia!
We opted for the two day/one night trek, which was about right for us.
Uninhibited orangutans await you in the jungle
Gunung Leuser is home to a significant number of rehabilitated and semi-rehabilitated orang-utans that have suffered at the hands of the illegal pet trade or orphaned as a result of logging to clear jungle for palm oil plantations.
So, while you're not likely to come across truly wild orangutans on your trek (although they ARE there), you're still guaranteed to encounter their semi-wild counterparts.
And what a moment when your guide asks you to remain still as a mother and her baby come into view. We were thrilled to be able to photograph a mum named Janice while her baby hid beneath her coat of orange fur. Meanwhile, her teenage daughter did what any teenager worth its salt would do – swing from tree to tree and generally make a nuisance of herself in front of us.
Of course, there's other wildlife to spot, too – we saw black-faced gibbons and peacocks amongst others.
And, before you return to Bukit Lawang you'll be able to trek to waterfall pools and enjoy a 45-minute ride on a raft over gentle river rapids.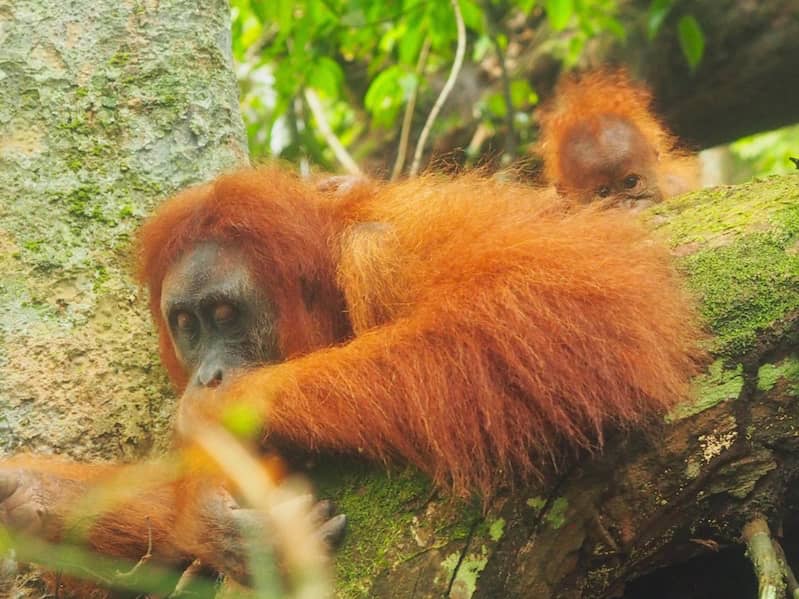 A hidden guest makes an appearance
From Bukit Lawang, you can opt for other activities such as the three-hour trek to a bat cave or a two-day visit to a traditional village.
We decided to take a day trip to the village of Tangkahan, where the locals have re-invented themselves as a self-sustained eco-tourism destination after successfully stopping illegal logging in their surrounding area. Part of the village's "Conservation Response Unit" looks after rehabilitated Sumatran elephants who work with their mahouts to help safeguard the national park from encroachment. And, to help finance their work tourists can pay to bathe and wash the elephants. Which is a magical experience.
Given the lure of earning a living from local palm oil production, it must be difficult for the local community to instead invest their time in conservation. Unfortunately, it means that they also offer elephant rides to tourists to supplement their income. It's something we've come across elsewhere in South East Asia and feel strongly against. So, for us, it's the one disappointing thing about the visit.
Elephant mother with baby at Tangkahan
From Bukit Lawang, it's a NINE-hour minivan transfer on a road that's largely in appalling condition, to the largest volcanic lake in the world – Lake Toba.
In fact, Samosir – which is an island in the middle of the lake – is actually bigger in size than Singapore. And, despite the arduous journey to get there, it's a really lovely place to unwind. There isn't a great deal to do other than enjoy the scenery, swim in the warm lake or hire a bike and explore the surrounding area.
But after your jungle trekking excesses, you'll be glad of it.
Stay in a beautifully crafted traditional-style room at Tabo Cottages.
Toba Cottages, Samosir, Lake Toba
Of course, as Samosir sits in the middle of the lake it means a boat transfer back to the mainland. And, if you're "lucky" like us, you might get to witness a volcano actually erupting in front of you. Yikes!
Volcano erupting near Lake Toba, Sumatra
After a few days of relaxation, it's time to get back in a taxi and head to Medan airport for a flight to Banda Aceh at the far northern tip of Sumatra.
The city was thrust into the limelight on Boxing Day 2004 when a massive earthquake off-shore was followed by one of the most devasting natural disasters in history. Waves as high as 20 metres crashed ashore as the tsunami reeked havoc all over the Indian Ocean – but none more so than here. Ultimately, over 170,000 people lost their lives in the province of Aceh alone and Banda Aceh itself was flattened.
Today, you can still see the effects of it everywhere. Most strikingly where a fishing boat remains lodged in the roof of a house and a huge off-shore generator barge is stranded 1.5 kilometres inland.
There aren't many western tourists who visit the city, in part because of it's Shariah Law. But we'd recommend you add a guided tour of the city to your Sumatran itinerary as it provides a fascinating glimpse into an incredible story.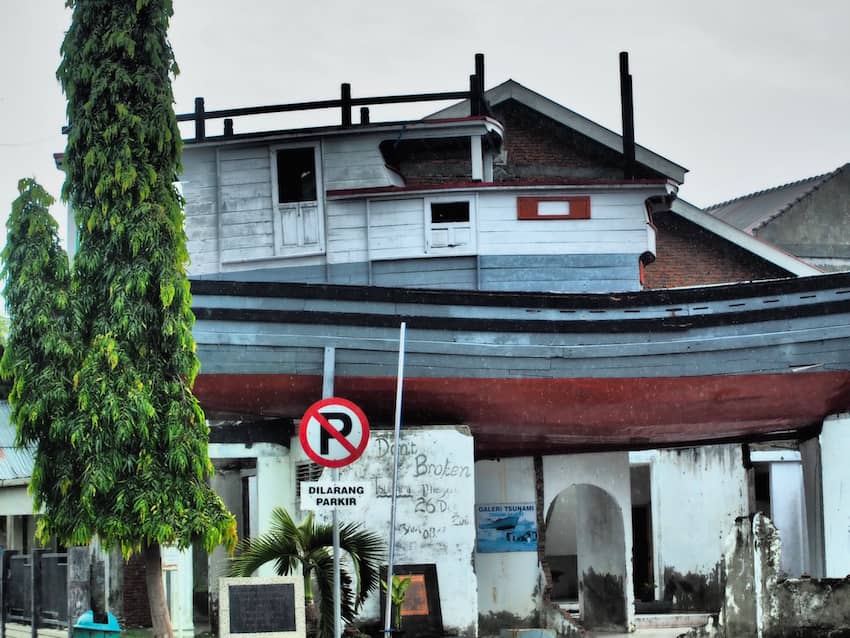 A stranded boat sits on the roof of a house
Inside the Tsunami Museum, Banda Aceh
The best way to do it is to stay overnight in a hotel and then start your guided tour at breakfast the following morning. In fact, if you follow our suggestion for a guide and like to experiment with authentic local food you're in for a treat! And, in between, he'll take you to all of the tsunami and cultural points of interest. He'll also drop you off at the ferry terminal to catch the 4 pm fast ferry over to Pulau Weh.
But while you're there, make sure you take a look at the vegetable and fruit markets. Indeed, I'd go as far to say that Sumatra had the most obscure and delicious fruit we've ever tasted.
The final leg of your northern Sumatra itinerary is a one-hour boat transfer away on Weh Island (or Pulau Weh).
It's an island that's enjoyed mainly for three things; world-class diving, snorkelling and swimming. And it feels like a world away from Banda Aceh.
Stay right on a white sand beach at the rustic but very welcoming Freddies Santai Sumurtiga. It's owned by the indomitable Freddie, a South African who likes to run a nightly buffet-style gourmet dinner.
Although there's good snorkelling to be had just off the beach, the best diving and snorkelling spots are a twenty-minute drive away at Ibioh. Dedicated divers will rent accommodation directly off the beach at Ibioh but we found that splitting the time between there and Freddies was a good combination. Especially with inexpensive dive/snorkelling and transportation packages available.
Elsewhere, you can explore the rest of the island by motorbike taxi or by hiring your own set of two wheels.
Spend at least three nights at Freddies – although when you get sucked into the slow pace of life you might just be tempted to stay a while longer – as we found out!
Just make sure you time your departure to coincide with direct flights from the island's airport back to Medan (Tuesday, Thursday, Friday, Sunday only), otherwise you'll have to head back to Banda Aceh instead.
The beach in front of Freddies Samai Sumurtiga
The Northern Sumatra itinerary
Although our itinerary is for 14 days, it includes some lengthy travelling days in between destinations so please factor in some additional days if you want to take things a little slower.
DAY 1
Flight to MEDAN  Taxi from MEDAN to BUKIT LAWANG Accommodation The Jungle Inn
DAY 2
Do Explore the jungle village of Bukit Lawang; prepare for your jungle trek  Accommodation The Jungle Inn
DAY 3 – 5
Do Jungle trek with guide in Gunung Leuser National Park, returning down-river to Bukit Lawang via rubber tube   Accommodation Jungle campsites
DAY 6
Minibus from BUKIT LAWANG to SAMOSIR, LAKE TOBA  Accommodation Toba Cottages (recommended)
DAY 7 – 8
Do Relax, swim in the lake, hire a bike, enjoy the food  Accommodation Toba Cottages
DAY 9
Shared/Private taxi from SAMOSIR to MEDAN AIRPORT  Flight from MEDAN to BANDA ACEH Accommodation Medan Hotel
DAY 10
Do Guided tour of Banda Aceh  Ferry from BANDA ACEH to PULAU WEH Accommodation Freddies Santai Sumurtiga (recommended)
DAY 11 – 13
Do Explore Pulau Weh by scooter or taxi; snorkelling and/or diving  Accommodation Freddies Santai Sumurtiga
DAY 14
Flight from PULAU WEH to MEDAN
What did you think? Have you been to Northern Sumatra? Do you have any recommendations to add to our itinerary? Or perhaps you're thinking of visiting there in the near future? Either way, we'd love to hear from you so please add your comments below.
To help us maintain our site we work with a number of partners who we've personally used and can recommend to our readers. If you decide to purchase any products through the following links, we'll receive a small commission at no extra cost to you. Thank you for your support!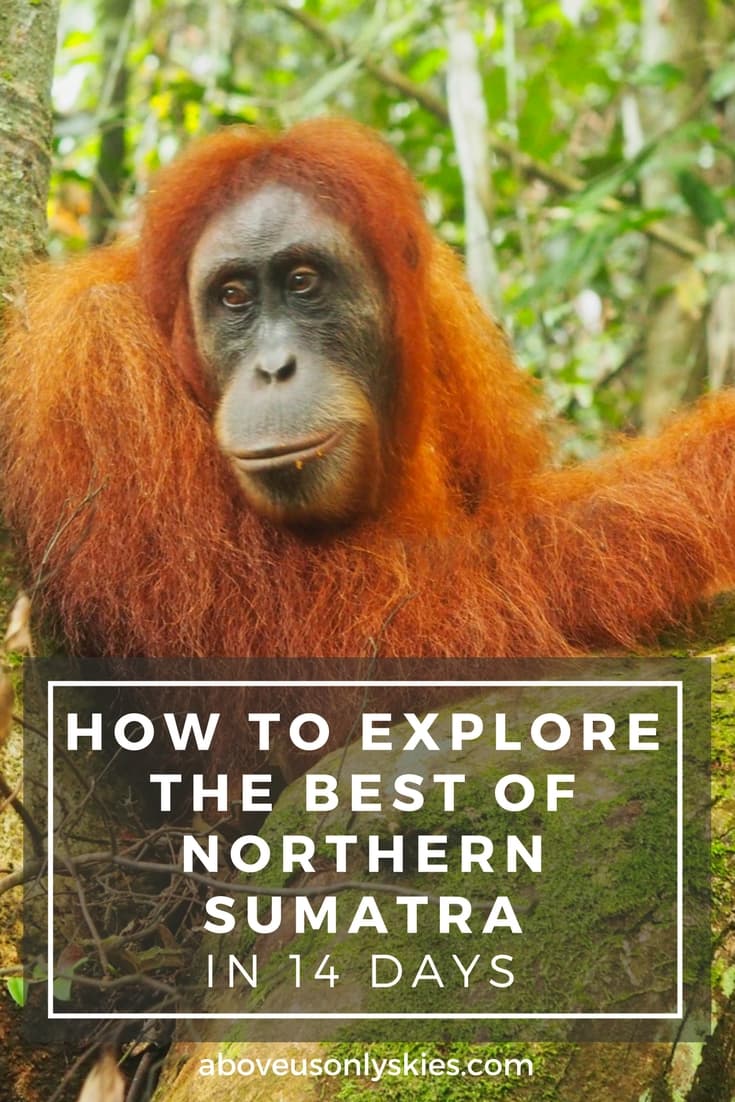 Hi, we're Ian and Nicky, an English couple on a voyage of discovery around the world, and this blog is designed to reflect what we see, think and do. Actually, we'd like to think it also provides information, entertainment and inspiration for other "mature" travellers, too. So please feel free to pour yourself a glass of something suitably chilled and take a look around.