HOW TO EXPLORE MYANMAR IN 28 DAYS
Trying to explore Myanmar can be something of a challenge – mainly due to the distances involved and generally poor transport infrastructure. However, it's getting better all the time and you can now travel between places in relative luxury compared to just a couple of years ago.
We managed to complete our 28-day loop of Central Myanmar on a modest budget – and if you're thinking of spending some time there soon you might want to consider using this as your starting point.
Contents
This page contains affiliate links. To help us maintain our site we work with a number of partners who we've personally used and can recommend to our readers. If you decide to purchase any products through the links on this page, we'll receive a small commission at no extra cost to you.
Where we stayed
Motherland Inn Two **1/2 (2 nights)
Very much a backpacker place. Fairly basic all round and not in a great location – a good taxi ride away from downtown. They also insist on US dollars for payment – the only time in our four-week stay in Myanmar where such a request was made. Friendly and helpful staff, though.
OK for an overnight stop
$35 per night (B&B, air con, wifi)
How we got there
We flew into Yangon from Bangkok and received a free pick-up from our guesthouse.
What we thought
Usually, people either love or hate Yangon – we managed both. Like a lot of places in Myanmar, its name has been changed from when it was under British rule. Indeed, the British name for it – Rangoon – conjures up images of a steamy, colonial city, rich in history and warrens of narrow streets where locals live, work and play.
In truth, the streets are filthy and lots of the old colonial buildings are in a state of disrepair – mainly because of the neglect bestowed on the city by the ruling junta and its decision to strip it of its status as Myanmar's capital city (which was moved north to Naypyidaw).
Its traffic is a nightmare, too.
But it's worth a visit for the Shwedagon Pagoda alone. Its sheer extravagance (including 27 tonnes of gold leaf) was a sobering contrast to the poverty we saw elsewhere in Yangon and beyond. But as Myanmar's most important Buddhist temple complex, it's a bewildering sight – particularly as the sun sets and transforms the gold leaf of the stupa through a gallery of golden hues.
Back out on the streets, we spent some time just wandering around and taking in Burmese city life. Street food stalls were everywhere – and it didn't seem to matter if the road was being dug up in front of them, there was still room to pick up some fresh fish or the ubiquitous mutton curry.
Also worth doing 
Take the circular loop train that runs from Yangon station around the city and its surrounds, returning three hours later. You get to see both city and rural life – and it's great for people watching too.
Where we stayed
Saw Nyein San Guest House **** (3 nights)
Almost perfect in every way. A lovely owner and really helpful/friendly staff – this is one of the few places we've stayed in where we'd re-visit a destination just to stay in the accommodation again. It doesn't look much from the outside but what you get are spotless rooms, people who really care about their guests and actually enjoy doing it, too. Highly recommended
$37 per night  (B&B, air con, wifi)
How we got there
Express bus at 18:30, arriving in Bagan at 05:30 the following morning (11 hours / $15 each). To be fair the bus was extremely comfortable – lots of leg room and a clean blanket to counter the cold air conditioning. We could have done without the cheesy Asian R&B videos and even cheesier Burmese "comedy" film, but once "lights out" arrived at 21:30 we were at least able to get some sleep. That was until we were abruptly woken up by a "food stop" at 23:30 at the Burmese equivalent of a motorway service station.
What we thought
A highlight of our trip, Bagan is just a wonderful place to spend a few days. It actually covers three villages – Old Bagan, New Bagan, and Nyaung U, where we stayed. Make sure you hire an e-bike (electric bike) to get around – much better than trying to cycle in the heat.
Read the full story in our Beguiling Bagan post.
Hot air balloons at sunrise, Bagan
Where we stayed
Smart Hotel **** (2 nights)
Slightly dated room aside, we enjoyed our stay here and would definitely go back if we returned to Mandalay. The breakfast buffet up in the Sky Bar is especially good. It's also located close to 78th Street with its morning and night markets.
Highly recommended
$35 per night  (B&B, air con, wifi)
How we got there
Boat on the Irrawaddy River at 05:30, arriving in Mandalay at 16:30. There are a number of boat company options but we went with Pioneer on the recommendation of our guest house owner. It was a little pricey at $32 each but the 11-hour cruise up the river was perfect – calm water, covered deck with quality reclining wicker loungers, glorious weather and the chance to watch the sunrise.
What we thought
Like Yangon, it's not quite the place we expected. With it's wide, dusty roads spread out over a considerable area it doesn't seem to have much of an identity. There are touristy things to do here but we just spent time wandering around the streets, people watching and allowed the city to just grow on us. Which it most definitely did. 
Find out more in our The Boat to Mandalay post.
U-Bein Bridge at dawn, Mandalay
Where we stayed
Golden Gate Resort Guest House ** (2 nights)
This place should be great but it's, unfortunately, let down by disinterested management and staff. On the outside, our bungalow looked lovely, but inside it was damp and filthy. It has a good reputation for food locally but again we were put off by the unwelcoming staff.
Avoid
$27 per night  (B&B, wifi)
How we got there
Shared taxi from our hotel to the guest house in Pyin Oo Lwin ($4.50 each – 1.5 hours)
What we thought
A hill station, which became a summer retreat for The Establishment during colonial-era Burma. The centre of town is typically busy, dusty and full of local activity, but the area is also dotted with colonial villas and mansions, with perfectly manicured lawns. It's best appreciated by bicycle – just make sure you look for the bar in town that serves draft spirulina (anti-ageing) beer!
Waterfall near Pyin Oo Lwin
Where we stayed
Tai House Resort **** (3 nights)
Owned and staffed by local Shan people, who are just delightful, this lovely guest house was a pleasure to stay in. If anything they were just a little too eager to please but they obviously care about their guests. Example – we used their complimentary bicycles for two days, which were wheeled out, seats adjusted and prepared ready to go for us without question. Hiking and other tours can be arranged directly with them, too. Highly recommended
$37 per night  (B&B, air con, wifi)
How we got there
Train ($2 each – 7 hours) from Pyin Oo Lwin, including crossing the incredible Gokteik Viaduct. Not to be missed in our opinion but be prepared for some serious movement as the old train bounces its way along the track. Until you get to the viaduct that is, with its 100-metre sheer drop on either side. Oh yes, it sure slows down then!
What we thought
We really liked Hsipaw (pronounced See-paw). Not just because of the stunning countryside that surrounds it, but because the town has such a lovely relaxed feel about it, and we found the people there incredibly friendly. In fact, if (or rather, when) we return to Myanmar we'll be heading back to Hsipaw to explore some more.
Waterfall trek near Hsipaw
Where we stayed
Thitaw Two Guest House *** (1 night)
We stayed in the (considerably) cheaper option of the two types of room available, which meant bare brick walls and some of nature's less attractive creatures visiting us during the night. But the bed was comfortable and the breakfast was great and somewhat unique – including homemade bread served in a three-layered tiffin box. OK
$22 per night  (B&B)
How we got there
Bus ($12 each) from Hsipaw at 16:40 (via Pyin Oo Lwin and Mandalay), arriving at Kalaw at 04:30. To be honest, this was our most uncomfortable journey. It taught us that if you want to travel long distances in Myanmar you really do need to book the "VIP" or "Express" buses – especially overnight. Unfortunately, the only bus available on this route was one of the standard ones. Once there we then had to find a couple of motorbike taxis to ferry us up the hillside to our guest house.
What we thought
Most people come to Kalaw for the hiking opportunities outside of town. Good for an overnight stop before tackling (like we did) the three-day hike to Inle Lake.
Where we stayed
We stayed as guests of two Pa-O families over two nights. No ensuite facilities here – we had a shared "bucket shower", which was effectively a barrel of water outside the house with a small bowl as the sole bathroom appliance. Privacy was zero but it certainly helped to hurry up any potential bathroom dwellers. Very basic but OK
$2 per night  (B&B)
What we thought
You can, of course, get a bus to Inle Lake but that would mean missing out on walking through the beautiful Shan countryside and staying overnight at local farm homestays.
We booked the three-day, 60km hike with Ever Smile – and for the princely sum of $60 for the two of us, we had a guide, two nights' accommodation, three meals per day and an excellent boat trip on Inle Lake to finish.
Much of the scenery reminded us of the English countryside – complete with a mixture of bright sunshine and heavy downpours. As a result, the going was quite tough at times as our guide meticulously found routes that were effectively lanes of mud cut up even further by the dainty feet of water buffalo. And, after nearly eight months of travel, it marked the first occasion when we had to pull out our rainproof "pac-a-macs"!
The accommodation was basic – it actually cost the equivalent of $2 per night for the two of us – mats and thin mattresses laid out in the upstairs room of a farmhouse, where we slept communally with the other four people in our group. That said, it was an enjoyable three days and definitely a good way to arrive at the lake.
You might want to take it easy for a good twenty-four hours afterwards, though.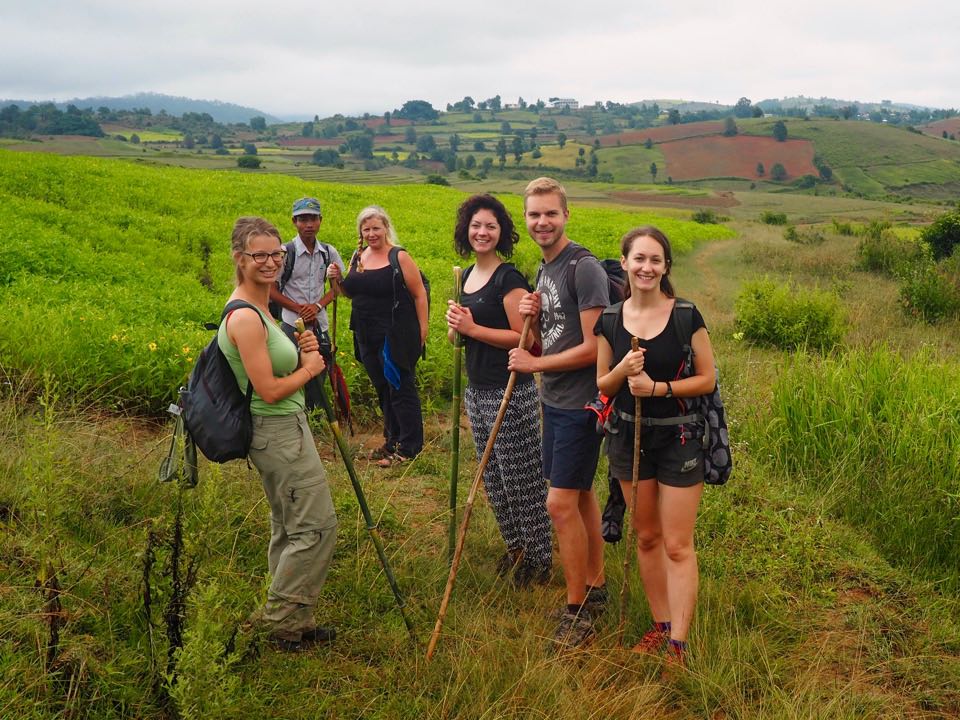 Where we stayed
Zawgi Inn ***1/2 (2 nights)
The two things that raised this place above average for us was the (relatively) speedy wifi (which we really did need) and the helpful owner. It's also situated in a side street away from much of the noise from town. Recommended
$27 per night  (B&B, fan, wifi)
How we got there
Three-day hike from Kalaw (see above).
What we thought
Probably the most touristy place in Myanmar – but the lake is beautiful and there's plenty to see, do and eat in town. As part of the three-day hike to get there we visited the floating villages and other tourist attractions on the lake (along with lots of other people). And we got to see the famous Inle Lake leg-rowing fishermen, too!
Like Hsipaw, we plan to go back there if and when we return to Myanmar and there's much more to see on the lake and in the surrounding area. We would have probably stayed longer had the weather been kinder but it was a bit cold and miserable when we were there so we cut our losses and headed south instead.
Also worth doing
Take a shared taxi trip to Pindaya Cave, which contains around 8000 individual Buddha statues.
Have a superb traditional Burmese massage at Win Nyunt – and when your masseur starts walking on your back just close your eyes and convince yourself it's doing you some good.
Fisherman on Inle Lake – Photo by TC Kniss on Unsplash
Where we stayed
Hotel Glory ** (2 nights)
Oh dear. It really doesn't take too much to raise a smile now and then but the manageress and majority of staff at this over-priced hotel clearly aren't interested. Let's just say that we weren't exactly made to feel welcome – particularly after we asked them to clear our room of an infestation of small black flies. And the day trip out to the caves we booked through them was just chaotic and overpriced (so it turned out). Hpa-an's not exactly blessed with quality accommodation but do yourself a favour and avoid this place. Avoid
$40 per night  (B&B, air con, wifi)
How we got there
Another overnight bus arranged through our guest house in Nyaung Shwe ($22 each – 17 hours). Actually, it involved two buses. The first was a VIP bus at 17:30, which arrived in Bago (just east of Yangon) at 05:00. We then had a three-hour wait before we picked up a standard bus from coming from Yangon to Hpa-an, which took a further five hours. We did mention it can sometimes be challenging!
What we thought
Despite a really awful hotel and a lack of things to do in the town itself, the surrounding area is just sublime, particularly the various temple caves. Once again, we'd have spent longer here if we'd had the time.
One of the highlights for me was climbing the 2000+ steps to the summit of Mount Zwegabin where there's a monastery and some magnificent views of the valley below. Getting up there was tough enough in the morning sun, but coming back down was literally a few hundred steps too far. It's probably fair to say that my knees were still suffering, as a result, six weeks later.
Also worth doing
Take a tuk-tuk tour of the area, including the many temple caves.
Visit "Bat Cave" at sunset to see half a million bats fly out in search of food.
Where we stayed
OK Hotel **1/2 (2 nights)
In some ways, this is in a great location – right on the riverfront opposite one of the jetties, and the morning market is right on your doorstep. But that also means it gets very noisy from about 5 am onwards. Our room was also so tiny we struggled to take any of our stuff out of our backpacks so we checked out after two nights, even though we'd booked for four. Avoid
$33 per night  (B&B, air con, wifi)
Cinderella Hotel *** (2 nights)
Our room was large, clean and comfortable and the hotel itself is aesthetically very pleasing. We initially thought that the service was top-notch, too – but we soon began to find it a bit over-the-top and contrived. If they just concentrated on doing the basics superbly well and bothered less about kitting out their breakfast waiters in white gloves then we'd have a real gem on our hands. Expensive but worth the upgrade
$52 per night (B&B, air con, wifi)
How we got there
Boat along the river ($12 each – 3 hours), which we again booked through our guest house. Not quite as comfortable as the ride from Bagan to Mandalay – this time we were on a long boat with plastic chairs for seats – but the journey itself was again lovely, passing by tiny villages and groups of waving children en route.
What we thought
A bustling riverside town, there are plenty of colonial buildings to admire, both run down and impressively preserved, and there's no denying the place's charm. Wandering around the morning market and the narrow streets away from the riverfront were definitely the highlights, though – particularly the fish and vegetable markets – and it gave us the chance to see and interact with true local people, too.
On Remembrance Sunday we hired two motorbike taxis to take us to the Thenbyuzayant War Cemetery, which contains the graves of hundreds of mainly British and Commonwealth soldiers killed by the Japanese at the Burmese end of the Death Railway (made famous by the book and film, Bridge Over The River Kwai). It was particularly poignant as we were the only westerners there at the time – which is perhaps not surprising given the remoteness of the location.
Also worth doing
Visit the world's largest seated and reclining Buddha statues a few kilometres south of the city. It's easy to use descriptive words such as "awesome", "incredible" or "amazing" to big up how impressive some things are. They don't seem to work here, however.
"Gob-smackingly huge" it is then.
Note: If you're thinking of hiring a motorbike taxi for any tours we can highly recommend "Jimmy", who speaks very good English – and drives at a safe speed!
Tel: +95 (0)925 317 8150
Reclining Buddha of Win Sein Taw Ya
Where we stayed
15th Street @ Downtown Yangon *** (1 night)
In a good location but overpriced. Small, comfortable room with no windows and a fairly basic breakfast. Just OK
$48 per night (B&B, air con, wifi)
How we got there
And so we completed our loop of Myanmar by booking a standard bus for $4.50 each to Yangon, taking 7 hours. Although it wasn't a VIP or Express bus (they were fully booked), we were surprised by how comfortable this one actually was. Which goes to show – don't judge a book by its cover!
We only stayed one night en route to the airport for our flight out of Myanmar the following morning. But we did get the chance to re-visit the Shwedagon Pagoda during the day.
Over the 29 days, we spent less than $75 per day for the two of us, including all accommodation, transport, food, drink, trips…and massages.
Would we have approached it differently? Maybe we might have considered flying into Mandalay and out of Yangon, which would have removed the need for the overnight bus from Yangon to Bagan. But, that's just nit-picking.
If you have three to four weeks to spend in Myanmar we reckon that's a pretty good itinerary.
If you've got between two to three weeks you could possibly reduce the amount of time spent in some of the destinations – just take into account the travelling distances and time between them.
Of course, there are plenty of other areas in Myanmar to visit, such as the beaches in the west and the far south – but we're leaving them for next time.
if you'd like any advice or tips just drop us a line and we'd be glad to help in any way we can.
Do yourself a favour, though – just go!
Note: As Myanmar is changing so rapidly, and will continue to do so now that a democratic government has been elected, some of the information in this post will undoubtedly become out-of-date very quickly. If you're aware of any changes or can provide updates that might help other travellers, we welcome your comments below.
Also, the more eagle-eyed of you might have noticed that the number of nights for each destination actually adds up to 25, rather than 28 as featured in the post title. That's because we also spent 3 nights trying to catch some sleep on overnight bus journeys. So now you know.
What did you think? Do you have any recommendations on how to explore Myanmar? Or maybe you're thinking of visiting Myanmar soon? Either way, we'd love to hear from you so please add your comments below.
To help us maintain our site we work with a number of partners who we've personally used and can recommend to our readers. If you decide to purchase any products through the following links, we'll receive a small commission at no extra cost to you. Thank you for your support!
Hi, we're Ian and Nicky, an English couple on a voyage of discovery around the world, and this blog is designed to reflect what we see, think and do. Actually, we'd like to think it also provides information, entertainment and inspiration for other "mature" travellers, too. So please feel free to pour yourself a glass of something suitably chilled and take a look around.