EXPLORE NEW ZEALAND'S SOUTH ISLAND – MARLBOROUGH AND THE NORTH COAST
In this special series of posts, we present our ultimate guide to exploring New Zealand's incredible South Island. You'll discover the route we took, along with our recommendations for campsites, things to do, walks and even our favourite wines.
Here in Part Two, we hit the road and travel from Picton, along the stunning north coastline to Wharariki, before heading inland to Nelson Lakes National Park.
Contents
This page contains affiliate links. To help us maintain our site we work with a number of partners who we've personally used and can recommend to our readers. If you decide to purchase any products through the links on this page, we'll receive a small commission at no extra cost to you.
Together with its islands and peninsulas, the "sounds' represent one-fifth of all New Zealand's coastline. Famous for its Queen Charlotte Track, it's a truly stunning place of mountains, farmland, beaches and the bluest of waters. Much of it can only be reached by boat. But there are still plenty of twisting roads (a lot of them gravel) to keep any camper van driver happy.
Heading west from Picton drive along Queen Charlotte Drive to the first of our recommended campsites. It's a little more expensive than some of the Department of Conservation (DOC) camps we stayed on. But it's got everything you'd need, including kitchen, hot showers and wifi. Oh, and complimentary home-made banana muffins. Which meant two for yours truly on account of Nicky's still-to-be-resolved banana phobia.
But what made it that extra bit special was its location on the doorstep of the fantastic Marlborough Sounds. There was a lovely walk from the rear of the farm, too – up through the forest to a waterfall. And after dusk glow worms would make their nightly appearance amongst the trees. Perfect conditions for chilling and then necking a bottle of Mud House Riesling…
Next day, just a few short miles further up Queen Charlotte Drive, turn right at the signpost for Kenepuru and Pelorus Sounds and head for Titirangi Farm at the very tip of the peninsula road that winds its way past numerous bays and lookouts. Allow a good two hours as the maximum safe speed for much of it is just 30-40km per hour. But it's so worth it!
As soon as you pass through the entrance gate at the brow of the hill leading down to the shoreline, the panorama will open up in front of you to reveal a coastline that's just drop dead gorgeous. The road down to the site clings to the hillside, unveiling tantalising glimpses of the beach and farmland. Meanwhile, the off-shore islands literally glisten in the calm, blue water.
This is what awaits you at Titirangi Bay
At NZ$5 per night each, the campsite is a steal. Hemmed in between a white sand beach and emerald mountains, it's picture postcard perfect. From there we hunted for mussels along the rocky end of the beach and took walks up through the farmland. And of course, with no light pollution, the night sky was just incredible.
Scene of the great mussel harvest
After retracing your steps back to Queen Charlotte Drive (State Highway 6) continue west. Then take another right towards French Pass. En route we detoured to Elaine Bay for a walk on Archer's Track along the coast towards Tennyson Inlet.
But from Elaine Bay to French Pass, the road passes through some of the most amazing scenery you'll discover on your New Zealand trip. What's different about this road is that there are very few bushes and trees to get in the way. Unlike those elsewhere on Queen Charlotte Drive and the road to Titirangi. Naturally, we stopped at regular intervals for photos and to just gawp at everything around us.
And for sheer dust-spraying, wide-grinned wilderness-driving we're betting the journey down to French Pass is the best gravel road you're ever likely to find yourself on…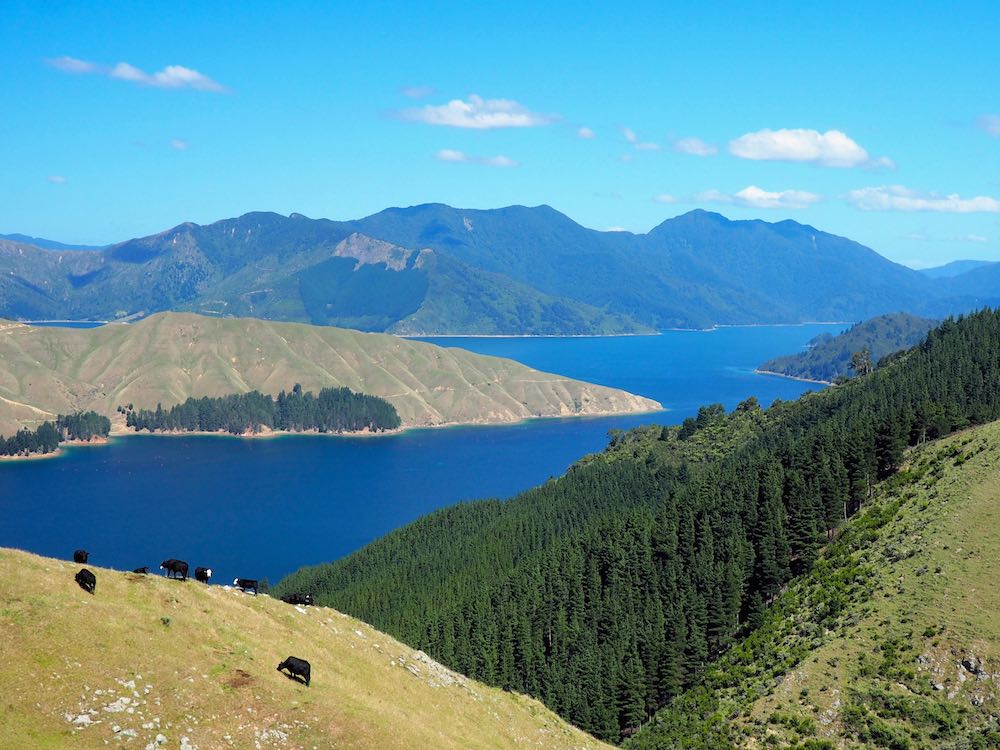 The DOC campsite at French Pass isn't anything special. In fact, it's no more than a car park facing the beach really. But once again it's all about the location.
Down on the fine pebble beach, we watched as FOUR three-metre bronze whaler sharks swam around in the shallows. They were literally a couple of metres from the beach. Incredibly they were joined by three large stingrays and quite possibly the cheekiest (or dumbest) fur seal in New Zealand. The following morning we awoke to a pod of around 30 dolphins making their way across the bay.
A superb walk over private farmland (permission required by the farmer) is a great way to spend a morning. The walk takes in more stunning views and detours off to a couple of secluded and empty beaches. The camp host will provide as it's not advertised or marked anywhere.
To say we were reluctant to leave French Pass is an understatement. It remains one of Nicky's favourite places in New Zealand. But if, and when you can tear yourself away, rejoin State Highway (SH) 6 and head across country towards Nelson.
En route you could detour to Cable Bay overnight, where's there's a decent, if pricey campsite (NZ$19 each). Cable Bay itself includes another farmland walk to a headland with views over to Abel Tasman National Park.
We didn't stop in Nelson itself, but we can recommend another nice detour to Mapua Wharf for some excellent lunchtime fish and chips at The Smokehouse. There are generally four varieties of fish to choose from, too – including snapper. And their smoked seafood pâtés are well worth picking up for your camper van fridge. Try the salmon!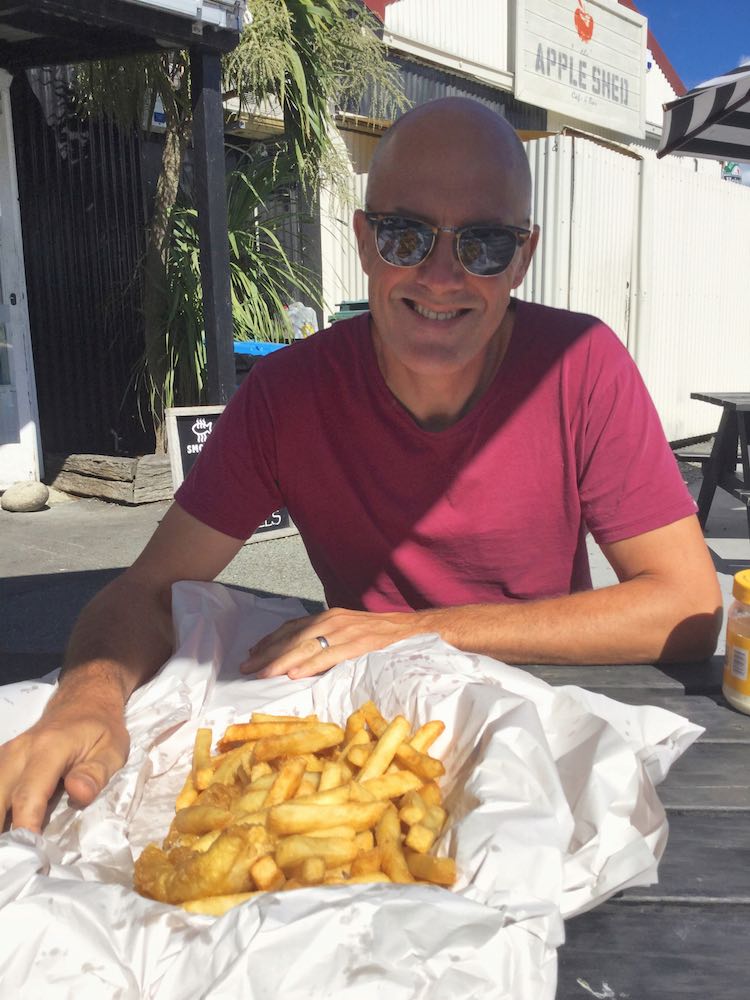 Abel Tasman National Park
Re-connecting with SH 6, turn right at Richmond on to SH60 towards Abel Tasman National Park. En route there are plenty of tourist spots to break the journey (such as Ngarua Caves and Harwoods Hole). And there's the popular option of exploring the National Park from the south entry point at Kaiteriteri. However, we decided to continue further up the SH60 and turn right at Takaka to explore the northern section of the park at Totaranui, with its long golden sandy beach.
Be warned that the final 14km into Totaranui consists of probably the most pot-holed and corrugated section of gravel road we experienced in the whole of New Zealand.
There's a huge DOC campsite at Totaranui (NZ$15 each), which is fine. But the real reason people come here is for the walking, swimming and kayaking. The Abel Tasman Coast Track is one of New Zealand's Great Walks, covering 60km and takes 3-5 days. Most people start from the south at Kaiteriteri and finish just north of Totaranui.
We decided to take the three-hour return walk north between Totaranui and Mutton Cove. The route mixes tracks through lush rainforest, clifftops and three gorgeous beaches. And by setting out at 8 am we missed the increasing crowd of walkers arriving late morning.
Don't be tempted to head back before you reach Mutton Cove, though. It's a beautiful double-stretch of clean golden sand, separated by a small headland of rocks. And, as a bonus, amongst the rocks to the right of the beach is a small colony of fur seals.
If you fancy a few hours of sea kayaking, exploring off-shore islands, mussel farms and remote beaches we can recommend Golden Bay Kayaks, who are based at Tata Beach, about 20km back on the road towards Takaka. We spent three hours working our way along the coast to and from a secluded beach at Taupo Point. Our previous attempts at negotiating a sea kayak together had seen us literally coming to blows. Thankfully, this time, the sea kayak was big enough to avoid any repeat of the carnage.
Before leaving Abel Tasman head back from Totaranui to the SH60, and then continue north for 3km before turning off to Waikoropopupu Springs, which are believed to contain some of the purest, clearest water in the world. There's a short circular walk around the springs and the water is indeed amazingly clear. Not surprisingly, as they are of Maori spiritual significance, you're not allowed to get in or touch the water. But there's a lovely spot beneath the bridge leading from the SH60 where we enjoyed a picnic lunch on a pebble beach beside an oh-so-clear river.
Continuing northwards the road clings to the lovely arc of Golden Bay, while the traffic becomes lighter. And you're just as likely to see farm vehicles on the road as camper vans. No need to rush, though, particularly if your idea of a good road trip includes visiting the occasional historic pub (it's the law in our family).
Breaking the journey to Wharariki is The Mussel Inn at Onekaka. Although it does attract its fair share of visitors clutching their NZ copy of Lonely Planet (it's featured in it). We were more than happy to spend an hour or so trying their revered Manuka Beer while I recharged my laptop and used their free wifi. Such luxuries can be few and far between in parts of New Zealand!
And then it's off along the remainder of the coast road, past Collingwood and through Puponga until you come to the car park for Farewell Spit. This is definitely worth a stop before you head on to the campsite at Wharariki. The spit itself is a 25km stretch of sand with Golden Bay on one side and ocean on the other. 21km of it are protected from the public, although you can book to go on a pricey 4WD tour.
From the car park, there are a number of routes to walk along the accessible part of the spit. We chose to do the 4-5km loop track, taking in both the Golden Bay and ocean sides. To be honest, the spit facing Golden Bay was fairly underwhelming but the ocean side was spectacular for the sheer vastness of the beach, the sand dunes, and the almighty wind that blew constantly, with additional mega-gusts for added measure. The walk back to the car park is pretty good, too, taking you through picturesque forest and farmland. Don't miss it!
From there it's a short drive around Puponga Farm Park to Wharariki Beach Holiday Park (NZ$18 each). This is a great base to explore the sublime beach nearby. And to tackle the Wharariki Beach to Pillar Point Walk, if you fancy it (I really recommend that you do).
You might also want to look out for the tide times as low tide is the best time to visit the beach. It's when the huge off-shore rocks, arches and caves become easier to access. And the fur seal pups play in the small rock pools left behind. Otherwise, don't even think about packing your bucket, spade and beach towel as the wind is so fierce you'll be washing sand off every part of your body for days to come.
Lake Rotoiti, Nelson Lakes National Park
Having now completed the northern coastline of the South Island, our route takes us inland to Nelson Lakes National Park and the Kerr Bay DOC camp at Lake Rotoiti, near to the village of St Arnaud. The road that leads there via the Motueka Valley is a delight in itself. We arrived there not knowing that it coincided with the Powerboat Grand Prix, which meant deafening super-charged speed boats charging around the serene lake for two days. Great fun to watch but it meant that the campsite was overrun with testosterone-filled boat types keen on playing hard for 48 hours.
The main reason we were there was to walk the Mount Robert Circuit Track, but the weather wasn't kind to us so we had to call it off half way through. The area is full of walks, though and there are some spectacular overnight "tramps" into more remote parts of the mountains. The DOC visitors office next to the campsite provides details.
Best of all, the night sky was just incredible and the small wooden jetty over the lake turned out to be the perfect place to lie down on our backs with a bottle of Mud House Sauvignon Blanc and gaze in awe at the mighty Milky Way.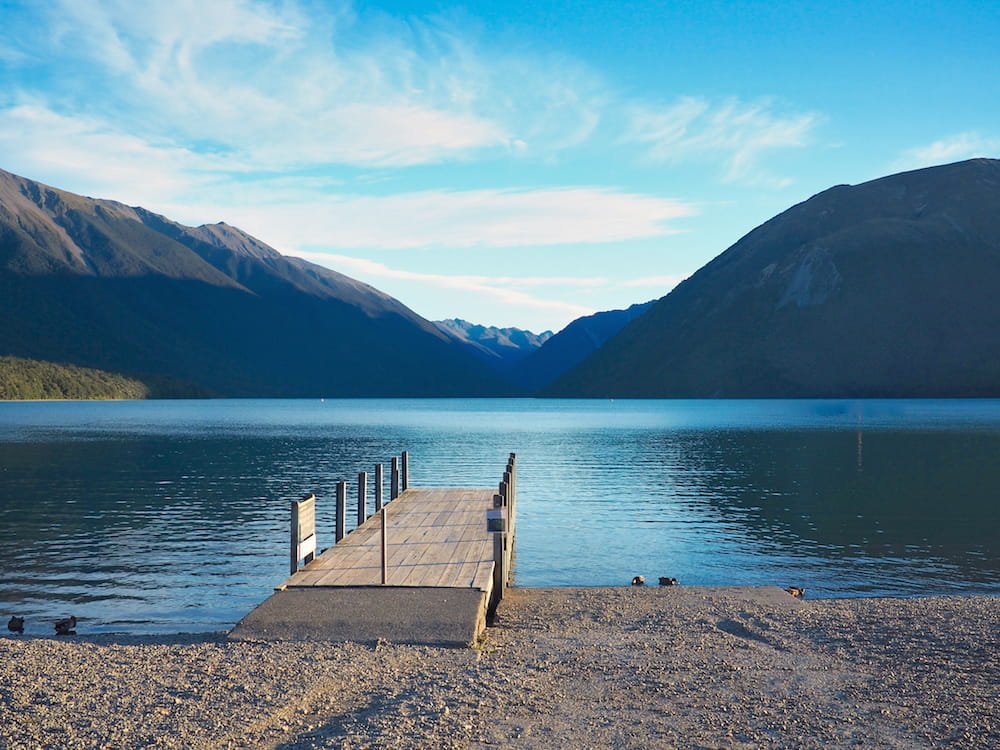 It was a great way to finish off the first leg of our South Island exploration, although it was also our first introduction to the ubiquitous sandflies – a nemesis we would confront many more times over the next few weeks.
Here's where we stayed on our route from Picton to Lake Rotoiti….
Smiths Farm Holiday Park, Linkwater (1 night) – recommended
Titirangi Farm Campground, Titirangi (2 nights) – recommended
French Pass (DOC), French Pass (2 nights) – recommended
Cable Bay Holiday Park, Cable Bay (1 night)
Totaranui (DOC), Abel Tasman National Park (2 nights)
Wharariki Beach Holiday Park, Wharariki (1 night)
Kerr Bay (DOC), Lake Rotoiti, Nelson Lakes NP (2 nights) – recommended
What did you think? Have you been to any of the places we've covered? Or do you have any recommendations of your own you'd like to share? Either way, we'd love to hear from you so please add your comments below.
To help us maintain our site we work with a number of partners who we've personally used and can recommend to our readers. If you decide to purchase any products through the following links, we'll receive a small commission at no extra cost to you. Thank you for your support!
Hi, we're Ian and Nicky, an English couple on a voyage of discovery around the world, and this blog is designed to reflect what we see, think and do. Actually, we'd like to think it also provides information, entertainment and inspiration for other "mature" travellers, too. So please feel free to pour yourself a glass of something suitably chilled and take a look around.