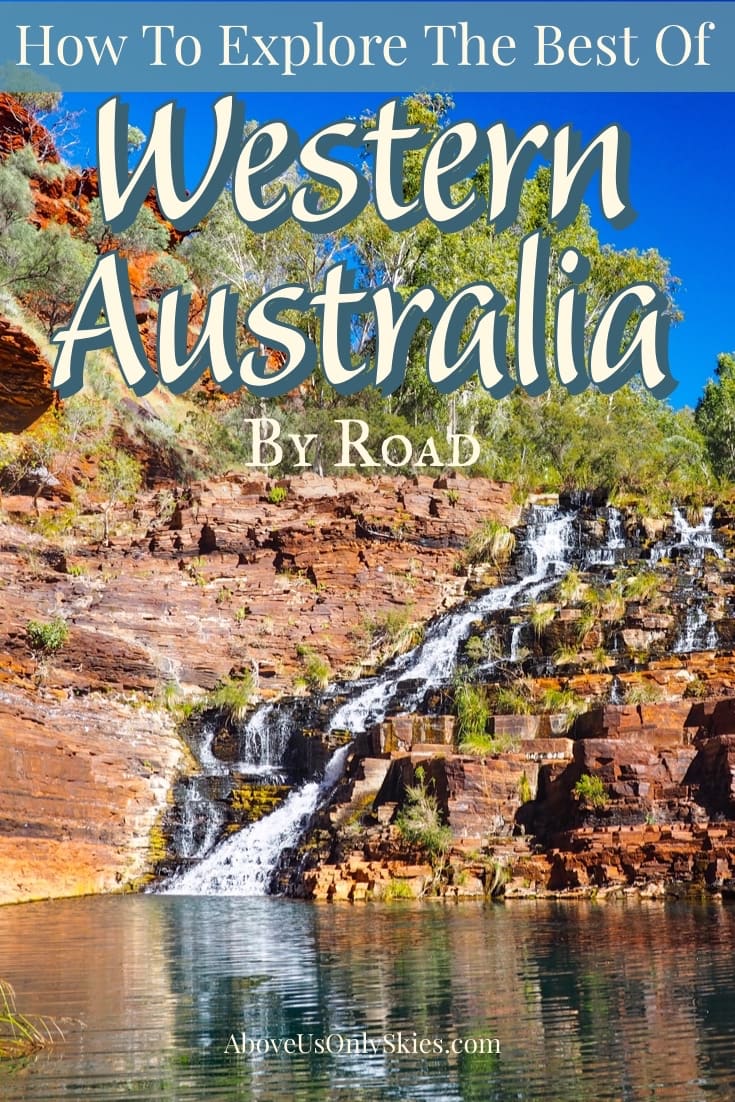 Three weeks sleeping in a two-berth swag tent in some of the remotest places in Western Australia (and therefore the world). Not exactly everyone's cup of tea. But if you're in touch with your adventurous spirit and are prepared to sacrifice some creature comforts for unforgettable experiences in the Outback, then follow this 21-day road trip to explore Western Australia. You might just find what you've been looking for.
Starting and ending in Perth, it's an epic journey of over 3700 km (2300 miles). You'll drive for hours on end, barely seeing another soul through a landscape of relentless wilderness. You'll become accustomed to a primary colour scheme dominated by blue sky, red soil and green bush. And you'll be hooked.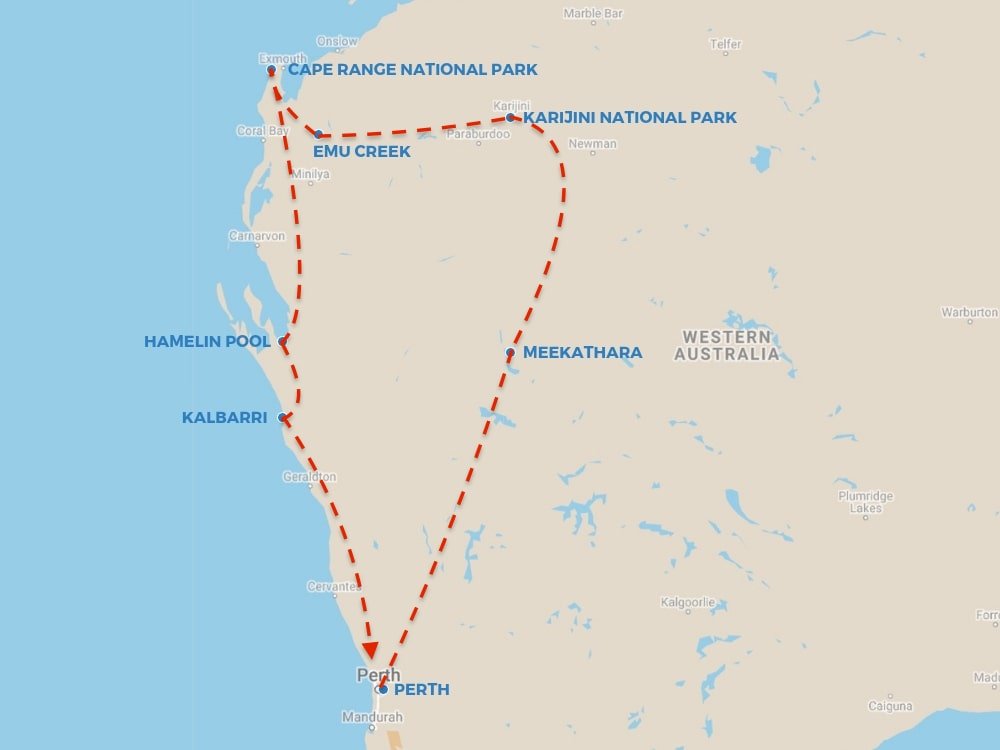 Perth and the Great Northern Highway
For the purpose of this trip, the beautiful city of Perth merely serves as a start and ending point if you don't already own your own wheels.
It's here that you'll rent your car, hire your camping equipment and stock up on essential items such as wine, cheese and anything else to make your adventure a truly Aussie one.
A roadmap would also be a smart choice given the lack of a GPS signal in many parts of the route. Having said that, all you need to do at this point is head for National Highway 95 – better known as the Great Northern Highway – which connects Perth with Wyndham in the far northeast of the territory, some 3200 km (2000 miles) away.
Your first night of camping will be at Karijini National Park, which is 1500 km (930 miles) to the northeast of Perth. Don't even think about doing it in one day. Once dark descends on the Great Northern Highway, it becomes a magnet for roadkill candidates such as kangaroos and other bush wildlife. Which is bad enough for the poor animals themselves but you and your nice shiny rental car won't come out of the impact too well, either.
Instead, we'd recommend you overnight at Meekathara (population 812), which serves as a half-way point. There's not a lot there, but at least you'll get a decent night's sleep at the town's Commercial Hotel.
Get up and leave at dawn the following morning as you'll want to get to Dales Campground at Karijini National Park to claim a space (it works on a first come, first served basis) and so you can also erect your tent while there's still light.
These first two days are dominated by a LOT of driving. And, if you speak to locals they'll tell you that the Great Northern Highway is a long, tedious drive. But if it's your first time, like it was for us, it's a fascinating journey. Particularly if you're more used to driving on the clogged up roads of the UK.
Just take it nice and steadily, watch out for careless kangaroos, and enjoy the solitude.
Rush hour on the Great Northern Highway
Karijini National Park is an area that's not even well-known to Australians, never mind the rest of the world. But we were blown away by the sheer beauty of the place. Think swathes of green bush and eucalyptus trees set against a backdrop of shockingly red soil and impossibly deep red gorges, featuring crystal clear streams and dramatic waterfalls. Add in blue skies and winter temperatures of 27 degrees C and you have the perfect remedy to any travel soreness garnered from the previous 36 hours.
There are two main areas to set up camp. Dales Gorge Campground is the first one you'll reach. It's government owned, which means it's as basic as it gets. But for a full-on introduction to outback camping, it's ideal. In fact our first night there was punctuated by a close encounter with a pack of dingoes on the prowl for a late-night kangaroo supper.
The second is the privately-owned Savannah Campground, which forms part of the award-winning Karijini Eco Retreat. It's more expensive to stay here but you do have the added advantage of using the retreat's additional facilities, such as it's alfresco restaurant.
We'd recommend spending at least a couple of nights in each campground to take advantage of the different gorges that can be accessed.
Our pitch at the Savannah Campground
From Dales Gorge Campground, it's an easy walk to the magnificent gorge that bears its name. You can walk around and through it in a morning or afternoon, taking in the occasional dip in pools such as Fortescue Falls and Circular Pool.
From Savannah Campground you can access Joffre Gorge by strolling across a surreal landscape of gum and bloodwood trees. To get to the bottom of the gorge requires a bit more technical skill and bravery, but the pay off is a waterfall cascading into a bowl of shale that's so worth the effort.
You can also access at least another couple of gorges by driving along a heavily corrugated red dirt track. At Weano Gorge, you can clamber along a narrow stream-filled section, before practically abseiling down into a cavern below. Better still, at Hancock Gorge, you'll discover your never-before-known spider-walking skills as you negotiate your way along two steep-sided walls with both hands and feet.
There are other gorges to explore further afield, too if you have a 4WD. Which is an excuse for us to return one day. But we can honestly say that Karijini National Park is one of the most sublime places we've ever seen. Its scale, its raw beauty and the sense that you really are experiencing somewhere that's truly wild and unspoilt is simply unforgettable.
Oh, and as an added bonus, as there's minimal light pollution and it's located so far away from the coast, the night sky is truly incredible.
You can read more about our visit to Karijini National Park in our post A Swag, A Dingo And The Australian Outback.
Circular Pool, Dales Gorge
Nicky scaling the wall at Weano Gorge
Fortescue Falls, Dales Gorge
The glorious waterfall at Joffre Gorge
After you've had your fill of clambering through gorges and gazing up at the Milky Way, it's time to head west through Tom Price, then along NH136 and NH1 until you reach Barradale. A left turn signposted for Emu Creek takes you onto another rutted dirt track, this time for 27 km until you reach the historic station, which was originally one of half-a-million acres in size and home to 20,000 sheep.
Today it's a cattle ranch, but what made it a standout for us was its superbly relaxing campsite. Consisting of just a handful of pitches, set beside a 2 km long pool of fresh water, flanked by huge gum trees on each side and home to a large array of birds, it was just idyllic.
And "remote" doesn't even begin to describe it. If you consider that the nearest supermarket is a 500 km round trip you might want to buy that second bottle of wine back in Tom Price rather than find that you run out and try to send your other half back out for another.
So chilled were we here after the excesses of Karijini that, although we'd planned to stay for one night we ended up staying for two. Not doing a great deal other than the occasional kayak along the pool and the odd wander along its banks to watch the bird show. That, and the nightly ritual of drinking wine, cooking on our own BBQ and watching the flames in our own firepit.
Reflections on Emu Creek's fresh water pool
Cape Range National Park and Ningaloo Reef
Suitably refreshed it's now time to head westward towards the coast and Cape Range National Park.
You've got two choices for where to pitch your tent. You can either pre-book online into one of the camping and caravan parks in the area – we stayed at Yardie Homestead Caravan Park – or at one of the dozen-or-so government-run beachside camps.
Make sure you allow a few days to explore what's on offer both on land and at sea. There are a number of gorges and canyons to see but our favourite would be Yardie Creek, which flows down to the sea between sheer cliffs. You can access it via boat, but for the best views, we'd suggest taking the easy nature walk.
The park runs parallel with the 300 km long Ningaloo Reef just off-shore. And sandwiched in between are some lovely white sand beaches, such as those at Turquoise Bay and Osprey Bay. Just perfect for winding down after a hike around the park.
To be honest, though, the main attraction for us was the water-borne extravaganza in and around Ningaloo Reef, one of the world's longest reef systems and home to some of the most diverse marine life on the planet.
We took a couple of unforgettable day trips with Ningaloo Whalesharks to swim alongside the largest species of fish in the sea. And not only did we realise one of our top bucket list items by swimming alongside a whale shark, but we also found ourselves literally a few metres away from a huge humpback whale and her calf.
Suffice to say, these are among the most treasured of all our experiences and, despite the hefty price tag, we'd urge you not to miss the opportunity while you're there.
Hamelin Pool and Shark Bay World Heritage Area
If you're like us, you'll find it difficult to tear yourselves away from the National Park. But fear not, there's still plenty to look forward to on your return south to Perth. Though you'll need to set out early to reach your next campsite at Hamelin Pool – a good 660 km (410 miles) away back along NH1.
Make sure you book into Hamelin Station Stay, which has great camp facilities and a communal shearer's kitchen. In fact, the campsite is a worthwhile destination to visit in its own right.
But on your doorstep, you'll also find the world-renowned Stromatolites of Hamelin Pool. Although not particularly exciting to look at, they're of major scientific importance as they represent the earliest form of bacterial lifeforms to still exist today – but only here and at another location in the Bahamas. In fact, a visiting NASA scientist talked about developing the station stay and the visitor experience of the stromatolites area. I got the feeling my suggestion of a souvenir shop selling stromatolite cuddly toys and a theme park ride called the "stromato-coaster" fell on deaf ears, though.
In addition, the Shark Bay World Heritage Area is just a short drive away. It's another huge area of untouched wilderness. And you can explore it by road on the World Heritage Drive, although much of it can only be accessed with a 4WD.
We spent three nights at Hamelin Station Stay. We could easily have spent a week. But there's one more gem waiting to be explored a further 250 km (155 miles) south that simply shouldn't be missed.
Stromatolites of Hamelin Pool
Kalbarri is our last stop on the road trip. If we had the choice again we'd have booked into Murchison House Station for some back-to-basics bush camping. As it was, we stayed for a couple of nights at Kalbarri Anchorage Caravan Park, which was adequate, if uninspiring.
However, it was perfectly positioned to explore the sublime Kalbarri National Park. After Karijini, we might have expected to find this to be just "more of the same". But the gorges here are wider than those in Karijini, yet no less spectacular.
There's a 9 km loop walk we can thoroughly recommend which circumnavigates the gorge rim, then down to the gorge floor and back along the river bed. And on the coast, there's the Bigurda Trail, which stretches along the cliffs for 8 km between Eagle Gorge and Natural Bridge.
Suffice to say, we'd have loved to have explored a lot more. And you will, too.
All that remains after Kalbarri is the 570 km (354 miles) drive to complete the loop back to Perth.
Of course, if your budget allows, you should hire a 4WD vehicle to explore some of the remoter areas not usually accessible in a 2-wheel drive. But, to be honest, we still managed to get to plenty of places in our 2WD that the car rental insurance didn't strictly cover. In fact, it's near impossible to do this road trip without finding yourself on a rutted, dusty track at some point. After all, it's one of the joys of driving in Western Australia.
And, with hindsight, we would have camped at some of the more historic station stays and bush camps rather than on a couple of the more traditional caravan sites (especially as our third week coincided with Aussie school holidays).
But they're minor gripes. We came to experience the Australian Outback and experience it, we did. We came to swim with the biggest fish in the sea. We did that and more. And we came to see if a road trip is the kind of travelling experience we're suited to. And we most certainly are.
We can guarantee you'll be hooked, too.
As I mentioned, we spent 21 days on this road trip, but there's plenty of scope to extend it if you have the time. After all, there's plenty more to see in Western Australia. However, here's our suggested itinerary:
DAY 1
Drive from PERTH along the Great Northern Highway to MEEKATHARA   Accommodation Commercial Hotel
DAY 2
Drive from MEEKATHARA to KARIJINI NATIONAL PARK Do Pitch your tent for the night  Accommodation Dales Gorge Campground
DAY 3
Do Explore Dales Gorge  Accommodation Dales Gorge Campground
DAY 4
Drive from DALES GORGE CAMPGROUND to KARIJINI ECO RESORT  Do Explore Joffre Gorge  Accommodation Savannah Campground
DAY 5
Do Explore Weano Gorge and Hancock Gorge  Accommodation  Savannah Campground
DAY 6
Drive from KARIJINI NATIONAL PARK to EMU CREEK  Do Pitch your tent for the night  Accommodation Emu Creek Station
DAY 7
Do Kayak along the freshwater pool, relax  Accommodation Emu Creek Station
DAY 8
Drive from EMU CREEK to CAPE RANGE NATIONAL PARK Do Pitch your tent for the night Accommodation Yardie Homestead Caravan park and/or Park bush camp
DAY 9-14
Do Explore the gorges and canyons of Cape Range National Park; relax on the beaches and swim/snorkel in the sea; book a trip to swim with whale sharks and humpback whales; dive the Ningaloo Reef  Accommodation Yardie Homestead Caravan park and/or Park bush camp
DAY 15
Drive from CAPE RANGE NATIONAL PARK to HAMELIN POOL Do Pitch your tent for the night Accommodation Hamelin Station Stay
DAY 16-17
Do Explore the Shark Bay World Heritage Area by following the World Heritage Drive; Visit the stromatolites at Hamelin Pool; Take a self-guided tour around Hamelin Station Accommodation Hamelin Station Stay
DAY 18
Drive from HAMELIN POOL to KALBARRI  Do Explore the town of Kalbarri and its beachfront area  Accommodation Murchison House Station
DAY 19-20
Do Explore the trails of Kalbarri National Park; Walk the coastal Bigurda Trail  Accommodation Murchison House Station
DAY 21
Drive from KALBARRI  to PERTH
Related articles
…or visit our Australia page.
What did you think? Have you been to any of the places on our itinerary? Or perhaps you'd like to explore Western Australia in the near future? Either way, we'd love to hear from you so please add your comments below.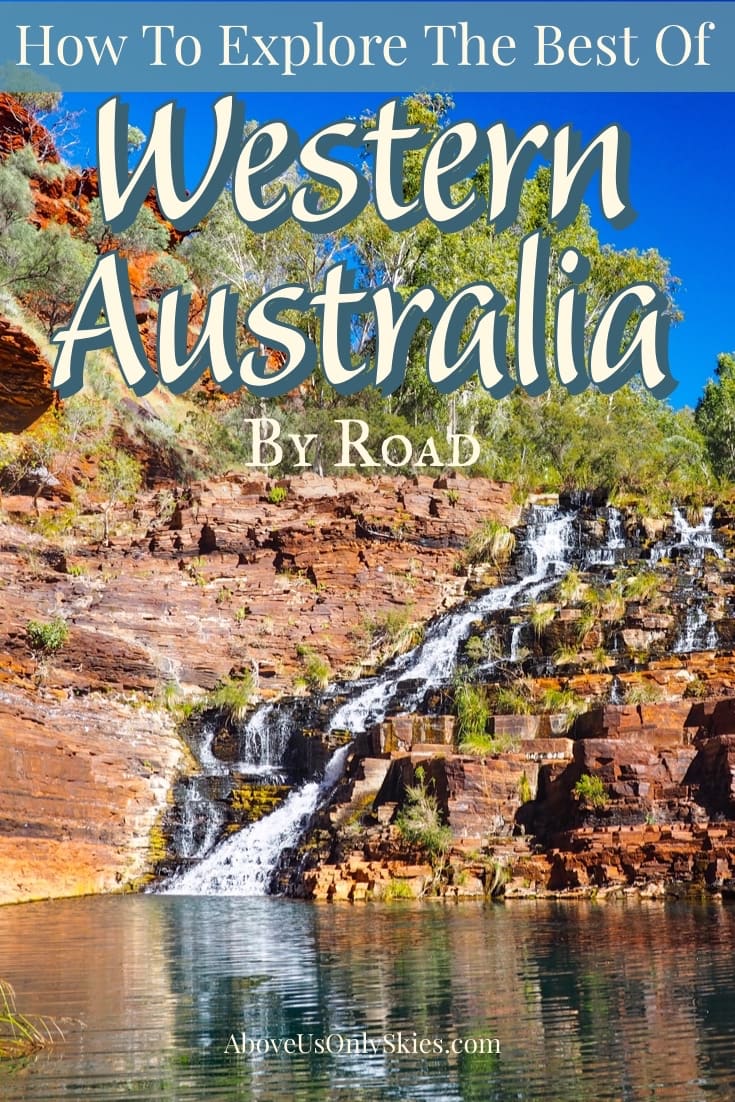 Hi, we're Ian and Nicky, an English couple on a voyage of discovery around the world, and this blog is designed to reflect what we see, think and do. Actually, we'd like to think it also provides information, entertainment and inspiration for other "mature" travellers, too. So please feel free to pour yourself a glass of something suitably chilled and take a look around.
A SWAG, A DINGO AND THE AUSTRALIAN OUTBACK
SWIMMING IN A WHALE SHARK WONDERLAND
THE DAY I SWAM WITH A HUMPBACK WHALE
EXPLORING NEW ZEALAND'S SOUTH ISLAND – THE ESSENTIALS