EXPLORE NEW ZEALAND'S SOUTH ISLAND – THE EAST COAST AND MOUNT COOK
In this special series of posts, we present our ultimate guide to exploring New Zealand's incredible South Island. You'll discover the route we took, along with our recommendations for campsites, things to do, walks and even our favourite wines.
Here in Part Three, we head to the east coast before starting our journey south. Then we venture inland to discover the mighty Mount Cook National Park.
Contents
This page contains affiliate links. To help us maintain our site we work with a number of partners who we've personally used and can recommend to our readers. If you decide to purchase any products through the links on this page, we'll receive a small commission at no extra cost to you.
The road to Marfells Beach
One of the delights of driving in New Zealand is the sheer diversity of the landscapes you pass through. There are more "wow" moments around every corner than any other road trip I can remember. State Highway (SH) 63, between our campsite at Lake Rotoiti and Blenheim, is just one more example. Particularly when you reach the ace wine producing Wairau Valley. The verdant green of the row-upon-row of vines contrasts starkly with the piercing grey of the mountains and the blue, blue sky.
One of the many Wairau Valley vineyards along State Highway 63
Just savour the journey without rushing too much and maybe even stop off for the odd bit of wine tasting. In fact, when you reach Blenheim you can arrange tastings at any of the 20+ local wineries should you wish. Or maybe your passenger(s) could!
After Blenheim, it's off to another of our recommended campsites, Marfells Beach, managed by the Department of Conservation (DOC). From Blenheim take SH1 towards Christchurch and turn right to Marfells Beach on a road that runs alongside Lake Grassmere.
To be fair the site itself is not that special. And the beach isn't exactly a beauty either. But it's quiet, cheap (NZ$6 each) and you get to sleep to the sound of crashing waves just a few metres away. And, if you're lucky you get to see a cracking sunset to boot.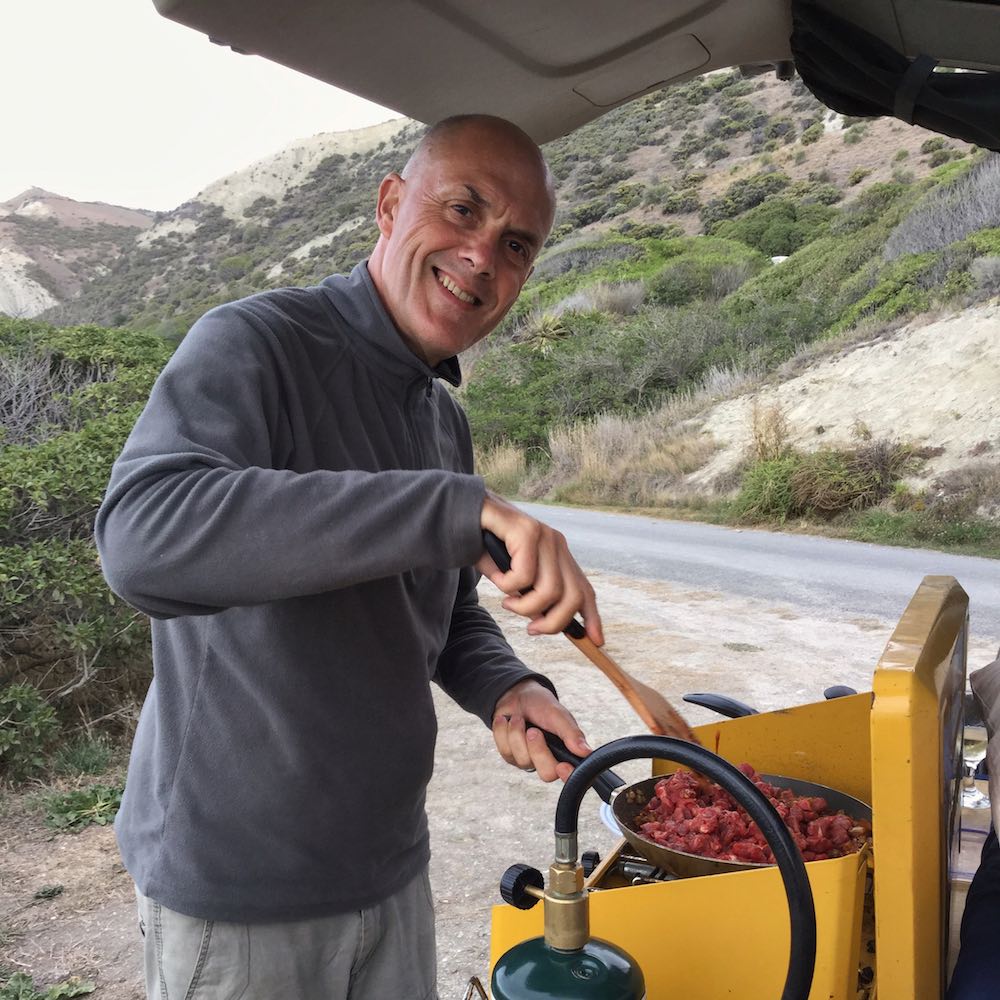 Next day, head back to SH1 and turn left towards your next destination, Kaikoura. For us, it turned out those mammary clouds were right as the weather was awful – continuous rain and low mist, which meant that the attractions of the coast road were barely visible.
Kaikoura is famous for its wildlife, particularly the off-shore whale and dolphin watching tours, and the on-shore seal colonies. There were plenty of the latter basking on the rocks as we approached the town but we discounted the boat trips based on the cost.
We did complete the Kaikoura Peninsula Walkway, however, which takes you on a track along the cliffs and returns along the rocky beach. And, of course, once again there were seals to keep us company.
Continuing south, SH1 takes you right into Christchurch, where you could stay for a while if you wish. We decided to skip the city and go straight to the Banks Peninsula on SH75. The area was actually formed by the explosion of two large volcanoes and the two large harbours of Lyttleton and Akaroa are essentially water-filled craters.
The best way to approach it is by taking the scenic drive (aka Summit Road), which loops around the peninsula and provides detours down to a variety of bays and beaches, such as Pigeon Bay. As you would expect the scenery is splendid enough, but I think we might have been spoiled by the sublime scenery we were treated to around the Marlborough Sounds.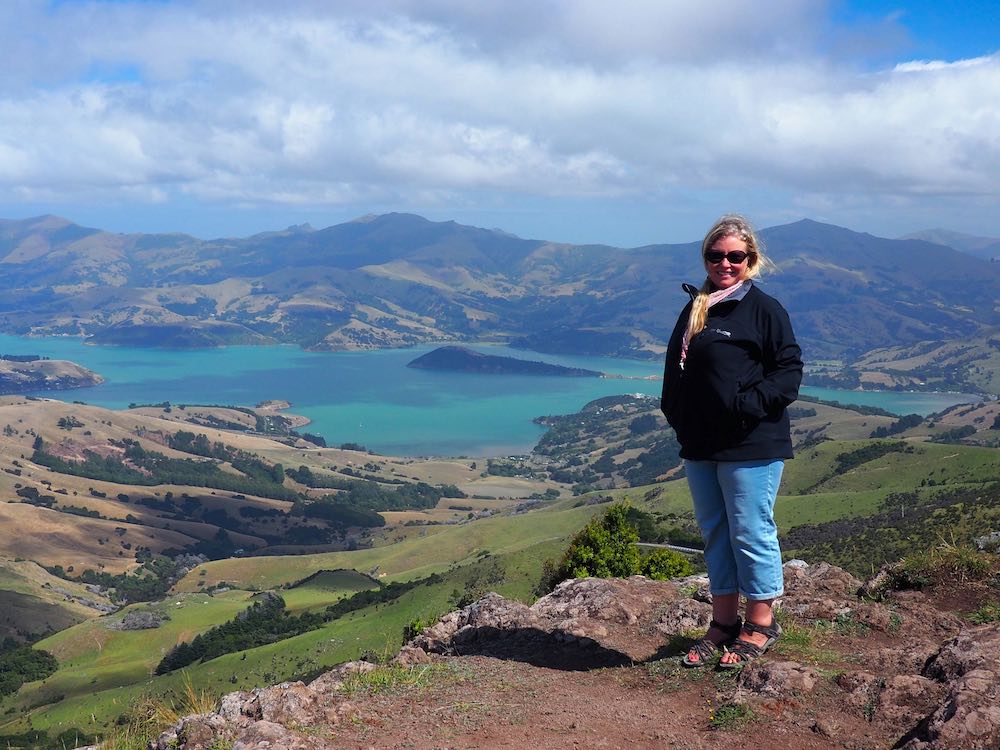 Overlooking Akaroa from Summit Road
Continuing along Summit Road you'll eventually lead to the port of Akaroa, which is a quirky place on account of its…well… Frenchness. That's right, a French enclave in a country with such a British influence that fish 'n' chips is almost the national dish.
Apparently, in 1839, one Jean Langlois, having discovered the Maori settlement here, sailed back to France for the financial backing and royal seal of approval to buy the land from the local Maoris. Fully approved and laden with the requisite cash he then returned with 60 or so would-be colonists only to find that those pesky British had declared the South Island a British colony three months earlier. Kind-hearted towards their French neighbours as always, the British allowed them to stay and set up Akaroa as a French enclave. Bon accord indeed.
So, what you see while strolling through the picturesque town are street names such as rue Jolie, hotels such as l'Hotel, a bakers shop called la boulangerie etc. Unfortunately, we couldn't find le beer garden but we did come across a statue of a French painter, Charle Meryon, complete with beret and easel.
And for anglophiles, fear not – we can confirm there's a decent fish and chip shop.
Also worth a look, a couple of kilometres south of Akaroa, is Onuku Church (Anglican). It's all that remains of a previously thriving Maori community and sits neatly alongside the harbour bay.
Let me tell you straight away, you might not have heard of Mount Sunday but you simply shouldn't miss it! If at all possible choose a sunny day, like we did. In fact, the weather was gorgeous and it remains one of the highlights of our trip.
After leaving Banks Peninsula head back towards Christchurch and then turn inland along SH73 (signposted Arthurs Pass), before turning left on SH77 and left again on SH72 to Mount Somers, Once there take a right (signposted Mount Hutt) for a glorious 47km to the Mount Sunday car park. Be aware that the final 25km of it is on an occasionally pot-holed gravel road. For full details read our blog post, Exploring Mount Sunday – home of the Rohan.
The unmissable Mount Sunday and surrounding area
Having retraced your steps back to SH72, continue south through Geraldine on SH79 and then join SH8 at Fairlie. From there you'll eventually arrive at tourist-magnet, but still gorgeous Lake Tekapo.
Our preference was to avoid the tour buses and get nearer to the western side of the lake (more of that in a minute) but in the town itself if there's one thing worth seeing it's the Church of the Good Shepherd. If you've arrived after seeing Mount Sunday it might still be overrun with tour bus visitors – mostly Chinese. If so, you'd be better off waiting until first thing the following morning. It's a beautiful small church with a window that looks out over the lake – just stunning. Feel free to give a donation by way of visiting it but respect the sign asking you not to take photos inside (unlike many on the tour bus we saw who just clicked away at the church entrance anyway).
Church of the Good Shepherd
Continue through town and take a right turn signposted for Mount John. Once you get to Lake McGregor you'll arrive at our campsite for the night (NZ$5 each). It's just a little more than a stone's throw from Lake Tekapo. While the campsite pitches look much like a car park (and it gets full), it does have the advantage of sitting beside a beautiful lake which can be circumnavigated on foot in around an hour. Nobody else there seemed to bother with the walk but trust me it's worth it. And it's probably even better around sunrise.
The following morning, take a drive up to Mount John, just off the road back towards SH8. It's a private road and it'll cost you $5 to access but the views from the top of Lake Tekapo and mountains beyond are spectacular. There's an observatory up there too, from where you can book a star-gazing tour, but like a lot of these types of activities in New Zealand, it's pricey so we skipped it.
For something that's free, head back up the road towards Lake McGregor for a couple of kilometres or so and you'll see a small car park for the Peninsula Walkway. 99% of the crowds who visit Lake Tekapo don't even know it's there so what you get is an easy one and a half hour loop walk above and along the lakeside with hardly anybody else in sight. And once again the scenery is spectacular. Take a detour to the pebbly beach, too and keep walking to the right until you come to a nice set of chalky-white cliffs.
Like Mount Sunday, Aoraki/Mount Cook National Park is another absolute must-see. But in our opinion it must be visited on a sunny day or two, so plan ahead. In fact, of all the places we visited in New Zealand, this is probably our absolute favourite. Mountains, glaciers, lakes, icebergs, walks galore – what's not to love?  And it's got a great DOC campsite (White Horse Hill) on the doorstep to everything.
For more information on what we did there see our post, Three New Zealand walks you won't want to miss.
However, when it rains (and it rains a lot) make sure you visit the Sir Edmund Hillary Alpine Centre in Mount Cook Village. Situated within the historic Hermitage Hotel, it's got a nice museum charting the history of the hotel, climbing in the national park and plenty of information on the great man himself. Best of all, the in-house cinema shows a superb documentary about his life and the ascent to the summit of Mount Everest. It's worth the entrance fee alone.
To get there continue on SH8 from Lake Tekapo until you see the awesome sight of Lake Pukaki and Mount Cook National Park to your right. A right hand turn onto SH80 and you follow the road which hugs the shore of the lake until you reach the White Horse Hill campsite.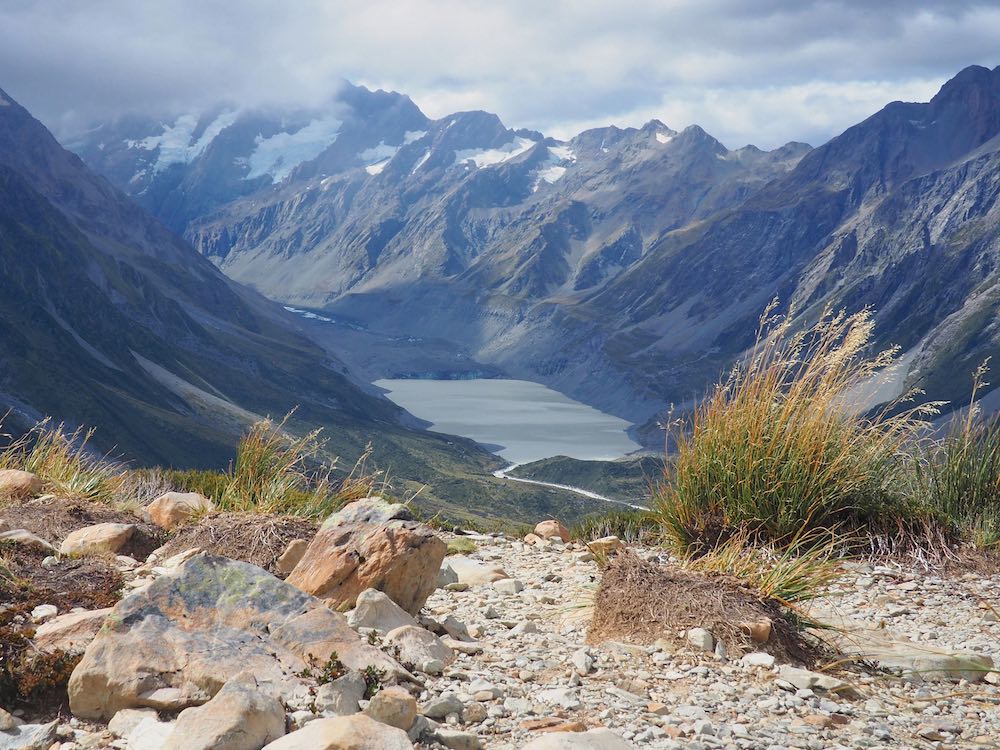 Our final resting place for this leg of the journey was quite possibly the most stunning setting of any campsite we stayed on. Having returned from Mount Cook via SH80 to SH8, the road continues south through Twizel, after which there's a right turn signposted for Lake Ohau Alpine Village. Just follow the spectacular road along the side of the lake as it turns into gravel and passes Lake Ohau Lodge, before arriving at Round Bush Reserve (DOC), which is pretty much at the end of the road.
Let's just say it's got one long-drop toilet and no other facilities – but it's free. And it's got probably the best view you could ever wish to see from the comfort of a camp chair.
New Zealand's DOC campsites – we love 'em!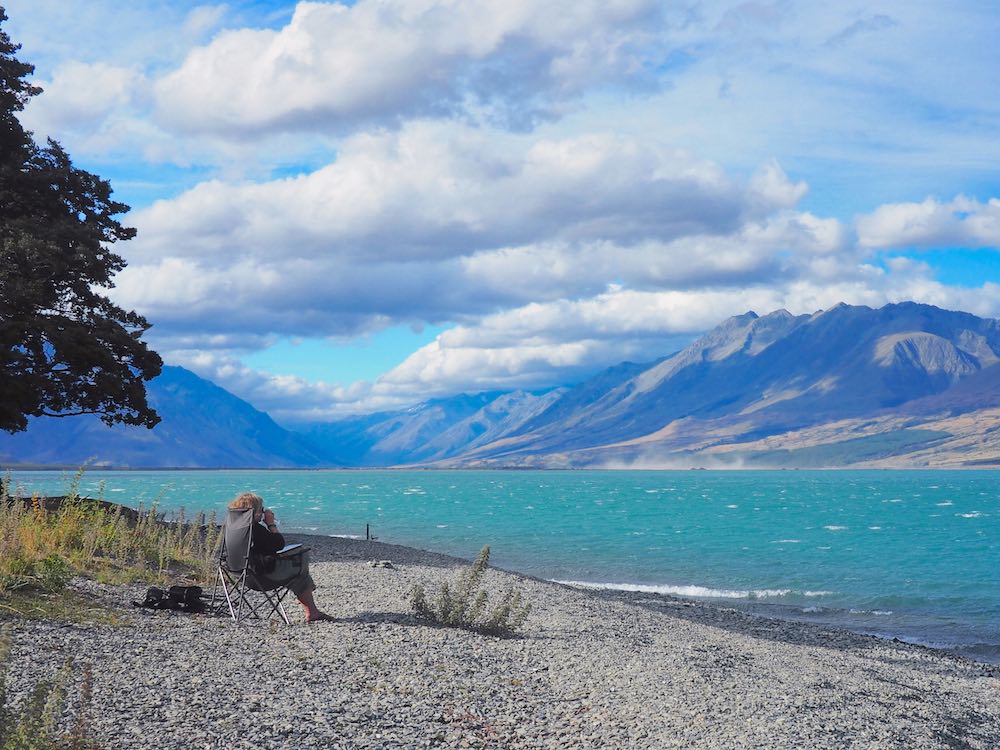 A temporary seat with a view, Lake Ohau
Here's where we stayed on our route from Lake Rotoiti to Lake Ohau…
Marfell's Beach, near Blenheim (1 night) – recommended
Peketa Beach Holiday Park, Kaikoura (1 night)
Little River Campground, Banks Peninsula (2 nights)
Lake McGregor Campsite, near Lake Tekapo (1 night) – recommended
White Horse Hill (DOC), Aoraki/Mount Cook NP (2 nights) – recommended
Round Bush Reserve (DOC), Lake Ohau (1 night) – recommended
What did you think? Have you been to any of the places we've covered? Or do you have any recommendations of your own you'd like to share? Either way, we'd love to hear from you so please add your comments below.
To help us maintain our site we work with a number of partners who we've personally used and can recommend to our readers. If you decide to purchase any products through the following links, we'll receive a small commission at no extra cost to you. Thank you for your support!
Hi, we're Ian and Nicky, an English couple on a voyage of discovery around the world, and this blog is designed to reflect what we see, think and do. Actually, we'd like to think it also provides information, entertainment and inspiration for other "mature" travellers, too. So please feel free to pour yourself a glass of something suitably chilled and take a look around.