EXPLORE NEW ZEALAND'S SOUTH ISLAND – THE ESSENTIALS
A road trip to explore New Zealand in a camper van was one of those iconic journeys we'd been longing to do for some time. We were actually lucky enough to spend February and March doing just that. And we were blown away by the sheer beauty of the place.
Sure, it's millions of miles away (an exaggeration) from pretty much everywhere. But for sheer gobsmacking beauty, and so much to see and do, we reckon it's unbeatable.
In all, we spent 17 days in the North Island and then 42 days in the South. We covered over 5,000 road miles, sleeping in 41 different campsites. And we drank far too many bottles of wine.
As you can see it was in the south that we spent the majority of our time. And for good reason. We reckon we've nailed a pretty unbeatable route for anyone who's thinking of visiting on a relatively modest budget.
So, here we present, in a series of posts, our ultimate guide to exploring New Zealand's incredible South Island. You'll discover the route we took, along with our recommendations for campsites, sights, walks and even our favourite wines.
But first, we'll cover the essential stuff you'll need to know before you go.
And please feel free to ask us any questions, or make any suggestions in our comments box at the bottom.
Contents
This page contains affiliate links. To help us maintain our site we work with a number of partners who we've personally used and can recommend to our readers. If you decide to purchase any products through the links on this page, we'll receive a small commission at no extra cost to you.
Choosing the right camper van
When choosing the right campervan we considered a number of things.
Obviously, having spent the majority of our trip in South-East Asia, New Zealand was always going to be a budget-buster so we wanted to keep our daily rental costs in check. Indeed, some of the larger, self-contained camper vans were ludicrously expensive.  So we decided we had to compromise on space and facilities.
We wanted something that was easy to drive, considering New Zealand's notoriously narrow, winding and sometimes steep roads.
And we wanted something that would allow us to cook our own food in relative comfort.
In the end, we opted for a Spaceships Beta 2S which we felt, overall was a pretty good choice.  We had our gripes, particularly as ours was somewhat battered from previous use. But it got us around some pretty rough roads, we slept ok-ish, and we climbed hills much faster than larger, bulkier campervans.
Our sleeping quarters for two months
One advantage was the ability to extend the bed mattress out of the back and secure it with an awning. This provided more space in the interior and a welcome flow of fresh air through the vehicle at night. The downside was when the weather turned nasty as the awning doesn't seem to cope well with heavy rain and wind. As we found out one particularly wet night near Wellington!
We saw plenty of other similar sized vans on the road, too, including those from Jucy, Wicked and Escape. So do your research before deciding on which one suits you best. But, for an all-round van that's easy to drive, we reckon the Spaceship Beta 2S is a good choice.
Getting to the South Island
Of course, there are options to fly directly to either Christchurch or Queenstown. But if like we did, you're planning to travel around the North Island first, the best and cheapest option is to get the ferry from Wellington to Picton, on the north-east tip of the South. There are two ferry companies to choose from – Interislander and Bluebridge. We went with Bluebridge, only because they were the preferred company used by Spaceships, our van rental company.
An advantage of choosing our particular camper van was that it was classed as a normal car for the purpose of the ferry. So the ticket price was less than it would have been for a full-size camper. At NZ$226 (£105), it wasn't exactly cheap, but the sublime journey through Queen Charlotte Sound into Picton made it worthwhile.
In fact, if you get good weather, the three-hour journey across the Cook Strait is a memorable one. We were fortunate that the weather was glorious, which meant that the final hour or so was spent cruising through a sublime landscape of grassy hillsides teaming into dozens of gorgeously blue bays. Hardly any sign of life either, apart from the odd farm building and the occasional fishing boats.
There seem to be two schools of thought as to which route to take once you've left Picton. Most people apparently head along the Marlborough and Nelson north coast before heading south along the west coast towards the glaciers and fjords of the Southern Alps. We decided to do it the other way round around – cutting back to the east coast and heading to the far south from there before coming back up north along the west coast.
Our reasoning was that we wanted to get to the far south before the autumnal weather kicked in. To be honest the weather was so unpredictable that we needn't have worried. But the route we chose did mean that we covered as much of the South Island as we could without having to double back on ourselves too much. – although it's impossible to avoid doubling back completely if you want to visit places such as Milford Sound, Karamea and Wharariki Beach (and we strongly recommend you do).
If you have the time, we recommend that you follow our route. Just allow enough flexibility to be able to alter it based on the short-term weather forecasts (see below).
Choosing the right campsite
New Zealand is perfectly set up for touring by campervan as there as so many campsite options available. They range from "free-camping" to fully serviced holiday parks costing upwards of NZ$25 per person per night. We soon found that, although the big holiday parks offer such luxuries as hot showers, kitchen facilities, lounges and even swimming pools, for us they were pretty soulless places.
Instead, we opted, wherever possible, for small private campgrounds or the Department of Conservation (DOC) campsites. These were typically located in scenic areas we wanted to discover anyway. In fact, many of the DOC sites (ranging from free to $10 per person) were superbly located and seemed more like "true" campsites. For instance, your water supply was the nearby river or lake.  And your nearest toilet was a "long-drop", best approached with breath held and a steely fixed stare into the distance.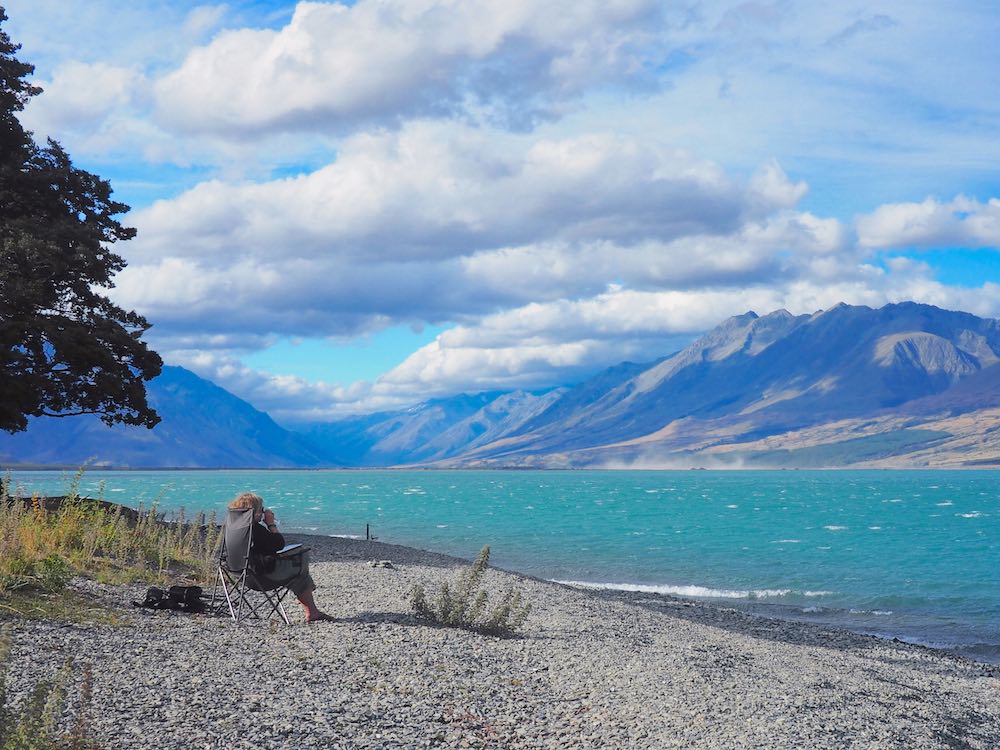 DOC campsite at Lake Ohau
In terms of keeping to a modest budget, it was a choice between spending $12 versus $40-50 per night for the two of us. The only struggle we had was getting decent wi-fi.
Visit our New Zealand page for details of our favourite campgrounds.
To help us plan ahead we used the Campermate app on Nicky's iPad, which not only provided details and customer reviews on campsites all over the island but also where we could buy fuel and groceries. Recommended.
We also used the free DOC campsite booklets, which are available at any DOC Visitor Centre or government iSite.
There are also other apps and online resources such as Wikicamps and Rankers. But you need to temper your expectations as wifi and 3G internet in the South Island is patchy at best. Particularly outside of the major cities.
Researching what you want to do
There's so much to see and do that it can be a little bewildering as to where to start. We met a few travellers who didn't actually know where they were going or what they were going to do from one day to the next, which is fair enough I guess, but we preferred to at least be prepared for what we could do over the following few days.
The Lonely Planet guidebook is a good place to start, from which I worked out an initial route to take.
Once in New Zealand, a visit to an iSite (essentially tourist information centres) is a must. They're located in most of the main tourist towns and are great places to get advice, pick up leaflets, sit for a coffee and cake and use the wifi (where it's available). Their website is also extremely useful.
Similarly, DOC Visitor Centres are well worth a visit for information on local walking or tramping routes. Their website too is an excellent information resource.
And finally, if you like walking do yourself a favour and order a copy of Scott Cook's NZ Frenzy. It contains his personal review of many of the best walks in New Zealand.
DOC campsite at Purakaunui Bay
Getting the best out of the weather
This became something of an obsession for us after a week or so of continuous poor weather. I'd heard that February and March were particularly good months for settled weather in New Zealand but, although we did have some wonderfully sunny days, we also had our fair share of downpours and miserably grey days. Gallingly we kept hearing from locals and other travellers alike that the weather had been glorious just before we'd arrived at a particular location, so we decided to take matters into our own hands and make a point of checking the weather forecasts almost religiously.
While good weather is not everything, there's no doubting that New Zealand's best attractions are enjoyed with blue skies and a warm sun on your back. And there's little point walking in the alpine scenery of the national parks if what you are meant to be seeing is blanketed in cloud.
For instance, we cut short our wet and windy stay in the Banks Peninsula to head for Mount Sunday and Mount Cook based on a two-day forecast of warm, sunny weather, before the clouds and rain were due to return again. As a result, we had two of the best days of our whole New Zealand trip.
Similarly, while we were on the south coast we became aware of a one-day window of sunny weather at Milford Sound, which was one of our must-see places (the other nine days of the forecast were all cloud and rain – as it often is there). So we timed our stay in the south to allow us to drive directly to Milford Sound the night before and enjoyed a gloriously sunny day there as a result.
We found the most accurate, and therefore our weather-forecasts-of-choice were courtesy of New Zealand's Met Service.
Mitre Peak, Milford Sound
Again, your Campermate app will help you locate these supermarkets.
We'd heard that food in New Zealand was expensive but we felt it was on a par with the UK, and in some cases cheaper – particularly fresh meat and fish.
The big supermarkets are Pak'n'Save, Countdown, Fresh Choice and New World, while Four Square are a chain of smaller outlets, and are usually all you'll find in some of the most rural towns.
While Pak'n'Save is definitely the cheapest (and you can pick up some great meat from there) we normally shopped at New World for the biggest choice and because they provide a free tourist loyalty card which you can use to get in-store discounts (particularly useful with wine!).
All the supermarkets also offer discounts on fuel if you spend a certain amount.
Of course, you can always save some money and find your own free food along the coast. For instance, there are plenty of places to forage for seafood – and particularly New Zealand's famous green-lip mussels. You can easily buy them in the major supermarkets too but there's something to be said for the hunter-gatherer excitement of picking them off the rocks yourself and eating them fresh from the pot off the back of a campfire stove.
Oh, those pesky sandflies!!
Small, black and with a bite that will cause you angst for days, even weeks later, you'll regularly come across these little monsters, especially on the west coast. Unlike mosquitoes, they don't carry disease but they can cause the sort of constant itchiness around your ankles and feet to make you want to scratch your skin down to the bone.
Here's how to stop them…
In addition to any sun cream, apply some DEET-based spray to your ankles before you go on any walks
Cover up in the evening and apply DEET-based mosquito spray on any exposed skin
Spray the inside of your camper van with fly spray before you go inside at night
Do these three things and you'll be OK. Believe us, you'll be thankful for it.
Don't try and do too much.
There's often a temptation to rush around to try and fit in as much as possible, particularly if your mindset is that you want to get as much value out of your campervan rental as you can – which is understandable. And while the distances might not seem that far on a road map, New Zealand's twisty, narrow roads can fool you.
So, try to break your trip into segments – say one week in Marlborough/Nelson, and another week along the west coast and Mount Cook. You can then decide what you want to do within those areas depending on the weather and how you're feeling. Better that than stressing yourself out trying to work out the logistics of seeing and doing absolutely everything.
And don't forget, the drives themselves are worth taking your time over…
Ok, so you've now got the essentials. Time to fill up with fuel and hit the road…
What did you think? Have you had the opportunity to explore New Zealand? Do you have any recommendations of your own you'd like to share? Either way, we'd love to hear from you so please add your comments below.
To help us maintain our site we work with a number of partners who we've personally used and can recommend to our readers. If you decide to purchase any products through the following links, we'll receive a small commission at no extra cost to you. Thank you for your support!
Hi, we're Ian and Nicky, an English couple on a voyage of discovery around the world, and this blog is designed to reflect what we see, think and do. Actually, we'd like to think it also provides information, entertainment and inspiration for other "mature" travellers, too. So please feel free to pour yourself a glass of something suitably chilled and take a look around.