WHAT TO EXPECT FROM THE FREE MEDELLIN WALKING TOUR
WHAT TO EXPECT FROM THE FREE MEDELLIN WALKING TOUR
Walking tours are a common feature in many cities throughout the world. Typically they'll take in historical sites, cultural hotspots, local food and an orientation of the city that's impossible to appreciate on a map.
And Medellín  – Colombia's second city – is no different.
Yet a walking tour here is more concerned with how the city has transformed itself from being recognised as the murder capital of the world just a quarter-of-a-century ago to one of the most innovative and dynamic cities in Latin America. It's a story of stoic resistance to past atrocities. Of enlightened development by local planners. And of balancing a need to forget with forging a brighter future for all of the city's inhabitants.
We took the free Medellin walking tour with Real City Tours, a local company who utilise local people as guide-cum-storytellers in a four-hour stroll through the city's downtown. Indeed, in a city where true "sights" are at a premium, they act as a mere sideshow to the incredible transformation story.
And in Julio, we were lucky enough to have a guide with the ability to explain sometimes complicated subject matter through enthralling storytelling. Aided in no small degree by his English teaching background and sheer enthusiasm.
Note though that, although it's marketed as a "free" walking tour, a tip is expected. Which, to be honest means that the unpaid guides are incentivised to provide the best possible experience. Indeed, any tip is given in secret along with a feedback form at the end of the tour.
Disclaimer: This is not a sponsored post and, although we feature Real City Tours, any opinions given about them are our own and we have received no financial incentive or compensation as a result.
Contents
This page contains affiliate links. To help us maintain our site we work with a number of partners who we've personally used and can recommend to our readers. If you decide to purchase any products through the links on this page, we'll receive a small commission at no extra cost to you.
Having arrived in the city centre via the Metro, Julio sits us down just before we reach Plaza de Alpujarra to set the scene for how he's going to deal with the thorny matter of He Who Must Not Be Named. Of course, he's referring to Pablo Escobar, self-styled King of Cocaine and the person who almost single-handedly turned Medellín during the 1980's into the world centre for drug smuggling and ultra-violence.
Julio explains that nowadays, locals' opinions on him are split into three groups. By far the largest group are the over thirty-fives who, through personal experience, hate him and what he stood for with a passion. Then there's a minority of younger people who see him as something of a hero figure, fuelled by YouTube videos of his extravagant lifestyle and glorification of violence. And thirdly, there's a growing population of ex-pats and tourists, some of whom sit on the fence and try to balance his criminal behaviour with his role as a "benefactor" for the poorest section of the population.
Julio shrugs and mimics a set of scales as he compares thousands of deaths with a few hundred donated houses.
It's against this background that the name "Escobar" is never mentioned during the tour in case it's overheard without any context by non-English-speaking locals.
Our first stop, after passing the old railway station, is Plaza de Alpujarra. It's the site of a complex of government buildings, featuring the sculpture El Monumento a la Raza ("Monument To The Race"), which tells the story of the people of Antioquia.
To be honest, the beauty of the sculpture stands in sharp contrast to the ugly 1970s concrete buildings surrounding it.
Julio sits us down again to give us some Colombian political background in his typically entertaining way. Creating a timeline on the ground using his hat and backpack as markers and his outstretched arms as an indicator of left and right-wing standpoints, he describes how the country had essentially been "run" by four separate groups for years.
Pointing to his left-hand fingertips he describes the Communist-backed Revolutionary Armed Forces of Colombia (FARC) and then on his right-hand the opposing paramilitary groups. Then he drops both arms and describes how Escobar and his associates would be standing in the middle and supporting them financially in return for protection of their coca plantations. Meanwhile, the Government would be trying to fight an impossible war on three fronts.
Julio also points out that, even now, with FARC having reached a peace agreement and the paramilitaries no longer having an adversary with which to fight, there remains an ongoing threat from splinter groups. And the fact that the paramilitaries are now running the coca plantations left behind by the original drug lords means that the situation is still far from settled.
Which, Julio says, goes a long way to explain why it means so much to the residents of Medellín that foreigners are now choosing to spend their tourist dollars in their city.
The 38 metre-high Monumento a la Raza sculpture
Plaza de las Luces (Plaza of Lights)
Our first true taste of how Medellin has re-invented itself is brought into sharp focus as we enter Plaza de las Luces. Once the main marketplace in the city, the area descended into one of the most destitute and dangerous parts of Medellín. But in 2005, under a wider programme of "democratic architecture", a forest of 300 light masts was erected as a symbolic landmark. Standing over 22 metres tall and named the Bosque de Luz ("Forest of Light"), they are best appreciated at night when they light up the whole area.
Julio explains that installations like this throughout the city are re-shaping how locals feel about their surroundings and help them to engage with making their city a better and safer place to live.
And then, just off the plaza, the beauty of the twin 19th-Century Carré and Vasquez Buildings belie their own sordid history. In keeping with the surrounding area, they were once occupied by criminal elements. Nowadays, having been fully restored, they're home to the Medellín Secretary of Education and a housing agency.
Vasquez Building, Medellín
And so, after a brief stop to enjoy the best empanadas I've ever tasted, it's on towards perhaps the highlight of the tour.
The famous Colombian artist and Medellín's preferred famous son, Fernando Botero, gave his name to the plaza after donating 23 of his bronze sculptures in 2000, which are now dotted around like an open-air art gallery. Unique in their style, they depict exaggerated dimensions of various people and figures. But, along with many more of his donated works of art in the adjacent Museum of Antioquia, they're another example of how the people of Medellín – from all walks of life – have contributed to the city's rejuvenation.
Hombre Cabinante (Man Walker)
Hombre a Caballo (Man on a Horse)
The plaza is a great place to wander around, and understandably is a magnet for tourists and locals alike. In addition to the museum, it also plays host to the stunning Rafael Uribe Uribe Palace of Culture. Probably the most photographed building in the city, its construction had a tortuous history, to the point where the rear of the building looks completely different to its spectacular frontage and dome.
Rafael Uribe Uribe Palace of Culture
Next up is Berrío Park, another previously infamous part of the city, and a popular meeting place for locals. Indeed, we notice there are a lot of people just sitting or standing around doing nothing in particular.
Julio asks us to form a close-knit circle around him as he explains that the locals are naturally inquisitive and will most probably stand amongst us asking questions. And sure enough, one or two of them do! All good-natured and friendly and it reinforces Julio's promise that the locals are genuinely interested in seeing visitors in their city.
And finally, after stopping to see the Metropolitan Cathedral in Bolivar Park, we arrive at San Antonio Park, scene of perhaps one of Medellín's most symbolic atrocities.
As we gather around two large Botero Bird of Peace sculptures it's immediately obvious that one of them is badly damaged. Julio explains that a terrorist bomb exploded under the original sculpture and killed 23 people during a concert here in 1995. The local government initially ordered its removal but Botero himself demanded that it should stand as a permanent reminder of the atrocity. And he then donated a replica sculpture to stand alongside it.
In a way, this single act and its aftermath encapsulate how the people of Medellín have had to deal with the violence of the past. How they must acknowledge what happened as part of their history. But, rather than tear everything down and start again, how they can improve their lives and their surroundings through transformation.
Bird of Peace sculptures, San Antonio Park
And that transformation can be seen, too, in the urban street art that surrounds the park and further afield. Indeed, these are not just random pieces of vandalism but carefully constructed storyboards that symbolise the hope, positive change and sense of community that has been growing over the past decade or so.
And as pure works of art, they're worth seeing on their own merit.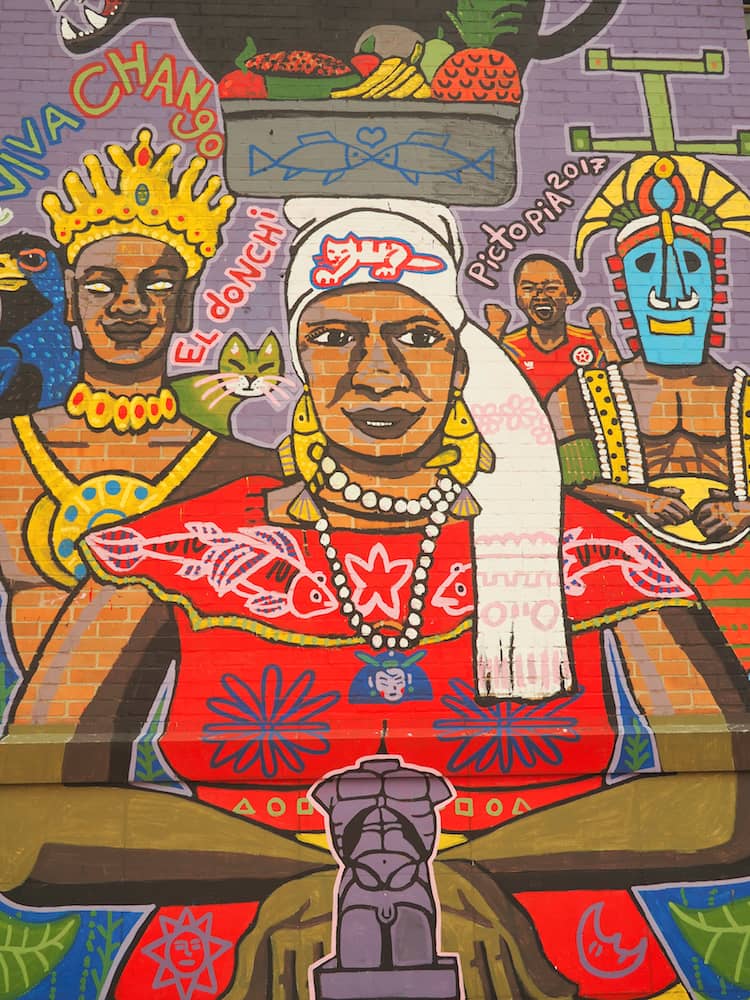 The Medellin Walking Tour – Overall impressions
Although the tour last four hours, there's not as much actual walking as you might think. Which is probably a good thing as downtown Medellin can get pretty hot and sticky.
As an introduction to Medellín, it's a no-brainer. Especially if you've arrived wondering how safe you'll be given the city's notorious past.
But, for me, it was Julio's storytelling and his ability to explain the psyche of Medellín's residents in simple but compelling terms that elevated this tour above the usual tick-off-the-sights expedition.
And it's why he really did earn his tip!
You can book the Medellín Walking Tour on Real City Tour's website. Each tour is made available for booking a day and a half in advance – and they do fill up quickly so keep an eye on your preferred date and time.
The Carré Building, Medellin
What did you think? Have you been on a Medellin walking tour?  Or perhaps you're thinking of booking one on an upcoming visit? Either way, we'd love to hear from you so please add your comments below.
To help us maintain our site we work with a number of partners who we've personally used and can recommend to our readers. If you decide to purchase any products through the following links, we'll receive a small commission at no extra cost to you. Thank you for your support!
Hi, we're Ian and Nicky, an English couple on a voyage of discovery around the world, and this blog is designed to reflect what we see, think and do. Actually, we'd like to think it also provides information, entertainment and inspiration for other "mature" travellers, too. So please feel free to pour yourself a glass of something suitably chilled and take a look around.