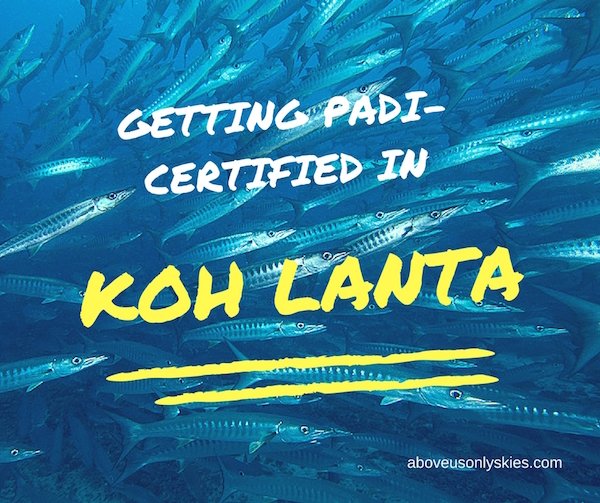 According to my PADI open water diver manual, if you forget to breathe while you're underwater your lungs will expand until they burst like an over-inflated balloon. Or words to that effect. Naturally, the first entry I made in my little black book of diving tips read "Don't forget to breathe". I hoped that the remainder of the course was going to be as easy as that. It's fair to say it wasn't.
I'd booked my course with Dive and Relax, based at the Lanta Castaway Resort on Koh Lanta, which sits at the far south of the mightily impressive Long Beach. My instructor for the four days was to be "Nin", and I was to be her sole student. Lucky her.
However, before I could jump into my wetsuit and think about coming face to face with anything the ocean could throw at me, I had a day of homework to do in the form of a course manual and accompanying set of five 45-minute videos. So far, so very student-like. But to be fair, it was easy to follow and it did prepare me for Day Two and my first day with Nin in the swimming pool of a nearby resort.
So, I went through a set of skills I'd read about in the manual, including setting up and putting on my scuba gear and a range of other exercises above and below the surface of the water. More course work followed that evening before Day Three arrived, which was when things really started to hot up.
We took a speedboat for a 30-minute ride to nearby Koh Bida, two limestone karst rocks surrounded by reef just south of Phi Phi Ley. I've got, to be honest, as I stood on the edge of the boat with my gear on, ready to jump (or "giant stride") into the water for the first time, I could feel bolts of adrenaline rushing through my bloodstream. Thankfully I managed to reassure myself with what I'd learned over the last couple of days. "You'll be fine – just don't forget to breathe."
Nin, of course, was brilliant. She somehow seemed to have complete confidence in my ability to come through unscathed. So that was at least one of us, then.
One of the accepted "rules" of diving is that you never dive alone and that you should always have a diving "buddy" who looks out for you and vice-versa. So Nin and I became de-facto buddies in the water.
Once in the water, we went through our final safety checks before descending ever-so-slowly into the abyss. Oh alright, I'll come clean – about five metres below. This, it turned out was actually the really difficult part. As you descend, the air pressure around you increases, while the air in your eardrums and sinuses compresses, which means that you have to regularly "equalise" the pressure by pinching your nose and gently blowing through it. If you don't, you start to experience acute pain in your ears which can lead to substantial problems. I had difficulty equalising at the beginning of my third dive which meant that I had to keep ascending slightly and then descending and equalising again. Not a pleasant experience I can tell you but thankfully I mastered it.
The other challenge was to establish "neutral buoyancy" which enables you to swim through the water without either floating back to the surface or sinking to the bottom. I actually found this considerably easier than equalising so, without too much fuss we were off to (paraphrasing The Godfather slightly) swim with the fishes.
Nin was on hand close by to help me re-adjust and put me through some more skills exercises as we went, but there was plenty of time to just enjoy the ride. I'd enjoyed some great snorkelling before in places such as The Maldives and the Great Barrier Reef, but actually swimming above, below and through shoals of fish is a completely different experience altogether. The highlight for me on that first dive was watching at close quarter a shoal of barracuda (maybe 150-200) stalking their lunch. As we watched they suddenly made a move and what seemed like hundreds of fish dashed around in panic.
A much more gentle, yet still unforgettable sight, was watching a large hawksbill turtle gracefully glide around and feed on the reef.
We also saw lionfish, cornetfish, trumpet fish, moray eels, clownfish, red snapper, squid etc but there wasn't anything out there which was hand-over-mouth scary.
That is, apart from the jellyfish.
When we surfaced Nin told me that one of the guides from the other boat had seen jellyfish in the water and that it was time to get out. Which was about the same time that one of the buggers wrapped it's tentacles around my arm and stung me. Back on the boat, "emergency" first aid was to be applied. My mind turned back to the advice that Nicky had given me that jellyfish stings are best remedied by applying urine to the affected area. Looking around the boat I wasn't sure who was going to volunteer to be the provider. Thankfully Nin passed me a bottle of vinegar which apparently does the job just as effectively. Which it did. (Note to self – tell Nicky to keep her old wives tales to herself from now on).
We completed the second dive after lunch, and then the following day a further two dives down to 18 metres, this time at Koh Haa, within the Lanta National Marine Park. Back on dry land, I was then asked to complete a final written exam on what I'd learned over the past four days. My natural modesty would normally prevent me from revealing my exam score but let's just say I "nailed it" and we'll move on….
And so, after four days of study, practical skills tests, continuous squeezing/blowing through my nose, and gliding almost effortlessly through the gorgeous underwater landscape of Koh Haa and Koh Bida, I received my PADI open water certification. Nin seemed almost as happy as I was about it too. I think I was definitely lucky to have one-on-one instruction but even luckier to have Nin as my instructor. Such a calming influence above and below the water. She'll be off to Koh Phangan when the season finishes on Lanta in May. So maybe we'll meet up again as we're likely to be heading there too.
The course cost me just short of 14,000 baht (£280). For that, I received the course work and three days personal tuition, four open water dives in beautiful locations, lunch and other refreshments. And, of course, my PADI open water qualification for a depth up to 18 metres, which opens up a whole new world of discovery for me. Can't argue with that really. In fact, if you're interested in learning to dive yourself you might want to consider Koh Lanta, and Dive & Relax in particular. Really friendly, helpful and professional outfit.
Scuba diving isn't for everyone. There are clearly risks attached – and I don't mean from the marine life. Breathing compressed air at up to 18 metres below the surface is not exactly the sort of thing you'd do if you want to minimise any risks to your health. But, if you accept that there are risks and that they can be managed by remembering and applying your training, then there's no doubt it's a rewarding, exciting and addictive pastime. Probably fair to say it's expensive too.
Now that I've qualified I'm looking forward to my next dive – not sure where yet but sometime soon. And of course, Nicky, who's already a qualified diver, will be buddying up with me too. No doubt there'll be a bottle of urine in our dry bag. Just in case.
Note: I booked independently and paid fully for the course with Dive and Relax. All the opinions expressed in this post are my own.
Barracuda photo courtesy of Barry Peters
Other photos courtesy of Dive and Relax
What did you think? Have you completed a PADI open-water course? Or perhaps you're planning on doing so soon? Either way, we'd love to hear from you so please add your comments below. Thanks!
Visit our Thailand page for further posts on the country and information on where we stayed.