THE GIANT TREES OF SEQUOIA NATIONAL PARK
THE GIANT TREES OF SEQUOIA NATIONAL PARK
They're a competitive lot, trees.
In their relentless quest to have one of their own crowned Largest Tree In The World, both the Redwoods and Giant Sequoias of California have made their individual claims.
First out of the blocks were the green-fingered friends of Hyperion, a 380-foot (116 metres) tall Redwood colossus. So tall, it's said that you can't even see to the top. And its location is a closely guarded secret, too. No other tree comes close in terms standing branch and leaf above everything else in the forest. Absolutely the grandaddy of them all.
But, wait a minute, cried the substantially stockier Giant Sequoias. Tallest doesn't necessarily mean largest. Yes, you can stand head and shoulders above the rest of us and look down on everyone in your ever-so-superior manner. But anyone will tell you that what REALLY matters is girth. And when it comes to girth, our own General Sherman is the true king.
And they're right. The General might only be a trifling 275 feet (83.4 metres) tall in comparison, but with a diameter of 25 feet (7.7 metres) and an overall volume of over 52,000 cubic feet (1,487 cubic metres) it's nearly THREE TIMES as big as Hyperion.
Case closed, as the Sequoias have so smugly concluded.
To be honest, it's difficult to appreciate the sheer size of these giants until you've stood right next to one of them. But when you do, it's quite the humbling experience. Particularly when you realise that some of them are over 3,000 years old.
Yeh, I hear what you say. They're just trees after all. No need to get all teary-eyed and emotional.
But, I'll be honest, we were in awe of them. So much so, that we made a point of getting up just after dawn so that we could have them all to ourselves.
And the best place to see them? Well, that would be California's beautiful Sequoia National Park.
A Giant Sequoia – not your average-sized tree
Contents
This page contains affiliate links. To help us maintain our site we work with a number of partners who we've personally used and can recommend to our readers. If you decide to purchase any products through the links on this page, we'll receive a small commission at no extra cost to you.
Getting there & where to stay
We visited the park as part of a three-week road trip loop beginning and ending in San Francisco.
There are two entry points. From the south, you can take Highway 198 from Visalia. Or from the north, Highway 180 will bring you through Grant Grove and the outskirts of Kings Canyon National Park. Either way, the scenery en route is nothing less than sublime.
We entered the park on Highway 198 and stayed overnight at the lower altitude Potwisha Campground. That's because it served as a prime location to head up the road first thing the following morning and claim our spot at the excellent (and first-come-first-serve basis only) Lodgepole Campground. Complete with its superb setting close to the park's main attractions, hot showers and extremely welcome in-house market, it's a no-brainer as a base.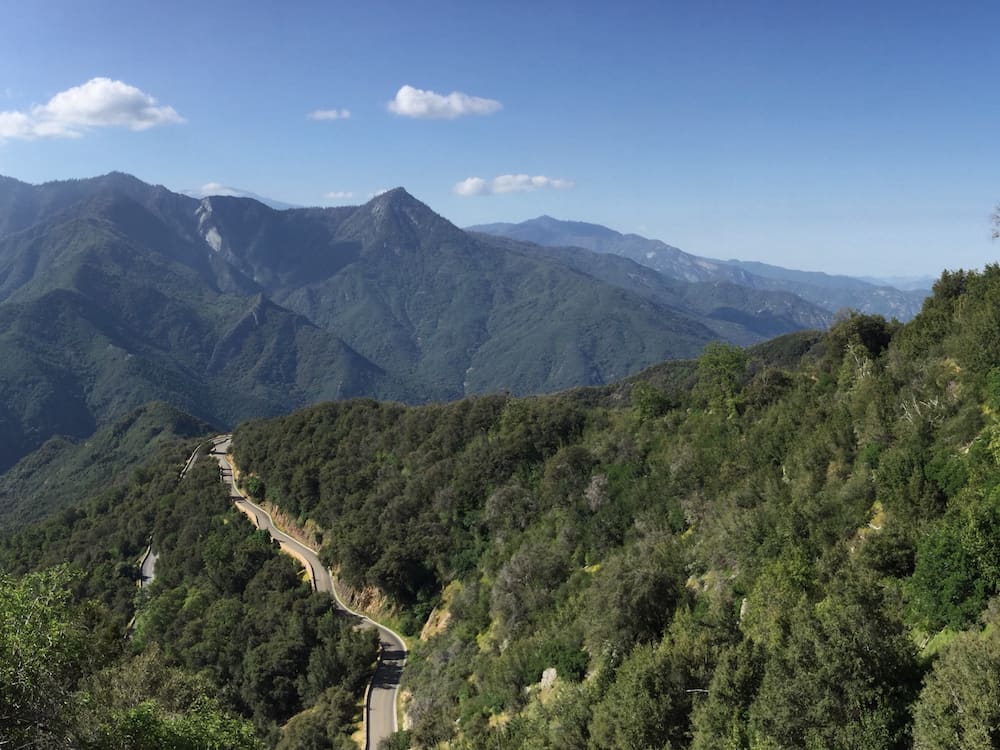 The road from Potwisha to Lodgepole Campground
The only place left in the world where these magnificent giants grow is on the western slopes of the Sierra Nevada mountain range, which separates California and Western Nevada.
And there's a good reason why this particular area is so beneficial to them.
Firstly, sequoias need an awful lot of water. And the melting snowpack from the High Sierras provides water in abundance.
But, more importantly, they're naturally protected against fire and insect damage by their incredibly thick bark, which can reach three feet in diameter at their base. So when one of California's notorious wildfires takes hold and destroys almost everything in its path, the sequoias stand firm. And their seedlings are able to bask in the nutrient-rich soil and competition-free surroundings.
Suffice to say, their rapid speed of growth and massive size helps them to withstand everything that nature throws at them so that they can live up to 3,000 years and more.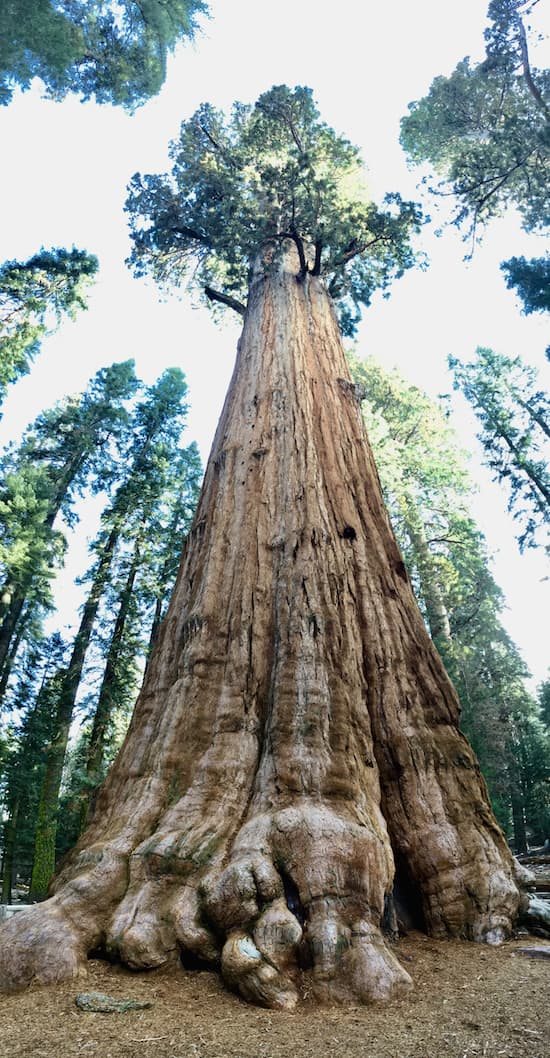 Giant Forest & General Sherman
With more than 8,000 sequoias within its boundary, Giant Forest is a veritable living museum of ancient super-sized trees. It's also the main tourist draw of the National Park.
And you don't have to be a tree fanatic to appreciate a morning stroll along its footpaths while marvelling at the enormous scale of everything surrounding you.
However, if you want to spend some reflective time with the largest living organism on the planet then we'd recommend you set your alarm clock early and drive to the General Sherman Trail car park before everybody else does.
From there, it's just a short walk down through Giant Forest to where the General awaits. Leave it until mid-morning, though, and you may find yourself fighting your way through a sea of selfie sticks in a bid to get at least one decent photograph of yourself and the old boy.
General Sherman's circumference at its base is more than 102 feet (31 metres)!
Of course, General Sherman is on everybody's must-visit list just because of its status as Largest Tree In The World. But once you've been sufficiently awe-struck, there are plenty of other would-be contenders to admire close by, such as The President, which comes in at Number Three.
And The Twins – two giant sequoias that have grown side-by-side for centuries – are well worth stopping by for, too.
Apart from the walk back up to the General Sherman Trail car park the trails through the forest are easy. The imaginatively-named Big Trees Trail is the most popular but it can still be done in relative peace and quiet if you take advantage of the early start.
From the Big Trees Trail, it's possible to walk to two of the other attractions in the park, Crescent Meadow and Moro Rock. However, the drive there is just as enjoyable.
Along the way, you'll see a number of trees that have long-since toppled over, their roots exposed like an enormous mesh of gnarled fingers.
And you'll have the pleasure of driving through Tunnel Log, a sequoia that fell down across the road in 1937 and was subsequently tunnelled out rather than being chopped up.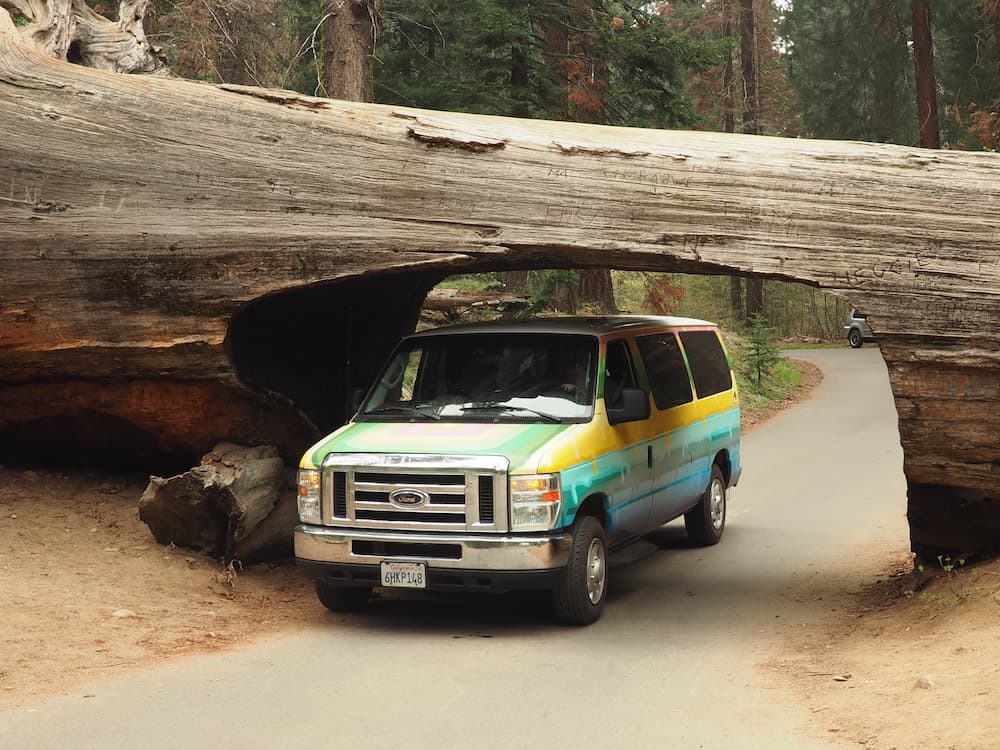 Passing through Tunnel Log
One of many fallen sequoias within Giants Forest
Once you arrive at Crescent Meadow you're presented with a number of easy intersecting trails to follow through the forest. Indeed the loop trail skirts around it to give you a variety of viewpoints to enjoy.
The meadow itself is out of bounds, although a fallen sequoia stretches out onto the grass to provide a unique vantage point. In fact, we met a guy in his late 70s who was sat on the tree's trunk gazing out across the meadow. He explained that he'd sat in this very same spot when he was a six-year-old boy and this was the first time he'd been back. We're pleased to report that, as far as he was concerned, nothing had changed.
There are plenty of trails that branch off from the main loop trail, including one that leads to Tharp's Log, a cabin modified from the hollow trunk of a fallen sequoia by one Hale Tharp in the 19th Century. It even has its own staircase, stone fireplace and chimney.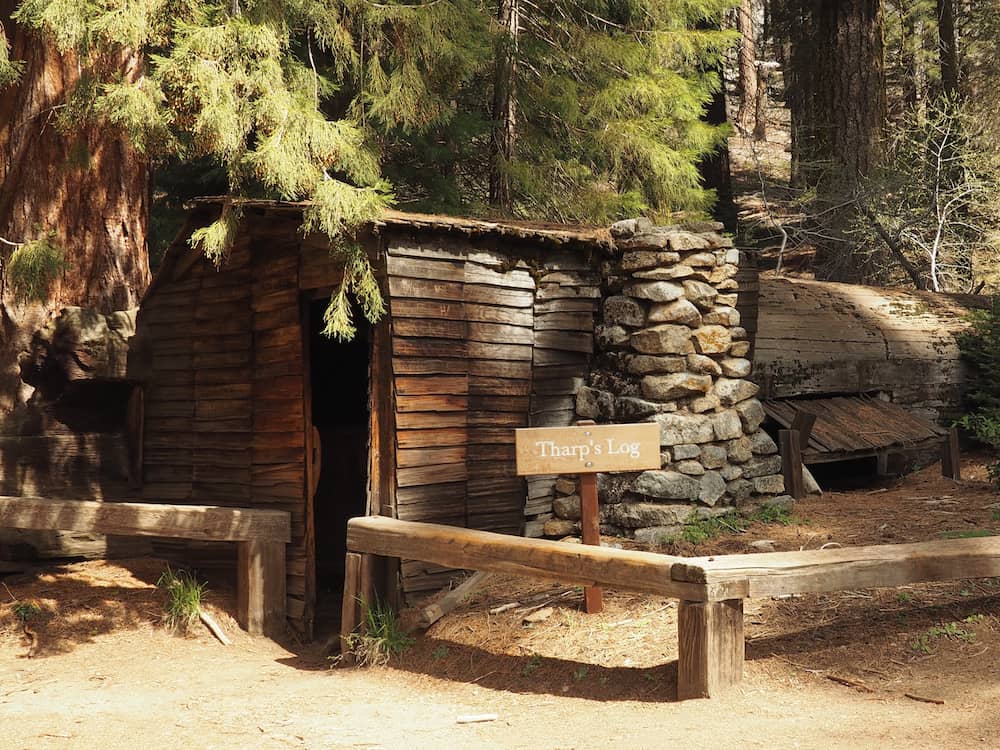 If you've read our post on Yosemite National Park, you'll know that our strategy is always to get up and out early to avoid the crowds. And it's no different here. In fact, part of the huge charm of the trail is its peacefulness. Especially when we were there in mid-May. Although we were never far away from a bank of mist that rolled in to give the forest an eery backdrop.
Another feature of the trail is the number and variety of giant sequoias on show, each one with its seemingly unique furrowed base. There's even one  – Chimney Tree – that was completely hollowed out by a fire in 1914 and provides an opportunity to take a peek inside one of these wonders of nature.
Ian bonding with another sequoia
Mist rolls in amidst the forest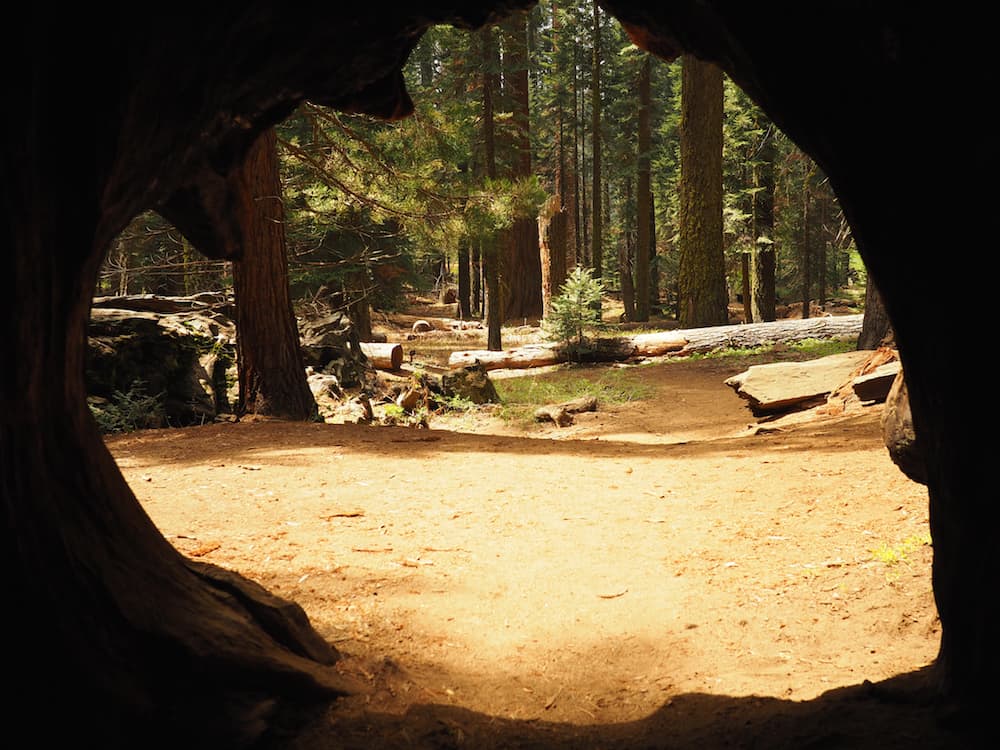 Looking out from inside Chimney Tree
Close to the meadow, a further trail takes you to Moro Rock, a granite dome that looms out over the forest. There's actually a great view of it from the road up from Potwisha Campground to the park, too.
Most people make the effort to climb the short but steep staircase to the top for panoramic views over Sequoia National Park and beyond. Once again, we got up there before anybody else, although the morning mist tried its best to spoil the view. Apparently, it gets over-crowded during the summer months so you'll need to plan accordingly.
Although we drove there, you can easily access Moro Rock from all of the other trails in the area, including Crescent Meadow and the General Sherman Tree.
To be honest, we normally avoid forest walks as they tend to be very similar and can, therefore, become slightly monotonous. But, I have to say that the forest trails of Sequoia National Park were different. In fact, I defy you to spend some time there and not feel at least a small amount of humility as you wander amidst these giants of nature.
And, if you gaze upon a tiny sequoia seedling as it begins its indefatigable journey to become perhaps the next General Sherman, consider that it may take upwards of 3,000 years to get there. And who knows how many fires, floods, ice ages and other natural phenomena it will have to endure along the way.
A mind-blowing thought. And one that makes visiting this special place so memorable.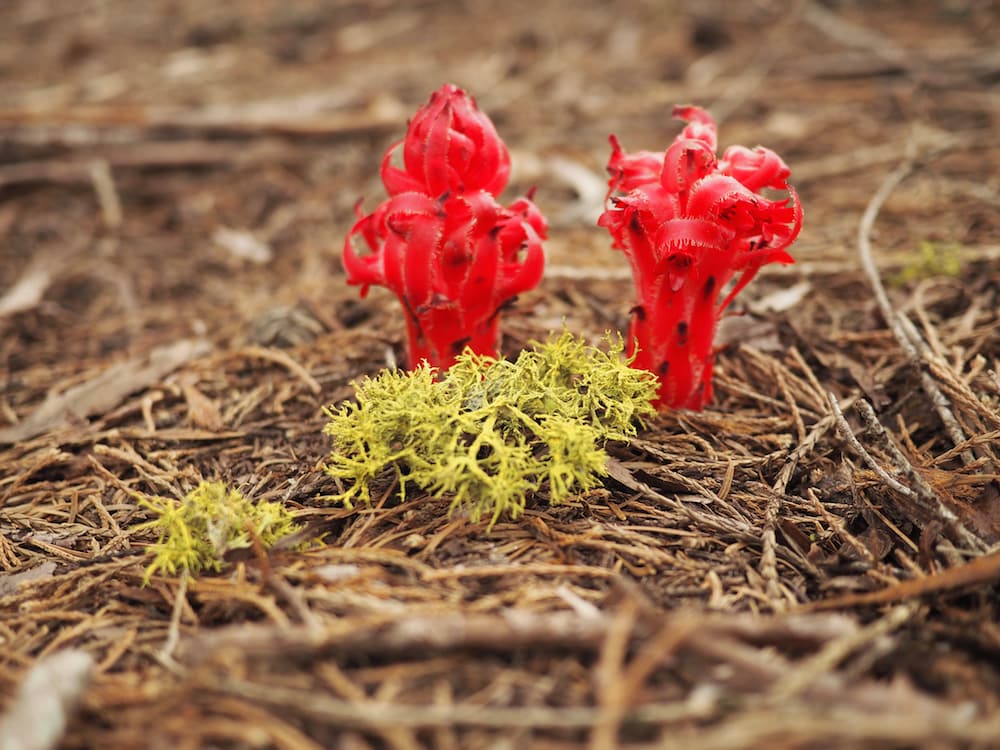 What did you think? Have you been to Sequoia National Park?  Or perhaps you're thinking of visiting there in the near future? Either way, we'd love to hear from you so please add your comments below.
To help us maintain our site we work with a number of partners who we've personally used and can recommend to our readers. If you decide to purchase any products through the following links, we'll receive a small commission at no extra cost to you. Thank you for your support!
Hi, we're Ian and Nicky, an English couple on a voyage of discovery around the world, and this blog is designed to reflect what we see, think and do. Actually, we'd like to think it also provides information, entertainment and inspiration for other "mature" travellers, too. So please feel free to pour yourself a glass of something suitably chilled and take a look around.