Sometimes, when you are heading onwards to a destination that you are truly excited about, the journey to actually get there can be arduous, to say the least – taking 40 hours between entering Manchester Airport and finally arriving at a hotel in Port Douglas, Queensland is not my idea of a great start to a trip.
However, the prospect of a private helicopter flight across the Great Barrier Reef, followed by a speedboat drop off to a tiny coral cay island was actually just as exciting as the three-day stay we had planned on the island.
Now let me say before I share with you the glories of that tiny oasis of brilliant white and green set amongst a turquoise and azure sea, as a destination, it's not cheap. So having booked the wallet-emptying $500 per night accommodation, it seemed a little churlish to then scrimp on the travel arrangements.
To get there you need to catch a boat or helicopter from Gladstone, Queensland to Heron Island, where you then pick up an onward 45-minute speed boat to Wilson Island itself. That leg of the journey was exhilarating enough, but presented with the opportunity to start it all off with a 30-minute helicopter flight was just too much to let pass (the option of a two-hour ferry boat ride just didn't fill us with excitement).
So, having waited patiently at Gladstone's HeliReef terminal we were given our safety instructions (something about ducking as you board the helicopter to prevent your head and the rotary blades getting themselves acquainted) and then attached our radio headgear so that we could chat to the pilot en route. Within no time we were off, and as we looked down, the grey of Gladstone faded away to be replaced by the flat, inky blue of the sea.


Without a doubt the next 30 minutes were magical – flying conditions were perfect for our pilot to fly low so that we could look out for passing whales or sharks. And as we approached Heron Island we passed over the amazing Wistari Reef, where the picture postcard turquoise sea was broken by a patchwork of coral and the grey silhouettes of gliding turtles.
And then, all too quickly, we were touching down at Heron Island. We would catch the return flight back to Gladstone on our way back – something we were grateful for as the weather by then had turned nasty and we had heard that the ferry journey is awful in such conditions. Had the weather been poor on our way out too we might have been a bit upset at having to pay close on $500 each for the return trip!
After a couple of hours on Heron Island, we caught our speed boat transfer and arrived at Wilson Island late afternoon. We stepped off the boat to be greeted by our host, Paul and his wife, who would do all the cooking and cleaning for us over the next three days.
The island is situated at the southern tip of the Great Barrier Reef and, as a "cay", effectively consists of the skeletal remains of animals and plants, in this case, coral. As a result, the sand is brilliant white and combines a microscopic powdery texture with larger pieces of sharp coral in certain places – not too comfortable to step on without footwear.
Accommodation on the island consists of just six safari-style tents which means that there are never more than 12 guests at any one time.
We managed to obtain the tent at the top of the "strip" which meant that none of the other guests would walk past our way en route to the shower area or "The Longhouse" for meals. My previous experiences of camping had been restricted to family sites in France, Italy and Britain but this was on another level altogether. Sure, we were paying premium prices and, as a luxury resort, it's not exactly an authentic "Robinson Crusoe" experience, despite the marketing. But having slept in an open tent, in a king sized bed, overlooking a pristine beach, it is the sort of memory that is fuelling my current desire to explore the rest of the world, albeit on a vastly reduced budget!


Now, as a self-confessed arachnophobe, camping on a tropical island with the door to your tent open to the elements sounds like a recipe for a hell-on-earth experience. However, the island is fairly bug free due to the presence of thousands of birds, which congregate year round for breeding. While we were there black noddy terns and shearwaters were in large numbers, and we were "treated" to their mating calls throughout the night….oh and what a noise they  made! (Tip No.1 – bring earplugs).
As part of the all-inclusive package the island resort offers, all meals are serviced in The Longhouse, a structure in the centre of the island, with a sandy floor and an unlimited supply of wines, beers and soft drinks, for which you just go and help yourself. All meals are prepared and served by your two hosts who, during our stay were a husband and wife team from England. It would have been nice to think that the food served was freshly caught from the surrounding ocean that morning, but to be honest the quality was consistently excellent anyway. And meal times were very much a communal event which helped to strike a good balance between enjoying the island paradise for ourselves and having some laughs with, what turned out to be like-minded people (apart from one guy on our last night who thought that breaking wind at the dinner table was a good way of making new friends).


In between the food and drink, there was always the beach and reef to explore – from the beach you can walk right around the island in less than 10 minutes. In fact, the first time we did this I commented on how gorgeous one particular part of the beach was when I realised it was the same stretch of beach we had started our walk off from a few minutes earlier! Nowhere else have I experienced such a sense of remoteness – even though I realise we were staying at a 5-star resort that could hardly be described as "roughing it".


Best of all though was the ability to just swim straight off the beach and immediately be amongst some of the most beautiful coral I've seen – I had read a description somewhere of it resembling an English rose garden, and so it turned out. We were fortunate enough to be able to get up close and swim with a number of huge turtles – although at times it seemed like we were intruding on some of their more….ahem….intimate moments.


Pros and Cons
Pros – What's not to like?! I can't think of a better way of relaxing for 3 days and nights than on this tiny slice of paradise. It's not quite a Robinson Crusoe experience as you are obviously provided with quality accommodation, food and drink – in fact I reckon the unfortunate Mr Crusoe definitely ended up on the wrong island!
Cons – It's expensive (although it is fully inclusive so no additional costs). If the weather is bad (which it was on the way back) the crossing to/from Heron Island by boat can be a bit nausea-inducing! Oh, and if you're a light sleeper be prepared for the nightly cacophony of noise from the resident birds.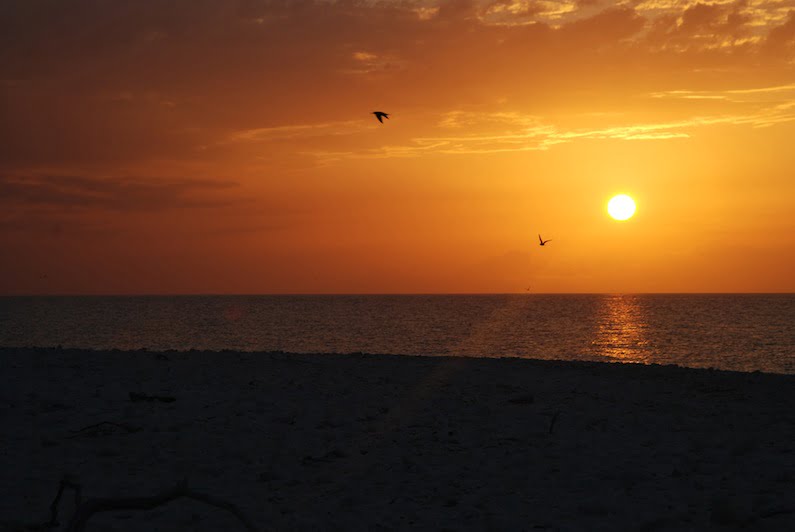 Visit our Australia page for further posts on the country and information on where we stayed.