House Sitting In Brazil - Everything you Need To Know
BRAZIL
House Sitting In Brazil – The Complete Guide
House sitting, as a means to travel around the world, is a global phenomenon that has grown significantly over the past few years. Particularly to destinations in North America, Europe, Australia and New Zealand.
South America, on the other hand, has been a little slower in catching on. But, after six months of house sitting in Brazil, we're here to tell you that there are plenty of reasons why the land of samba, futebol and Havaianas would be such a great choice.
After all, the world's fifth-largest country boasts some of the planet's best beaches, the mighty Amazon rainforest and the magnificent Iguacu Falls. Not to mention Rio de Janeiro, possibly the world's most beautiful coastal city.
Trying to see all the highlights on one visit isn't easy because of the vast distances involved. House sitting, however, gives you the opportunity to live in a place as if you're a local. You'll get to shop, cook, travel and relax like a local. You'll be able to dive into the local culture. And you can do it all whilst living there for free.
So, in this article, we'll describe what it's like to live in Brazil as a house sitter. We'll give you our top tips based on our own experiences. We'll outline some of the challenges you might face. And we'll point you in the right direction for finding out more.
The gargantuan Iguaçu Falls
This page contains affiliate links. To help us maintain our site we work with a number of partners who we've personally used and can recommend to our readers. If you decide to purchase any products through the links on this page, we'll receive a small commission at no extra cost to you.
But first…what's a house sitter?
If you're new to this concept and would like to know more about it, we've written a comprehensive guide on what it is and how to become a house sitter. 
Essentially it's an exchange of services between a homeowner (who needs someone to look after their home and pets while they're away for a period of time) and a house sitter (who assumes responsibility and care for the home and pets in exchange for free accommodation). 
It's very much a win-win for both parties. The homeowner is provided with security for their home and avoids the need to temporarily re-home their pets in kennels or catteries. The house sitter has the opportunity to experience all that the destination has to offer – at a reduced cost and with home comforts thrown in.
95% of all house sits involve the care of pets. Which can range from dogs and cats to horses, reptiles and farm animals. Needless to say, that comes with a considerable amount of responsibility. So a house sitter needs to be able to balance that responsibility with the practicalities of exploring the area they're based in.
The four dogs under our care wait patiently for a treat
Start by setting up a free account with Trusted Housesitters
As a newbie, your first point of call should be one of the specialist websites that connect homeowners with prospective house sitters. By far the largest is Trusted Housesitters, with tens of thousands of opportunities across the world. 
The good news is that you can take a look at what's currently on offer by creating your own free account and searching by country, region or city. You can do that by following this link and clicking on the "Find a house sit" tab. If you then decide to join as a member, you'll also receive a 25% discount on your first year's subscription. Simple!
Why house sitting in Brazil is so attractive
After spending six months house sitting in Brazil (both in Rio de Janeiro and Pipa, in the northeast), together with another three months exploring further afield, we've developed an affinity for the country and its people. There really isn't anywhere else on the planet quite like it for its vibrant culture, iconic beach scene and spectacular scenery.
Indeed, in addition to Rio de Janeiro, there are opportunities listed on Trusted Housesitters in places such as Sao Paolo (South America's largest city), Florianopolis (southern Brazil's beach playground), Pipa (northeast Brazil's surfing and sand dune capital) and Belo Horizonte (capital of Minas Gerais and gateway to the state's historic UNESCO-listed gold mining towns).
True, there aren't as many opportunities to house sit in Brazil as in many other countries (such as Mexico, USA, UK and France). But, as the concept continues to grow in popularity, that situation is likely to change. And, if you can manage to gain house sitting experience in the country now, it may very well give you an advantage when re-applying for sits in the future.
Just one of the amazing views from Sugar Loaf Mountain, Rio de Janeiro
Of course, you also have the opportunity of travelling further afield before and after the sit, too. 
Take house sitting in Rio de Janeiro, for example. Not only is there a whole host of things to see and do in the city. But, from there, it's also easy to get the bus south to the traffic-free paradise island of Ilha Grande and the beautiful historic port of Paraty. Or into the mountains to visit the "imperial city" of Petrópolis and the UNESCO-listed gold mining town of Tiradentes in Minas Gerais state. Or north to Arrial de Cabo and Buzios, an upmarket beach resort "discovered" by Brigitte Bardot in the 60s.
The airport hubs of Rio, Sao Paolo and Belo Horizonte also make it easy to travel to some of Brazil's other coastal highlights, such as Salvador, Olinda and the mile-upon-mile of powdery sand beaches along its 7500 km length. Or to natural wonders such as Iguaçu Falls, the Pantanal wetlands, and, of course, the Amazon rainforest.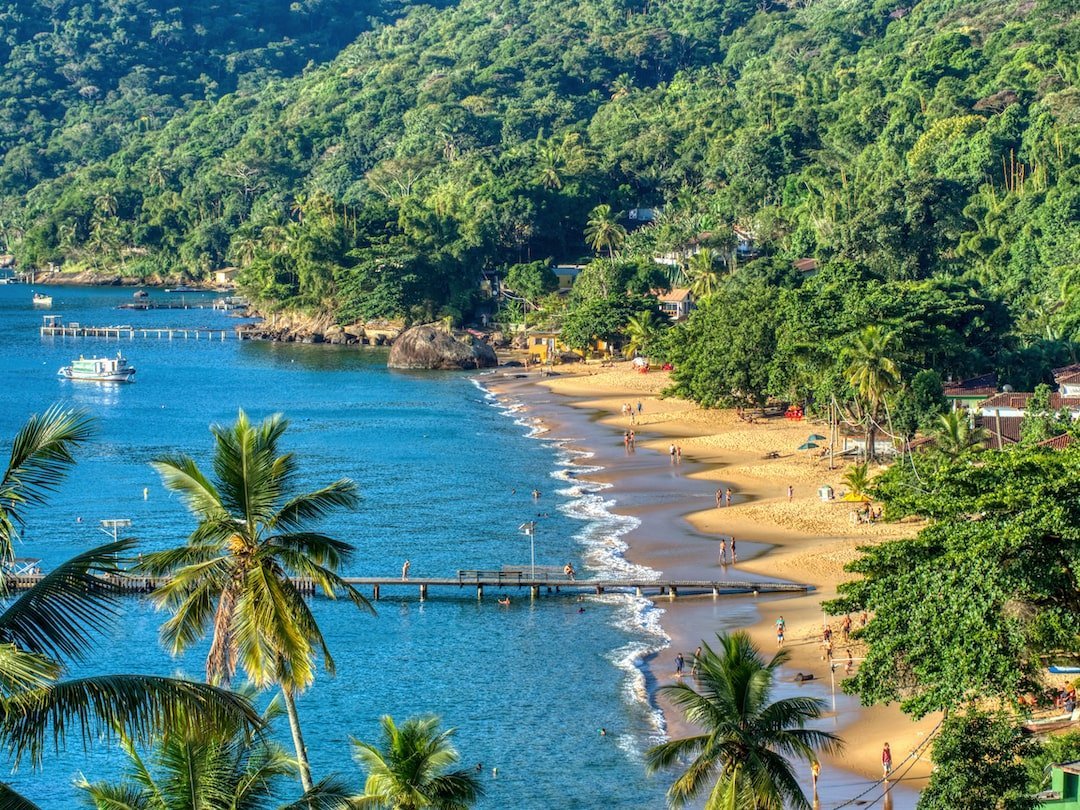 Praia Aracitiba on Ilha Grande, Rio de Janeiro State
So, what's it like to house sit in Brazil?
Our biggest challenge was the lack of English spoken by most Brazilians. Which, in a world-renowned city like Rio de Janeiro, did surprise us. Nevertheless, we feel we should always be prepared to speak at least a little of the native language. And, perhaps because hardly any foreigners are even reasonably fluent in Portuguese, the Brazilians respond very positively to anyone who at least tries a few words.
However, Portuguese is not an easy language to understand or muster. And Brazilian Portuguese ratchets up the degree of difficulty even further. Add to that the regional variations and it's no wonder most foreign visitors struggle to understand it.
So it would be a good idea to learn some basics before you go. But also be prepared to use the Google Translate app on your smartphone to get by when needed.
Shopping for food and drink
We were blown away by the variety and quality of fresh produce in Brazil. And, for certain items, the prices are very reasonable.
For instance, fish and other seafood are a great buy – if you go to a fishmonger or fish market. We bought plentiful supplies of pescado (hake), atum (tuna), dourada (bream) and camarão (prawns) for a fraction of the cost we'd pay in the UK.
The variety of fruit and vegetables is amazing, too. So we took the opportunity to cook with some ingredients that were new to us. Such as batata-baroa (sort of a cross between a potato and a parsnip), farofa (toasted cassava flour) and pao de quejo (small, fluffy potato and cheese balls).
And, of course, we kept a steady supply of Brazil's favourite spirit, cachaça, on hand. It's made from fermented sugarcane juice and forms the base of Brazil's classic cocktail, the caipirinha. Amazingly, you can pick up a bottle for under £2 / $2.50 (by comparison, the same bottle on Amazon UK costs £28).
Although you can buy most of what you need at the big supermarkets (such as Pão de Açúcar, Grand Marché or Mundial) without having to trouble yourself mastering Portuguese, we also liked to shop at specialised or local stores. Not just because the prices were usually more competitive, but it also gave us the opportunity to practice our basic conversational Portuguese (ok, we'll qualify that – Nicky's basic Portuguese).
For instance, while we were house sitting in Rio de Janeiro, we'd buy our grains, dried fruit, spices and nuts at Casas Pedro, our fish from the local fishmonger, and our fruit and vegetables from the weekly market.
A typical haul from our weekly market shop
Adjusting to the heat and humidity
Brazil is a hot and humid country for much of the time throughout the year. Particularly the further north you go. So there are some basic housekeeping points to consider. 
Firstly, you'll need to stay hydrated by drinking plenty of water. Secondly, you may need to regularly wash your clothing and bedding to avoid the onset of mould. And thirdly, don't underestimate the strength of the sun while you're outside. Indeed, Factor 30 suncream should be seen as a starting point.
We considered hiring a car for at least part of our stay. But we quickly came to our senses after experiencing what passes for Brazilian driving standards – especially in the city. 
However, apart from in the more rural areas, the bus networks are extremely good and inexpensive. For instance, we could hop on a bus from our housesit in Niteroi to Ipanema Beach over in south Rio (1h 30m away) for 10 reais (less than £2 / $2.50).
Based on our experience in Rio, Pipa and elsewhere, we found Uber to be safe and amazing value, too. So much so that a 45-minute journey to Rio's iconic Maracaná stadium cost as little as 40 reais (£6.50 / $8). Which, for two people, is ridiculously cheap.
Even the ferry across Guanabara Bay from Niteroi to Rio cost a little over 7 reais (just over £1 / $1.25). 
Suffice to say, transportation costs can be very reasonable.
The ferry from Niteroi to Rio de Janeiro
Other considerations to be aware of
Brazil operates a reciprocal tourist visa system – which essentially means that it mirrors how Brazilian nationals are treated when they travel to other countries.
So, as UK citizens, we received an automatic (and free) 90-day visa on arrival, which we were able to extend for a nominal charge to 180 days (Brazilian citizens are eligible for a 180-day tourist visa when visiting the UK). However, trying to arrange the extension at the local immigration office without fluent Portuguese is a challenge. Luckily, a friend of our hosts accompanied us to smooth the process.
You'll need to check your own eligibility status via your government's website.
Brazil's notoriety for petty theft and violence is well-documented. Especially within the major cities. And we certainly wouldn't want to skirt over the subject here.
Social inequality is a big issue in Brazil. It manifests itself in Rio when the favelas that carpet the surrounding hillsides are contrasted with the gleaming hotels and designer label shops lining the streets of Ipanema and Leblon below. Not to mention the high number of homeless people sleeping rough throughout the city.
Needless to say, visitors need to use common sense and always be aware of what's around them. To be honest, we found that merely "blending in" is the simplest way to stay safe. Dress down, wear what the locals wear, carry a small backpack for your stuff and don't flash your valuables unnecessarily. For instance, we'd always carry our camera and lenses in a zipped pocket inside a backpack rather than an obvious camera bag.
We've also learned to trust our gut instinct over the years. And that applies to Brazil, too. So, if we felt uncomfortable about going somewhere, we'd invariably decide not to go. Especially at night.
In fact, although buses are safe to use during the day, we'd recommend using an Uber instead at night. Even between bars and restaurants where there are quiet, empty streets in between.
Using your credit or debit card
You'd be surprised at some of the places where you can use your cards in Brazil. 
For instance, we used ours to buy a couple of beers in the street outside the Maracaná stadium from a guy with just a cooler box and a converted shopping trolley masquerading as a mobile barbecue. With hindsight that might have been a bit reckless of us. And we did double-check our credit card statement pretty soon afterward! But it's pretty typical of what we found elsewhere in Brazil.
The CPF is a unique number assigned to all Brazilian citizens for tax purposes. However, as a foreign visitor, you might be asked to provide it when you shop online, buy a flight ticket or (occasionally) when you use your credit card. You'll even need one to activate a Brazilian SIM card!
It's possible to obtain one as a foreigner by registering with the government – in which case, refer to this article. We managed to get by without one. But we were helped by our hosts who kindly organised a SIM card on our behalf.
The Museo do Amanhã in Rio de Janeiro
House sitting in Rio de Janeiro
We spent a total of six months house sitting in Niteroi – just across the bay from Rio de Janeiro. In some ways, it was perfectly placed. Away from much of the noise and air pollution of central Rio. Much safer to wander around at night. And with views back across the bay towards Rio's magnificent skyline.
Connections to the city are easy too – whether by ferry, bus or Uber. So, in many ways, it felt like we were living in a suburb of Rio, rather than a separate city. So, with that in mind, our house sitting tips for Niteroi apply to Rio de Janeiro, too.
Runi, our Rhodesian Ridgeback
Use your time to do what the Cariocas do
If this is your one and only chance to visit Rio then you'll undoubtedly want to check out the big tourist attractions – Christ the Redeemer, Sugar Loaf Mountain, Copacabana Beach et al. But, if you've got the time, you can also experience Rio like a proper Carioca (a Rio local).
EAT THE LOCAL FOOD
To begin with, eat at restaurants that are full of Cariocas and try some of their delicious local and national dishes. For instance, go for the feijoada (a rich Brazilian stew of black beans and various types of meat) at Ladeira 7 in Morro de Conceicao. Or bolinhos de feijoada (deep fried feijoada balls) at Aconchego Carioca (where they were apparently invented). Or perhaps eat at one of the street tables in Rua do Ouvidor – our favourite is the costela (beef rib) with green rice, farofa and fries at Restaurante Parada do Ouvidor.
We'll be writing about more of our favourites in a separate post.
WATCH A GAME AT THE MARACANÁ
You'll no doubt be aware that Cariocas (and Brazilians in general) love their football. And Rio can boast four top-flight teams – Flamengo, Fluminense, Vasco da Gama and Botafogo. The first two both play their games at one of the world's most iconic football stadiums, the awesome Maracaná.
Tourists can hire a guide to tour the stadium or to go and see a game. But it's easy enough to do on your own instead. Simply buy your ticket from the stadium box office or one of the designated Flamengo / Fluminense stores dotted around the city. Then buy yourself a team shirt or hat and make your way to the game with your fellow Cariocas.
Again, we'll be writing a separate post about this in more detail and will link to it from here when it's ready.
GO AND SEE A SAMBA SHOW
Rio's status as the world's samba capital is well-deserved. And we were lucky enough to see the daddy of them all at Rio's Sambadrome during Carnaval. But there are plenty of local venues that cater to Cariocas throughout the year.
Such as Pedra de Sal in the city's Little Africa area. It's essentially an open-air party (Monday nights) at the site where it's claimed samba originated.
Or perhaps head to Santa Teresa's flea market on a Saturday night for Samba dos Guimarães.
WATCH (OR TAKE PART IN) ONE OF RIO'S BEACH SPORTS
More so than in any other part of Brazil, beach sports in Rio are an institution. During your stay, you might not get the opportunity to master your skills at them, but there's nothing stopping you from getting involved. Trust us, you won't miss them.
For instance, you'll see small circles of barefoot people passing a football in the air to each other using only their feet, knees, thighs, shoulder, chest and head. Altinha takes some mastering – especially in powder sand – but it's how many of Brazil's exceptional footballers hone their skills.
The competitive version of altinha is fute-vôlei (foot volleyball). You'll know where it's played when you see rows of volleyball nets near the beach's promenade.
Meanwhile, frescobol is the tennis version of altinha, in which two people keep a small ball in the air using wooden bats instead of tennis rackets.
BLEND IN
And don't forget, if you want to blend in with the Cariocas, you'll want to dress down. Especially during the day. Which means buying yourself a small backpack, a pair of Havaianas and the most colourful beachwear you can find.
The daddy of all samba shows – the Sambadrome finals during Carnaval
Final thoughts on house sitting in Brazil
House sitting in Brazil provides you with the best of both worlds – especially if you're able to stay for an extended period. You can experience what it's like to live as a Brazilian in comfortable surroundings without worrying about the cost of accommodation. And, all the while, you can still tick off most of the touristy things on your bucket list, too.
Yes, it has its challenges. And, no matter how hard you try, you might struggle trying to understand Brazilian Portuguese. But as one of the world's most desirable destinations, it's one that's hard to beat.
We'll continue to periodically add content and advice about house sitting in Brazil to this article. In the meantime, please feel free to send us any questions you might have (see the tab in our FAQs below).
Don't forget to take a free look at the current Brazilian housesits (or in any other country, for that matter) on the Trusted Housesitters website via our special affiliate link. And take advantage of the 25% discount on the first year's subscription if you decided to join in.
The futuristic Niteroi Contemporary Art Museum
FAQs
Is house sitting safe in Brazil?
In general, yes. 
As we mentioned in the article, Brazil does have a poor crime record. And private property break-ins can happen just as they do anywhere else in the world. So, if you don't know much about the area the potential housesit is in, you might want to do some research around any safety issues beforehand.
And, if there's a potential issue, discuss with the homeowner what security precautions they will have in place.
Will I need to sign a house sitting agreement with the homeowner?
Formal agreements between homeowners and house sitters do exist. Indeed, there's one you can download from the Trusted Housesitters website.
But, in all honesty, we've found the system works best on the basis of mutual trust. So, over the scores of housesits we've completed, we've only signed a bare handful of agreements. And always where the homeowner has requested one.
Where are house sits in Brazil usually based?
Most house sits in Brazil we've seen are based either in the major cities (Rio de Janeiro, Sao Paolo, Belo Horizonte) or in one of the country's many established beach resorts. 
Which is just as well as living in some of Brazil's rural areas can be a considerable challenge without a solid grasp of the language, your own transport and an understanding of the local environment.
Any other questions?
If there's anything you'd like to ask about house sitting in Brazil that we haven't covered here, there are a few ways to get in touch with us.
Firstly, you can simply ask your question in the Comments section below. You can also get in touch using our contact form. Or, if you'd like to join our community on Facebook, you can ask directly there.
Either way, we'll do our best to get straight back to you.
What did you think?  Do you have any recommendations on house sitting in Brazil or Rio de Janeiro? Or perhaps you're planning to do it the near future? Either way, we'd love to hear from you so please add your comments below.
PLAN YOUR TRIP
The following contain affiliate links. If you decide to purchase anything after clicking on any of these links, we may receive a small commission at no extra cost to you. Indeed, as a result, you'll be helping to keep our website ad-free! Thanks for your support.
Book Your Flight
Our go-to website for flights is Skyscanner. We've probably booked probably 90% of our flights worldwide with them over the years and they've never let us down.
Book Your Accommodation
No longer merely a travel rating service, Trip Advisor is now a major resource for booking accommodation, too. And you can view some of the best deals in Brazil here.
Get Insured
For travellers who are UK residents, we recommend True Traveller. Amongst other things, they offer both multi-trip and backpacker insurance. Indeed, they're our go-to insurance provider.
For travellers who are non-UK residents, we recommend SafetyWing for both remote health insurance and nomad insurance.
Check your entry requirements
Check all entry requirements for Brazil and purchase any visas online with iVisa.
Book a tour in Rio de Janeiro
Book a guide, tour or other activity in and around Rio de Janeiro with Get Your Guide
We provide all the content on this blog completely free and aim to make your reading experience as smooth as possible. As such, other than our own affiliate links, we'll continue to resist using popup advertisements and other income-generating clutter on our pages.
However, we do put a lot of time and effort into producing content and maintaining the site. So, if you find our work useful and would like to contribute something towards it (via PayPal), you can do so here. Thank you!
Hi, we're Ian and Nicky, an English couple on a voyage of discovery around the world, and this blog is designed to reflect what we see, think and do. Actually, we'd like to think it also provides information, entertainment and inspiration for other "mature" travellers, too. So please feel free to pour yourself a glass of something suitably chilled and take a look around.