WHAT'S IT LIKE TO HOUSESIT IN RURAL FRANCE?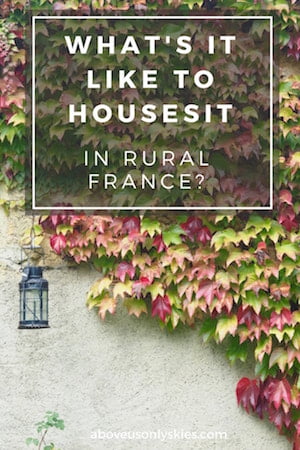 House sitting is becoming ever more popular as a way for people to travel on a budget. We've been doing it for the past 12 months and have found that it helps us strike a perfect balance between exploring the world with a backpack and living like a local.
It's not for everyone, of course, as it comes with additional responsibilities such as looking after the home, pets and possessions of the homeowner. And when I say "looking after", I mean looking after them as if they were your own. So, if you'd describe yourself as a party animal or someone who expects to enjoy plenty of socialising while travelling, it's probably not for you.
For us, it's an opportunity to unwind after a period of travelling "on the road". And, in rural France, winding down is very much the order of the day. In fact, we were lucky enough to housesit at five beautiful homes in the West and Southwest of the country over a period of seven months. And we loved it.
After 15 months of continual travel around Asia, Australia and New Zealand it offered us the opportunity to plan our next adventures while spending some quality time with our temporary pets. It also allowed us to buy and cook our own food again and experience a little bit of what it's like living as a local in a different part of the world.
So, what was it like? Does the idea of spending some time in rural France appeal to you? What might you expect to find? And what would you need to be prepared for?
Look, we're not averse to walking. Nor would we baulk at the idea of risking saddle sores on a bicycle. But the truth is you really do need a car to get around if you plan on venturing out further than the immediate surroundings. And even for just basic things such as a visit to the nearest supermarket.
If your housesit is close to a village it might have a boulangérie for your bakery needs. It might have a small tabac where you can pick up some basic groceries. It might even have a cafe or a bar if you're lucky. But many of these villages are just hamlets without any facilities whatsoever. So, pick your location carefully if a car is not part of your plan as you can forget about public transport as a reliable alternative.
And besides, driving on French country roads is an absolute pleasure. Particularly when you've been used to the traffic nightmares and pot-holed excuses-for-roads in the UK, like we have. Just don't arrive at a STOP sign in the middle of nowhere and think you can casually move on without applying the handbrake and waiting the requisite three seconds. There might just be a gendarme hiding in the bushes only too eager to issue you with a fine of up to 135 euros!
And if you are bringing or hiring a car, you'll blend in better by not having one that's too flash. Most rural French are not into cars as extensions of their personality. Functionality reigns supreme. So keep it simple.
Or you could get yourself one of these….
By European standards, France is a large country. It's more than twice the size of the UK, yet the comparable populations are very similar. So, for a Brit, there's a lot more living space. And it shows in the rural areas.
Roads are empty. Fields stretch to infinity in every direction. And homes invariably come with a whole host of outbuildings and plenty of land.
So, maintaining the lawn for your host might involve jumping on a ride-on mower and spending the best part of six hours cutting grass – as I found out in the Dordogne.
But, for us, that's part of the attraction.
You can stay in a beautiful and characterful home
Scan through the house sitting websites for assignments in France and you'll come across some truly beautiful houses. Many are owned by ex-pats who've swapped an urban or suburban existence for country living at a much more affordable price than elsewhere in Western Europe.
As a result, there's a whole host of converted barns, country houses and other unique buildings, sometimes with acres of attached land, requiring house sitters.
We were lucky enough to stay in a converted 14-Century gothic presbytery, a gorgeously renovated manoir, a rambling country house and a couple of beautifully converted barns. Each was unique in its own way. But they all provided a great sense of space, which was not only appreciated by us but I'm sure by their pets, too.
One quirk to be aware of is that most rural properties in France are not connected to mains drainage. Instead, there's normally a fosse-septique (septic tank) situated away from the house. Which means you need to control what waste drains away from your sink.
You'll be surrounded by gorgeous countryside
You'd have to be pretty unlucky to find a housesit in rural France that doesn't have access to a range of countryside walks straight from the doorstep. And if you're looking after one or more dogs that's a real bonus.
Apart from the glorious scenery, there's a good chance you'll come across plenty of food growing wild, too. So, if gathering your own food floats your boat then take a basket and look for mushrooms, blackberries, plums etc (as long as they're in season).
You'll want to immerse yourself in the French way of life
Yes, there are the stereotypes that immediately spring to mind. Old men armed with freshly baked baguettes marching back to their homes from the local boulangerie. Couples sitting at a pavement cafe enjoying a late morning glass of rosé. A woman spending an age deliberating at a market stall over which goat's cheese would best suit the plate of mixed meats she's preparing for her family's lunch.
But it's infectious and so there's only really one solution – and that's to just join in.
French rural and village life is slow. Nobody's in a hurry. After all, what's there to rush for? Away from the villages and you might not see anybody for days. Venture into a village or hamlet and it's not much busier there either.
What you'll typically find though is a Mairie (or town hall), a church and more often than not at least a boulangerie or a tabac (although as I said earlier there are plenty of places without even these basic facilities). Walking in and making yourself understood, however, is a challenge if you speak no French whatsoever. And even if you manage to piece together a simple "Une baguette, s'il vous plais" you're likely to be stumped by the rapid-fire response from the person serving you.
So trust me – learn some basic French and use it whenever you can. And, despite the stereotype that suggests the opposite, we generally found the locals friendly, helpful and actually quite jolly towards us. No, really.
One more thing – if barking dogs annoy you then you might find that rural France isn't for you. They're typically owned as working or guard dogs rather than just pets – and many spend the majority of their time outdoors. So if you happen to be in a hamlet with a reasonable canine population, prepare for some regular bark-offs!
You'll need to be aware of The Chasse 
While hunting with dogs has been a controversial subject in the UK, the "sport" is still a common feature of French rural life. La Chasse (or The Hunt) takes part during the winter months, usually on a Sunday. Stag, deer, hares, rabbits, wild boar and game birds are the main targets and a Sunday morning stroll through a forest can often be interrupted by the sound of horns and the piercing barks of a pack of hounds.
People have been accidentally shot over the years and it's probably a good idea to keep your dog on a lead so that you can make a hasty retreat if necessary.
You'll treat shopping for food like an event to treasure
Much of French rural life is centred around food. If they're not shooting it, they're either growing, shopping for, cooking, eating or just talking about it. And, as a house sitter, you've got the perfect opportunity to join in the fun.
Of course, you can do all your shopping in the hypermarkets – as long as you're prepared to drive far enough to find a decent one. Our favourite amongst the mainstream selection is E.Leclerc. Take a walk along their wine section and then feast your eyes on their selection of cheeses to see why!
However, if you're located near a Grand Frais supermarket do not miss it! It's like a huge delicatessen, combining local foods with those from all over the world. And the way they present their vegetables truly is an art form!
But the best way to shop is to visit the local markets. It's almost a ritualistic pastime for the French and it's not difficult to see why. In fact, I can safely say that our visit to St-Antonin-Noble-Val's weekly market in Tarn with Bertie (our temporary dog) was our quintessential house sitting experience in rural France. Walking him on his lead through the cobbled streets, buying a selection of pastries and cheese, and enjoying un assiette gourmande (a gourmet plate) of cured meats with a glass of wine at a market-side cafe was such a perfect way to spend a Sunday morning.
And if you've got a sweet tooth I can absolutely recommend the chocolatine aux amandes. They come in different shapes and sizes, depending on the region, but in West and Southwest France, they're a flattish pastry filled with dark chocolate and almond. Artery clogging ninjas they undoubtedly are – but they sure do taste good!
Nearly everything closes for lunch
Did I mention that the French take their food seriously? Well, serious enough for a two-hour lunch break for pretty much everyone. Which means that the shutters are closed in villages and towns between the hours of noon and 2 pm. There's literally no-one around. For the unsuspecting, it really can be a frustrating experience. And such a culture shock compared to the lunchtime bustle of town centres in the UK.
Don't underestimate how cold it can get in winter
Even in the south of France, once you get away from the coast it can get surprisingly cold during the late-autumn and winter. And I mean sub-zero during the night.
So you'll need clothing that'll do for both warm and cold weather. Fortunately, if you're staying in a traditional house, there's likely to be a wood burner for you to use. And most places we stayed at had a plentiful supply of stacked logs on hand. But, if there's an element of the hunter-gatherer about you, there's always the opportunity to get out into the countryside and collect your own supply!
You're guaranteed to make new friends – both human and animal
As you might have gathered, we can't recommend house sitting in rural France highly enough. It won't appeal to everyone, of course. But if you cherish a slow pace of life, enjoy cooking good locally sourced food and have a love of animals, then it might be just what you're looking for.
It also helps that we've managed to find ourselves in some really lovely homes looking after pets we've adored. We've also met some wonderful hosts who we now consider as friends.
Yes, we'll be going back.
Related articles
…or visit our House Sitting page.
What did you think? Have you experienced house sitting in France? Or perhaps you're thinking of doing so in the near future? Either way, we'd love to hear from you so please add your comments below.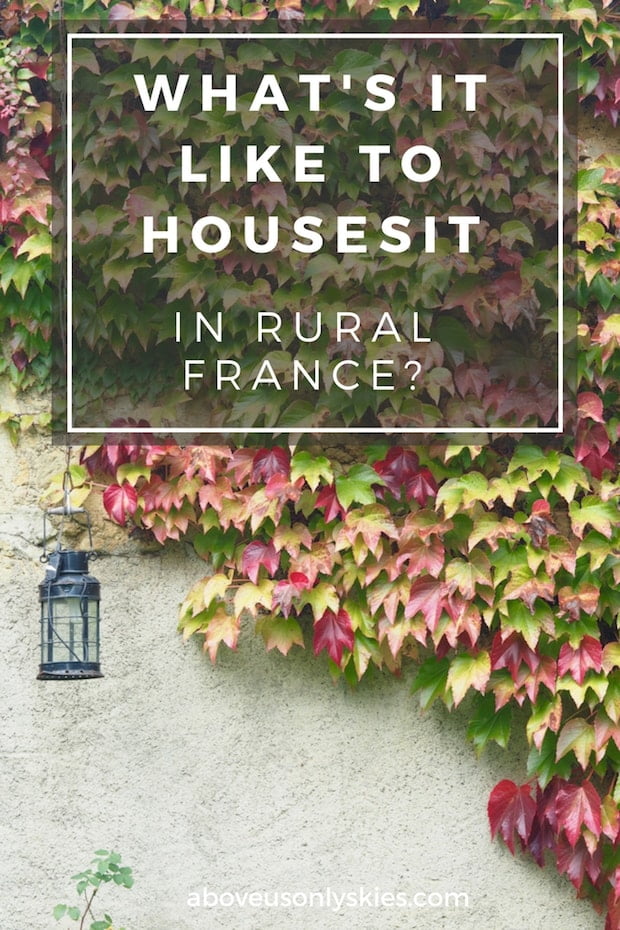 Hi, we're Ian and Nicky, an English couple on a voyage of discovery around the world, and this blog is designed to reflect what we see, think and do. Actually, we'd like to think it also provides information, entertainment and inspiration for other "mature" travellers, too. So please feel free to pour yourself a glass of something suitably chilled and take a look around.
WHAT'S IT LIKE TO TRAVEL AND MIND OTHER PEOPLE'S PETS?
3 NEW ZEALAND WALKS YOU WON'T WANT TO MISS
HOW WE TOURED SRI LANKA ON A BUDGET