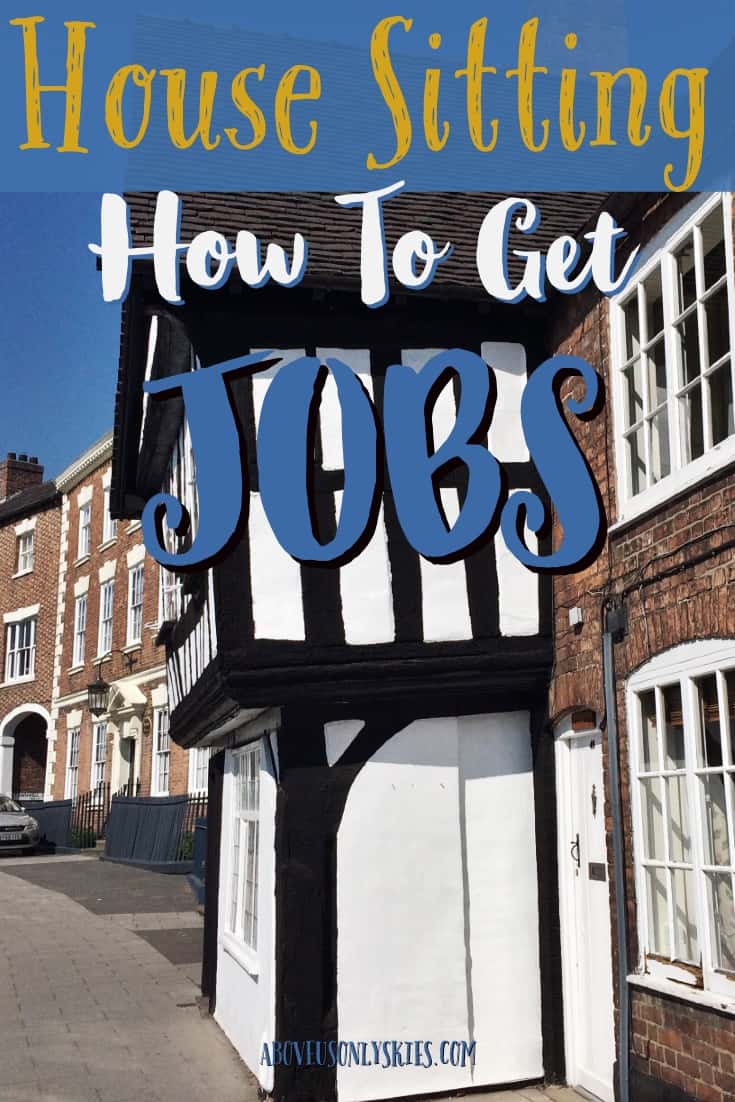 In Part One of our House Sitting For Beginners guide, we looked at the concept of house sitting and how you can determine if it's something that might suit you. And we suggested you might want to try a "trial sit" for friends or family first.
Here in Part Two, we look how to get house sitting jobs and, specifically, the steps you can take to find and book your first assignment.
Our housesit in Rutland, England
Contents
This page contains affiliate links. To help us maintain our site we work with a number of partners who we've personally used and can recommend to our readers. If you decide to purchase any products through the links on this page, we'll receive a small commission at no extra cost to you.
Register with one or more house sitting websites
As a "first-timer" your access point will be via one or more recognised websites that bring together communities of homeowners and house sitters for a quarterly or annual fee.
When a house sitting assignment is listed by the owner, applications are then submitted by house sitters registered with that particular website. Sometimes the owner will advertise on more than one website. Other times they won't list their property at all but search through the registered house sitter profiles and select the people they'd like to contact directly. As a newbie, you'll almost definitely need to submit the application yourself.
There are some well-established sites, along with a few relative newcomers. Of course, the well-established ones typically have the most listings and in turn, the most registrations. Which means lots of competition. So it might be worthwhile registering with both a popular international site and a location-specific one to keep your options open.
We began by using Mind My House (currently $20 per year membership) and have found it to be an excellent resource for sits in France and the UK. But there are also sits across the whole of Europe and the rest of the world, too.
The biggest player is Trusted Housesitters (currently $119 per year), although they're also the most expensive. But if you want the greatest selection of sits to choose from then you're getting what you pay for (however, you can secure a special 20% discount on membership by clicking here). 
Elsewhere there's the original house sitting website, House Carers ($50 per year). Meanwhile, Nomador ($89 per year) are particularly good for European-based assignments (especially France) and you can actually make three free applications with them before you have to upgrade to the paid version.
And for UK sits, we've found House Sitters UK (£20 per year) to be a good choice.
For a more in-depth review of the range of house sitting sites available read this excellent article in House Sitting Magazine.
Bertie, our Lagotto Romagnolo, Tarn France
Complete your online profile
As part of your registration, you'll be asked to complete a personal profile. It's an important step as you'll need it to convince a potential host that you're a suitable person (or couple) to look after their home and beloved pet(s).
So think of it as a CV which the host will use as the basis of your application, much in the same way that an employer reviews CVs in a job application process. 
How you complete it will depend on the website you're using but you'll typically need to include some background about yourself, why you want to house sit and what experience you have. In addition, you'll want to include things that would be of interest to the host. So put yourself in their shoes. What sort of qualities and experience do you have that would "tick the box" for them?
Make sure you keep your profile tight and upbeat. You need to capture the reader's attention if you're going to stand out from the crowd. So don't be shy about selling yourself.
Of course, you still need to be honest – house sitting as a concept is based on trust after all. And you really don't want to apply for that gorgeous sounding off-the-grid and back-to-nature assignment in Costa Rica if you haven't got the first clue about how to live in such an environment. 
Include one or more good quality photographs of yourself, too. Preferably with at least one where you're pictured with a pet. And even consider a short video to introduce yourself, where the site allows it.
To help you get started you'll find our profile on our House Sitting page.
It's also a good idea to obtain two or three written references from your past or present employer and any professional acquaintances or friends (plus copies on email). It'll help you until you've acquired some house sitting testimonials. And some hosts require them as a matter of course, anyway.
Similarly, there a few hosts who'd like you to provide a police check. To be honest, we haven't found it to be necessary but it might help you to get over the initial line if your profile states you can provide one.
And finally, hosts have commented to us that being able to view our blog beforehand helped them to get a better understanding of who we are. That it reinforced to them we were the type of people they'd want. So, if you already have a blog or website, then be sure to add a link to your profile.
Alternatively, if you have a Facebook or other social media page that you'd be happy to share, then consider using that instead.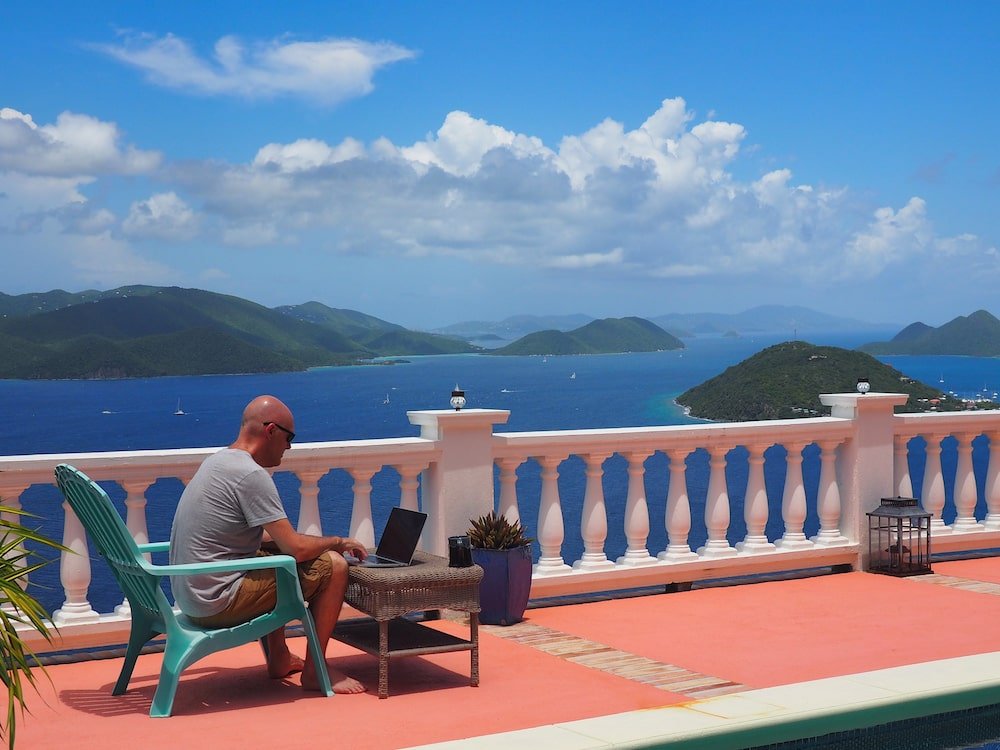 Working from home, British Virgin Islands
Search and apply for house sitting opportunities
Ok, so you've signed up to your house sitting website, you've created your profile and you're now ready to start searching for your first assignment.
There are a few ways to go about it.
Firstly, you can simply scroll through all the latest listings in the relevant section of the site – usually identified as something like "Find a sit" or "Find a house".
Or you can narrow down your search by using filters such as date, location, house and pet type etc.
Or thirdly, you can set up a daily/weekly alert using the same or similar filters.
The key is to be alert when something is newly listed that interests you. While some hosts will patiently gather a number of applicants before responding, others will contact you quickly if they like what they see. So, although alerts to your inbox are useful, they won't always arrive at the right time.
Once you've found a listing that interests you, submit your application. You'll normally be asked to message the host directly as part of the application process so make sure you personalise it by adding sufficient additional information about yourself that answers specific questions the host might want to ask.
For example, if the house sit you are applying for requires that you walk two boisterous Boxer dogs at least twice per day you might want to talk about your experience of doing just that. Or perhaps the fact that you've had Boxers as pets in the past.
Similarly, if the house sit requires you to have practical house maintenance skills then here's your opportunity to state your case.
Above all, make sure your message is warm, friendly and positive. Remember, it's likely you won't be the only one applying so this is your chance to sell yourself. 
Once you're happy with it, click the "Submit" button. And then sit tight!
Or, of course, keep searching and apply for another sit. There's absolutely no reason why you can't have multiple applications on the go – as long as you're genuinely interested in each of them.
Oscar wins yet another staring contest, British Virgin Islands
Respond immediately to any contact
If you haven't had a positive response to a few applications, re-visit your profile and your messages to the host.  Do you need to change anything? Would any of the hosts you've applied to be happy to let you know where you're falling down?
Don't over-worry, though. The more popular sits have probably had lots of applications. Including from people who have plenty of experience and previous testimonials. Consider lowering your expectations about the type of sit you're applying for and build up your profile with testimonials of your own.
However, if you do get a positive reply, respond immediately. The host may have replied to a number of applicants on their shortlist (just like in a "real" job scenario) so you'll want to show them you're serious.
Our house sit in Tarn, France
Discuss the sit with the host 
Once they've short-listed one of more candidates most hosts will want to arrange a telephone or video call with you before making the final decision. To be honest, this makes sense from both party's point of view because, just as they want to be sure you're right for them, you'll also want to make sure the sit is right for you.
So, if you haven't already done so, prepare some questions about the sit to discuss with the host. Don't worry, they're normally just informal discussions and are actually a great way of building up a rapport right from the start.
But do make your first impressions count as most people will decide whether they like you or not from the first 30 seconds of the conversation.
During the conversation you might want to learn more about the pets and the house. About the location and how to get there from the airport/bus or train station. And when they'd want you to arrive – for example, are they planning to leave first thing in the morning or late afternoon?
Better still, discuss the possibility of arriving at least the day before to familiarise yourself with the pets, the house and surroundings (especially on sits of a week or more). Also try to establish when exactly they'll be back as that might affect your onward plans.
Clarify who's paying what bills, if any. Although it's a generally accepted rule that sitters aren't required to pay for utilities, pet food etc, it's always best to check up front to avoid any potential embarrassment later.
And finally, clarify their expectations of you and be sure you can a) accept them, and b) fulfill them.
If you're offered the assignment and are still happy to go ahead then confirm via email. Most sites provide a terms & conditions template which both parties can complete, if they wish. To be honest, it's not something we or our hosts have ever worried about using. But there may be circumstances where it might be right for your sit.
Importantly, stay in touch with your host ahead of the assignment. For example, this might be the first time they've advertised for a housesitter and may be anxious about you changing your mind. Remember, you haven't paid a deposit. Equally, you may have additional questions for them. But it's also a good way to strike up a relationship and build up trust before you arrive.
So, simply letting them know that you've booked your flight might be a good place to start.
But most importantly, you're off on your first house sitting assignment!
And hopefully, it'll be the first of many.
Of course, once you arrive for your assignment you'll want to enjoy the experience AND put on a good show.
So join us for the final part of our series, where we'll show you how to handle your first assignment and start to build yourself a reputation as the perfect house sitter.
What did you think? Have you considered house sitting? Or perhaps you're thinking of trying it out in the near future? Either way, we'd love to hear from you so please add your comments below.
To help us maintain our site we work with a number of partners who we've personally used and can recommend to our readers. If you decide to purchase any products through the following links, we'll receive a small commission at no extra cost to you. Thank you for your support!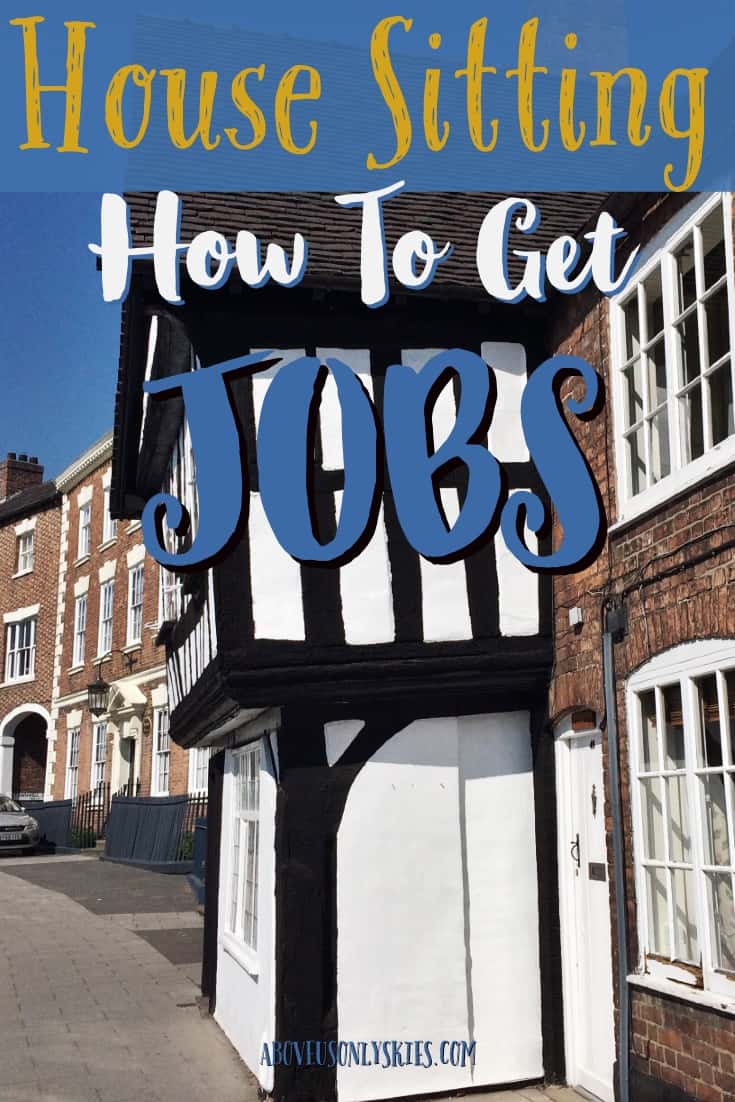 Hi, we're Ian and Nicky, an English couple on a voyage of discovery around the world, and this blog is designed to reflect what we see, think and do. Actually, we'd like to think it also provides information, entertainment and inspiration for other "mature" travellers, too. So please feel free to pour yourself a glass of something suitably chilled and take a look around.