HOUSE SITTING IN FRANCE, SPAIN & PORTUGAL: A PANDEMIC TALE
HOUSE SITTING IN FRANCE, SPAIN & PORTUGAL: A PANDEMIC TALE
It was meant to be the year when we took an extended road trip through Western Europe. With house sitting in France, Spain and Portugal confirmed, we looked forward to exquisite food, sumptuous wines and pet-centric fun and games. Taking in some well-earned beach-hopping, mountain walking and cultural sights along the way.
But, of course, nothing about 2020 was straightforward. Far from it. Like many others, we found that our best-laid plans very quickly turned to dust as the pandemic struck, borders were closed and lockdowns became the norm.
This then is our story of a year like no other. 
It almost seems like a bygone age when we now think back to how we boarded the ferry at Dover, our car fully laden with essentials such as Marmite, English sausages and HP sauce, sure that we wouldn't be returning to that sceptred isle for at least another year. 
We crossed the Channel during the first week in March. Media rumblings about the outbreak in eastern Asia had already turned to disquieting reports from Italy where clusters of cases had been reported in the north of the country. But, at that time, we still didn't envisage such a rapid spread of the virus on the scale that was to follow.
En route to our housesit in St-Louis, Alsace (near Basel, on the border with Switzerland), we stopped off in Antwerp to see a Belgian friend we'd met in Bolivia. Looking back now, we're almost embarrassed to think that we spent the evening drinking Belgian beers in one of the city's packed pubs. Indeed, if someone had mentioned the phrase "social distancing" at that point, we'd have had to check its meaning on Google.
However, once we began our housesit on March 7, the chain of events that would come to dominate the world came thick and fast. Indeed, the following day, Italy announced the introduction of social distancing and other health measures in its most affected regions. Which was extended to a national level on March 11.
The following day, President Macron announced that all schools and universities in France would be closed until further notice. Two days later, all non-essential public places (including restaurants, bars and cafés) were ordered to close.
Amidst all this, we did venture out once by driving north to take a look at some of Alsace's medieval towns, such as Riquewihr, Ribeauvillé and Colmar. The ancient streets were almost completely deserted of the normal tourist footfall. Which meant that we were able to at least wander around without encountering crowds of people. It was our first taste of what was to come.
The Fishmonger District, Colmar
The Fishmonger District, Colmar
However, rumours began to circulate about a potential lockdown, especially in Alsace which had by now been deemed France's coronavirus hotspot. A fact that was subsequently traced back to large gatherings in nearby Mullhouse at the annual assembly of the Christian Open Door Church during February.
On March 16, things came to a head. There were already stories that Germany and Switzerland were about to close their borders with France. Macron was scheduled to make a TV announcement at 8 pm. Everything suggested that a national lockdown was imminent.
So, as house sitters, we had some decisions to make. We were looking after a young dog ("Kenobe") who needed plenty of attention. Our hosts were not due back from their holiday in Egypt until March 21. But, because of the unfolding crisis, they were trying to get an earlier flight back to France.
If we were to wait until then, we probably would have had to return to the UK and take our chances of finding somewhere to stay there. An alternative was to leave early and find a place to rent elsewhere in France. Remaining in Alsace was just not viable as there was a very real possibility of the region being cut off from the rest of the country to contain the spread of the virus.
Our hosts helped us enormously by arranging for relatives (who lived in Basel) to come and pick up Kenobe and return to Switzerland with him. 
We then became aware of a house sitting opportunity in the Dordogne region for an English couple who were unable to travel back from the UK to their home in France, and who desperately needed someone to look after their pets until they returned later in the summer. We quickly agreed to the sit and arranged for Kenobe to be picked up.
Macron, appearing suitably gloomy, did indeed announce a national lockdown at his 8 pm TV address. Scheduled to start at noon the following day, it would be for an initial period of 15 days. We immediately decided it was time to go. Past experiences had taught us to always go with our gut instinct in moments of crisis. And this seemed like a crisis to avoid.
So we confirmed our plans with our hosts, packed our bags, loaded up the car and headed out at 10 pm for the Dordogne. And, after a nine-hour drive, we arrived in Montcaret at 7 am, tired but relieved.
House sitting in France – our lockdown pad in Montcaret
View out of our lockdown pad's bedroom in Montcaret
The village of Montcaret is situated in the south of the Dordogne region, between Bordeaux and Bergerac. As with much of rural France, it's a sleepy village set amongst fields of vines. And, like much of this region, it suffered a violent past as the French and the English fought for its ownership during the Hundred Year War.
As a place to spend lockdown, it was perfect. A rambling French farmhouse occupied by three cats, four hens and a cockerel, with expansive views above a vineyard to rolling hills beyond. And, behind, thick woods inhabited by deer and wild boar. Because of our elevated position and substantial grounds, we were able to spend much of our time outdoors. And with no immediate neighbours, it meant there was very little to compromise our isolation.
Jeffrey the cockerel certainly appeared to be glad of our company, if his impressively loud crowing was anything to go by. And "the girls" maintained a healthy supply of warm, fresh eggs every morning.
We spent our time trying to keep ourselves busy. You know the sort of thing. Keeping the house warm by topping up the two log burners. Trying to prevent the cats from bringing in their daily bounty of mice and small birds. And scaring away the wild boar that seemed to take a keen interest in Jeffrey and co.
Lockdown restrictions were pretty tight. Much more so than those in the UK. Travel was restricted to 100 kilometres (62 miles). We could exercise outdoors for up to two hours per day, but only up to a maximum of 1 kilometre from home.
Supermarkets were open. As were the boulangeries (obviously, it's France after all). But we were unable to go anywhere outdoors without completing and signing an attestation – a statement of where you live, where you are going and why – which was subject to inspection by the police.
Masks were delivered by the local Mairie (mayor's office). And mask-wearing, in general, was observed.
When the lockdown began to be lifted on May 11, we were able to venture out and meet some of the ex-pats living in and around the village, who also happened to be close friends of our hosts. We even managed to celebrate Ian's 60th birthday at the end of June with them. And, with the summer just getting underway, we'd have been more than happy to stay longer. Especially given the abundance of local wines still to be discovered.
But our plan had always been to continue south to Spain, once the border with France reopened. And we still had one housesit remaining that hadn't yet cancelled, which was down in Andalucia at the beginning of July.
Our journey south across the Pyrenees mountain range included a couple of stopovers – one at Sembouès, in the foothills of the French Pyrenees and another in Jávea, on Spain's Costa Blanca.
One of the many plusses of our house sitting experiences has been the friendships we've struck up with our hosts along the way. Typified by those of our two stopovers – one couple from a previous sit and another from a planned future sit in 2021.  Both were great examples of how house sitting can become more than just a one-time exchange of services.
We finally completed the journey to our housesit near the whitewashed Andalucian village of Montefrío on the third day. The distinctive rolling hills, carpeted with row-upon-row of olive trees, were a welcoming sight. It's perhaps our favourite area in Spain, if not Europe. And, after the 1400 km drive down from Montcaret, it felt like we were returning home.
Until we found out that our house sitting assignment there was about to be cancelled.
By the first week in July, all the talk was of the potential for a "second wave" of the pandemic. By this time, the UK had been in and out of lockdown. As had Spain. But pockets of outbreaks were once again being reported, including in Andalucia. And, having suffered terribly during the first wave, the government was keeping its options about a return to lockdown very much open. So our hosts were understandably worried about being stranded in the UK should the Spanish government once again announce a lockdown, either nationally or on a regional basis.
To their credit, they came up with a temporary solution. A friend of theirs owned a villa in the Algarve, Portugal, which would remain unoccupied until the beginning of August. And we could stay there, free-of-charge, until they decided if they would travel to the UK or not.
So, after three nights at their beautiful cortijo (farmhouse), we drove across the Portuguese border to our new temporary home in the hillside above Faro.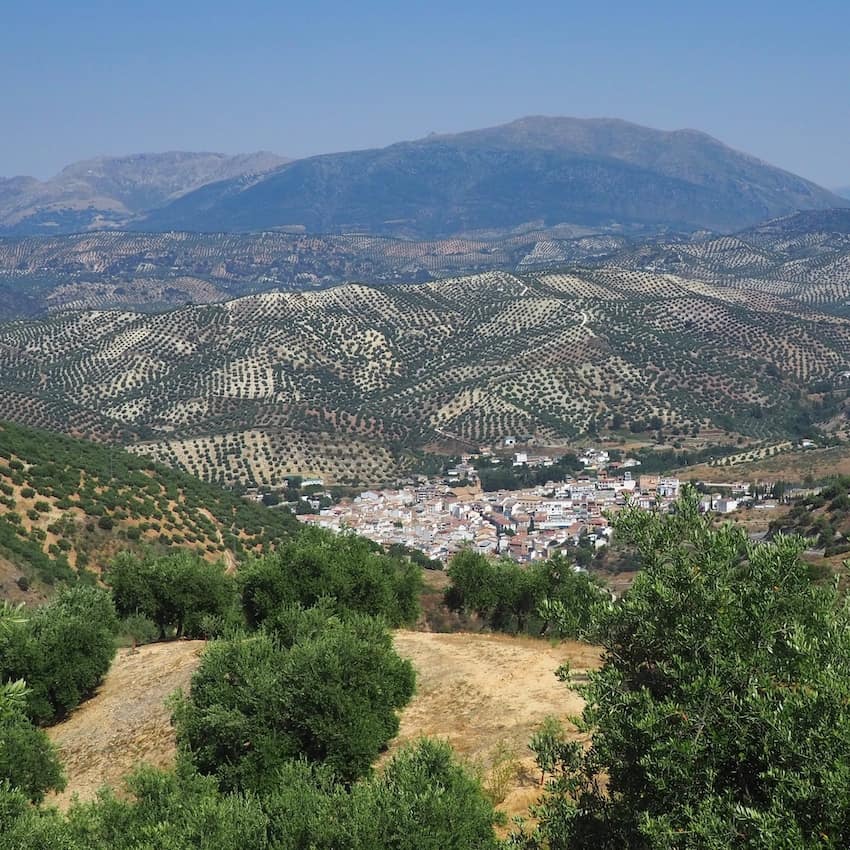 Olive groves surround the town of Alharinejo, near Montefrío
As a base in Portugal's Algarve region during the heat of July, the villa (and its pool) was more than we could have wished for. In contrast to Spain, the Portuguese had, until then, managed to control the spread of the virus relatively well. And it was hoping to be one of the first countries to welcome back airborne international tourists by the late-summer.
So, with the benefit of having our car, we took advantage of the time to explore the region's wonderful beaches on both the south and west coasts. Although, despite the lack of crowds, the south coast still felt way too built-up for our taste.
Ultimately, our hosts decided not to travel to the UK. Feeling somewhat guilty about letting us down, they suggested that we could swap places so that they could spend a couple of weeks at the Algarve villa whilst we looked after their home and two dogs.
However, by that point, we'd already decided to take charge of our situation and had been actively looking for other housesits in both Portugal and Spain. And it became clear that there were plenty of homeowners who were desperate to take advantage of the loosened restrictions to escape lockdown. So, during the space of ten days, we'd managed to book four separate sits. Three of them would be in Spain – based in Madrid, Almeria and Catalonia. But first, we would drive up through Portugal's rural Alentejo region to the coastal town of Magoito, on Lisbon's dramatic west coast.
The coastline both north and south of Magoito is one that features endless cliffs and regular visits from a gloomy mist that rolls in from the Atlantic. Or at least it did for much of the two weeks we spent there in July!
But when the sun was out, it was a magical place to walk "Gypsy", our gorgeous Beagle, along the many cliffside pathways. And to once again explore the region in our car. Including the fairytale palaces of nearby Sintra and the cliff-hugging beaches all the way down to the Setúbal peninsula.
Although the highlight was undoubtedly our time spent in a deserted Lisbon, a city that had recently succumbed to the full onslaught of over-tourism. But, for now, the cruise ships were absent. As were the hordes of tourists who'd normally be crammed like sardines into the ubiquitous trams.
And, although mask-wearing outdoors wasn't a requirement, it seemed that people were doing so voluntarily.
Gypsy beside the cliffs at Magoito
From Magoito, and en route to our next housesit, we spent a night in the UNESCO-listed town of Evora. Our guest house had recently reopened for business, but the lengths to which our host, Carla, had to go to meet health and safety requirements was a timely reminder about the fragility of the hospitality industry in these times.
With six rooms normally available to let, she was running on just two – at opposite ends of the property so that guests didn't have to pass each other. There were disinfectant mats and hand sanitisers everywhere. And the two days on either side of our booking had been blocked out for cleaning purposes. Quite how she was expected to make much of a profit on that is anyone's guess. But she was clearly happy to have us stay. As were we.
The following day, we arrived at our next housesit in Galapagar, a suburb of Madrid. And of course, as Alsace was to France, the Spanish capital had been at the epicentre of the country's virus outbreak from the beginning.
Things had settled down to a degree after the first wave had passed. But, as with Portugal, there were worries about the almost inevitable second wave. Our hosts were travelling to Poland with their family and had, until almost the last minute, warned us that there might be a chance they'd have to cancel. Especially should any family member show COVID-19 symptoms or the situation in either country suddenly deteriorated.
Happily, they were able to travel. Which meant we were lucky enough to look after their little menagerie, consisting of a Great Dane puppy ("Ragna"), an Old English Sheepdog ("Troya"), and their playmate ("Sparta")…the roughest and toughest kitten we've ever met.
As a giant dog in his rapid early-growth stage, Ragna would often rest for large parts of the day. Something we learned to do ourselves in the forty-degree heat in-between walks.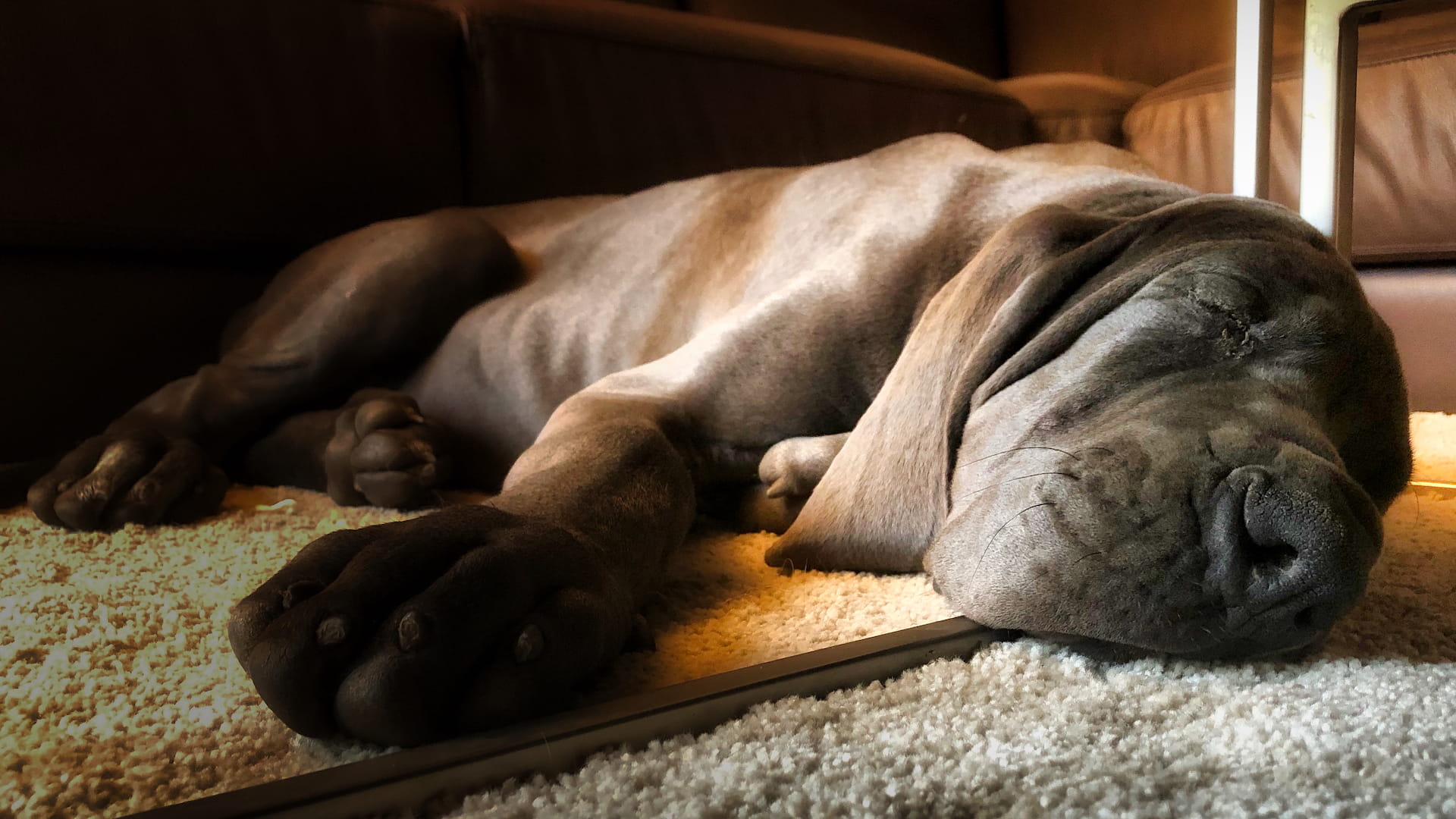 Just as we did for Lisbon, we took the train (masked up, of course) from Galapagar into Madrid on a number of occasions. And, just as in Lisbon, the city was almost devoid of international tourists, although there did seem to be plenty of domestic day-trippers around.
Most of the museums and art galleries were open with strict one-way routes and social distancing rules in place. And, with free entrance on certain days, we were able to visit some of Madrid's world-class sights such as the Prado, Reina-Sofia and Thyssen-Bornemisza museums.
Although a wander along the famous, yet deserted culinary street, Calle de la Cava Baja, was both eerie and frustrating in equal measure.
Ian about to devour a churro at Madrid's Chocolatería San Ginés
Masked up in the Palacio de Cristal
A deserted Calle de la Cava Baja
Before travelling to Madrid, my impression of central Spain was that of a somewhat barren land of dust and desert. I've no idea why I thought that. Possibly from watching the spaghetti westerns of Sergio Leone in my youth, which I believed had been filmed there (turns out they were actually shot further south, down in Andalucia). So, the greenness of the region came as quite a welcome surprise. As did the wealth of fascinating towns and cities surrounding Madrid, such as Toledo, Segovia and Ávila – all reachable by car on day trips.
Indeed, it's a region we intend on returning to once the pandemic is finally put to bed.
​En route to our next sit near Almeria, we decided once again to spend a night in a guest house. Which made the city of Granada an ideal choice, with the lure of its centrepiece Alhambra complex too hard to resist. And again, the absence of international tourists made the experience of an early-morning visit to the palace a memorable one. 
And "memorable" is how we'd probably describe the housesit that followed. For all the wrong reasons, however.
This article is probably not the right place to relate what happened in any detail. But, suffice to say, we had a major falling out with our hosts over a health hazard at the property. To the point where it became untenable for us to stay beyond the first 10 days of what should have been a three-week sit. And, ironically, it had nothing to do with the pandemic.
The whole episode left us angry, upset and, to be honest, bewildered. Our next sit, in Catalonia, was not due for another two weeks. To fill the time in-between, we needed to find somewhere we could stay in relative isolation. And, in a moment of inspiration, we settled on a tiny whitewashed village high up in the Alpujarras region of the Sierra Nevada.
Alfornón represents the epitome of the adage "where time stands still". It sits in the bowl of a valley surrounded by vines, figs and olive groves. Its streets are cobbled and steep. And the only noises to break the silence are usually the odd pony clip-clopping its way over the cobbles or a tiny feral cat meowing for a saucer of milk. We spent a week there in a 600-year-old Moorish casa. And we loved it. No hassles. Nobody to bother us. And where the only health hazard was climbing the rickety spiral staircase to the rooftop terrace.
As always, we took advantage of our time there to explore the glorious mountain scenery around us. Both on foot and in the car.
For the remaining week, we drove slightly north to the UNESCO-listed Úbeda, with its magnificent buildings and olive oil-making heritage. And then on to the stunning hilltop village of Segura de la Sierra. As there was literally nothing open, the only thing to do there was to amble along its many lung-busting trails. Which was no great hardship given the glorious scenery.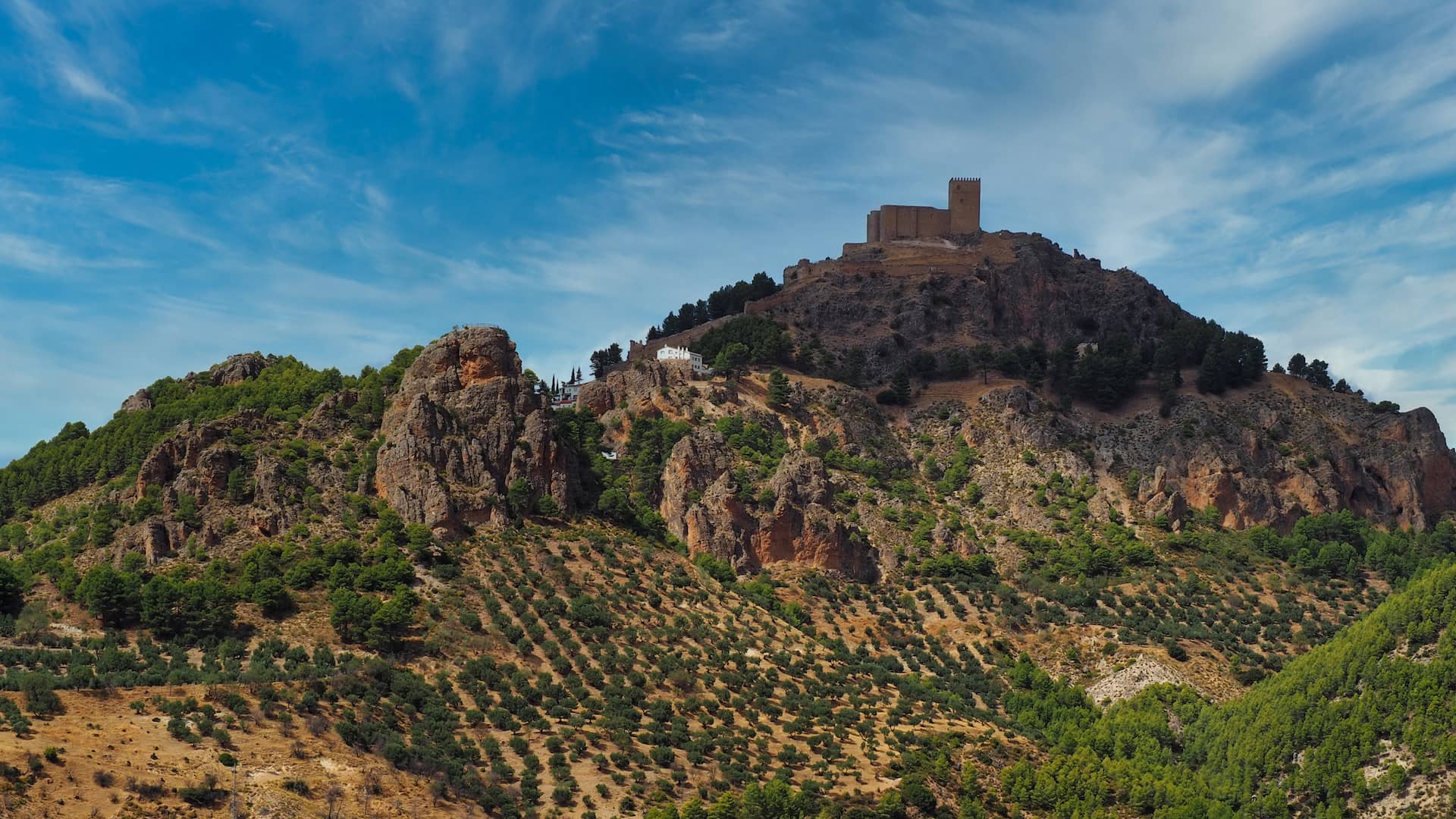 The castle at Segura de la Sierra
The castle at Segura de la Sierra
By now, it was late-September and, with a worsening situation in Spain, we'd decided to suspend our plan to remain in the country for the remainder of the year. If it was once again to go into a full national lockdown we worried that we might not be so lucky this time to find somewhere to stay. And, at least if we returned to France, we'd then be within striking distance of a Channel ferry back to the UK if needed.
So, we managed to secure two housesits in France until the end of the year, immediately following our next one in Catalonia.
Catalonia itself was under tight restrictions already because of a number of concerning outbreaks.  Although our accommodation, just south of Tarragona, was sufficiently far away from the main hotspots. Our 12 days there were largely spent around the house and taking "Roma", our German Shorthaired Pointer, on long walks.
That was when he wasn't demanding we throw his red ball for him.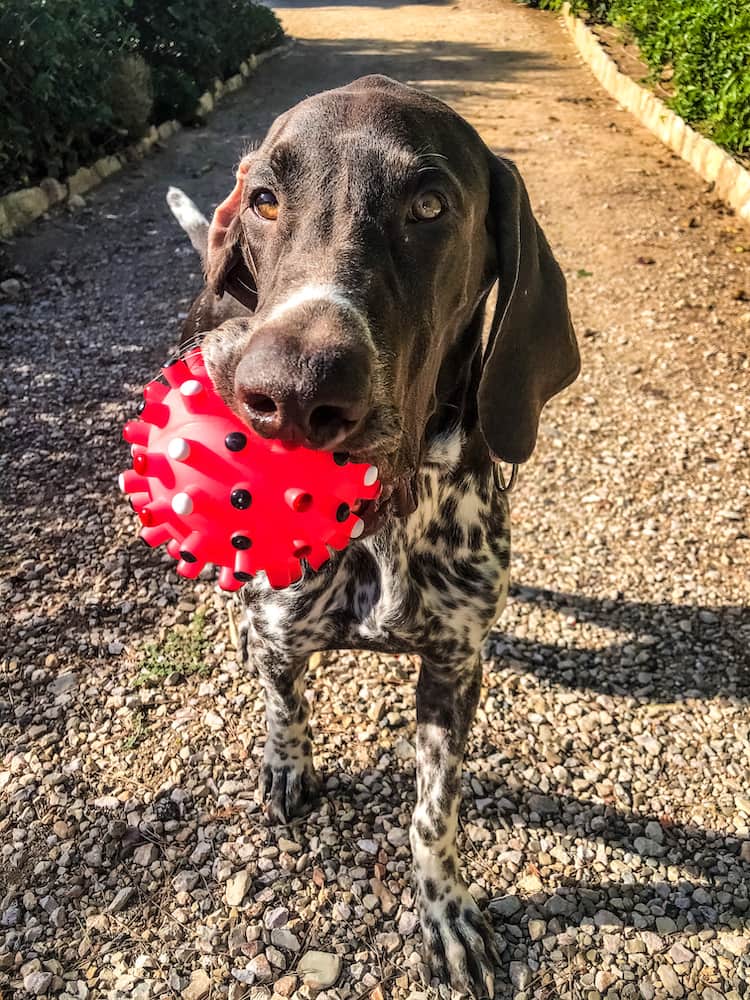 Back to France and Castelnau-de-Montmiral
Indeed, Roma was one of a host of beautiful dogs we'd looked after during the year. And our next sit in France was no different.
We drove back across the Pyrenees and onward to Castelnau-de-Montmiral, in the department of Tarn. This time, we had four dogs in our charge (three of which were Cocker Spaniels) and three cats. Two of the Cockers were show dogs. And boy, did they know it.
The town itself is a medieval bastide and one of France's Plus Beaux Villages (Most Beautiful Villages). In normal times, we would have loved to have taken the dogs into the medieval square while we sat at an outdoor table eating our plat de jour and sipping Gaillac perle, the ever-so-slightly sparkling local wine.
But, with a fresh surge in virus cases, a nightly curfew and a move afoot to once again close restaurants, bars and cafés, a walk through the town became just that.
Our housesit was scheduled to last six weeks until late-November. As it happens, our hosts were only going to be away for part of that time and our accommodation was in a separate gîte, albeit attached to the main house.
But then, on October 28, we had a déjà-vu moment as Macron reappeared on TV, with the same gloomy face as before, to announce a second lockdown from October 30. It would last until at least December 1, and possibly beyond. As our next housesit was 460 kilometres further north it meant that we ran the risk of not being able to travel there.
So, as we did back in Alsace, we made the decision to take positive action. Because of the lockdown, our current hosts' planned trip to Spain now had to be cancelled. Therefore, there was no pressing need for us to stay. So we contacted our next hosts in Montreuil-Bellay who agreed to accommodate us early. Our lodgings there were to be in a fully self-contained gîte anyway so we wouldn't be in the way.
Cue another quickfire packing of the car and we were once more on our way.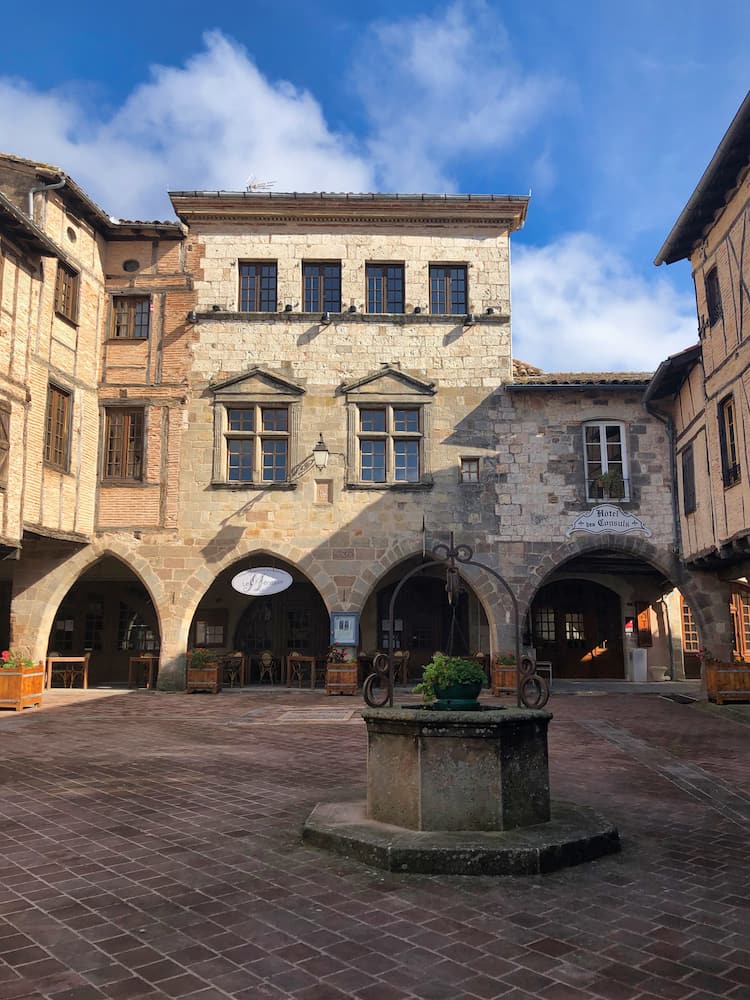 The medieval square in Castelnau-de-Montmiral
Dog walking through the village
Two perfectly groomed boys
And, just as we'd struck lucky with our first French lockdown, we fell on our feet again this time. And then some.
The property near Montreuil-Bellay was a converted water mill, situated on the bank of a tributary of the River Loire. Our self-contained accommodation took the whole of the first floor, with floor-to-ceiling windows looking out over the river. With swans, cormorants, herons and a multitude of other birds paying regular visits, it was idyllic.
This time we were to look after two cats, two chickens and seventeen ducks. We know – we counted them often as we were in the middle of hunting season.
In the end, we stayed even longer than expected. We rode out the lockdown without needing to go anywhere other than the local supermarkets and vineyards. Our hosts did make it to the UK over Christmas and New Year. And we managed to survive a major flood when the river burst its banks, leaving us cut off as a temporary island for days.
We were scheduled to leave and return to the UK at the beginning of January. But events again took a turn for the worse on January 4 when Boris Johnson announced that the UK was to go into a third lockdown, lasting until at least March.
As a measure of our hosts' unbelievable generosity, they offered to let us stay on in the gîte for an extended period whilst the lockdown was in place. And we were very tempted to take them up on their offer. But, as we progressed through January, it became more and more likely that France would also slip into another lockdown. Which meant that we had no choice but to cut our losses, obtain negative COVID tests and return back to Blighty.
The drive back to Calais and then from Dover back "up north" was an achingly long one, accompanied by relentless rain. Which was to be followed by 10 days of quarantine, as per UK regulations. Such fun.
We'd left England back in early-March and had headed almost straight into a national lockdown. So it was perhaps telling that, almost 11 months later, we would return to yet another one.
Those vaccinations can't come quick enough!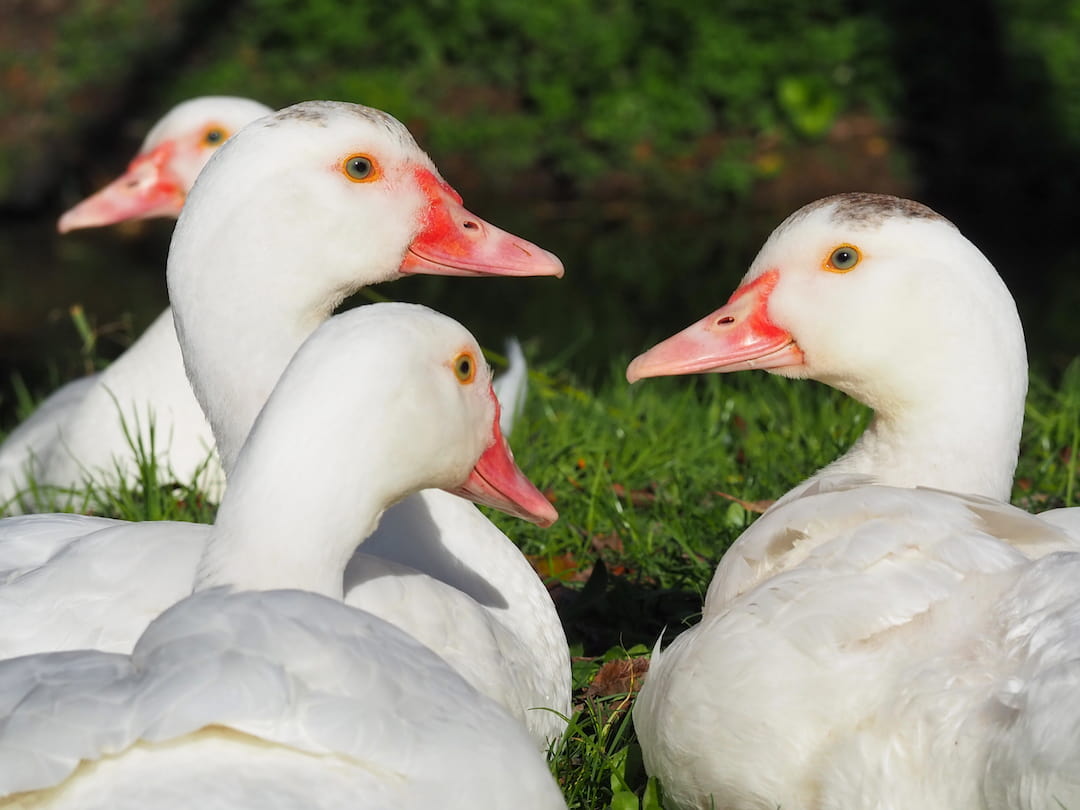 View of swans on the river from our gîte
If you've read this far, there's a chance you might be wondering why we continued to travel while a pandemic was rampaging its way across the world. And we can understand that point of view.
However, our lifestyle is nomadic in nature as we don't have a permanent base. And, as we've said, we feel we were much better placed spending the first lockdown in France than we would have been in the UK.
Our decision to continue travelling throughout the summer and autumn in Spain and Portugal was based on a simple premise. That we would always observe safe social distancing measures, not put ourselves or others in compromising situations, and to have a healthy respect for national and local restrictions. And, of course, that included those times when we visited major cities such as Lisbon and Madrid.
Coupled with the fact that we had our own transport and were intending on housesitting for the large majority of the time, rather than checking in and out of guesthouses or hotels. And that both Spain and Portugal were actively working towards opening up to international tourism for the summer.
Ultimately, the onset of the second wave put paid to those plans. And, as circumstances changed, we had to adjust whilst we were on the road. Which was why we decided to return to France at the beginning of October rather than run the risk of a lockdown in Spain.
Would we do it again? That would very much depend on the circumstance. It's fair to say that, like most people, we perhaps underestimated the potential scale of the pandemic back in those early days of 2020.
And the fact that we came through it relatively unscathed was largely thanks to the generosity and flexibility of the homeowners and guesthouse owners we met along the way.
MORE ON FRANCE, SPAIN AND PORTUGAL
Hi, we're Ian and Nicky, an English couple on a voyage of discovery around the world, and this blog is designed to reflect what we see, think and do. Actually, we'd like to think it also provides information, entertainment and inspiration for other "mature" travellers, too. So please feel free to pour yourself a glass of something suitably chilled and take a look around.