HOW TO PLAN AN ESCAPE TO ALCATRAZ
HOW TO PLAN AN ESCAPE TO ALCATRAZ
'You are entitled to food, clothing, shelter and medical attention. Anything else you get is a privilege'.
So said Restriction Number 5 from the Alcatraz Prison Rules and Regulations, 1934. Which was fair enough given the notoriety of some of The Rock's famous inmates. Gangsters such as Al "Scarface" Capone, George "Machine Gun" Kelly, Alvin "Creepy" Karvis et al.
And, of course, Clint Eastwood.
As a maximum security prison, it was legendary. As a tourist attraction, it's one of San Francisco's biggest draws. Indeed, with over one million visitors each year, it's not exactly a place to lose yourself in.
But you can still avoid the worst excesses of tour party overload and enjoy this fascinating tour in relative calm.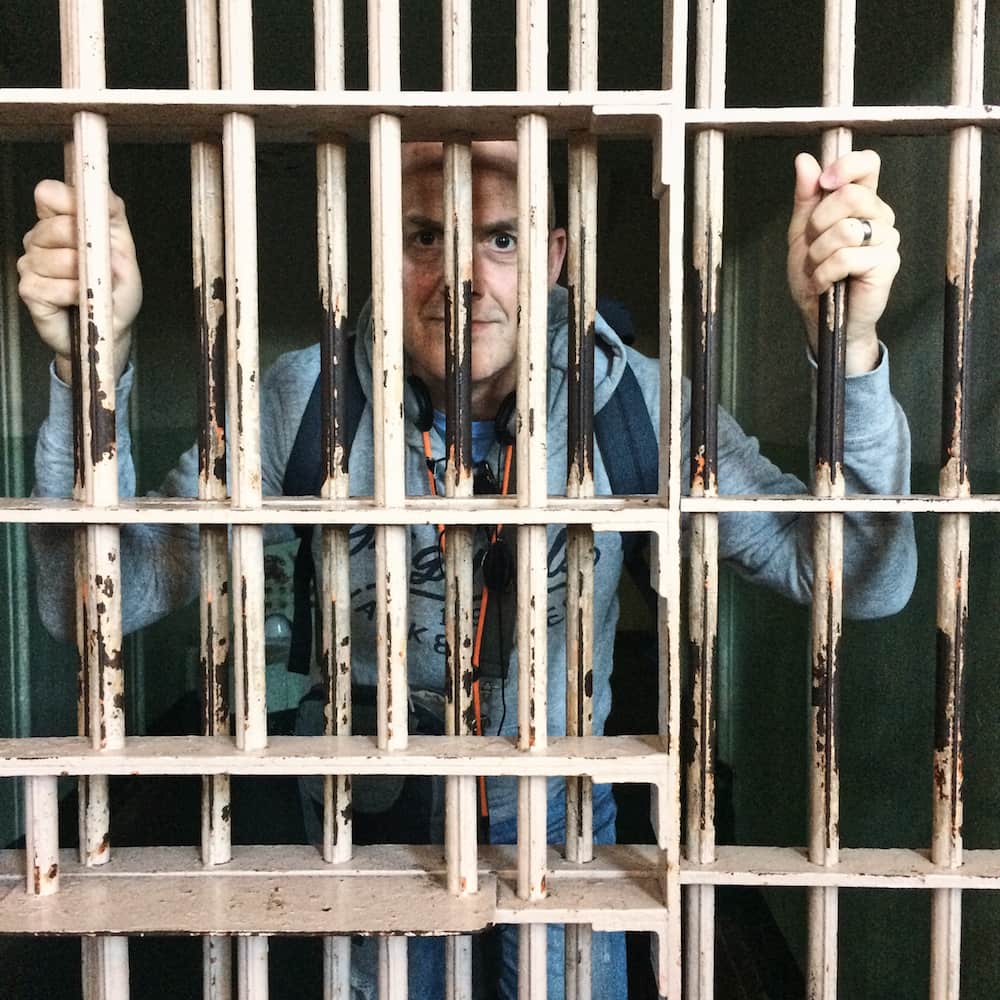 Contents
This page contains affiliate links. To help us maintain our site we work with a number of partners who we've personally used and can recommend to our readers. If you decide to purchase any products through the links on this page, we'll receive a small commission at no extra cost to you.
Alcatraz – a brief history
Situated in San Francisco Bay, Alcatraz Island was originally developed in the 1850s as a fort and served to protect the city against Confederate raiders during the American Civil War. But, during that period, it was also used as a prison for, amongst others, soldiers who'd been convicted of desertion, rape, murder etc.
By the early 1900s it had formally been decommissioned as a fort and a huge concrete cellhouse was built to house more inmates, including conscientious objectors during World War 1.
However, it wasn't until 1934 that ownership transferred to the Department of Justice and it re-opened as a maximum security federal penitentiary. Despite the presence of its more notorious inmates, the vast majority of Alcatraz's 1,545 population between 1934 and its closure in 1963 were regular prisoners. What made them different was that they'd been transferred from other prisons having been considered escape risks and troublemakers.
There were just 14 attempted escapes during that time, of which the June 1962 attempt by Frank Morris and the Anglin brothers (immortalised in the Clint Eastwood film Escape From Alcatraz) is the most famous. Spoiler alert if you haven't seen the film – they escaped. But it's not exactly clear if they survived the icy cold water of San Francisco Bay.
After its closure, the island was occupied temporarily by a group calling themselves The Indians of All Tribes, who offered to buy Alcatraz from the government for $24 in beads and coloured cloth. Despite some initial positive media coverage, the group eventually left in 1971 and the newly-formed Golden Gate National Recreation Area ushered in Alcatraz's commercial future, with the first visitors arriving in 1973.
There's only one way to get to Alcatraz and that's through the official tourist partner of the National Parks Service, Alcatraz Cruises. They offer a number of tours throughout the day, beginning with the "Early Bird" (first departure of the day at 08:45) and ending with the Night Tour (currently priced at $38 and $45 respectively). There's an extended "Behind The Scenes" tour ($90) and an Alcatraz/Angel Island combo ($76.25), too if you fancy splashing out.
The way it works is that there's a 15-minute ferry crossing to the island, after which you can spend as long as you want exploring. You'll need at least 2-3 hours to see the main attractions. You can then hop back on any of the subsequent ferries for your return to San Francisco.
So, by the time it's mid-to-late morning, there's an escalating number of tourists on site as ferries continue to arrive and visitors from previous ferries are still looking around. The beauty of the Early Bird tour is that you'll be the first group to arrive so you at least have an hour or so of relative quiet.
I'd highly recommend you buy your tickets in advance. Tours do get booked out and if you want to take advantage of the Early Bird Tour (and you really should) then you'll want to secure your place.
The ferries depart from Pier #33, half-way between Fisherman's Wharf and the Ferry Terminal Building. If you don't fancy walking, you can pick up an F Line streetcar to get there (it stops outside).
A great view of San Francisco from the Alcatraz ferry
If you're lucky with the weather – and if you're in San Francisco, luck does play a major part – the crossing to Alcatraz is a highlight in itself. With magnificant views back towards the city in one direction, the Golden Gate Bridge in another and the looming prison ahead of you, it's a 15-minute journey to be savoured.
Not surprising then that it's a bit of a bunfight to find the best vantage points from the boat. By all means try the lower-front viewing area. If you don't mind getting a soaking, of course. If not, one of the seats at the sides facing outward would be my choice (the left side heading towards Alcatraz as it faces the city).
Arrival at Alcatraz Island
As you arrive at the island you'll be met with a view of the barracks and apartments, with the lighthouse and cellhouse in the background. Of course, the prisoners who were being taken there would have had the same view. They just wouldn't have been as enthusiastic about it as you or I.
Approaching Alcatraz Island, with the barracks/apartments in the foreground and cellhouse to the rear
Once you've landed at the dock, a ranger gives you an introduction to the island, together with some basic rules and details on some of the additional tours available that day. For instance, we had the option to join an extended guided tour which would include taking us to places that the official audio guide wouldn't.
And, before you start to take a look around, there's an opportunity to watch a short video on the history of Alcatraz. Otherwise, it's time to make the most of your early start and climb the steepish hill up to the cellhouse to pick up your headset and audio guide.
The audio guide is excellent. Narrated by a former guard and including contributions from actual inmates, it does a great job of bringing alive what it must have been like to live and work in this foreboding place. Of course, it also means that you get to wander around at your own pace rather than have to stand beside a particular cell of interest with upwards of twenty other people in tow.
In fact, the most difficult part we found was trying to synchronise our tour by starting our audio guides at the same time. But that's just us.
So, beginning at the shower room, you'll make your way through the entire cellhouse, stopping off at various points for the audio guide to provide insights and background stories.
Three particular areas stood out for me.
Firstly, the isolation cells where "troublesome" inmates were treated to solitary confinement in total darkness. Known coloquially as The Hole, each tiny cell consisted of just a metal bed frame, a toilet and a sink. They were sound-proofed, too.
Just walking inside one of these cells on D-Block and closing my eyes was enough to induce a semi panic attack. So just imagine 19 days straight – the maximum length of time a prisoner could be incarcerated in there. And if he was deemed to have continued to be a troublemaker, he was taken out, fed and returned for another 19 days. Suffice to say, not many did.
And then there was the mocked-up cell made famous by Clint Eastwood in Escape From Alcatraz – complete with excavated ventilation duct and an ingenious dummy head made from a mixture of soap, toothpaste, concrete dust and toilet paper. By fooling the guards that they were soundly asleep in their cells, the three real-life escapees managed to climb out through the ventilation shaft and on to the roof before disappearing into the foggy bay on a home-made inflatable raft.
Most memorable of all was the scene of the Battle of Alcatraz, as it became known. Spread over two days, the incident accounted for the lives of two officers and three prisoners, while a further 17 officers and one prisoner were wounded. The audio guide gives an incredibly vivid account of the seige as officers battled with prisoners, who were eventually overcome by an assault team armed with rifles and grenades.
Cell with dummy head and excavated ventilator duct
The whole audio-guide tour lasts around two hours, depending on the pace you want to do it in. We actually dwelled for some time in the recreation yard as some of the key scenes in the Escape From Alcatraz film were shot there. And, due to the early start, it was empty when we got there.
After you've finished the tour there are still plenty of other places to wander around before you return to the dock to catch the ferry. For instance, there's an American Indian occupation exhibit commemorating the 18-month occupation. And, maybe surprisingly, a number of historic gardens.
On the face of it, you might think that spending a not-inconsiderable amount of money on a visit to a disused prison in the middle of San Francisco Bay is…well…a bit of a waste of time. And, to be honest, if you're not particularly interested in the historical significance of the place you might well be right.
But, if you're like us, and you're a sucker for a good story. Or you're interested in exploring a living museum of American history. Or, indeed, you just want to go and sit on the recreation yard steps where Clint Eastwood hatched his escape plan, then an Early Bird tour to Alcatraz should definitely be on your San Francisco to-do list.
And, before you return to the dock to catch the return ferry across the bay, you might also want to check out the souvenir shop. Not something I'd normally endorse but the quality was surprisingly good.
Not least the Alcatraz mugs. Shame I couldn't fit one in my backpack.
Related links
What did you think? Have you ever been to Alcatraz Island? Perhaps you did the evening tour? Or maybe you're thinking of taking a trip there soon? Either way, we'd love to hear from you so please add your comments below.
To help us maintain our site we work with a number of partners who we've personally used and can recommend to our readers. If you decide to purchase any products through the following links, we'll receive a small commission at no extra cost to you. Thank you for your support!
Hi, we're Ian and Nicky, an English couple on a voyage of discovery around the world, and this blog is designed to reflect what we see, think and do. Actually, we'd like to think it also provides information, entertainment and inspiration for other "mature" travellers, too. So please feel free to pour yourself a glass of something suitably chilled and take a look around.