How To Visit Teotihuacan Without A Guided Tour
MEXICO
How To Visit Teotihuacan Without A Guided Tour
Teotihuacan (or "City of the Gods") is one of the most important ancient sites in the Americas. Pre-dating the Aztecs and the Mayans, it's a fabulously grand complex of pyramids, temples and other stepped buildings to spur the imagination of anyone who visits. And it's something of an archaeological mystery, too.
Today, it's one of Mexico's biggest historical tourist attractions, competing with the likes of Chichen Itza and Palenque in the south of the country. And not least because of its easy accessibility from Mexico City. 
To get a thorough understanding of its history, you might wish to hire a local guide. There are plenty who will approach you once inside the gate entrance. But at 850 pesos (£38 / $46) for up to two hours or 1500 pesos (£67 / $81) for three hours, you might want to consider doing your own research or downloading a guide in English before you go, instead. I know doing it that way is not for everyone – and we do try to support the local economy when we can – but if Teotihuacan is just one of a number of historical sites you plan to visit, the cost of a guide at each one can soon add up.
So, in this article, we explore how to visit Teotihuacan as an independent traveller and what your options are when you get there.
Table of Contents
Click on the link to go straight there…
Piramide del Sol
Avenue of the Dead
Piramide de la Luna
Palacio de Quetzalpapalotl
Avenue of the Dead (revisited)
La Ciudadela
Teotihuacan's museums
Final thoughts on how to visit Teotihuacan
This page contains affiliate links. To help us maintain our site we work with a number of partners who we've personally used and can recommend to our readers. If you decide to purchase any products through the links on this page, we'll receive a small commission at no extra cost to you.
Once the largest city in the whole of the Americas, Teotihuacan (pronounced teh-oh-tee-wah-kahn) was built between 100 BC and 250 AD by an ancient civilisation of which there is little known.  Although, if the Aztecs are to be believed, it was constructed and ruled by a whole army of giants. Indeed, they believed that the huge buildings running along the famous Avenue of the Dead housed royal tombs built by them.
Divided into quarters by two grand avenues, which crossed each other at The Citadel, its most famous buildings are the two giant pyramids dedicated to the moon and sun gods. At the height of its powers, the city housed over 125,000 people in multi-storeyed apartment complexes. Its pyramids and other buildings were often colourfully painted. And graceful murals featured on many of its walls.
However, around the 7th-8th Century, it fell into rapid decline. Burn marks surrounding the city elite's housing compounds suggest civil conflict as a potential cause. But, in truth, its demise is just as much a mystery as its formation.
After its abandonment in the 8th Century, the city lay in ruins for centuries, buried beneath a thick mattress of vegetation and earth. Although it remained a pilgrimage site for the Aztecs, the Spanish Conquistadors didn't know it existed. Indeed, some of its main structures, such as the Temple of Quetzalcoatl, were not excavated until well into the 20th Century.
Nowadays, it's Mexico's most-visited archaeological site and is recognised by UNESCO as a World Heritage Site.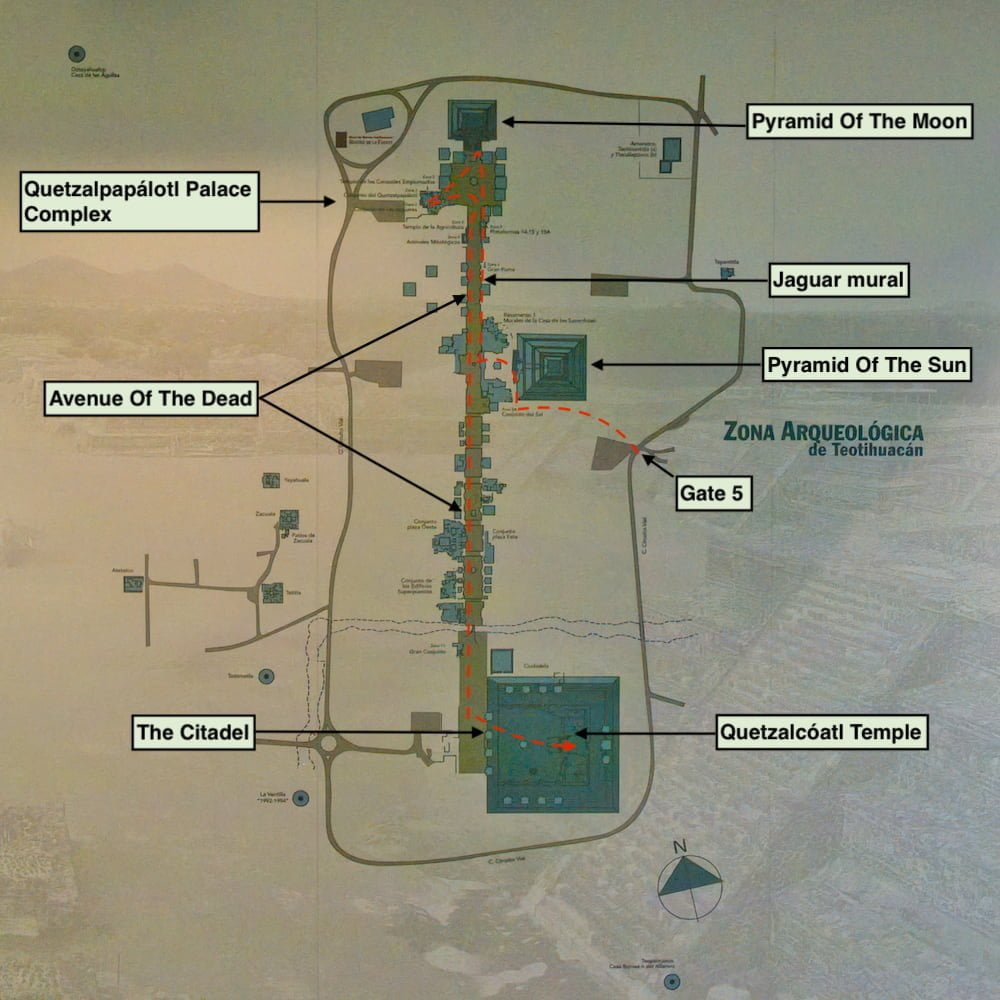 Our self-guided walking tour
There are five gated entrances to the site, each with their own ticket booths. Buses arriving from Mexico City will drop you off at Gate 1. The other four are scattered elsewhere around the site – through which you can leave (for instance, for lunch) and re-enter throughout the day.
We chose to enter at Gate 5. Partly because we stayed overnight in nearby San Juan Teotihuacan rather than take a day drip from Mexico City – and this was the nearest gate to our accommodation. But also because it's the nearest gate to the Pyramid of the Sun, which we wanted to see before the tour groups arrived. And there's the added advantage of it being in the path of an early-morning flotilla of hot air balloons that float quietly above the pyramid, adding to its aura.
Entering at Gate 5 opening time – after the hot air balloons
Pirámide del Sol (Pyramid of the Sun)
After entering at Gate 5, the very first building to see is the Pyramid of The Sun. It's the world's third largest pyramid, behind Egypt's Giza and Mexico's Cholula (although that one is mostly hidden from view).
Yet its name might actually be a misnomer. Accounts from the early 16th Century claimed that the monument was used to worship the sun god. And excavations in 1971 unearthed a tunnel and underground cave directly beneath the pyramid, which archaeologists believed was used to worship the sun. 
However, a new theory suggests that the cave was used to worship the rain god (Tlaloc). There's further evidence of this in the shape of a ten-foot wide moat around its base and the presence of child sacrificial burial chambers at the corners (a common feature of offerings to the water god).
Irrespective of its use, it's impossible not to be in awe of the people who constructed it from three million tonnes of stone and earth without the aid of metal tools, working animals or the wheel.
As we wandered around the base just after the park's 09:00 opening time, the early morning sun cast a reddish glow on two of its slopes. And we wondered how it must have appeared in its heyday when the sunlight reflected on the pyramid's bright red plaster.
Unfortunately, (or fortunately, depending on how you view it) we didn't have permission to climb any of its 248 steps to the summit. Which, given some of the photographs we've seen from the past, doesn't come as a surprise. That situation may change in the future, but for now, don't expect to be able to set foot on the pyramid itself.
A hot air balloon peeks behind the Pyramid of the Sun
​Calzada de los Muertos (Avenue of the Dead)
From the pyramid, a short walk across the Plaza del Sol takes you to the Avenue of the Dead, Teotihuacan's main roadway, running north to south (mistakenly named as such by the Aztecs, who believed that the buildings were in fact royal tombs).
As you arrive, the view to your right leads through the avenue's most impressive buildings, culminating with the Pyramid of the Moon at the end.
A good reason for arriving early at the site is to be able to wander along the avenue before the bulk of the tourist groups arrives. Indeed, we were early enough (and lucky enough) to be able to stroll along it with nobody else around. Which, given the morning silence, the site's history and the fantastical buildings along the way, made it a memorable experience for us.
On each side of the wide avenue, the remains of stepped, multi-storied apartments and platforms are in excellent condition. This, along with the palaces further south, are where the city's elite took residence. And, perhaps more than any other archaeological site we've been to, the sense of wonder as to how it might have looked and felt to a contemporary resident is palpable.
Before arriving at the Pyramid of the Moon, there's a partly-hidden mural of a puma that's worth a look. Although called the Mural del Puma, others claim that it depicts a jaguar or a cougar. Either way, it's remarkably well-preserved for its age.
Although you'll have to balance this against the sound of vendors continually blowing on their plastic jaguar whistles. I guess someone must buy them, but they can be quite annoying after the initial novelty wears off. And you'll come across them throughout the site.
Pirámide de la Luna (Pyramid of the Moon)
By far the most impressive of Teotihuacan's sights, the Pyramid of the Moon is smaller than its sun/water-god cousin. But its position at the head of the Avenue of the Dead gives it an overall magical quality that's hard to beat.
In front, the Plaza de la Luna is surrounded by 12 striking temple platforms and has an altar in the centre. It's been suggested that the 13 structures (including the pyramid) have some astronomical significance as that number plays a key part in the Mesoamerican ritual calendar.
Looking up at the pyramid, we imagined how it might have appeared at a full moon during its heyday, with its religious chiefs standing symmetrically on the steps and at the summit. Below, lavishly dressed performers would be dancing on the altar. Meanwhile, the Plaza and the Avenue beyond would be filled with an adoring and partisan crowd. (OK, that might sound like a Hollywood version of reality, but it's the best our imagination could summon!)
Again, we weren't able to climb its steps when we visited – which, we won't lie, was a disappointment. Especially as we'd heard that the view from the top provides a sublime panorama of the whole site. However,  it did mean we could view and photograph it without it being littered with queues of brightly clothed tourists. 
Silver lining and all that. 
Nicky approaches the Pyramid of the Moon
Ian decides that if he can't climb them, he might as well photograph them
Palacio de Quetzalpapálotl (Quetzalpapálotl Palace)
Away to the left and southwest of the pyramid, some steps lead to a viewing platform which provides a good view back across the plaza. 
Adjacent to that, the Quetzalpapalotl Palace is a complex of buildings featuring a gorgeous courtyard called Patio de los Pilares (or "Patio of the Pillars"). On its many stone pillars are carvings of mythological bird-butterfly creatures (bird = quetzal; butterfly = papalotl), together with other symbols. Connecting the pillars is a red fresco, all of which dazzles against the backdrop of a blue sky.
Underneath the palace, the Temple of the Feathered Conches features brilliantly coloured murals and a facade decorated with images of feathered conches and flowers. And, to the west, the Jaguar Palace includes further big cat murals.
Interestingly, the remains of exotic animals, (such as bears and armadillos) have been discovered there, pointing to its occupation by elite members of society.
Mural in Temple of the Feathered Conches
Mythological bird/butterfly carvings
Avenue of the Dead (revisited)
Returning to the Avenue of the Dead, you'll now head south away from the Pyramid of the Moon, passing the many vendors who will by now have set up their makeshift stalls, or who'll just approach you along the way.
After clambering over a number of stepped structures that cross the avenue you'll reach what's known as the Avenue of the Dead Complex. In addition to a number of pyramid bases, there are stepped platforms and residential areas (such as the so-called Superimposed Buildings), all contained within a walled-off compound. 
And, all the while, the views of the two main pyramids take on a different perspective.
View of Pyramid of the Moon
La Ciudadela (The Citadel)
Just a bit further on, you'll arrive at The Citadel, Teotihuacan's administrative centre and residence of the city's ruler. It's a large square surrounded by walls and pyramids. But, for us, its best feature is the view of both the Pyramids of the Sun and Moon aligned next to each other.
View of the Pyramids of the Sun and Moon from The Citadel
The big draw, though, is the Templo de Quetzalcoatl (Temple of the Feathered Serpent) where, during the 1980s, 137 human sacrificial remains were discovered. It's a six-level stepped pyramid that's most notable for its decoration of alternating feathered serpent heads and two-fanged fire serpents that project outward like rows of gargoyles.
This time, we were able to climb the steps to view the sculptures in full. Which, as it's currently the only opportunity to do so, is well worth the effort.
Serpent heads protrude from the temple
In addition to the archaeological sights, there are a couple of museums worth seeing, too, if you have the time.
If you make your way back to Gate 5, Teotihuacan's site museum has a large display of recovered murals, artifacts and human skeletons, together with a scale model of the city beneath a glass floor.
Meanwhile, just outside the main site and near to Gate 3, the excellent Museo de Murals Teotihuacanos Beatriz de la Fuente is named after a famous Mexican art historian and is dedicated to over 50 recovered murals, some of which have been returned to the site from private collections.
Tickets and Opening Hours
Teotihuacan entrance fee: 80 pesos (as at 1 March 2023)
Opening hours: 09:00 till 17:00
You can easily buy your entrance ticket at any of the five gates on the day.
Many people visit Teotihuacan on an organised day trip from Mexico City. These can easily be booked through your accommodation. However, getting a bus to Teotihuacan from Mexico City's Terminal Norte is simple enough, and a lot cheaper.
They're operated by Autobuses Mexico-San Juan Teotihuacan and run from 07:00, dropping you off at Gates 1, 2 and 3. The journey takes approximately one hour. Just make sure your bus is going to "Los Piramides" rather than the town of San Juan Teotihuacan itself.
Taxis are an expensive option. But you might consider an Uber to Teotihuacan, especially if there's a small group of you.
Our suggested option is to take the bus to the town of San Juan Teotihuacan and stay overnight there instead. You can then walk to the site at Gate 5 (like we did) before the site opens in the morning. Or you can take a local taxi or minivan (from Avenida Hidalgo and headed to "San Martin") instead.
Final thoughts on how to visit Teotihuacan
With its easy access from Mexico City, we reckon Teotihuacan is an essential day visit for anyone who enjoys a sense of awe. Or indeed has an interest in ancient history.
If you're pushed for time, or feel somewhat intimidated by travelling to it independently, then there's a plethora of organised tour options from Mexico City.
But, for the budget conscious, or those who like to do such things independently, we'd strongly suggest an overnight stop in San Juan Teotihuacan, followed by an early-morning start the next day. That way you'll miss the worst of the crowds and get to appreciate the site at its most serene.
Mexico City
Pyramid of the Sun
Pyramid of the Moon
Mural del Puma
Avenue of the Dead (north)
Avenue of the Dead (south)
Quetzalpapálotl Palace Complex
Temple of the Feathered Serpent
The Citadel
Teotihuacan site museum
Museo de Murals Teotihuacanos Beatriz de la Fuente
Gate 5 entrance
Gate 1 entrance
Gate 2 entrance
Gate 3 entrance
Gate entrance 4
San Juan Teotihuacan
FAQs
Where is Teotihuacan?
Teotihuacan is located 40 km (25 miles) northeast of Mexico City in Central Mexico.
When is the best time to visit Teotihuacan?
The best time of day to visit is definitely as close to opening time (09:00) as possible. The weather will be cooler for start  – and there'll be less people around.
Also, try to avoid the weekend (for instance, there's free entrance for Mexican nationals on Sundays) or public holidays.
In terms of the time of the year, November to April is the dry season. Considering the lack of shelter on offer as you're walking around, the rainier and hotter months (May to October) are perhaps less desirable. Nevertheless, it's possible to visit throughout the year.
What are the top things to do at Teotihuacan?
Our top 5 things to do at Teotihuacan are:
Pyramid of the Moon
Avenue of the Dead
Pyramid of the Sun
Palace of the Feathered Serpent
Quetzalpapálotl Palace
What should I take with me to Teotihuacan?
Bearing in mind how exposed you'll be to the sun, take suncream, a hat and plenty of water as a bare minimum. 
You'll also be walking for a few hours, including up and down stone steps, so wear comfortable footwear, too.
And, of course, you'll want your camera.
Can I climb the pyramids?
Yes and no.
As of late-2022, you can no longer climb the steps of the Pyramids of the Moon and Sun. 
However, you can still climb the steps of the Temple of the Feathered Serpent.
Any other questions?
If there's anything you'd like to ask about Teotihuacan that we haven't covered here, there are a few ways to get in touch with us.
Firstly, you can simply ask your question in the Comments section below. You can also get in touch using our contact form. Or, if you'd like to join our community on Facebook, you can ask directly there.
Either way, we'll do our best to get straight back to you.
What did you think?  Do you have any recommendations on how to visit Teotihuacan? Or perhaps you're planning to visit in the near future? Either way, we'd love to hear from you so please add your comments below.
PLAN YOUR TRIP
The following contain affiliate links. If you decide to purchase anything after clicking on any of these links, we may receive a small commission at no extra cost to you. Indeed, as a result, you'll be helping to keep our website ad-free! Thanks for your support.
Book Your Flight
Our go-to website for flights is Skyscanner. We've probably booked probably 90% of our flights worldwide with them over the years and they've never let us down.
Book Your Accommodation
No longer merely a travel rating service, Trip Advisor is now a major resource for booking accommodation, too. And you can view some of the best deals in San Juan Teotihuacan here.
Get Insured
For travellers who are UK residents, we recommend True Traveller. Amongst other things, they offer both multi-trip and backpacker insurance. Indeed, they're our go-to insurance provider.
For travellers who are non-UK residents, we recommend SafetyWing for both remote health insurance and nomad insurance.
Check your entry requirements
Check all entry requirements for Mexico and purchase any visas online with iVisa.
Book a tour in Teotihuacan
Book a guide, tour or other activity in and around Teotihuacan with Get Your Guide
We provide all the content on this blog completely free and aim to make your reading experience as smooth as possible. As such, other than our own affiliate links, we'll continue to resist using popup advertisements and other income-generating clutter on our pages.
However, we do put a lot of time and effort into producing content and maintaining the site. So, if you find our work useful and would like to contribute something towards it (via PayPal), you can do so here. Thank you!
Hi, we're Ian and Nicky, an English couple on a voyage of discovery around the world, and this blog is designed to reflect what we see, think and do. Actually, we'd like to think it also provides information, entertainment and inspiration for other "mature" travellers, too. So please feel free to pour yourself a glass of something suitably chilled and take a look around.