IGUAZU FALLS  AND HOW TO MAKE THE MOST OF YOUR VISIT
IGUAZU FALLS AND HOW TO MAKE THE MOST OF YOUR VISIT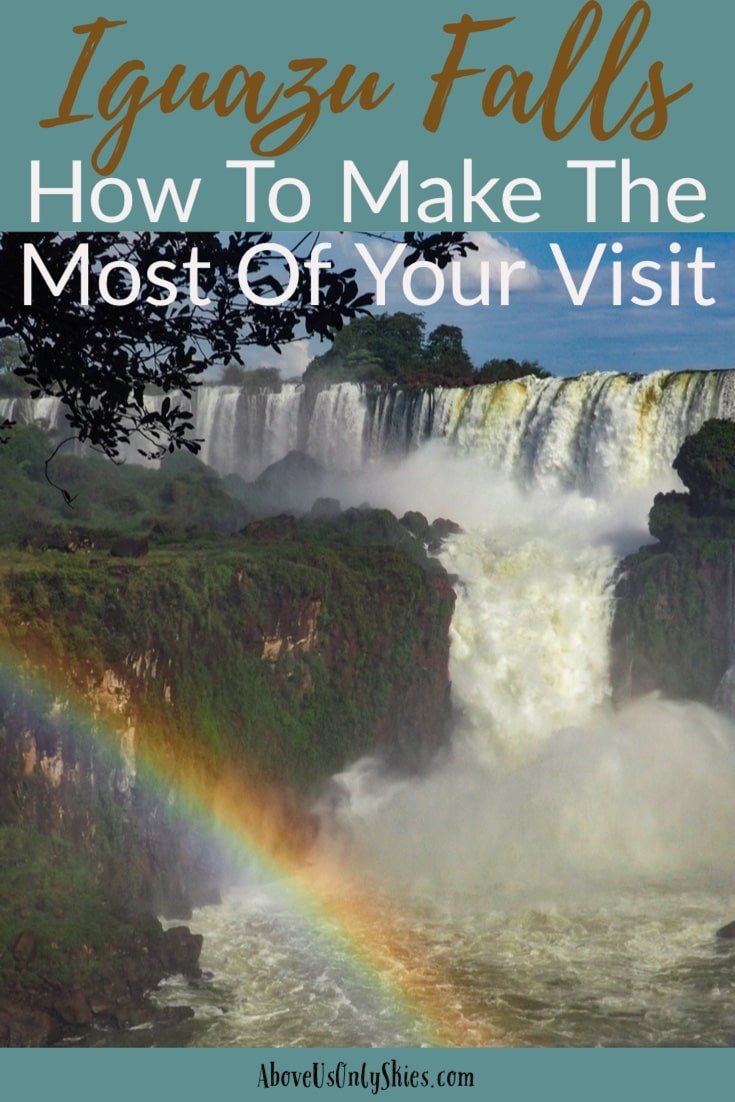 Recognised as one of the New Seven Natural Wonders Of The World, they're the largest waterfall system on the planet. They straddle two countries – Argentina and Brazil. And seeing them up close for the first time is such a monumental moment that you might just retire from seeking out waterfalls ever again!
Iguazu Falls is actually a collective name for a series of 275 thunderous waterfalls that tumble down the Iguazu River. As a tourist destination, they're a must-do if you're travelling around Argentina. And we'd recommend that you view them from both the Argentinan and Brazilian sides. On separate days. Using the Argentinian border town of Puerto Iguazu as your base.
That means you'd need to put aside at least two days for the sightseeing, plus at least one additional night in Puerto Iguazu before or after your visit. And, if you want to see the falls at their very best, you might want to factor in one more night to give yourself the best possible chance of sunny weather.
But, where do you start when planning a trip to see them? 
Happily, it's relatively easy to do. And here's how…
The Garganta del Diablo, as seen from the Argentinian side
Contents
THE ARGENTINIAN SIDE
THE BRAZILIAN SIDE
This page contains affiliate links. To help us maintain our site we work with a number of partners who we've personally used and can recommend to our readers. If you decide to purchase any products through the links on this page, we'll receive a small commission at no extra cost to you.
With the recent introduction of budget airlines within Argentina, there's no longer the need to take the arduous 18-hour overnight bus from Buenos Aires. We've found Norwegian Airlines to be the best value, especially if you can manage to fly without checked-in luggage.
There's no need to worry about pre-booking a tour to the falls before you arrive in Puerto Iguazu. Everything can be done under your own steam on the day.
Head down to the bus terminal and look for the Rio Uruguay ticket booth (you'll notice that the falls are referred to as cataratas). Buses operate every 20/30 minutes throughout the day and the journey to the Iguazu National Park takes around 30/40 minutes. At the time of writing, the bus ticket costs $160 (Argentinian Pesos), which currently equates to £3.
After arriving at the National Park ticket office you can buy your entrance ticket (valid for one day) for $700 (currently £12). For updated prices check the Iguazu Argentina website.
You can also choose to take an optional tour in a speedboat, which will whisk you to within metres of the mightiest of the falls. Tickets cost $2000 (£34) at the time of writing for a two-hour tour. Expect to get extremely wet.
The Rio Uruguay ticket booth at Puerto Iguazu bus terminal
Although there are six trails in all, unless you've booked for the boat tour you'll concentrate on three.
Firstly, the green trail leads you from near the park entrance to the Cataratas station, where you'll pick up a free train later on in the day to the Garganta del Diablo (or Devil's Throat). Most tour groups head there first so we'd suggest you wait until the early afternoon to see it.
Beyond the station, the trail continues until you reach the Lower Circuit. As the name suggests, this jungle trail enables you to see the falls from below. Along it, you'll get your first glimpse of the sublime Garganta del Diablo in the distance. But the real highlights are the viewpoints towards the San Martin, Bernebe Mendez, Adán y Eva and Bossett Falls as they gradually come closer into view.
And, at the trail's furthest point, you'll be standing right next to Bossett Fall as it crashes down below you.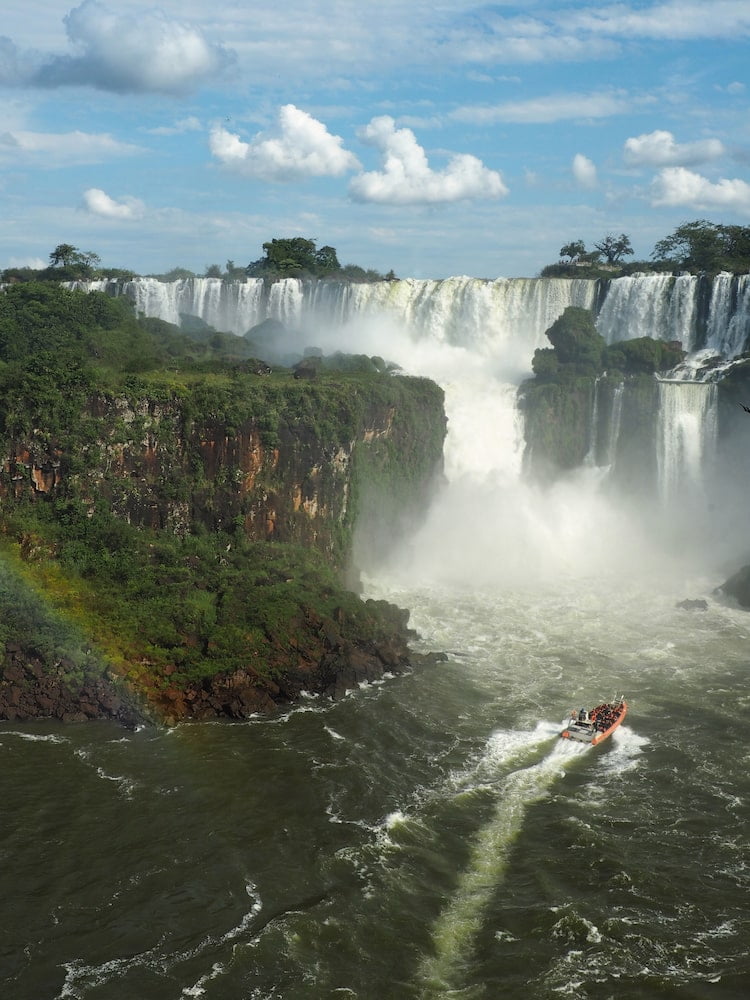 A tour boat approaches San Martin Fall
It's a sight to behold. Especially when you look across to the other falls, which form an almighty curtain of whitewater and spray.
Having completed the Lower Circuit loop, you'll find a shortcut which leads, via some steepish steps, to the start of the Upper Circuit.
This time you'll be walking along the top of the falls you've just gasped in awe at from below. And, just as a teaser, you'll see in the background the permanently huge plume of spray created by the Garganta del Diablo.
Birds in the trees at Escondido Fall
La Garganta del Diablo (The Devil's Throat)
Undoubtedly, the main attraction is this horseshoe-shaped, colossal force of nature which is reached via a short train journey back at the Cataratas Station. You just need to pick up your free ticket from the makeshift booth and wait for the next train to arrive. 
At the Garganta Station, you then head on to the Garganta Trail, which takes you to quite possibly one of the most incredible viewing points in the world. I kid you not, being this close to the monstrous deluge is an experience you'll never forget.
And the noise!
To your right, the extraordinary rush of water thundering over Union Falls is both mesmeric and slightly unsettling. I could actually feel my heartbeat increasing as I gazed at it, unsure if it was actually real.
Meanwhile, to the front, what seems like dozens of individual waterfalls drop 80 metres into the abyss.
And, to your left, a massive plume of spray reaches for the sky.
Ian gazes down into the Devil's Throat
Just a small part of Union Fall
If you time your visit right, you might just get the chance to spend some time gazing upon this majestic natural phenomenon without crowds of people jostling with you for the best views. In fact, the last train leaves at 4 pm and it's undoubtedly your best option for a crowd-free experience.
But whatever you do, don't rush it. There's no other experience like it, so make the most of the moment!
It's worth remembering that the Iguazu Falls are located in a tropical rainforest setting, so it's not surprising that there's plenty of wildlife to see in addition to the watery wonders elsewhere.
You'll undoubtedly come across dozens of stripe-tailed coatis, who enthusiastically welcome visitors to share their snacks with them at every opportunity. Don't be fooled by their seemingly placid temperament. A bite from a couple of their razor-sharp incisors and you'll be cutting short your park visit in favour of one at the hospital. Don't feed them or let them even see you eating.
Butterflies, however, are not quite as voracious! But they're everywhere. Especially on the Garganta del Diablo trail. Birds, too, with our favourite being the Plush-Crested Jay.
And, of course, all manner of lizards basking in the misty conditions.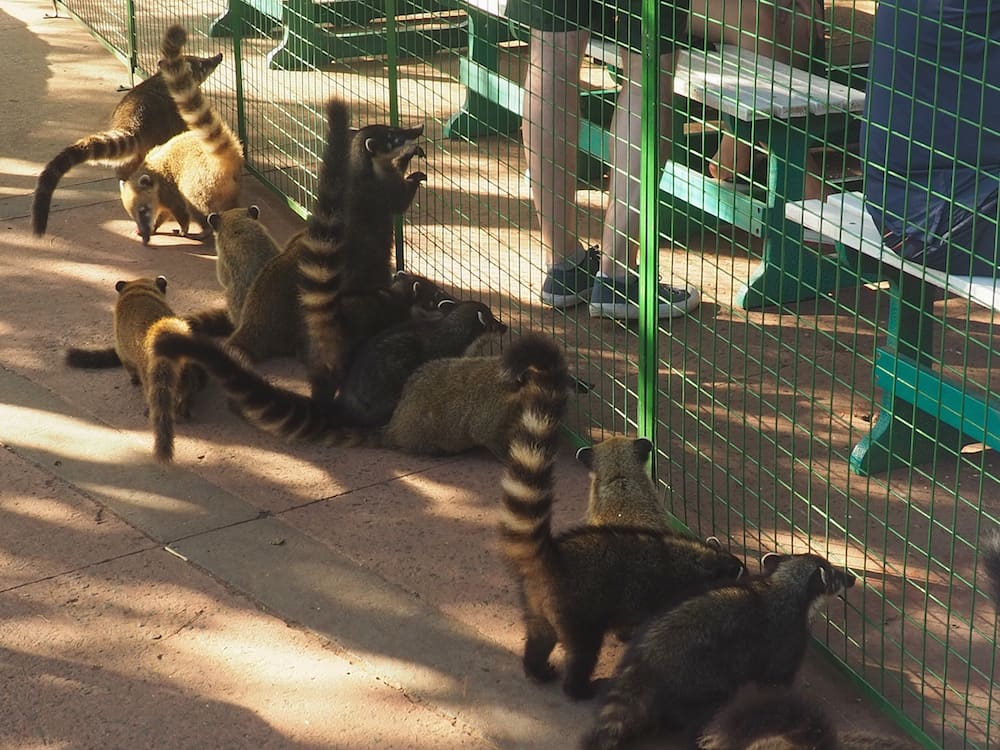 And, as a bonus, there was one more surprise in store for us as we made our way back along the boardwalk from the Devil's Throat. A young caiman, motionless and partially hidden in the murky rainforest water.
From Puerto Iguazu, you can catch the bus from the same Rio Uruguay ticket booth you used for the Argentinian side. Starting at 8:30 am, buses run hourly until 2:30 pm and currently cost $170 (£3).
Obviously, you'll need to take your passport with you for the border crossings in and out of Brazil. And check any visa requirements for your particular nationality.
The crossings are pretty straightforward and your bus driver will wait for you while you get your passport stamped. That is if you take the Rio Uruguay bus. Another bus company, Cruzero del Norte, plies the same route. But we've heard that their bus drivers don't wait at the border and you have to hang around for the next one to come past. So we can't recommend them.
In total, the journey across the border to Iguacu National Park (note the Brazilian spelling) should take between an hour and an hour-and-a-half.
Once you've bought your entrance ticket (currently 70 BRL – £13.50), you'll then need to queue for a shuttle bus to take you on a surprisingly long journey to the trailhead. 
Unlike on the Argentinian side, there's really just one main trail here. And it gets crowded. But the panoramic views it provides means that it's an essential companion day trip to its Argentine counterpart.
The Trilha das Cataratas (or Trail of the Falls) runs alongside the river with sweeping views across to the falls opposite.
Dos and Tres Mosqeteros Falls
Once again, however, the big payoff is at the end of the trail where a boardwalk leads out into the Devil's Throat itself for a panoramic view of the mightiest falls on Earth.
This is indeed the iconic image you can't afford to miss. It's every bit as awe-inspiring as the close-up view on the Argentinian side. Just with a very different and panoramic perspective.
Unfortunately, our visit coincided with Easter school holidays so we were literally jostling for an uninterrupted view like everyone else. If you want to avoid that, you might want to consider visiting in the afternoon after the tour groups have left.
For the ultimate experience, and if you've got money to burn, you can actually book a 10-minute helicopter flight over the falls. But only on the Brazilian side. Bizarrely, while the Argentinian authorities consider it a conservation risk to the resident bird population, the Brazilians seem to have no such qualms.
As a spectacle, the Iguazu Falls are unbeatable. Even if you're not a fan of waterfalls in general, you'll find it near-impossible not to be blown away by the sheer scale of what's in front of you.
And believe me, photographs simply don't do them justice. You really do have to see them with your own eyes to appreciate them properly.
Just make sure you allow yourself sufficient time to cover the two national parks on each side of the border. On the Argentinian side, you should allow 4-6 hours (plus transport), while 2-3 hours (plus transport) should be sufficient on the Brazilian side.
And if you need any further convincing, watch this aerial video clip of the falls from the BBC series Planet Earth.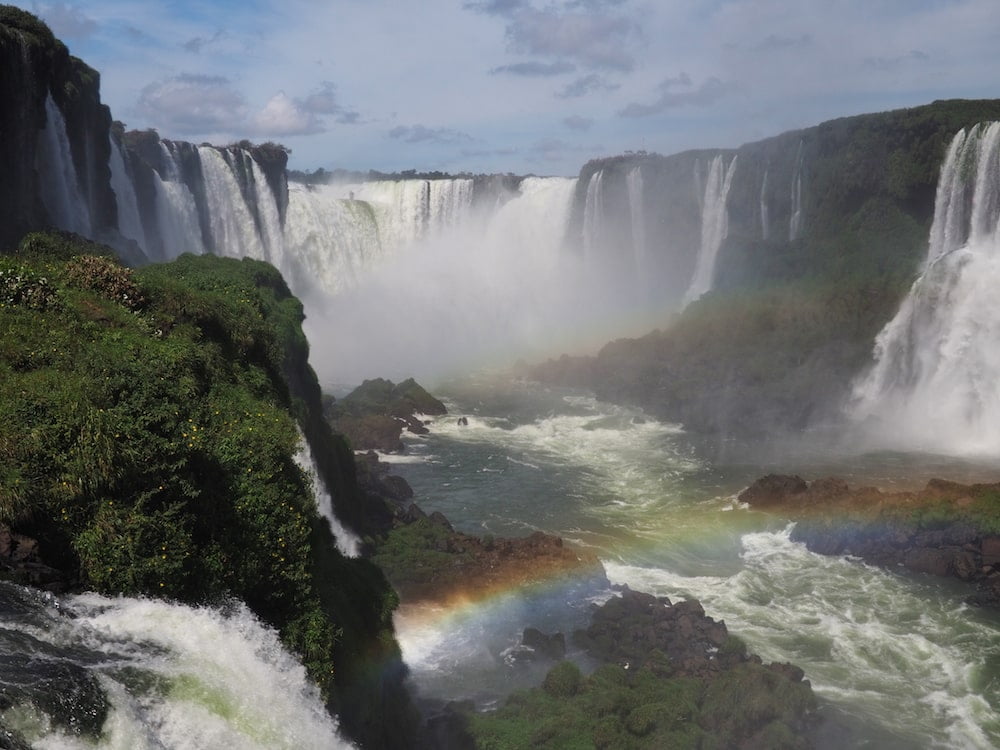 What did you think? Have you been to Iguazu Falls? Do you have any recommendations to add? Or perhaps you're thinking of visiting there in the near future? Either way, we'd love to hear from you so please add your comments below.
To help us maintain our site we work with a number of partners who we've personally used and can recommend to our readers. If you decide to purchase any products through the following links, we'll receive a small commission at no extra cost to you. Thank you for your support!
Hi, we're Ian and Nicky, an English couple on a voyage of discovery around the world, and this blog is designed to reflect what we see, think and do. Actually, we'd like to think it also provides information, entertainment and inspiration for other "mature" travellers, too. So please feel free to pour yourself a glass of something suitably chilled and take a look around.