NOTE TO TABLET USERS: Best viewed in landscape format
​It's big, it's noisy and it might just send you crazy. India is no picnic. But we promise you there's no other place like it for mind-boggling sights, incredible food and sheer diversity.
They say people either love or hate it.
Guess which camp we're in!
THE ULTIMATE NORTH INDIA ITINERARY AND HOW TO DO IT IN 3 WEEKS
There's nowhere quite like North India – a melting pot of dramatic Himalayan scenery, cultural diversity and tales of husband-stealing female yetis
HOW TO PLAN THE ULTIMATE RAJASTHAN ROAD TRIP
Explore "The Land of the Maharajas" the smart way by following our ultimate Rajasthan road trip
10 BOOKS ON INDIA TO READ BEFORE YOU TRAVEL
If you're interested in reading books on India and don't know where to start, then we've got it covered. Here are 10 of our all-time favourites
4 THINGS YOU MUST DO IN AMRITSAR
A spectacular temple, a turning point in history, cabaret at the border, and breakfast nirvana. How to spend two days in Amritsar
4 REASONS WHY WE LOVED DELHI
How we fell in love with India's chaotic capital and why it's such a must-visit for travellers
WHY YOU SHOULD MAKE LEH YOUR NEXT ADVENTURE HOLIDAY DESTINATION
Everything you need to know about getting the most out of an epic trip to India's spectacular high-altitude adventure capital
LADAKH'S UNMISSABLE NUBRA VALLEY
How to take an epic two-day return journey from Leh to Turtuk in Ladakh's gorgeous Nubra Valley
WHY DRIVING IN INDIA IS A BAD IDEA
If you're thinking of taking a road trip in India you might want to read this first
THE SUBLIME COLOURS OF PANGONG TSO
Across the world's third-highest mountain road to Pangong Tso, the world's highest saltwater lake
Lakes, mountains and tales of yetis in India's northernmost state
The sights, the smells, the sounds of Rajasthan – India's Land of the Maharajahs
THE POCKET-SIZED GEM OF JAIPUR
How a humble Indian tuk-tuk driver in Jaipur restored our faith in human nature
When most have the crowds have moved on, the low sun casts a golden glow over the Temple of Love.
Although it may look like a lived-in palace, the Palace of the Winds in Jaipur is actually a high facade of red and pink sandstone, which was used by women of the royal household to remain unseen while they watched street festivals below.
Even when space is at a premium people will always find somewhere to watch a festival. Run-down balconies and rooftops suddenly explode with colour as onlookers grab their prized viewpoint.
And while we're on the subject of colour, we saw this row of pastel-shaded houses in Bundi, Rajasthan.
This vegetarian dish, including a home-made bread roll which weighed more than me, was simply a taste sensation. Give it a try at the Lake View Garden Restaurant if you're in town.
Cows are sacred throughout India so it's perhaps not such a big deal for one to poke its nose through your front door!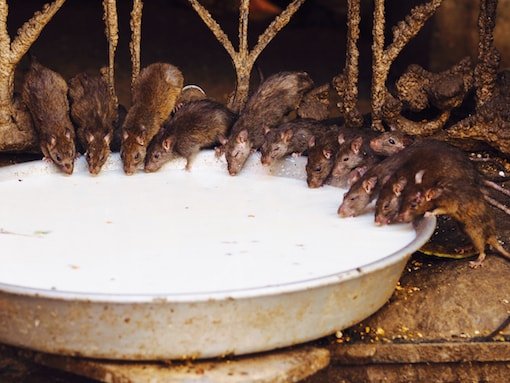 Walking bare-footed through a fairly run-down temple overrun with rats may not be your idea of fun but, believe us the Katni Mata is fascinating. It'll certainly ease any fears you may have about being near these particular rodents. The reason they're there? It's all down to a goddess who, after she died was reincarnated as a rat, which her followers believe will also happen to them.
One of the delights of travelling around India is sampling the fantastic street food. These lentil pakoras from Rajasthan might look simple but they were spicy, filling and delicious!
Houseboats have been a feature on Dal Lake in Kashmir since the days of the British Raj. During the summer they're extremely popular with domestic tourists trying to escape from the heat of the big cities further south.
Remote, surreal and stunningly beautiful, much of Pangong Tso (or "lake") is actually in Chinese Tibet. It takes nearly five hours in a jeep to get there over one of the most difficult mountain roads I've ever seen – but the pay off is worth it.
Generally recognised as one of the world's great road journeys, it's 490km long and crosses no less than four high altitude passes, reaching a breathless height of 5,328 metres (17,480 ft). Unforgettable.
A pilgrim prepares to bathe in the holy lake that surrounds the Golden Temple in Amritsar, the most sacred shrine in Sikhism.
Comprehensive travel guide
A budget travel guide to India for 2017
A wealth of information on India from a blogger who lives there
The indispensable guide for budget travellers