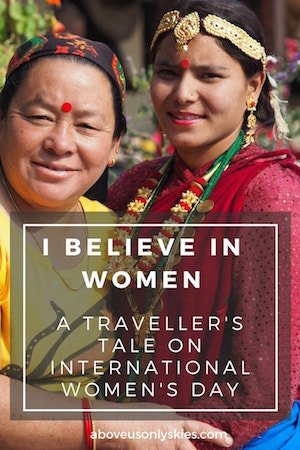 The candles lit an ethereal procession as it weaved downwards amongst the foothills of the Himalayan town of McLeod Ganj, India.  At the home of Tibetan spiritual leader, The Dalai Lama, hundreds of women, men and Tibetan monks were walking together in solidarity to mark International Women's Day.
It was 1993, my first trip to India, and my first experience of the annual awareness day. As a naive, fresh out of University 22-year-old, I was still trying to decide what path I wanted my life to take.  I was overawed, humbled, and yet filled with pride that I was part of this cosmopolitan but temporary community.  A community that had come together to acknowledge the reality of the struggles, humiliations and discrimination women across the world face. And also to acknowledge the many achievements of our sisters.
So, as we once again celebrate International Women's Day some twenty-odd years later, I wanted to share with you the stories of just a few of the beautiful women whose paths I've crossed during the last two years of travel.  Women and girls who've inspired and moved me to tears. And left me with an overwhelming sense of pride for a human race that can so often fill me with despair.
At times I've been astounded by the strength, generosity and compassion of these women. For their love of community and their environment. And I have more than a little humility for how in comparison we have it comparatively easy in our so-called modern society in the West.
For instance, the guest house owner in Bagan, Myanmar who despite running a full guest house nursed me back to health after a bout of food poisoning with homemade medicine and freshly prepared soup every three hours.     
The mother we met in Cambodia who was barbequing freshly caught frogs at the side of the road and selling them for a dollar to pay for school uniforms for her kids. 
The communities of women in Flores who waited in the dark with their fresh produce for the 4 am bus/truck to arrive just so they could take the three-hour journey to the local market – very often with small children strapped to their backs.
The mothers doing back-breaking work in the fields all over South East Asia, fetching and carrying litres of water on their heads for miles.
The 84-year-old grandma weaving bags to sell to locals and tourists alike in the remote Pa-O tribe in Myanmar.  Proud that her traditional designs were adorning the handful of daily visitors. 
And the elderly lady who kept us company for six kilometres in the energy-sapping Nepalese Himalayas. Not because she was out for a stroll, but because that was her weekly walk to the market. 
Kindness? Sprinkle that shit around
Yayuk from Flores does. She welcomed us like family into her home, fed us, and made our visit to the small town of Ruteng totally unforgettable.  A lady whose home bustles with children, of which just two are her own.  The other five are children of friends and family whose own homes are too far away from the schools they need to attend daily.  So, in order for them to be educated and to invest in their future, they live most of their time with her.
And, if caring for her adopted family isn't enough, Yayuk is a teacher who's converted part of her home into a school to teach computer literacy to local women (and men). People who otherwise have little in the way of a formal education. 
Oh, and she helps run the family restaurant next door, too.  Which she manages to find time to do when she isn't volunteering at her local church, organising the building of a new home for the local nuns with her husband, or taking in waifs and strays like us. What a role model for those girls!
Yayuk touched my heart. She's one truly inspirational woman, and I'm proud to call her my friend. 
The larger-than-life lady who welcomed us to her lovely guest house in the Himalayan village of Ghandruk knows a thing or two about kindness, too. She'd opened up her home to weary trekkers like us out of economic necessity (men away in the army). And we were more than grateful for her welcoming homemade bread and warm tea after a seven-hour uphill slog.
She kept her home spotless, which can be difficult when running water is scarce and hot water a luxury. And her dowry of copper cooking pots was proudly displayed on the walls of the communal living quarters.
While I was there an old lady sitting in the corner of the courtyard quietly weaving away soon caught my attention. I realised that she was working on something very similar to the blanket on the bed in our room. With no common language, we bonded over my admiration of her beautifully coloured yak wools. It transpired that she was widowed, lived alone.  She walked the two kilometres to the guest house (no mean feat in the Nepalese Himalayas) every day to weave, pass the time and entertain the children while their mums fed and cared for travellers like us. She visited most days, ate her meals there, and generally had an eye kept on her by the community.
In fact, it soon became apparent that the guest house was a magnet for local women from many surrounding villages. While we were there, a group of female trekkers arrived whose guide was a girl from another local village who'd set up her own trekking business.  The female community we came across here was extraordinarily strong and most definitely thriving!
The young girl I met in the remote Indian village of Turtuk, which includes K2 (the world's second highest mountain) in its backdrop, was perhaps 12 or 13. She was proud to declare she was top of her class at school and wanted to practice her English skills by chatting to me. Considering very few tourists venture to this remote and politically unstable part of India, it was the least I could do.  And quite frankly a pleasure. 
While she washed her family's clothes in a clear freshwater stream she asked me a million questions about what I was doing there. Did I have a husband and children, and how old was I?  Pausing only to chastise the three little ones she was looking after for being too noisy.  She was delightful company, clever and witty and when I took my leave and continued the walk through fields to our guesthouse it was with smiles and a full heart. 
The next morning, as I sat breakfasting on a box of Kashmiri cherries, I watched as a dozen women unloaded a truck full of wooden planks destined for a house build and balanced them expertly on their backs. Incredibly they then carried them up the steep hill to where I was sitting.  My new friend was amongst them, and when she and her companions stopped to rest their back-breaking work, I shared my box of cherries with them.  Friends for life! But before she'd even swallowed the last cherry she'd lifted the huge pile of wood back onto her back to continue her climb up the mountain.
Unfortunately, she couldn't stop to chat this time. 
'I have to be at school in 20 minutes,' she said.
So what do these women have in common?  They're caregivers, educators, builders and cooks.  Nourishing their families, building communities, striving to get an education to better themselves and improve their living conditions.  And yet still sparing precious time out of their very busy and often tough existences to connect with a privileged, inquisitive white woman from the UK.  They afforded me kindness and generosity in lands when I was thousands of miles away from my own support network of women.  They offered me friendship. Not once, but over and over again.
And for that, I feel truly blessed.  
What did you think? Have you met any inspirational women on your travels? If so, we'd love to hear about them so please add your comments below.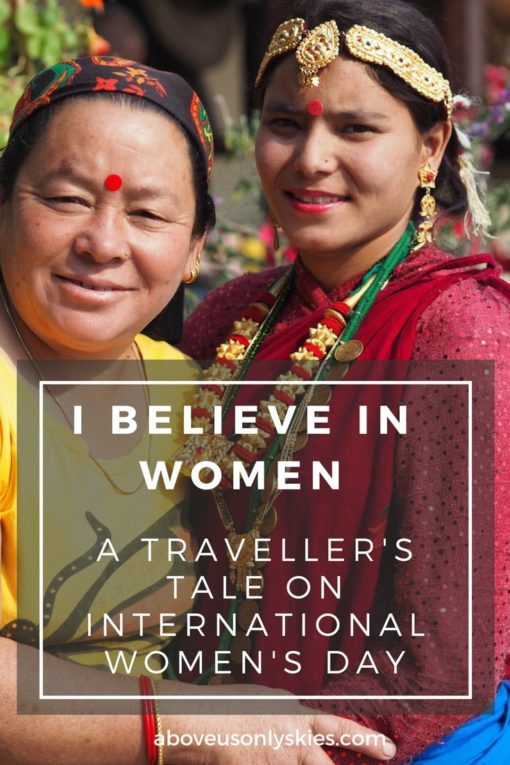 Hi, we're Ian and Nicky, an English couple on a voyage of discovery around the world, and this blog is designed to reflect what we see, think and do. Actually, we'd like to think it also provides information, entertainment and inspiration for other "mature" travellers, too. So please feel free to pour yourself a glass of something suitably chilled and take a look around.
HOW TO TRAVEL LONG TERM AS A COUPLE…WITHOUT KILLING EACH OTHER
THERE'S STILL HOPE FOR THE ELEPHANTS OF CHIANG MAI
DRAGONS, MANTAS & FLYING FOXES – 2 DAYS IN KOMODO NATIONAL PARK
THE TURTLES OF APO ISLAND