First of all, let me say that we're not in the "Any development is bad" camp when it comes to developing paradise islands for tourism purposes. If the local community can benefit from people who want to spend their time and hard-earned cash in tiny slices of paradise then good luck to them. As long as it's sustainable and doesn't destroy the natural beauty of the place.
So what to make of Koh Lipe? As far as this small island is concerned, it's glorious beaches and clear waters can rival those of The Maldives. But, to be honest, we were somewhat alarmed at the rate of building growth, the volume of tourists and the amount of rubbish that seems to be just about everywhere.
We actually came here on a snorkelling trip from Langkawi in Malaysia eight years ago, when there was very little infrastructure at all. Landing on Pattaya beach, I remember a small immigration office and a few cafes and wooden huts strung along the beach. Today, the whole length of the beach is lined with resorts, restaurants, bars and longtail boats for hire.
But first, let me get to those beaches. We thought that the ones we saw on Koh Lanta were pretty special, but here they're a step up again. The sand is as fine as talcum powder in places and just begs you to get your sandals off and dig your toes right in.
Sunrise Beach, where our accommodation was based, is a long stretch of fine white sand which descends into shallow turquoise and crystal clear water. It's a little more relaxed here than Pattaya Beach but there are still lots of longtail boats moored close to shore, ready to take tourists out on snorkelling and beach trips. This made swimming a bit hazardous – sometimes nigh-on impossible – as there was a constant flow of longtails coming in and out of the bay. Nevertheless, when the traffic did slow down the water was a delight.
To escape the crowds and hustle-bustle we walked to the western side of the island, where we found a completely empty beach, apart from a guy running a small bar. I'm fairly certain that we were the only customers he'd seen all day. Nevertheless, he'd still managed to run out of beer. We spent a few hours there just relaxing, taking in the views and cooling off in the sea, which in 38 degrees heat was about as much activity as we could muster!
The beach also houses a few tents to rent, set back in the shade. Apparently, during the high season (ie the week before we arrived) the bar puts on a nightly sunset barbeque. Which, given the location, definitely sounds like a must-do.
The beach doesn't have a name on any maps we saw but the trail down to it is marked with a "Paradise Camping" post. So we named it "Paradise Beach". And it was.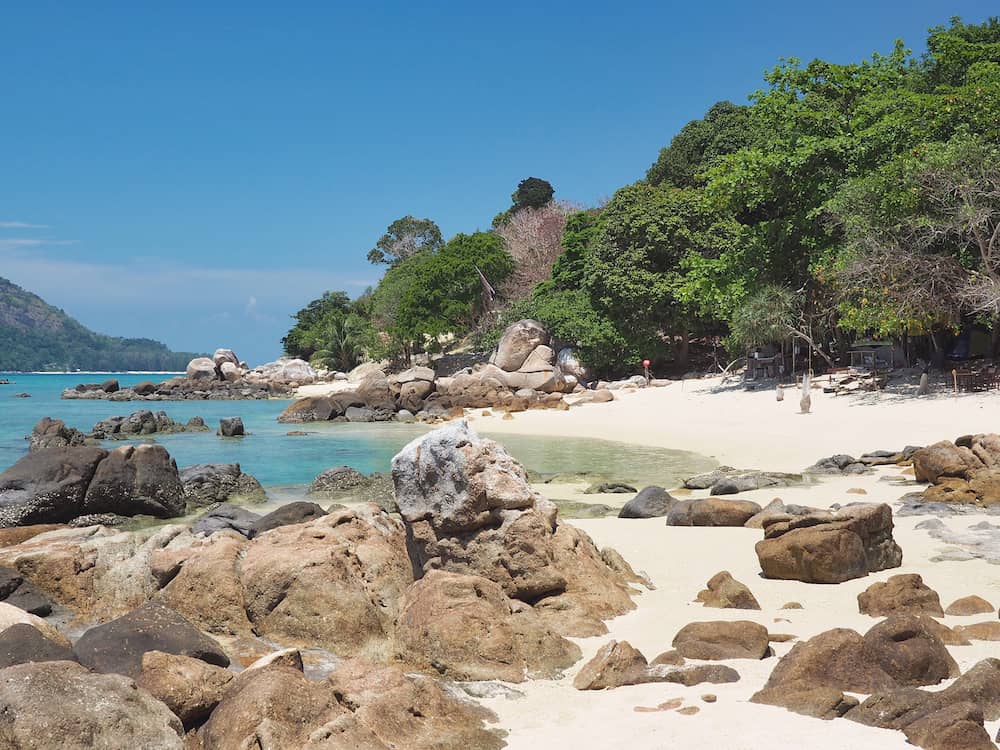 My favourite beach though was actually on Koh Adang, a jungle-clad island just a short longtail boat ride away. The beach was simply stunning – a long stretch of white sand backed by mangroves and thick green jungle. And, as the only people there we felt like we really had found somewhere that was wild, untouched and completely natural. Koh Adang itself (along with its sister island Koh Rawi) enjoys some protection as a national park, which means that beaches such as this should remain in their untouched natural state. At least for now.
There's certainly a thriving food scene on the island, mainly centred on the Walking Street area, which connects Sunrise and Pattaya beach. The restaurants serving up barbequed fish and seafood seemed to be the most popular, to the point where there were queues of people waiting for tables during the evening.
But, by far the best food we had was at tiny Forever Restaurant, an unassuming place just out of town, owned by an ever-smiling Burmese couple. In fact, their Fried Vermicelli with Chicken and Green Mango Salad was so good we had to go back another day and eat it all over again!
Koh Lipe is being overrun by tourists. Yes, we were two of them and so we're not going to come across all holier than thou. It's probably one of the reasons why the prices are so high too.
And new accommodation continues to be built though so the Thais obviously feel that there's room for more. So booking on to one of the longtail boat trips is like signing up for a day of carnage on the coral reef. 
We'd decided to hire a longtail boat ourselves in a bid to escape the crowds. While we did find a couple of deserted beaches on Koh Adang, we despaired at the snorkelling sites we were taken to. As we approached the small rocky outcrops at Hin Ngam we saw rows of longtails moored next to each other. And in the water were hordes of people kitted out in bright orange life jackets, thrashing around like it was the first day of swimming lessons at the municipal pool. Even the fish looked bemused.
Back on land, pre-teens on small motorbikes weave around pedestrians, while three-wheeler motorbike taxis fight for space on the narrow roads. Even Walking Street, which we understand was actually a street for walking not so long ago, gets clogged up with motorbike traffic.
And, of course, with the crowds comes the rubbish. In the sea, on the beaches, in the streets, in the countryside. It was sad to see the apparent lethargic approach the Thais are taking with this. And with the increasing numbers likely to visit over the coming years, the situation is only likely to get worse.
Remember Paradise Beach I eulogised about earlier? We went back there on another day, just after there had been an almighty storm during the night. Only this time the beach was different. The shoreline was littered with plastic bottles, cans, shoes, polystyrene and other consumables that had obviously been washed up from the sea.
And did you like the photograph of the spit of sand on Sunrise Beach earlier? Take a look again at what we saw just in front of it…
They're actually building a new resort on that section of the beach which is scheduled to open in November.
In recognition of the problem, a "Trash Heroes" campaign encourages tourists to volunteer for cleaning up the beaches on Lipe, Adang and Rawi – and in return for a day's commitment they get a free longtail ride, water and lunch. Great idea but it appears to only scratch the surface. We did try to enlist ourselves but it turns out that it only happens each Monday, which meant that it crossed with our onward travel from Koh Lipe.
It seems that the island just doesn't have the infrastructure to deal with the problem. And it's not just tourists. The local population and the resorts must share the blame too.
So here are a few of our own recommendations on how the Thai authorities might tackle the problem:
1. Provide some litter bins. Not revolutionary I know, but we could find hardly any bins at the back of the beaches, or even on a lot of the streets. Unsurprisingly, a lot of tourists will choose the path of least resistance and, rather than go searching for a bin or taking their litter with them, they will just leave it lying around.
2. Introduce fines for people who litter the beaches and national parks. Put up some signs warning them that they run the risk of a 1000 baht fine if caught. And fine the buggers if they ignore it. Probably not the most tourist-friendly approach, and actually probably not that enforceable, but it sure would send out the right message.
3. Make the beach-front resorts/hotels take some responsibility for clearing the trash in their own back yard. It really wouldn't take too much for them to have someone spend 20 minutes each morning picking up any litter that might be lying around. We just can't understand why they wouldn't want to do this voluntarily but there's no evidence of it actually taking place.
4. Introduce a 10 or 20 baht per person "entry fee" for everyone who arrives at the island as a contribution towards regular litter/garbage collection and disposal. If that sounds a bit harsh, well it's what happens when you arrive at Koh Lanta. I've no idea if the money actually does go towards cleaning up the island but I'd like to think that it does. And Lanta is (relatively) much cleaner than Koh Lipe.
But for heaven's sake, it's your beautiful island, so cherish it and look after it!
Rant over.
By the way, if there are any other of the world's problems you'd like the Above Us Only Skies think-tank to tackle, then just let us know!
So what did we make of Koh Lipe and would we be tempted to go back?
The coastline really is as gorgeous as we'd heard, and there was so much more to explore over on the uninhabited islands of Koh Rawi and Koh Adang. If you're considering visiting the island we'd still very much encourage you to go – despite some of the misgivings we've described. But, to be honest, we wouldn't be tempted back as there appears to be only one direction the island is heading. And that's chasing the dollar/yen/yuan/ringgit/euro or whatever other currency you'd care to mention, without too much concern over whether the island can actually sustain it.
Perhaps it was summed up by the guy in the travel agency who we booked our speedboat tickets to Koh Kradan with. Despite making his living out of selling trips to tourists, he'd had enough and was leaving Koh Lipe at the end of the season. "Too many people," he said. "Just too many people".
What did you think? Have you been to Koh Lipe? Or perhaps you're planning on visiting the island soon? Either way, we'd love to hear from you so please add your comments below.
To help us maintain our site we work with a number of partners who we've personally used and can recommend to our readers. If you decide to purchase any products through the following links, we'll receive a small commission at no extra cost to you. Thank you for your support!
Hi, we're Ian and Nicky, an English couple on a voyage of discovery around the world, and this blog is designed to reflect what we see, think and do. Actually, we'd like to think it also provides information, entertainment and inspiration for other "mature" travellers, too. So please feel free to pour yourself a glass of something suitably chilled and take a look around.