6 HIGHLIGHTS OF PORTUGAL'S BEAUTIFUL LISBON COAST
6 HIGHLIGHTS OF PORTUGAL'S BEAUTIFUL LISBON COAST
Continuing our series of articles on Spain, Portugal and France as we explore Western Europe under the cloak of the ongoing COVID-19 pandemic. Along the way, we're travelling in our own car and mostly using housesitting for our accommodation. Our focus is on exploring places where we can safely socially distance, and where wearing a face mask is an accepted norm.
It may come as a surprise to many who visit Portugal's beautiful capital city, Lisbon, that there's a whole coastline of fabulous beaches, tiny fishing villages, wind-swept clifftop walks and fairytale palaces to be enjoyed nearby. And many without having to worry about the hordes of other people invading their personal space.
Indeed, it's home to arguably the country's best beaches, trumping even those on the fabled Algarve coast. Even if the Atlantic water is decidedly cooler.
There are four distinct areas along the coast running from Setubal northwards to Ericeira. Each one catering to specific tastes and variable crowd sizes.
Our visit took place in July 2020, shortly after Portugal reopened for tourism following its pandemic lockdown. As a result, there were very few international tourists around. A situation that's unlikely to change dramatically until a vaccine becomes widely available.
Until then, here are six Lisbon Coast highlights to whet your appetite.
Parque Natural da Arrábida
Parque Natural da Arrábida
Cabo da Roca
Sintra
Contents
This page contains affiliate links. To help us maintain our site we work with a number of partners who we've personally used and can recommend to our readers. If you decide to purchase any products through the links on this page, we'll receive a small commission at no extra cost to you.
Parque Natural da Arrábida
Situated on the southern coast of the Setubal Peninsula, this gorgeous pine and cypress-clad park blankets the slopes of the Serra da Arrábida before plunging over high cliffs to a coastline of white-sand beaches and turquoise/blue sea.
The best way to explore it is by car. Especially as the Estrada de Escarpa (the N379-1 coastal road) runs the entire length from Sesimbra to the outskirts of Setubal. Along the way, you'll be treated to unbeatable views of the rugged coastline and across to the almost-Caribbean Tróia Peninsula.
Getting to the beaches, such as Praias do Creiro, Galápos and Figueirinha, however, is another story entirely. Parking spaces along the road come at a premium. Which, for us, was perhaps not surprising given the high temperatures and clear skies that particular weekend. Our tip, as usual, would be to get there early.
However, even if you can't get to the beaches, the road provides enough stop-off points to appreciate the sublime views.
For something a bit different, the far western tip of the same coastline is home to a bleak outcrop of land that's supposedly been home to a number of religious miracles and visions over the centuries. Culminating in a 15th-Century apparition of the Virgin Mary riding a giant mule up from the beach to the top of the cliffs before suddenly disappearing, leaving just the mule's footprints behind.
It became an important pilgrimage site in the centuries that followed. Although the footprints have since been identified as those of a huge Sauropod dinosaur rather than an over-sized mule.
Nevertheless, the resultant Santuario de Nossa Senhora and its House of Tapers are an impressive sight set against the stark, windswept landscape.
The House of Tapers is, in fact, two wings of accommodation built on either side of the church to provide lodgings to pilgrims. Unfortunately, they've now fallen into disrepair. But, with a little imagination, you can picture pilgrims wandering along the arched corridors on their way to prayer.
Nearby, the Moorish-style Chapel of Ermida da Mémoria marks the spot where Mary was said to have vanished.
And a walk around the clifftops to the Cabo Espichel Lighthouse provides further perspectives on the site's dramatic setting.
Santuario de Nossa Senhora​ & House of Tapers
Santuario de Nossa Senhora​ & House of Tapers
But what of those dino-footprints?
The Sauropod prints (known as Pedra da Mua) are somewhat hidden by the cliffs. But there's a lovely 20-minute walk to a second set of footprints called the Lagosteiros. They're not immediately obvious until you locate them via a map on the site's notice board. And then there they are. A set of footprints of a fleet-footed two-legged dinosaur scampering across the muddy ground.
Of course, it goes without saying that it's worthwhile clambering over the rocks and down to the footprints for a closer look. And to give their size some perspective.
Cabo da Roca & Praia da Ursa
Further north, on the Serra de Sintra coastline, there's another rocky outcrop and accompanying lighthouse with an even more dramatic setting.
Cabo da Roca sits at the most westerly point of the European mainland. And, as such, its dramatic cliffs are pounded by the full might of the Atlantic Ocean and a continuously swirling wind.
Indeed, in the dark days before Google Earth, the 150-metre cliffs were believed to be the Edge Of The World. And, looking westwards out to the horizon from a clifftop vantage point, it's not hard to see why.
There are plenty of crowd-free walking trails around to help maintain a sense of isolation. But the challenging hike down to the fabulous Praia da Ursa is one that shouldn't be missed. It's a beach that's got everything. Pristine golden sand, rocky outcrops, dramatic cliffs and crystal clear water. And hardly any people.
It might just be our favourite beach on the whole Iberian Peninsula.
Just a few kilometres further north, the coast road arrives at a picturesque fishing village of whitewashed cottages with red roofs, perched on the edge of a cliff.
Azenhas do Mar is perhaps one of the most photographed villages on the Lisbon Coast and we dare you to pass by without stopping.
There's not an awful lot to do other than wander around the narrow streets and admire the quaint buildings with their blue azulejo tiles. And perhaps catch a seafood lunch at the Restaurant Azenhas do Mar, which overlooks the beach and natural swimming pool. But, for a taste of the Lisbon Coast's small-town charm, it's well worth an hour or so of your time.
Photographing Azenhas do Mar from the mirador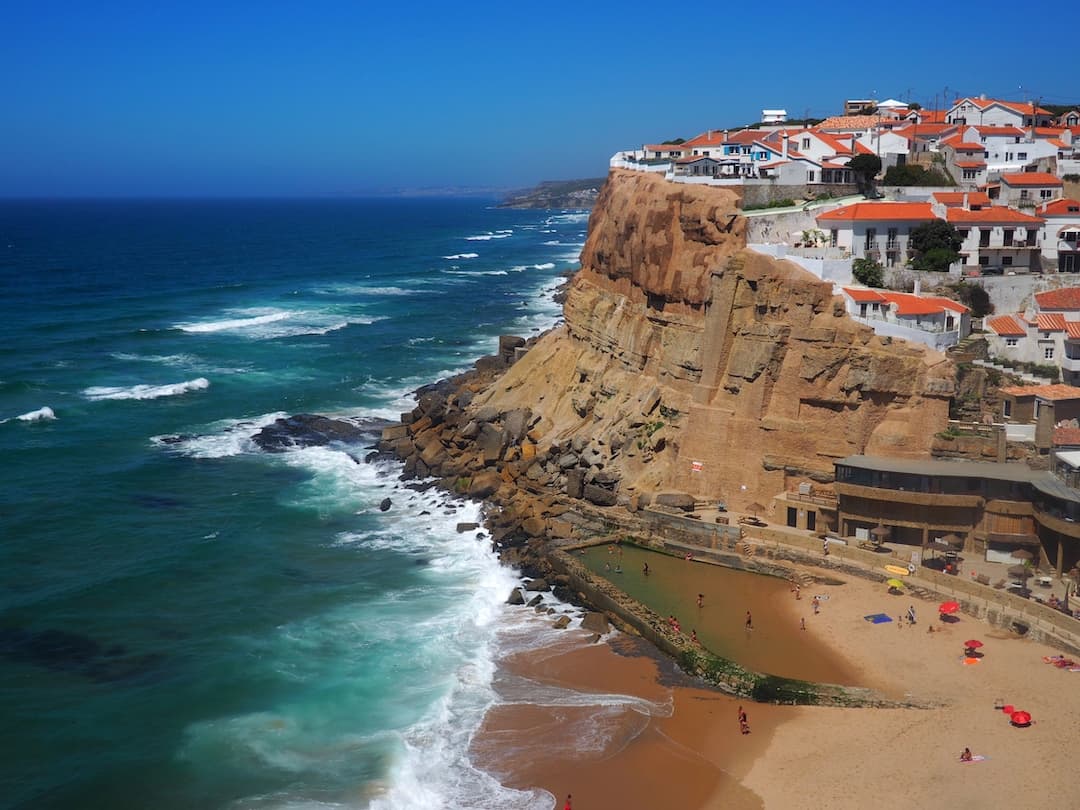 Most people who visit Magoito head for the large expanse of sand at the southern end of town. And it's a mighty fine beach, too.
But we spent the majority of our time exploring the footpaths along the glorious cliffs to the north. Which was not surprising given that we were house and pet sitting in Magoito for a Beagle that didn't know when to stop walking.
With hardly another soul in sight, the trails offer vertigo-inducing moments right up to the edge of sheer cliffs that drop 100-200 metres below. And above Praia do Giribeto, there are breathtaking overhangs on which to stop and (carefully) take a picnic with a view.
There are lots of trails beside the cliff edge
A viewpoint looking back at Praia do Giribeto
One word of warning. During the summer months, the mist that rolls in from the sea can blanket the whole coastline, reducing the temperature dramatically. Especially in the morning. In fact, on a few occasions, it felt to us like a February day in England rather than July in Portugal.
And bizarrely, just a couple of kilometres inland, the mist would suddenly disappear and the temperature was back in the low-30s Centigrade.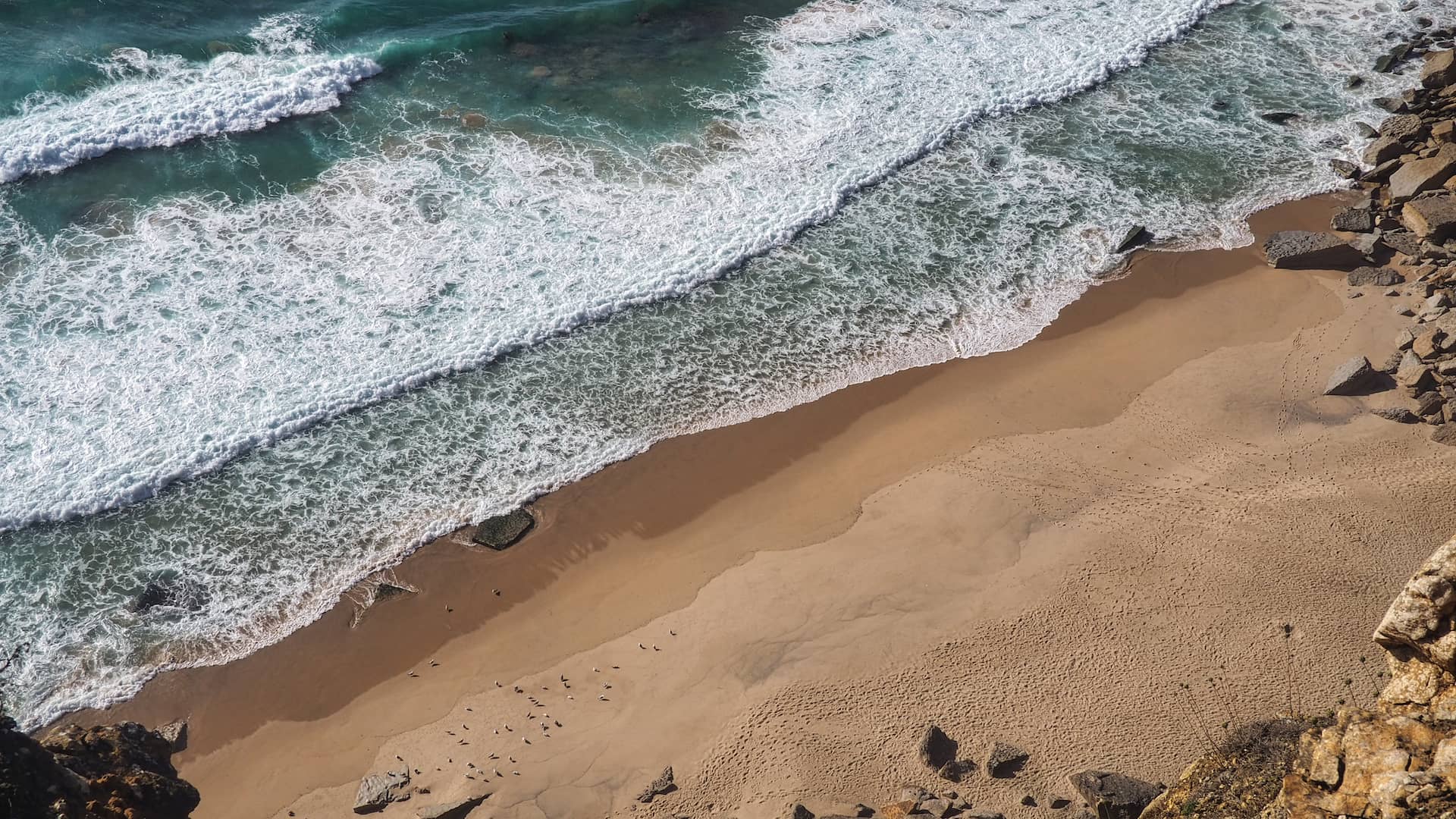 Looking down on Praia do Giribeto
Looking down on Praia do Giribeto
Perhaps the most well-known of all the attractions on the Lisbon Coast, Sintra found fame as the go-to resort for Portuguese royalty when they wanted to escape the heat of the capital.
And, as with all royalty through the ages, they didn't worry too much about spending lavishly on holiday homes there. Nor, it seems, did they understand the Portuguese word for "subtlety".
The whole area is awash with villas and palaces that are defiantly smug in their over-the-topness.
For instance, the whitewashed Palácio Nacional de Sintra with its pair of conical chimneys. And the Versailles-comes-to-Portugal lavishness of the Palácio Nacional de Queluz.
Indeed, if palaces are your thing, you could easily spend a week here ticking them off one-by-one. But the three we've highlighted would undoubtedly satiate the appetite of most visitors.
This is the one that everyone comes to see. Only we didn't manage it because the road up to it had been blocked off!
Taking 45 years of the 19th-Century to build, and bedecked with bright pink and yellow walls, the Palácio Nacional de Pena is a hilltop fairytale palace beyond compare. In fact, shortly after its completion, Portugal converted to a republic and the palace was subsequently preserved as a museum. Even gaining UNESCO World Heritage status in 1995.
It's a favourite of bus tour groups from Lisbon so, in normal times, the palace is heaving with tourists. Which is why we were more than a little disappointed not to see it close-up this time.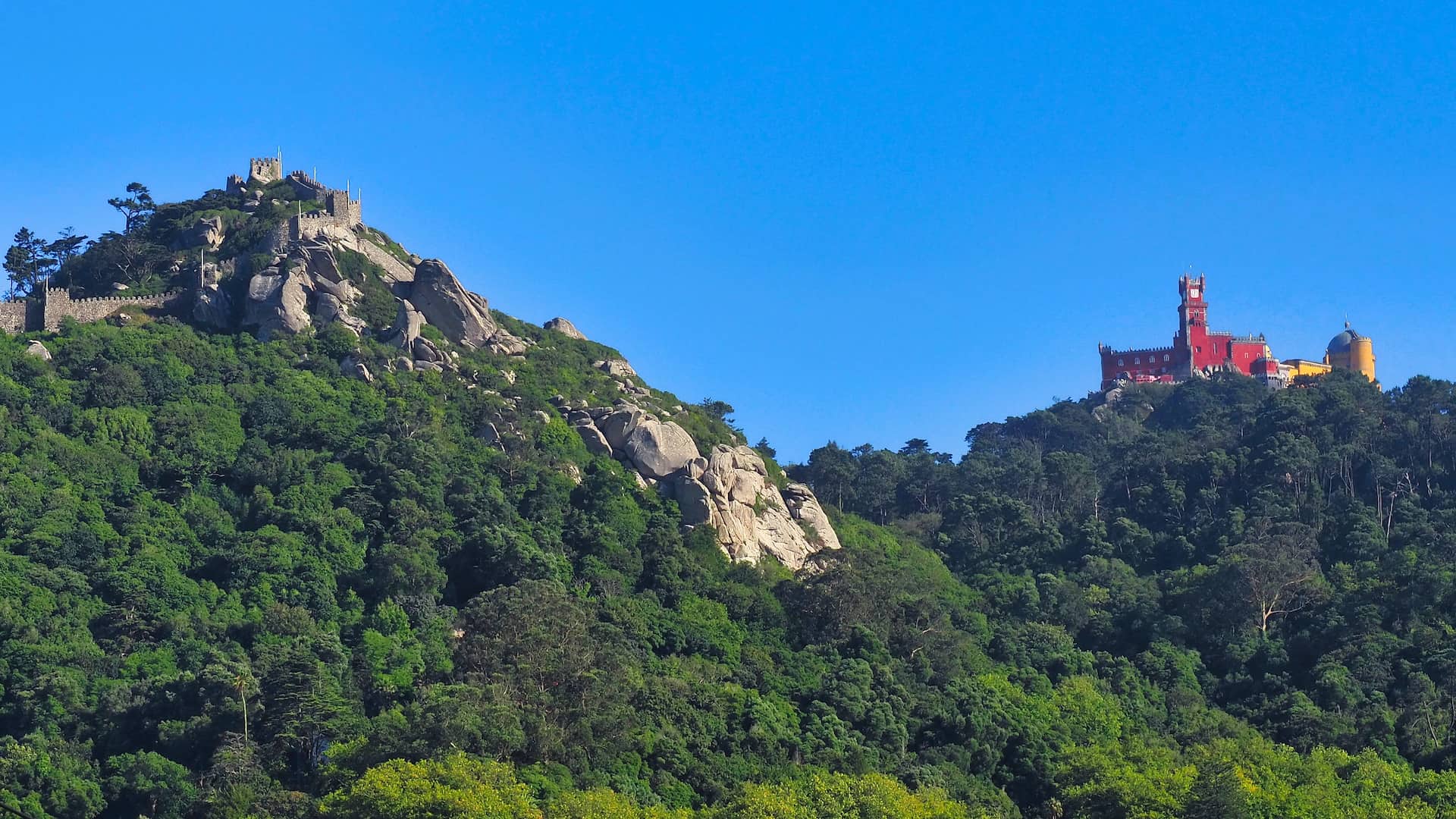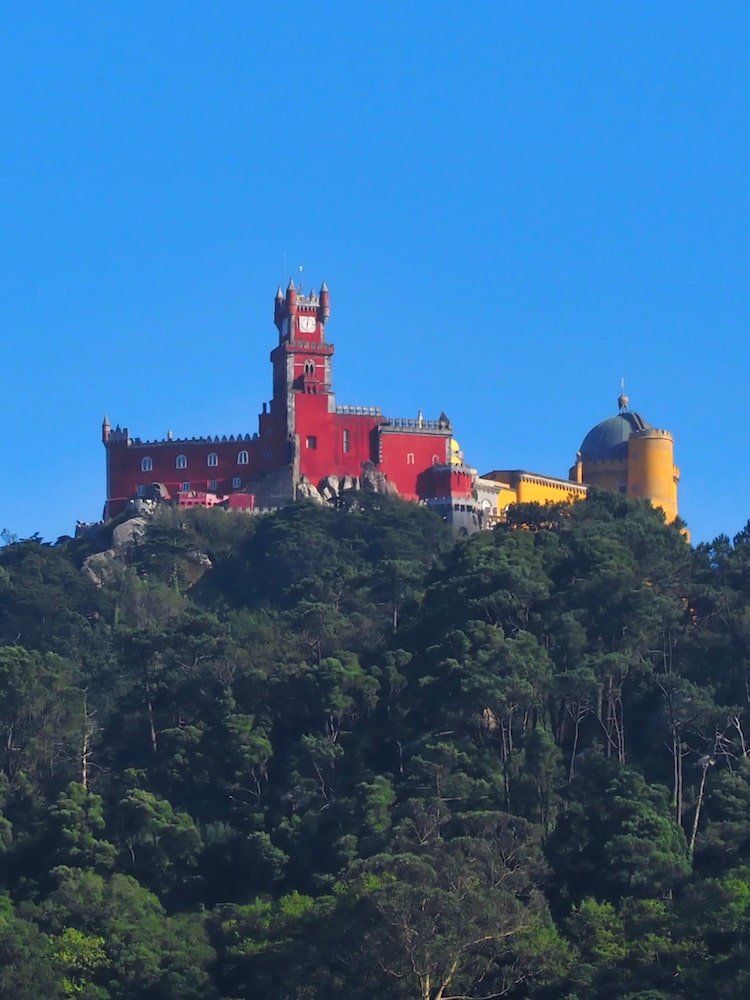 In contrast to Palácio da Pena's brightly optimistic appearance, the Quinta da Regaleira's design references the Masons, the Knights Templar and all sorts of dark arts.
The stone gargoyles carved into the building's façade are a sign of what's in store. But it's the Poço Initiático (or "Initiation Well"), featuring an underground spiral staircase leading to a maze of tunnels, that gives the complex its mystical aura.
In truth, there's nothing to see of the palace's interior. It's all about gazing at the intricately designed exterior and wandering around the gardens to discover its hidden and unexpected treats.
View from one of the palace terraces
Best of all, the Palácio de Montserrate is an ornate Moorish-style building of orange and pink set amongst classical English gardens.
Unlike Quinta da Regaleira, its interior is beautiful, combining Middle Eastern lattice carvings and symmetrical archways with English trimmings such as a drawing room and library. It's as if the English architect couldn't work out if he was designing for a benefactor in Manchester or Marrakesh.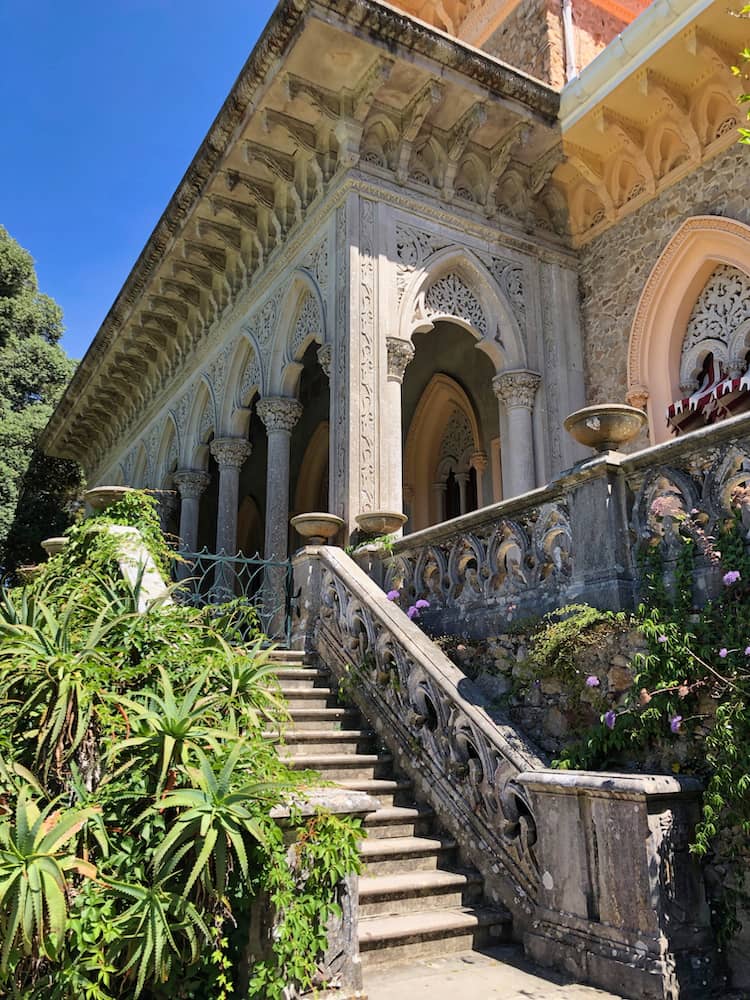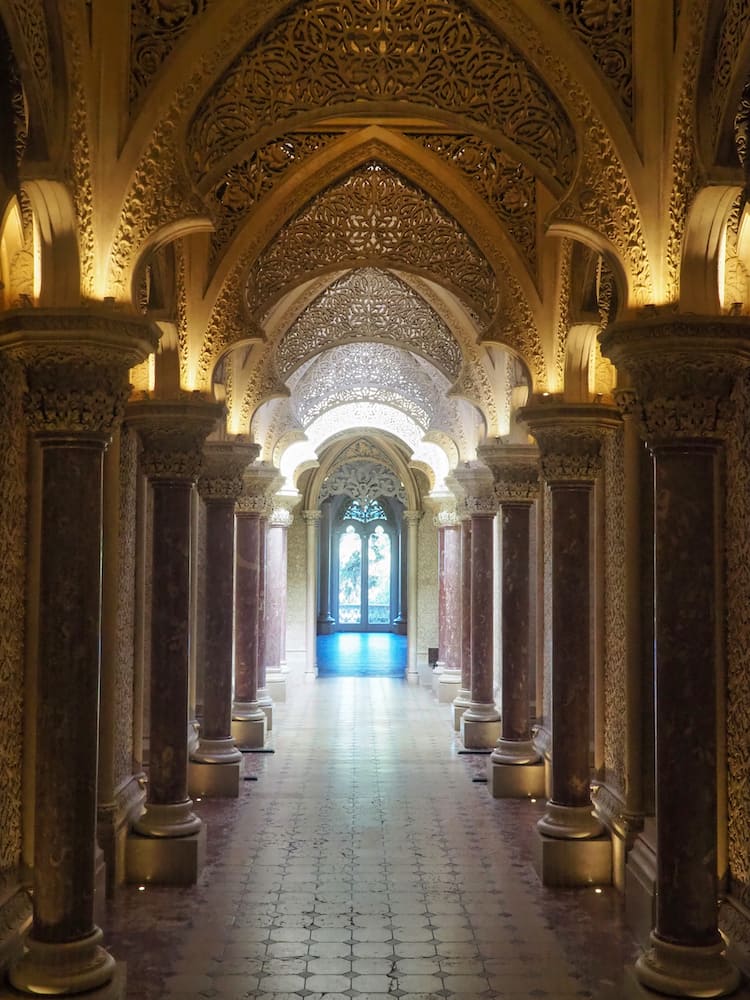 And a wander through the landscaped gardens provides an opportunity to appreciate what is probably the most outstanding building in Sintra.
View of the palace from the gardens
What did you think? Have you been to the Lisbon coast? If so, do you have any recommendations to add? Either way, we'd love to hear from you so please add your comments below.
To help us maintain our site we work with a number of partners who we've personally used and can recommend to our readers. If you decide to purchase any products through the following links, we'll receive a small commission at no extra cost to you. Thank you for your support!
Travel insurance
with World Nomads
Hi, we're Ian and Nicky, an English couple on a voyage of discovery around the world, and this blog is designed to reflect what we see, think and do. Actually, we'd like to think it also provides information, entertainment and inspiration for other "mature" travellers, too. So please feel free to pour yourself a glass of something suitably chilled and take a look around.