There's something funny going on in them hills. Or so it would seem if you believe the stories of witchcraft, potions, and faith healing that is supposed to to be practised in many parts of this coconut tree-studded island.
Siquijor (pronounced sicky-whore) is the third smallest province in The Philippines and has long been associated with tales of the dark arts, which supposedly makes it something of a no-go area for the more superstitious Filipinos. As a tourist destination, it's still relatively low-key compared to some of its more illustrious neighbours. But we reckon it's a must-see for anyone visiting the area who prefers genuine and warm local hospitality to the less-than-welcoming attitude that can sometimes be experienced in the more established tourist hotspots.
Quite simply we spent four days there and fell in love with the place and its people.
To be honest, it doesn't have the gorgeous white sand beaches that are synonymous with The Philippines. Nor does it have the impressive tourist attractions or jaw-dropping natural features to be found in provinces like Palawan and elsewhere in the Visayas region. Even its snorkelling and diving opportunities are eclipsed by the likes of what's on offer at nearby Apo Island.
What is does have is a knack for putting a permanent grin on your face as you wander along the street, scooter along a country road or walk into a local store to be greeted with a "hello" and a beaming smile. The locals are proud of their island and their way of life – and boy, does it show.
We arrived there from Apo Island on a fast boat belonging to the premier resort on the island, Coco Grove. To be honest the manicured private beach where we were dropped off was a stunner. But our budget meant we were staying a mile or so further down the road.
Our introduction to the Siquijor way of doing things started right there with the habal-habal taxi driver. "How much to the Goldsky Seaview Guest House?" we asked, well-trained by now to never go anywhere without agreeing on the price first. "Whatever you want to pay" came the reply. And he was serious. Actually, we probably paid more than what he might have asked us for anyway but the guy was so friendly and so genuine that we felt more than happy to pay him his 100 pesos.
The owner of our guest house, the fabulously named Gladwin Bucol, is apparently well-known to everyone around as a local councillor. In fact, whenever anyone asked us where we were staying (and they did – a lot) we just replied that we were "staying at Gladwin's", which was enough for a nod of recognition and an enthusiastic "Oh yes, Gladwin!".
And for 950 pesos (£13/$20) per night, we'd bagged ourselves a lovely cottage right beside the beach, complete with air-con and fridge.
We'd heard that the best way to see the island was to rent a scooter and just explore the roads around the coast and then through the hilly interior. So we quickly hired one for 300 pesos (£4/$6) per day and hit the road over the next three days.
Most of the roads on the island are an absolute joy to ride along, whether they're the smooth coastal perimeter road or the narrower rustic country roads of the interior. Largely free of any "traffic" worthy of the word, they twist and turn through changing vistas of rice paddy fields, coconut trees, rolling hills and tiny villages. You literally just need to point your scooter and go without worrying about such trivialities as traffic lights and traffic jams. At the same time, you need to be prepared to wave back as seemingly everyone you pass – young and old – greet you with a big smile, a wave of the hand and a "hello". Don't even bother trying to remove that smile from your face – you simply won't be able to.
However, it's also fair to say that there were quite a few "road improvements" taking place while we were there, which meant dusty sections of road and completely closed lanes at regular intervals. I guess all those nice new roads we rode along had to start somewhere, too.
Generally, we explored the island without paying too much attention to the attractions our tourist map highlighted, preferring to just see where the road in front would take us. But some of the places we visited would definitely be worth checking out should you decide to pay this wonderful island a call (and you definitely should).
For instance, just north of Lazi, Carrbugahay Falls are accessed via a hundred or so steps down from the main road. The milky, emerald green of the plunge pool just begs you to jump in to cool off from the intoxicating heat of the day.
Nearby are the Spanish-built San Isidoro Labrador Church and Convent, both of which are important historical landmarks within the whole of The Philippines, not just Siquijor.
East of Lazi, Kagusuan Beach is a small stretch of white sand broken by large rocks and is popular with locals for picnics. Meanwhile, other hidden beaches pepper the coastline, most of them dotted with fishing boats, their nets lying in wait for the next sojourn out to sea.
Further along the coast, Salagdoong Beach is reached following a glorious ride through Salagdoong Forest, with trees either side of the road arching over it to create a leafy, green canopy. It's more of a beach club than a strip of white, powdery sand and when we there it was full of weekending locals. But it was fun to watch the kids jumping off the rocks into the incredibly clear sea below.
Continuing northwards up the coast, Tulapos Marine Sanctuary hosts protected mangroves, corals, and other wildlife. You can go snorkelling here but it was low tide when we visited.
Heading inland, the Butterfly Sanctuary near Cang-apa may not sound like an attraction to set the pulse racing but it's worth a visit if only to witness the passion of the guy who runs it, who is desperately trying to gain funding to help him with his project of breeding and releasing butterflies into the wild. With no government support, it sounds like a thankless task, but we thought it well worth the 100 pesos entrance fee and at least half-an-hour of anyone's time.
As we climbed over and across the island's highest point at Mount Bandilaan, we stopped at the hamlet of Cantabon to check our map. A woman approached us and asked if we liked Filipino food and if so, would we like to join her and her family and friends for lunch. Naturally, we answered "yes" to both questions so we were guided into a small house where over twenty children and half as many adults again were sat around eating rice and vegetables from bowls with their fingers.
They were celebrating a fiesta in honour of one of the island's holy saints, of which the sharing of food with guests is a traditional part. The lady of the house, Margherita, chatted with us for over an hour about her past life working abroad as a maid (as a lot of Filipinos still do) and how in the holy week over Easter she would be gathering herbs to make healing potions. They certainly love to cook their potions on Siquijor!
Once again, as we've found elsewhere on our travels throughout South East Asia, people who have very little to own are only too willing to give what they do have to complete strangers. A humbling experience and one we're very grateful to have had.
These are the sorts of encounters that made our road trip around the island so memorable. Those and the quirkiness of the works of art that are the jeepneys and the colourful individualism of the habal-habal taxis.
Of course, that's not to forget the sublime sunsets we were treated to night after night from the comfort of our beach mat. After so much practice, we'd by now managed to work together like a well-oiled machine in getting the gin-and-tonics ready at the right time – and with a litre bottle of Gilbey's gin costing a ridiculously cheap 320 pesos (£4.50/$7), there really was no need to stick to pub measures.
And when the sun finally kissed goodbye to yet another day, lighting up both the sky and the sea in an exhilarating display of colour, we realised just why the people who live on this island are amongst the happiest we've ever met.
What did you think? Have you been to Siquijor? Or maybe you're thinking of visiting The Philippines and are choosing an island to visit? Either way, we'd love to hear from you so please add your comments below.
To help us maintain our site we work with a number of partners who we've personally used and can recommend to our readers. If you decide to purchase any products through the following links, we'll receive a small commission at no extra cost to you. Thank you for your support!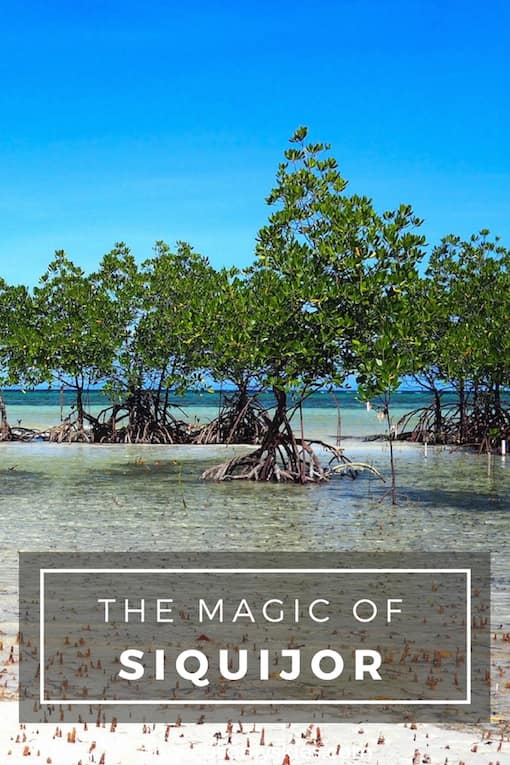 Hi, we're Ian and Nicky, an English couple on a voyage of discovery around the world, and this blog is designed to reflect what we see, think and do. Actually, we'd like to think it also provides information, entertainment and inspiration for other "mature" travellers, too. So please feel free to pour yourself a glass of something suitably chilled and take a look around.