MOUNT SUNDAY AND A TRUE MIDDLE EARTH EXPERIENCE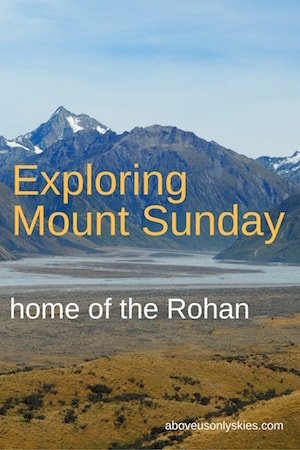 New Zealand. Land of the fearsome All Blacks, ancient Maori culture, sublime scenery…and Dickensian quality wifi.
We're running out of superlatives to describe our experiences here – though we'll try our best when we eventually pick up an internet signal which might actually reach you faster than us just jotting down our thoughts on a sheet of paper, folding it up into a paper plane and launching it into the ever-present New Zealand breeze.
But then, I guess, that's the pay-off for travelling around a country of just 4.5million people living in an area that's larger than the UK.
We got a sense of perspective on how population-free this gorgeous country is when we headed off to Mount Sunday in South Island's Canterbury region – the location for Edoras, home of the Rohan people in Peter Jackson's adaptation of Lord of the Rings.
It's one of the less heralded tourist destinations – in fact, there's nothing to indicate it's actually there until you arrive at the car park after a 25km journey along a dusty, gravel road. But, whether you're interested in once-upon-a-time film set locations or not this is a place that shouldn't be missed, particularly if you enjoy wandering around jaw-dropping mountain wilderness, where the only sound is your own breath.
And when it's easily accessible off State Highway 72 (aka the Inland Scenic Highway), the main artery between Christchurch and Mount Cook National Park, Queenstown and Fiordland, there really isn't any excuse!
We'd got up early (that is 6am-early) at our campsite in the Banks Peninsula (near Christchurch) so that we could drive over to Mount Sunday before the heat of the day became too extreme. Once we turned off from State Highway 72 we drove 20km or so on fairly easy-going paved road before we suddenly found ourselves on the sort of gravel track that churns up clouds of dust in your wake. Which is fine, when there's no traffic in front of you, but let somebody overtake and you find yourself driving through a thick cloud of white, dusty smoke.
Thankfully, Nicky's driving on gravel roads is such that being overtaken just isn't an option, which is just as well as the scenery opening up before us was the stuff of fantasy.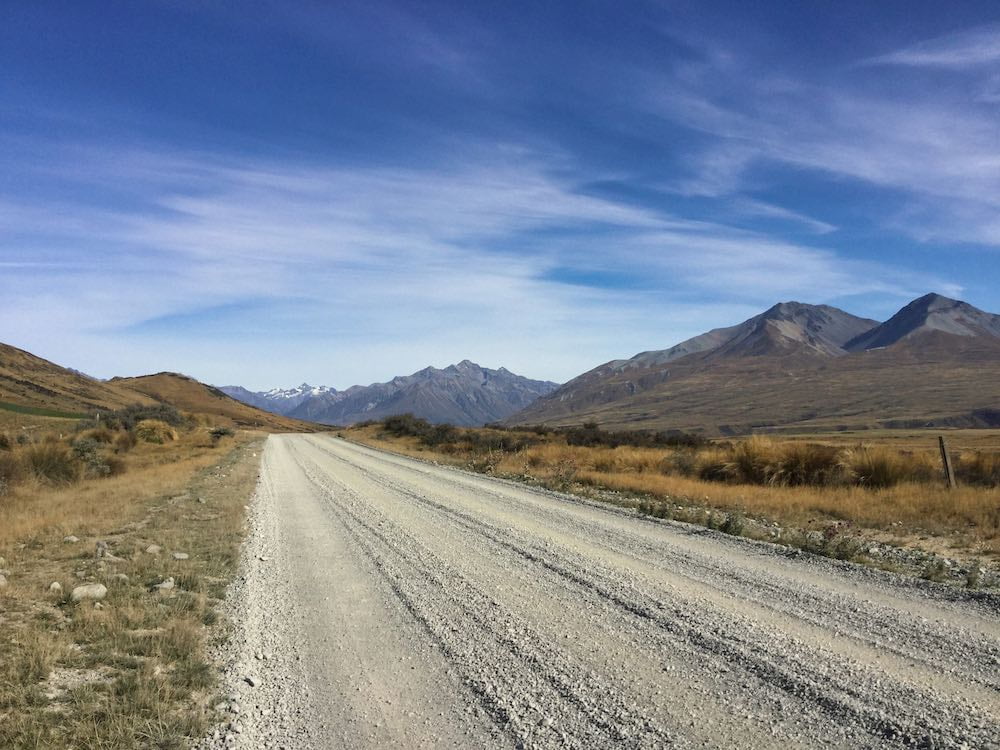 The gravel road to Middle Earth
The gravel, pot-holes and dust clouds behind us continued for a full 25km as the snow-capped peaks of the Southern Alps loomed ever-so-larger into view. Along the way, Nicky gave a wide berth to a hardy cyclist, conscious of the potential lung-interfering consequences of her single-minded approach to getting us to our destination with four tyres still intact.
And then, as we rounded a bend that dipped slightly into the valley below, our eyes set upon a panorama that was just pure Lord of the Rings. A huge plain flanked by snow-peaked mountains with a curious rock jutting out somewhere to the right – Mount Sunday, itself.
As we drove nearer to our destination the road twisted and turned over rivers and through rocky terrain, while the dust cloud behind us continued to betray our heavy carbon footprint on this pristine wilderness.
Finally, we arrived at the Mount Sunday car park, the access point for the relatively easy 45-minute walk to Mount Sunday's "summit". With literally nobody else around it felt as if we really were in an untouched wilderness – which, of course, it really wasn't as the spectacular Helms Deep battle-scene at the climax of the Lord of the Rings trilogy was also filmed here.
Following the gravel footpath, we soon approached a narrow swing bridge over the now-flowing Rangitata River. Time for a quick photo opportunity, just in case the crowds suddenly appeared. They didn't.
An easy stroll to Mount Sunday
In fact, it felt like we were extras in some kind of fourth instalment of LOTR, only the film crew had failed to turn up. So here we were, just two would-be bit-part players now taking centre-stage in what might have been the biggest blockbuster of the summer.
Mount Sunday itself was now just in front of us and we began to ascend the footpath leading up to the 100m high summit. The term "Mount" is most definitely an exaggeration for what is really nothing more than a rocky outcrop in the middle of a huge plain, looking out over REAL mountains. But we're not going to be picky when everything in this area just seems to be on such a hugely wide-screen IMAX-like scale.
When we arrived at the summit the 360-degree panorama was truly breathtaking. To our right, the still-in-shadow scree-sloped mountains gave way to the ice-blue snow-peaked turrets of the Southern Alps straight ahead.
To our left, a bank of mountains dropped down to a long-gone ice-field, now just a dry bed of stones and rubble. Meanwhile, behind us was an even bigger scene of vast, flat plains which suddenly crashed into a wall of grey mountain.
Spending thirty minutes or so up there just looking around, taking photographs, trying to visualise how the battle scene at Helms Deep might have unfolded had we been in the Director's Chair, was about as energetic as it got. In truth, it was difficult for us to make the effort to leave – particularly as the weather was so perfect. But we could see another couple of would-be movie directors approaching so we thought it better to give them the opportunity to let their minds wander alone.
On our way back to the car we wondered where this would rank on our list of New Zealand walks. We'd been on more challenging ones for sure and we were already on our way to some highly anticipated hikes around the grandeur of Mount Cook National Park.
But for sheer open-mouthed, wide-eyed enjoyment the trip to Mount Sunday was going to be hard to beat. And if you're touring around New Zealand's incredible South Island, do yourself a favour – take a right at the village of Mount Somers on the Inland Scenic Highway and head towards Edoras (signposted Mount Potts).
Just be prepared to stop off at the car wash afterwards.
What did you think? Have you been to Mount Sunday? Or is it somewhere you'd like to visit in the future? Either way, we'd love to hear from you so please add your comments below.
To help us maintain our site we work with a number of partners who we've personally used and can recommend to our readers. If you decide to purchase any products through the following links, we'll receive a small commission at no extra cost to you. Thank you for your support!
Travel insurance
with World Nomads
Hi, we're Ian and Nicky, an English couple on a voyage of discovery around the world, and this blog is designed to reflect what we see, think and do. Actually, we'd like to think it also provides information, entertainment and inspiration for other "mature" travellers, too. So please feel free to pour yourself a glass of something suitably chilled and take a look around.