Oaxaca's Day Of The Dead Festival: A Handy Guide
MEXICO
Oaxaca Day Of The Dead: A Handy Guide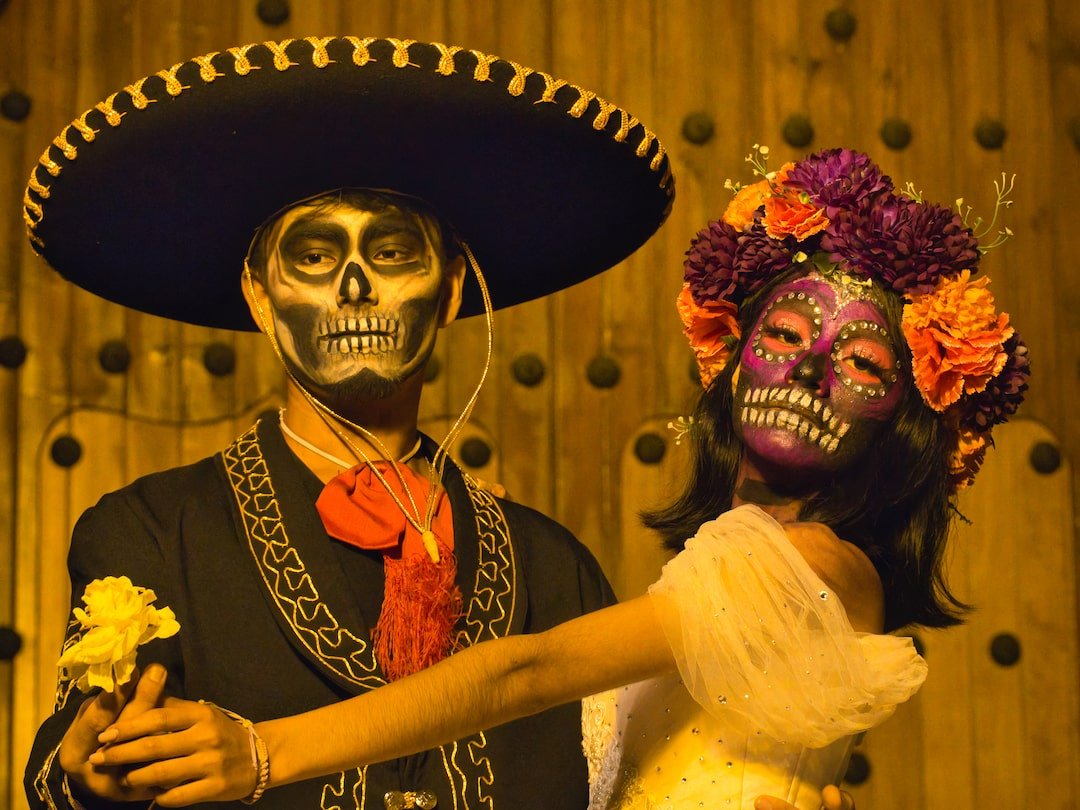 The Oaxaca Day of the Dead festivities attract tourists from across the globe every year, eager to experience one of the most renowned Mexican festivals  the calendar.
During the first two days of November, Mexican families come together to welcome the travelling souls of the departed in a celebration that includes food, music, flowers and a whole host of macabre visuals. It's a display that reinforces the peculiarly Mexican attitude towards life and death. One which might appear morbid to some, but actually reflects the Mexican belief in the afterlife and the need to cherish and honour loved ones who have passed away.
Indeed, in 2003, it was recognised by UNESCO for its "tangible cultural heritage". And, if you're in Mexico during this period, you really shouldn't miss it. We first experienced it in the southern city of Oaxaca (pronounced wah-HAH-ka), its spiritual home, and where it remains one of the most extravagant celebrations in the country. So, in this article, we'll give you a handy overview of what it's like to be in Oaxaca at that time.
However, to appreciate Día de los Muertos ("Day of the Dead"), it helps to have an understanding of how it all came about, how it has developed as a mixture of indigenous beliefs and those of the conquering Spanish conquistadors, and what it means to the local families who celebrate it.
Lit candles surrounded by skulls at a Oaxaca Day of the Dead display
This page contains affiliate links. To help us maintain our site we work with a number of partners who we've personally used and can recommend to our readers. If you decide to purchase any products through the links on this page, we'll receive a small commission at no extra cost to you.
So, what is the Day Of The Dead all about?
In Mexico, paying homage to the dead can be traced back thousands of years, but especially to the Aztecs, who worshipped the Goddess of Death. And particularly during the summer festivals that were dedicated to the annual harvest as well as the dead. Back then – and true to form – the ritual included human sacrifice and the eating of human flesh and blood. All of which was a bit too much, even for the bloodthirsty Spanish.
As a way of assimilating the indigenous beliefs with those of the Spanish Catholics, friars moved the dates of the festivals to those of All Saints' Day (which honours all saints in Christian history) and All Souls' Day (honouring souls who have died and remain in purgatory) on November 1st and 2nd respectively.
The more grisly elements of the indigenous rituals were toned down by incorporating some of the traditional foods from Spain. So sugary skulls replaced actual skulls and pan de muerto (bone-shaped bread) replaced freshly-removed human hearts.
This assimilation continued until after the Mexican Revolution (1910-17) when a new national identity called mestizo celebrated the country's half-Spanish, half-indigenous heritage. And, as part of that, Mexicans began to reclaim much of the indigenous cultural heritage that had been lost over the centuries. Which is how the Day of the Dead festivities have developed since then into what they are today.
A Day of the Dead display in Oaxaca
Although the celebrations themselves can vary slightly, depending on what part of the country they're taking place, the basic principles still apply.
The buildup begins during October, but accelerates during the final week of the month. Parades hit the streets to the sound of banging drums, trumpets and joyous singing. Street vendors fill their makeshift stalls with fruit, vegetables and anything else that might decorate the family ofrenda (altar). Shops stock up with colourful papel picado (tissue paper cut into shapes like skeletons etc). Meanwhile, dazzling flores de muerto (Mexican marigolds) of glowing orange frame windows and doorways.
Then, on October 31 (All Saints Eve), the ceremonies begin in earnest. At midnight, the souls of babies and children (together with others who have died accidentally) are welcomed to the graveyard with lit candles. Their families and friends congregate with toys, sweet treats and memorabilia to place at the graves. And there they remain conversing and recollecting stories with the "little souls" as Día de los Inocentes (Day of the Innocents) takes shape.
The following morning, the family tombs are decorated once more in preparation for the arrival of the adult souls. Including many of their favourite items from when they were alive. So it's perfectly normal for there to be a bottle of mezcal (or maybe tequila) and a cigar or two on display alongside portraits, rosaries and crucifixes. Meanwhile, pan de muertos and tamales are left to feed the souls on their onward journey.
By early evening the final touches are made with fresh marigolds and burning incense. And as the evening progresses, family and friends gather ahead of the arrival of the adult souls.
Fireworks whooshing and crackling above announce the passing of midnight. Music breaks out at the gravesides. Food is eaten, drinks are shared and conversation with the departed souls begins. Some remain all night in a vigil, warmed by hot drinks (or something stronger!) and the burning wood of a small fire. And finally, at dawn, they pray for the safe return of the souls.
Orange marigolds and skulls – iconic Day of the Dead imagery
La Catrina – Mexico's iconic image of death
Probably the image that most people associate with Day of the Dead is La Catrina, a skeletal figurine dressed in flamboyant clothing.
In the early-20th century, José Guadaloupe Posada, an engraver and writer who sketched cartoon skeletons to represent Mexican life, created Catrina La Calavera Garbancera, a skull complete with extravagant hat, festooned with flowers, fruit and lace. At the time, it was intended as a satire to mock the awkward attempts by some ordinary Mexicans to dress like European aristocracy. And to remind them to be true to themselves rather than aspire to be something they were not.
Catrina La Calavera
Photograph by Jose Guadaloupe Posada
A few decades later, Diego Rivera (Mexico's most famous muralist) modified the image into a fully clothed skeleton and called it simply La Catrina (a slang term for a well-dressed man or woman).
Now it's pretty much THE symbol of Día de Muertos as a whole. You'll see versions of her (made from papier-mâché, wood or clay) everywhere from shop doorways and windows to art galleries and museums. And, of course, 'live' versions appear on the streets and at events before and after the festival.
Ultimately, she is Mexico's iconic image of death. Even though she always seems to be smiling. Which pretty much sums up Day of the Dead in a nutshell.
A catrina, resplendent in red – Patzcuaro, Michoacán
Interested in housesitting while you travel?
We were able to spend two months housesitting in Mexico. If you're interested in doing the same, you might want to consider joining Trusted Housesitters – the world's largest housesitting platform. And you can do so with a special 25% discount off your first year's subscription through our link below.
How to experience Day of the Dead in Oaxaca
Along with Patzcuaro in Michoacán state, Oaxaca is one of the best places in Mexico to witness the Day of the Dead celebrations. But, as it's a week-long celebration there, you should plan to arrive by 28th October at the latest if you want to get the most out of it.
And, to be honest, there's so much else to see and do in and around the city that it would be a shame not to experience what else Oaxaca has to offer.
It's possible to take an organised tour, either booked in advance or from one of the tour operators in town. They usually include sampling some of the cultural highlights of Oaxaca and a night visit to one or more of the cemeteries over the main two dates.
However, you can experience just as much by doing it under your own steam with a little forward planning. And be sure to check out the schedule of events at the information kiosk in front of the main cathedral.
For some advance details of this year's event, this excellent post is a worthwhile read.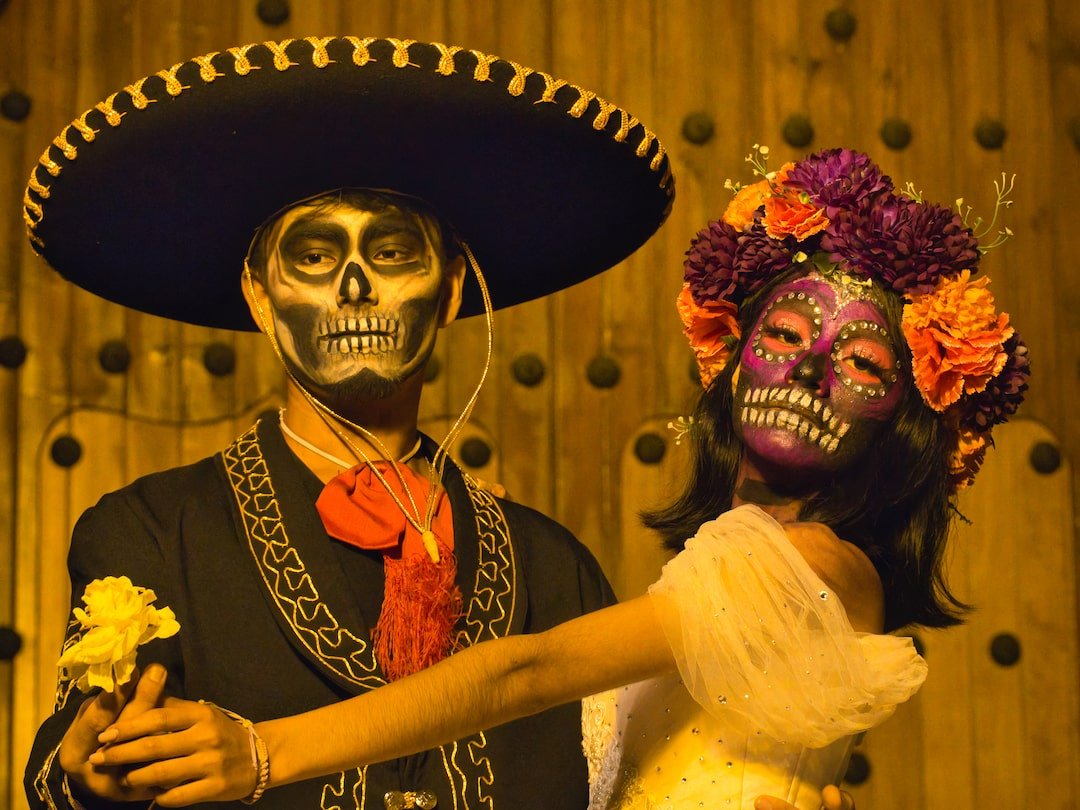 Some of the things you'll see in Oaxaca
Comparsas (parades) galore
Of course, Day of the Dead is famous for its parades, known as comparsas. They're intended to symbolise the return of the dead. So, beginning at one home, they wait for the dead to join them before marching into the street, with dancers and musicians in tow. 
Oaxaca's big parade is the Magna Comparsa (or "Grand Parade"). But you'll likely miss it if you're only in town for the main three days of the festival. It effectively takes place to open the week's Day of the Dead schedule. So, for instance, in 2022 it took place on October 27th – just before we arrived!
While you're wandering around the streets of Oaxaca, you're almost certain to stumble upon a parade by chance. Just listen out for a sudden burst of trumpets, drums and excitable cheering.
If you're lucky, you'll find one that springs into life right in front of you and starts making its way along the street. Only don't let any inhibitions get the better of you. Just jump in, follow along and copy what everybody else is doing.
Although we're not completely sure about the parade that drove past us on our way back to our accommodation one night. Consisting of a frankly bizarre convoy of cars converted into gruesome pieces of "art", they looked like they were on their way to the world's weirdest car rally. 
And it's the first time we've ever seen a car in which the driver had one hand on the wheel and the other waving a chainsaw at us through the open window. 
A parade with a difference
A tradition throughout Mexico, mojigangas are giant puppets that usually appear during celebrations, such as fiestas and weddings. Indeed, the puppets often parody the wedding couple and can be seen dancing through the streets to the tune of a mariachi band.
Of course, Day of the Dead would be an obvious occasion for them, too. And Oaxaca's mojigangas are particularly huge and impressive. This one proved to be something of a selfie-magnet.
A mojiganga with outstretched arms near Santo Domingo Church
Strictly speaking, having your face painted to look like a ghoul is about as traditional to Day of the Dead as having an early night. And we initially had reservations about whether we might be trampling into cultural appropriation territory. But, although there are some sensitivies about the subject, it's extremely popular with tourists and locals alike so it has understandably become a ritual for most.
To be honest, if you want to stick out like a sore thumb during the festival then simply refuse to join in at one of the many make-up stalls scattered along Alcalá, the cobbled walking street that leads from Santo Domingo Church. In truth, pretty much everybody has it done. And by mid-afternoon, the main streets and plazas turn into something resembling a huge horror movie set, featuring Catrina look-a-likes as far as the eye can see.
In terms of where to get it done, you'll be spoiled for choice. Our strategy was to watch make-up artists at work in the days leading up to November 1st and then select the one whose work we liked the most. Although each artist generally has a book of designs you can choose from.
You'll also find plenty of people sporting headbands made from marigolds (either fresh or synthetic).
Ian wondering if he can drink his mezcal without the makeup running
Nicky and an extremely tall skeleton
However, you'll struggle to compete with some of the amazing creations that show up at night.
They either wander amongst the crowds, posing for photographs along the way, or take up their positions on a raised platform and "perform" for the gathering crowd, like an exhibit in an open-air wax museum.
A small donation is generally expected in return for taking photographs.
We love our street art. And Oaxaca's Day of the Dead street art certainly doesn't disappoint. 
There are murals everywhere. Especially in the neighbourhoods of Xochimilco and Jalatlaco, which are both an easy stroll from the historic centre.
One of the many depictions of Day of the Dead in Oaxaca's street art
"Rugs" in Spanish, tapetes are essentially carpets of sand or sawdust, beans, rice and petals created specially for Day of the Dead. Traditionally they're supposed to welcome the spirits and can be as large as 100 square metres. 
They can be found in other parts of Mexico, but nowhere compares with those in Oaxaca at this time of the year. The city even sponsors tapete competitions in the streets and plazas. 
This one was created in Plaza de la Danza.
Ofrendas and other structures
Ofrendas are altars that families set up in their homes, or beside family tombs, to honour their departed loved ones. Typically they include photos of the deceased, together with mementoes from their past life and food and drink to aid them on their journey.
Larger versions are also on display in Oaxaca's public spaces.
Just as beguiling are the colourful structures specially created for the festival. Along with the murals, tapetes and ofrendas, they convert the centre of Oaxaca into something of a free outdoor art gallery.
As you can see, skulls and orange magnolias feature heavily.
Another skull and magnolia display in Oaxaca
Skeletons, skeletons and more skeletons
Papier mâché skeletons and catrinas are, of course, everywhere too. You'll find that hotels, restaurants, shops and other businesses frequently display their own creations, seemingly hell bent on bettering each other.
And, true to the Mexican outlook on life and death, they're often presented in a light-hearted way.
No Mexican festival is complete without the sound of a mariachi band. But, although they're perhaps not as ubiquitous to the Day of the Dead celebrations as the drummers and trumpeters in the parades, they're a welcoming sight nonetheless. As are the soloists and impromptu rock bands that quickly get surrounded by circles of onlookers.
However, the cultural highlights are two performances that garner the biggest crowds. 
Firstly, in front of a makeshift theatre beside Santo Domingo Church, is a dramatic historical depiction of the Day of the Dead story. It's certainly a lot more sombre in mood than anything else going on around.
And on November 2nd, at Plaza de la Danza, a musical performance wraps up the city's celebrations for another year. Much lighter and more upbeat than the Santo Domingo performance, we watched it seated on stone steps, surrounded by hundreds of other onlookers crowded along the plaza walls.
Although experiencing Day of the Dead in Oaxaca is recognised as one of the most authentic in the country, don't expect to be part of a small group of international tourists observing an intimate cultural phenomenon. Nowadays it's a huge tourist spectacle (for both Mexicans and foreigners) as well as being a deeply spiritual experience for local people. 
There will be times when you'll be trying to negotiate your way through large crowds of people. And if a parade passes by, you'll do well to see it behind an army of mobile phones raised high above the heads of others. 
We also witnessed a group of people pushing their expensive cameras and big lenses into the faces of both adults and children before simply moving on to their next subject.
All of which made us wonder how much of its authenticity has been lost over the past decade or so, as commercialism has taken a firm grip. And with it, an understanding of what it means to be respectful to the people of Oaxaca.
Nevertheless, most tourists will recognise the need to ask before taking a photograph of an individual or a family. And to be mindful of keeping a respectful distance when visiting a cemetery.
We took this photograph of two children whose proud-as-punch parents were more than happy to give us the go-ahead.
Other places to experience Day of the Dead
If you can't make it to Oaxaca, there are plenty of other options to experience the festival.
We'd really like to experience Day of the Dead in Pátzcuaro, Michoacán, which is beautifully situated beside Lake Pátzcuaro. The highlight is when members of the local indigenous community paddle over in flower-covered canoes, lit by a single candle on each, to the lake's tiny island where an all-night vigil is held at the cemetery.
Mexico City's celebrations have only really taken off in recent years. But the city now hosts one of the most spectacular parades in the country. Called the "Grand Procession of the Catrinas", and lasting nearly five hours, it starts at the central square (the Zocálo), before winding its way through the streets.
Northwest of Mexico City, San Miguel de Allende is renowned for its year-round festivals and parades. So it's no surprise that it has its own extravagant Day of the Dead festival known as La Calaca.
And southeast of the capital, Puebla is another of Mexico's cultural centres that prides itself on its own unique celebration. We spent a few days there in the lead-up to Day of the Dead, as the catrinas, flowers and public ofrendas were making their first appearances.
Meanwhile in Mérida, down in Yucatan state, a parade called Paseo de las Animas ("Passage of the Souls") involves tens of thousands of people who follow a route that passes hundreds of altars.
A public ofrenda in Puebla, along with a tapete laid out in front of it
And while you're in Oaxaca…
By spending some extra time in Oaxaca you can also appreciate the city by simply walking around and enjoying its many attractions. Not least wandering around the historic centre and the neighbourhoods of Jalatlaco and Xochimilco.
But we won't lie. One of the main reasons why we picked Day of the Dead in Oaxaca was so that we could also eat as many Oaxacan dishes as we could. And especially the ones prepared with the famous mole.
Although originating from Puebla, moles have become something of a speciality in Oaxaca. Made from ingredients that are toasted and ground (such as dried chillies, nuts and seeds), together with onions, garlic, tomatoes, chocolate and broth, they're cooked for hours until they reduce to a thick paste. After which they're used as marinades or as a pour-over sauce for meat. 
In total, there are 7 moles of Oaxaca, each with its own distinctive flavour. The one most synonymous with the city is mole negro, which uses dark chocolate and chillies to create a thick black sauce that's usually served over turkey or chicken and topped with white sesame seeds. Although or favourite is mole coloradito, which includes the classic pasilla, ancho and arbol chillies. 
If you want to buy some, your best bet is to head down to Mercado 20 de Noviembre and peruse the stalls bursting with pots of each mole, before having a sampler taste of each.
And while you're there, grab a seat in the Pasillo de Humo ("Smoke Alley") for a grilled meat feast, along with the Oaxacan staples of warm tortillas, salsas and grilled vegetables. It's essentially two rows of meat vendors on opposite sides of the walkway from where you select your preferred meat and have it cooked on the grill. As a result, the whole place fills up with smoke, hence its name.
Further into the market, a whole host of food stalls offer the Oaxacan classic, the tlayuda. It's a cross between a giant, thin and crispy tortilla and a pizza. And we love them. Served with a layer of refried beans, cheese, cabbage, and meats of your choice, the best way to tackle them is to fold them in two and just dive in. It can certainly get messy. Or maybe that's just us. Try one at La Abuelita – if you can find a seat, as it's hugely popular. Although the best one we had in Mexico was one topped with grilled octopus at a restaurant in Morelia, Michoacán.
For the more adventurous, chapulines (toasted grasshoppers) seasoned with garlic, lime, salt and chillies are a very popular snack. We stuck to salted peanuts, to be honest.
And, of course, Oaxaca is also world-renowned for its chocolate, which has been produced there for thousands of years. Its iconic hot drink – chocolate oaxaqueño – is something that most visitors try during their visit. We found it was served a little weak for our liking. But we dare you to pass any of the numerous chocolate shops without letting the fabulous aroma of freshly grated chocolate beans draw you inside.
The mighty tlayuda – this one is topped with grilled octopus
If you're travelling from Mexico City, the easiest and quickest way is to fly to Oaxaca in just over an hour. However, a more scenic option is to take the ADO bus. Although the journey is a good 6-7 hours, you do have the advantage of journeying through some stunning mountain scenery.
if you're staying in one of Oaxaca's coastal resorts and don't want to bother with the eight-hour bus journey to the city, you'll need to fly up to Mexico City and connect with the flight back to Oaxaca from there.
Either way, you'll need to book your travel to Oaxaca well in advance for Day of the Dead. And as far as six months out for accommodation.
Whilst we were taken aback by the sheer scale of the crowds packed into Oaxaca's historic centre for the festivities, it was still an experience we're so glad to have had. 
So, as long as you temper your expectations – and leave yourself enough time to enjoy the city as well as the festival itself – you'll no doubt love it, too.
And, by arriving during the final few days of October, you can get to know your way around the city, treat yourself to some Oaxacan food, find out where the big events are happening, and enjoy Day of the Dead fully prepared.
FAQs
When is the best time to visit Oaxaca?
This question is always a subjective one as it depends on what you want from your visit. Oaxaca's dry season is from October till the end of April. But, of course, that also coincides with bigger crowds and higher prices.
If you're prepared for periods of heavy rain in addition to lovely sunshine, the wet season between May and September may be an option as there will be less crowds and potential discounts on accommodation. Although July and August can still be busy – especially during July when the colourful Gueleguetza festival is in full swing.
Where is the best chocolate in Oaxaca?
We couldn't say for sure where you can buy the best, but certainly, Chocolate Mayordomo is the original and most famous of Oaxaca's chocolatiers.
Indeed, just walk into one of their shops and the aroma of freshly ground cacao beans will almost overpower you. You can even watch as the beans are being ground.
Are taxis in Oaxaca safe?
Yes, the official yellow taxis in Oaxaca are safe and are a good option for getting around the city, especially at night. Uber and Didi are also safe, reliable options, too.
Any other questions?
If there's anything you'd like to ask about Oaxaca that we haven't covered here, there are a few ways to get in touch with us.
Firstly, you can simply ask your question in the Comments section below. You can also get in touch using our contact form. Or, if you'd like to join our community on Facebook, you can ask directly there.
Either way, we'll do our best to get straight back to you.
What did you think?  Do you have any recommendations on how to experience the Day of the Dead in Oaxaca? Or perhaps you're planning to go in the near future? Either way, we'd love to hear from you so please add your comments below.
PLAN YOUR TRIP
The following contain affiliate links. If you decide to purchase anything after clicking on any of these links, we may receive a small commission at no extra cost to you. Indeed, as a result, you'll be helping to keep our website ad-free! Thanks for your support.
Book Your Flight
Our go-to website for flights is Skyscanner. We've probably booked probably 90% of our flights worldwide with them over the years and they've never let us down.
Book Your Accommodation
No longer merely a travel rating service, Trip Advisor is now a major resource for booking accommodation, too. And you can view some of the best deals in Oaxaca here.
Get Insured
For travellers who are UK residents, we recommend True Traveller. Amongst other things, they offer both multi-trip and backpacker insurance. Indeed, they're our go-to insurance provider.
For travellers who are non-UK residents, we recommend SafetyWing for both remote health insurance and nomad insurance.
Check your entry requirements
Check all entry requirements for Mexico and purchase any visas online with iVisa.
Book a tour in Oaxaca
Book a guide, tour or other activity in and around Oaxaca with Get Your Guide
We provide all the content on this blog completely free and aim to make your reading experience as smooth as possible. As such, other than our own affiliate links, we'll continue to resist using popup advertisements and other income-generating clutter on our pages.
However, we do put a lot of time and effort into producing content and maintaining the site. So, if you find our work useful and would like to contribute something towards it (via PayPal), you can do so here. Thank you!
Hi, we're Ian and Nicky, an English couple on a voyage of discovery around the world, and this blog is designed to reflect what we see, think and do. Actually, we'd like to think it also provides information, entertainment and inspiration for other "mature" travellers, too. So please feel free to pour yourself a glass of something suitably chilled and take a look around.