From what we've heard, we get the impression that people either love or hate Bangkok. Having spent four nights there we can understand both sides of the argument.
Compared to elsewhere in Thailand, we didn't find the people there to be particularly friendly, and the chaotic traffic, noise, and pollution were a constant annoyance – as were most of the taxi drivers who refused to switch their meter on and simply tried to overcharge us at will.
On the other hand, there's no doubt that the city has a lot to offer – you just need to do your research beforehand – something that we'll admit we left to the last minute (for "last minute" read "on the flight from Medan").
The standout moments for us could have been done over a 24 hour period and so we think that, if you're considering a stop-over in Bangkok en route to somewhere else, you could do a lot worse than follow our handy 24-hour guide to Thailand's capital city.
A lovely boutique hotel on the outskirts of Bangkok's old town, we loved this place – especially for its retro quirkiness, superb breakfasts, and uber-friendly staff. It's also an oasis of calm away from the frenetic activity of the city.
So let's assume you're arriving at Bangkok airport some time during daylight hours. Your first objective is to get from the airport to the hotel – which can take anywhere between 40 minutes and an hour, depending on the legendary traffic. This will undoubtedly be your first encounter with a Bangkok taxi driver.
By law, any taxi driver that stops for you must accept the ride and switch on the meter, if there's one installed. If they comply with that, you'll be pretty safe in the knowledge that the fare will be a reasonable one. If they decide they don't want to switch on the meter (for instance, if it's pouring with rain and you look a bit desperate) they might simply refuse to do so, leaving you with the task of trying to negotiate a fare which isn't a rip-off.
Enforcement of the law in Thailand can be a bit of a joke, so although there are signs all over Bangkok encouraging people to phone the tourist police if a taxi driver doesn't comply with it, you'd be pretty much wasting your time.
Anyway, now that you've made it to the hotel, it's time to relax in the lovely, peaceful surroundings. There are retro stylings from the 1950s and beyond, everywhere you look – but none more so than in the breakfast / communal area. It's a real treasure trove of antique televisions, bicycles, sewing machines, sweet jars and much more.
Undoubtedly it was the quirkiest place we've ever stayed in – but kudos to whoever it was who designed it because the attention to detail was quite incredible.
But it wasn't just style-over-substance either. The breakfasts here were the best we've had on our Big Trip – and that's saying something.
The breakfast set up involved a row of retro rickshaws (naturally) converted into food stations. Included in the offerings were home-made bread and jams, Thai curry and roti, vegetable spring rolls and an egg station. That's in addition to the fresh fruit, coffee/tea and water stations (with a range of natural flavourings). Quite honestly, the Thai curry and roti were just the tastiest two things we've ever had at 8 o'clock in the morning – superb.
2. Have dinner at Fikeaw Yao Wa-Ray 
Once you've settled into the hotel, make your way to Chinatown for some great street food. Rather than go through the hassle of another taxi journey, instead turn left from the hotel and then left again at the junction until you reach Thewit Pier on the Chao Phraya River (approximately 10 minutes). Here, you can pick up the Chao Phraya Express Boat to Chinatown (the last one leaves around 7 pm). Get off at Ratchawong Pier and walk up Ratchawong Road until you enter Chinatown itself and then wander around the neon-lit streets until you're ready to eat.
Fikeaw Yao Wa-Ray is situated on a busy side street just off Yaowarat Road – which might make it a little difficult to find initially. But, while you're wandering around pre-dinner, look out for a street stall stand full-to-bursting with fish and vegetables and three huge woks on gas burners facing the street. You won't be able to miss it as the chef's little party piece includes almighty plumes of flames as he throws the vegetables and/or fish into the wok – catching the attention of every passer-by in the process.
Getting a table can be tricky if it's particularly busy but it's so worth the wait. Just don't get too close to the flames unless you want your eyebrows removing.
We had stir-fried squid and prawns in red curry, which were just sensational. So much so that we came back the next night for our wedding anniversary meal.
Don't miss it! And if you don't believe us, just check out the Trip Advisor reviews.
Getting back to the hotel, you've no choice but to jump in a taxi or tuk-tuk, which should cost you no more than 100-150 baht – just make sure that if it's a taxi the driver's put the meter on!
3. Explore Wat Pho and recharge at the home of Thai massage
After a good night's rest, and having gorged yourself on the stunning breakfast at Phranakorn-Nornlen, it's time to do a spot of sight-seeing before you head off to your destination of choice.
And for us, there's only one place you need to consider – the incredible Wat Pho (The Temple of the Reclining Buddha) and the oldest and largest Wat (Buddhist temple) in Bangkok.
Getting there from the hotel is easy. Head back to Thewit Pier and catch the Express Boat to Tha Tien Pier (No 9) – Wat Pho is just a short walk from there. And, because you're going relatively early in the morning, you'll miss any crowds that might turn up. Although it's much less busy than the nearby Grand Palace and it's hordes of tour parties.
The big draw here is the giant reclining Buddha – in all its 46 metres of gold leaf-covered glory. Setting our eyes on it for the first time was one of those "wow" moments that'll be etched in our memories forever. No need to rush – just take your time and drink it in.
There are plenty of other sights here, too. Just walking around the grounds takes you through one jaw-dropping temple, statue or pagoda after another.
And then there's the on-site Thai Traditional Medical School, where you can go for one of the best Thai massages in the country. Wat Pho is actually known as the birthplace of traditional Thai massage, so if there's anywhere in Thailand to experience one, this is most definitely it. We weren't disappointed either. Although the screams from one of the blokes on a nearby bed sounded like he was under the surgeon's knife rather than a Thai masseur. Our only complaint was that the air-conditioning was set to "Arctic" so that when we returned back outside into the blistering heat it was like walking into a furnace.
The temple is open from 08:00 and costs 100 baht if you're a "foreigner".
From there you can opt to visit the Grand Palace next door, which is pretty spectacular in its own right – however, unless you get there before 08:30 you'll have to contend with huge crowds of selfie-stick-wielding tour parties, seemingly on a mission to pose for photographs at every conceivable opportunity. And it'll cost you 500 baht, too. But, if you have the time and patience, it's also well worth seeing.
From there, you'll be making your way back via the Express Boat to your hotel to pick up your luggage.
We reckon that's a pretty unbeatable way to spend 24 hours in Bangkok without breaking the bank or getting stressed out in the process.
Unless you've got any better ideas, of course….?
What did you think? Have you been to Bangkok? Do you have any recommendations for a 24-hour visit there? Even if you haven't we'd love to hear from you so please add your comments below.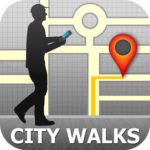 Download our GPS-guided travel app to explore the places featured in this post.
To help us maintain our site we work with a number of partners who we've personally used and can recommend to our readers. If you decide to purchase any products through the following links, we'll receive a small commission at no extra cost to you. Thank you for your support!
Hi, we're Ian and Nicky, an English couple on a voyage of discovery around the world, and this blog is designed to reflect what we see, think and do. Actually, we'd like to think it also provides information, entertainment and inspiration for other "mature" travellers, too. So please feel free to pour yourself a glass of something suitably chilled and take a look around.