Welcome to
ABOVE US ONLY SKIES
A blog for travellers, would-be travellers and anybody else with a curious interest in ditching the routine and exploring our planet.
We're Ian & Nicky and we're here to inform, entertain and hopefully inspire you to explore more often and for longer. And we're here to help you plan your next adventure, whether it's a weekend city break or a 12-month expedition into the unknown.
Put the future on hold and live for today!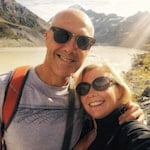 THE ULTIMATE NORTH INDIA ITINERARY AND HOW TO DO IT IN 3 WEEKS
By Ian – 16 November 2017 – India
There's nowhere quite like North India – a melting pot of dramatic Himalayan scenery, cultural diversity and tales of husband-stealing female yetis…
THE BEST WAY TO EXPLORE THE EPIC ISLAND OF FLORES IN 14 DAYS
By Ian – 6 November 2017 – Indonesia
From Maumere in the east to Labuan Bajo in the west, the Indonesian island of Flores is a special brew of volcanoes, remote villages and appalling roads – here's our guide to getting the most out of your trip…
AUCKLAND TO WELLINGTON - A KIWI ROAD TRIP BY CAMPER VAN
By Ian – 28 October 2017 – New Zealand
Explore volcanic landscapes, world-class beaches and Maori culture in this two-week road trip through New Zealand's North Island…
HOW TO EXPLORE THE BEST OF WESTERN AUSTRALIA BY ROAD
By Ian – 19 October 2017 – Australia
Spider-walk through glorious gorges, swim with exquisite whale sharks and sleep in your swag tent to the sound of howling dingoes on our 21-day road trip through Western Australia…
THE ROTI MAN OF TORTOLA
By Ian – 8 October 2017 – British Virgin Islands
The green shoots of recovery are apparent in the British Virgin Islands – and here's one family-run catering business who are leading the way…
SANCTUARY - HOW WE FOUGHT TO BE EVACUATED FROM TORTOLA
By Ian – 2 October 2017 – British Virgin Islands
How we finally made contact with the outside world after Hurricane Irma and our frantic search for a way to evacuate from Tortola…
AFTERMATH – STAYING STRONG IN THE FALLOUT FROM HURRICANE IRMA
THE EYE OF THE STORM – HOW WE SURVIVED DEVASTATING HURRICANE IRMA
THE BEST OF CAMBODIA IN 21 DAYS
A PERFECT DAY OF SAILING IN THE IDYLLIC BRITISH VIRGIN ISLANDS
MEET IAN & NICKY
We're an English couple who've swapped our corporate life for a voyage of discovery around the world and this blog is a permanent record of what we see, think and do. We hope it also provides information, entertainment and inspiration for other "mature" travellers, too. So, if you've got a few minutes to spare, why not pour yourself a glass of something suitably chilled and take a look around!