PAN DE AZUCAR, CHILE: WHERE DESERT MEETS THE OCEAN
PAN DE AZUCAR, CHILE: WHERE DESERT MEETS THE OCEAN
Like plenty of other places in Chile, Parque Nacional Pan de Azucar is perfect for travellers in search of self-isolation in paradise.
Translated as "Sugar Loaf National Park", it's a world of volcanic rock, desert landscapes and white sandy beaches. It's also home to a large colony of endangered Humboldt penguins. And it features the regular appearance of a coastal mist nicknamed Camanchaca which sweeps in from the Pacific Ocean.
It doesn't appear on most itineraries of northern Chile. More the reason why we made a bee-line for it. And we reckon you should do so, too.
Contents
This page contains affiliate links. To help us maintain our site we work with a number of partners who we've personally used and can recommend to our readers. If you decide to purchase any products through the links on this page, we'll receive a small commission at no extra cost to you.
Getting to Pan de Azucar, Chile
The whole area is best explored with your own wheels during a road trip of northern Chile. Indeed, it provides a welcome contrast to the otherwise monotonous landscape between the Hurtado and Elqui Valleys and San Pedro de Atacama.
Approaching from the south on the Pan-American Highway (Ruta 5), the C-120 forks to the left at Chañaral and hugs the coast for 30 kilometres before arriving at Caleta Pan de Azucar.
From the north, there are two entrance roads – the C-112 (at the Ruta 5 Km 1014 marker) and the C-110 (Km 968).
If you're not driving, you'll need to get to Chañaral first, then pick up a taxi. Or you could just hitchhike.
View from the approach road to Pan de Azucar from Chañaral
Wild camping just outside the park
There are some campsites within the park. Specifically at Playa Piqueros, Playa El Soldado, and Caleta Pan de Azucar.
But instead, we decided to wild camp just outside the park (there's no wild camping allowed once you're inside). And we thoroughly recommend you do, too.
First of all, make sure you've downloaded the free iOverlander app. Then search for the "Wild Love" camping spot.
To get there, we drove from Chañaral and took a turn off to our left from the C-120 just before the CONAF checkpoint at Km 15 (GPS coordinates -26.220343, -70.651849).
The dirt track then winds its way through a moon-like volcanic landscape until it descends towards a large expanse of white sand. You don't necessarily need a 4×4 vehicle but you'll need to take it very slowly if you don't.
Eventually, you'll arrive at a flat piece of ground which previous campers have converted, through the careful placement of small rocks and shells, into a hippyish paean to Mother Earth.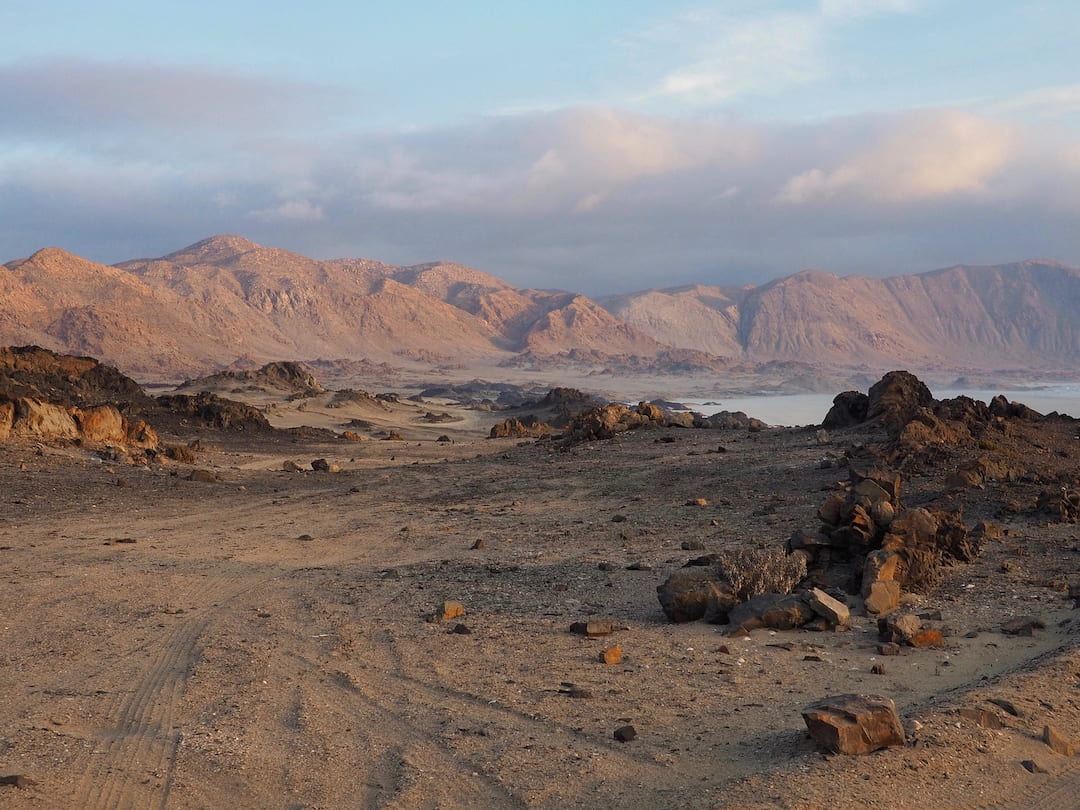 Plenty of available pitches for the night
We finally settled on "Wild Love" overlooking the beach
And full credit to them. It's a gorgeous spot to spend a couple of days. With access to a fabulously deserted beach just below, you really don't need to continue into the park until you've taken full advantage of the wild surroundings here.
Which means spending a few hours on the beach and climbing the rocky outcrops for further elevated views. And finishing the day off with a campfire BBQ while you watch the setting sun blaze a trail of deep orange across the sky.
Of course, this being northern Chile, the night sky is a sight to behold, too. With a dazzling Milky Way as its centrepiece.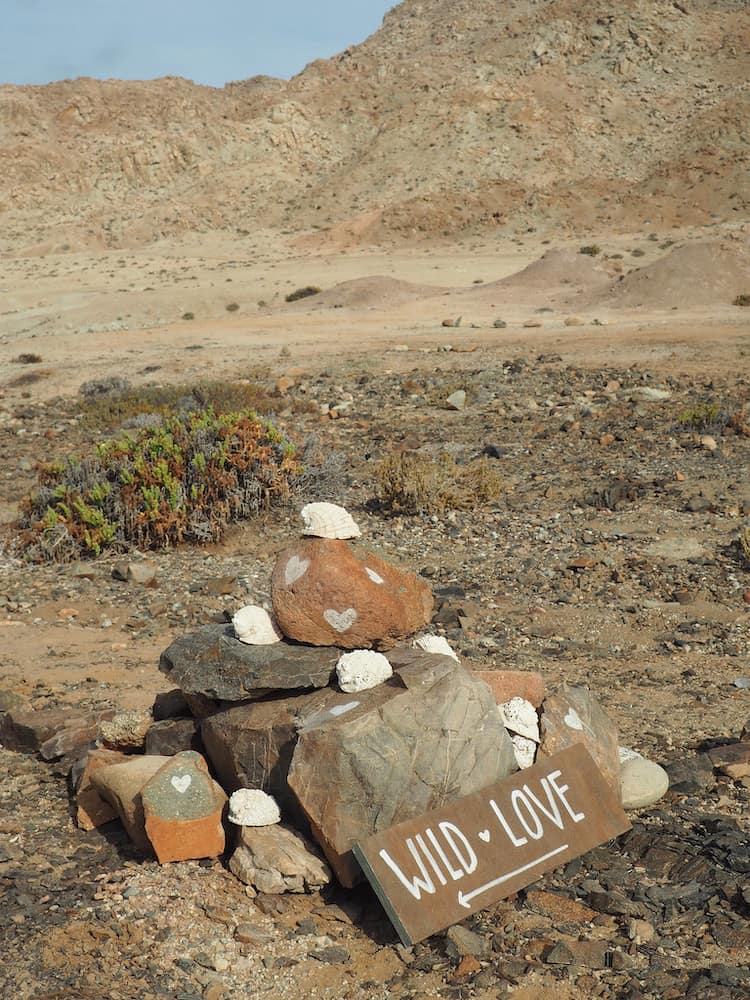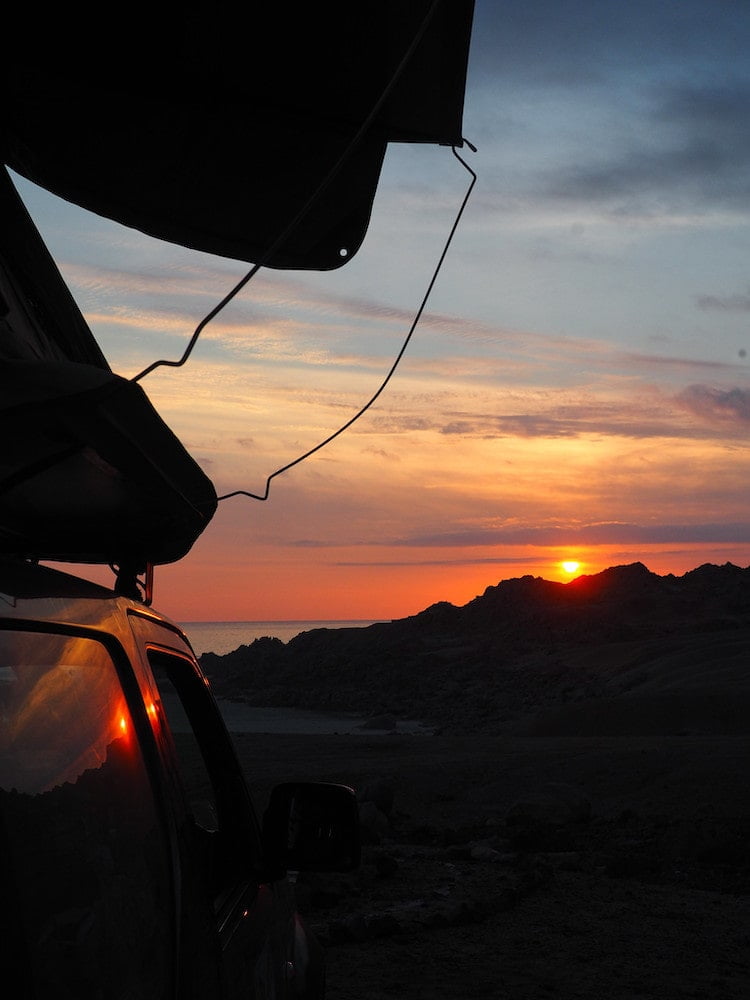 View of the beach below "Wild Love" camping spot
View of the beach below "Wild Love" camping spot
Things to do inside the National Park
Once inside the park, the C-120 continues past another excellent beach at Playa Blanca before arriving at Caleta de Pan de Azucar.
Originally just a remote fishing village, it's now geared up to tourism and is where most people base themselves. In addition to the campsites, there's also a lodge with cabaña accommodation. And the village has a few low-key eateries offering freshly-caught fish dishes.
There are a number of trails to explore. Notably, Sendero El Mirador, which climbs up to a watchtower for breathtaking views of the park and its beaches. Full details and trail maps at the CONAF station in the village.
Along the way, you've got a good chance of seeing chilla foxes and guanacos. And there's a large variety of different cacti species on show, fed by the wet and misty blanket of the camanchaca.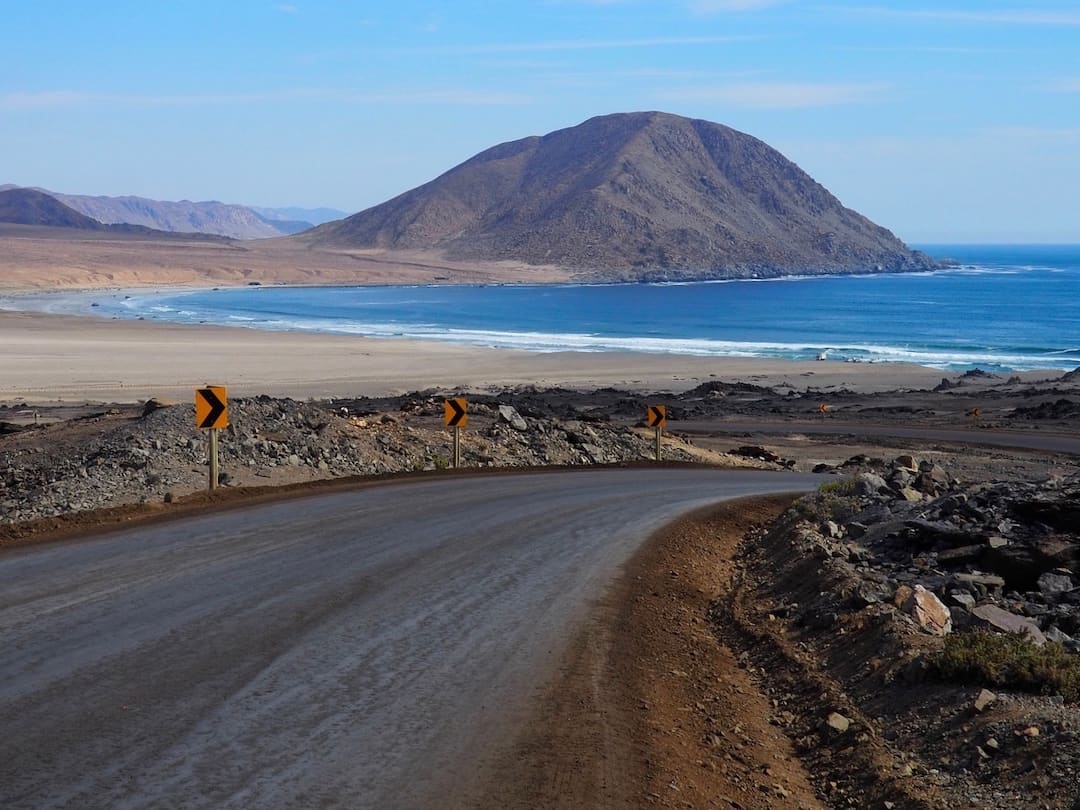 Driving inside the national park
A rowing boat with the main beach in the background
One of the biggest draws for most visitors is this small island just offshore.
It's home to some 2000 Humboldt penguins, which can be viewed from a safe distance in a boat tour from Caleta (you can't leave the boat).
It's a very local affair in that you sign up at a small kiosk and then wait for the next tour. Prices are charged per boat (maximum ten people) and it's a 90-minute round trip. So, out of season, if there's less than ten on the tour, the prices will be higher.
Along the way, you'll also see marine otters, sea lions, cormorants, Peruvian pelicans and a variety of other birds. And it's a nice way to escape the dry heat of the desert for an hour or two.
One of the many pelicans around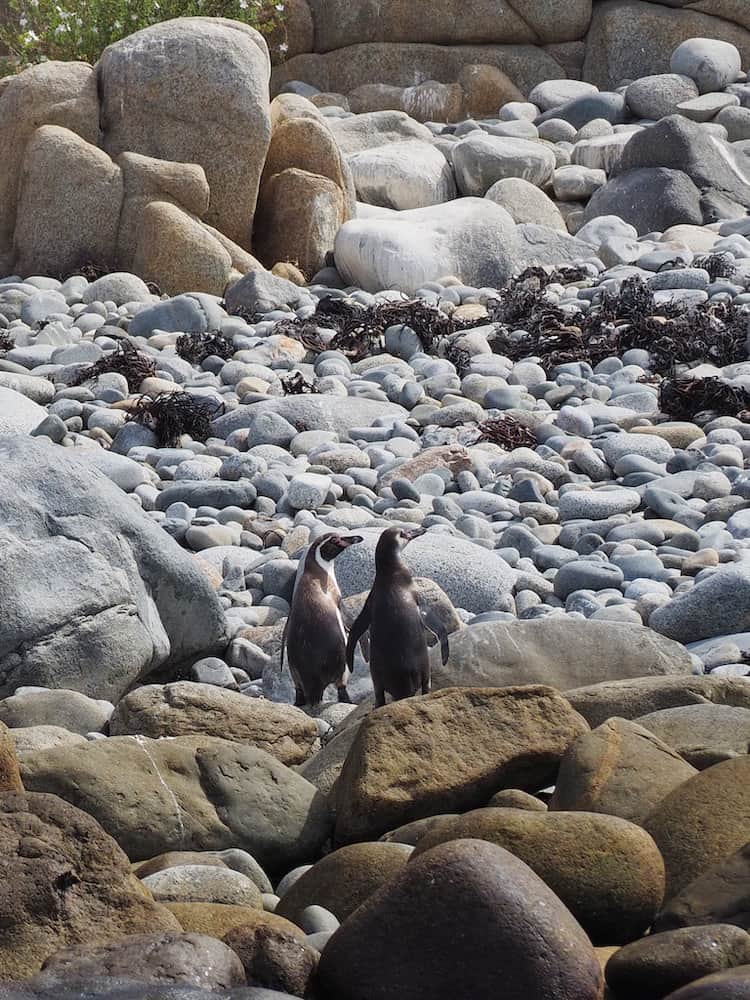 A couple of Humboldt penguins
A sea lion refuses to look us in the eye
Whilst it has its fair share of visitors, especially during the summer, Pan de Azucar still feels like a genuinely off-the-beaten-path destination. Indeed, if you can visit off-season and avoid the weekends, there's a good chance you might have the place all to yourself.
Albeit in the company of 2000-or-so penguins and a whole raft of other desert and marine wildlife.
And we'll settle for that!
What did you think? Have you been to Pan de Azucar, Chile? Or perhaps you're thinking of visiting there in the near future? Either way, we'd love to hear from you so please add your comments below.
To help us maintain our site we work with a number of partners who we've personally used and can recommend to our readers. If you decide to purchase any products through the following links, we'll receive a small commission at no extra cost to you. Thank you for your support!
Travel insurance
with World Nomads
Hi, we're Ian and Nicky, an English couple on a voyage of discovery around the world, and this blog is designed to reflect what we see, think and do. Actually, we'd like to think it also provides information, entertainment and inspiration for other "mature" travellers, too. So please feel free to pour yourself a glass of something suitably chilled and take a look around.